"In Memory Elisabeth"of
1 March 28, 2023 Special Issue March 28th, 2023
BYE, BYE, BEYONCÉ! ADIDAS ENDS COLLABORATION
Not everything Queen B touches turns to gold...
Adidas ends collaboration with Beyoncé (41). The sporting goods giant and the Grammy Award winner have amicably split, reports The Hollywood Reporter, citing
insiders. Although the US singer has a huge fan base, the sales of her fashion collection have recently been underground.
Beyoncé started the Adidas x Ivy Park collaboration in 2018, developing shoes and clothing for the German company. Adidas described the collaboration as a "partnership for life," but the relationship didn't last. There were significant creative differences. Nevertheless, Beyoncé is excited to reclaim her brand, forge her path and maintain creative freedom, the report said.
The main reason for the split is likely to be
economic: Ivy Park's sales fell by more than 50 percent to around $40 million in 2022, well below internal forecasts of $250 million, the company reported to the Wall Street Journal in early February, citing confidential documents.
The documents showed that Adidas would lose about 10 million dollars by cooperating with Ivy Park. Beyoncé still gets the same amount as in previous years: around $ 20 million. The newspaper wrote that the contract, due to end at the end of 2023, should be revised or terminated.
Adidas denied the "WSJ" report and described the
partnership with Ivy Park as "strong and successful" without giving specific numbers.
Beyoncé launched Ivy Park in 2016 as a joint venture with then-Topshop owner Sir Philip Green. The US singer has been the sole owner of the brand since 2018.
For Adidas, it is the second setback within a few months.
As a result of the separation from scandal rapper Kanye (45), in the worst case, an operating loss of 700 million euros can be expected in 2023. In the best case, Adidas management announced a black zero in February.
2 March 28, 2023
In January, Beyoncé unveiled the latest collection from the Adidas x Ivy Park collaboration in Dubai, a day before she hosted a private concert in the desert city
The massive scandal over toxic eye drops in the USA!
She partially lost her sight: Florida's Clara Oliva is suing eye drop maker EzriCare
At least 68 people have become infected because of contaminated eye drops. So far, three people have died, eight have gone blind, and four others have had an eyeball surgically removed.
EzriCare and Delsam Pharma over-the-counter eye drops, first recalled in February, are now linked to cases in 16 states, the US Department of Health and Human Services said.
Eye germ resistant to drugs
The drops made in India are held responsible for infections with the germ Pseudomonas aeruginosa. It is the first time that this germ has been able to spread in the United States, as the ministry explains. He is "largely resistant to common drugs."
The agency's report says, "Three people have died, and there have been eight reports of vision loss and four reports of enucleation (surgical removal of the eyeball)."
The agency warned, "Patients who have used EzriCare or
Delsam Pharma eye drops and show signs or symptoms of an eye infection should seek immediate medical attention."
Symptoms knew so far: blurred vision, redness in the eye area, the feeling that something is in the eye, and "yellow, green or clear discharge from the eye."
Lawsuits against manufacturers
Florida attorney Clara Oliva said she is suing eye drop maker EzriCare. After taking the drops, she partially lost her vision. She was "terribly injured and
now almost blind."
Another case involves a 72-year-old woman who lost vision in her left eye after using EzriCare eye drops. Her doctor, Dr. Ahmed Omar, told CNN, "She noticed the blurry vision in her left eye for a few days and then yellow discharge on her pillow."
After that, the appearance of her eyes changed. In the emergency room, a corneal ulcer was discovered. Despite the operation, the doctors could not save the eye.
3 March 28, 2023
GIANT CARPET OF SEAWEED OFF FLORIDA
TWICE AS WIDE AS THE USA!
A vast, smelly mass of seaweed is approaching the east coast of the USA. The dimensions: gigantic! The seaweed carpet is about twice as wide as the US mainland, weighing around 6.1 million tons.
Marine biologists have been observing the carpet of seaweed for months. Now it's washing up on the beaches of the US state. And: The experts sound the alarm! It could get a lot worse - and this of all times at the start of the tourism season.
Photos show how officials drive along the
beaches with tractors and excavators and remove the washed-up flood of algae. Strollers struggle through high mountains of seaweed.
Dr. Brian Barnes, an assistant professor of marine biology at the University of South Florida, has been monitoring the seaweed for weeks and believes much more significant amounts will be found offshore in late spring and early summer.
"Larger amounts should be found off the Florida coast from April to July. However, most of it will remain offshore. However, when the currents and winds work against us, more can be pushed ashore and affect beaches locally,"
Barnes told Fox Weather.
According to the Florida Health Department, seaweed is not harmful to humans but has a strong odor. And: Aside from the unpleasant smell, similar to rotten eggs, the tiny critters in the seaweed can cause skin rashes and irritation.
In general, these sea-grass carpets occur annually. But this year, the scale is truly extraordinary. Experts haven't figured out why some years produce more algae than others, but they suspect it's a combination of factors, including runoff from significant waterways.
"It's hard to say what's causing it, but generally flowering occurs when the
right conditions are in place: temperature, light, seeds, and nutrients," says Barnes. Aside from the smell, algal blooms can cost coastal communities big bucks to clean up — and even drive away tourists.
The US Crisis Center estimated the cost of cleaning up beaches in the Caribbean after a massive 2018 algal bloom at more than $120 million. A study found it would have a similar impact in South Florida.
4 March 28, 2023
Tractors clean the beach in Fort Lauderdale
Seaweed has been piling up on the US east coast in the last few days - and this is just the beginning.
5 March 28, 2023 Max Liebermann Publisher Editor-in-chief 760-808-7104 max@desertlocalnews.com NEWS ROOM DesertLocalNews JustTheFactsMax WeGoViral DesertFox STAFF WRITERS JTFMax Pat Krause Robert Kinsler Pam Price George Paul ADVERTISEMENT Javier Soto Desert Local News is a Membership 'DLNews1' Online E-Newspaper For more information email: info@dlnews1.com HTTPS://DesertLocalNews.com
Horror at US elementary school
The attacker, believed to be a 28-year-old woman armed with two automatic rifles and a pistol, was shot dead by arriving police officers, a Nashville police official said Monday. The exact identity of the perpetrator was initially unclear. The three adult victims are school employees. Originally, the police had described the perpetrator as a teenager.
Police were reportedly alerted at 10:13 a.m. to a gun attack at The Covenant School, a Christian private school in Nashville. Arriving
officers began clearing the ground floor of the building and then heard gunshots coming from the first floor, Aaron said. There the police met the attacker and shot her.
Police officers with rifles, body armor, and helmets could be seen in the school parking lot and on the lawn in front of the building Monday morning. A spokesman said the victims were dead upon arrival at the local hospital. The school is a private Christian institution and serves approximately 200 children from preschool through sixth grade. There is also a kindergarten there. A mother told US television that her daughter wrote to her saying that she and her classmates hid in the closet during the incident.
Nashville is the capital of the state of Tennessee – almost 700,000 people live
there.
In a statement, Nashville Mayor Freddie O'Connell said: "Nashville sadly joined the communities today who witnessed a school shooting. For now, I focus on supporting the families affected and rethinking our efforts to prevent these horrific scenarios."
White House: How Many More Children Have to Die?
US President Joe Biden again called for a ban on assault rifles after the Nashville school shooting. He called on the US Congress on Monday to pass a tightening of gun laws he had proposed. "We must do more to stop gun violence," Biden warned. Gun violence is tearing apart
the country's communities and the nation's soul. "It's sick," said the President. The First Lady of the USA, Jill Biden, a teacher herself, was also dismayed. "I'm really at a loss for words. Our children deserve better," she said in Washington. "We join Nashville in prayer." There are more guns in circulation in the United States than anywhere else in the world. This makes for bleak records:
According to the latest data from the CDC, around 20,000 people were shot dead in the United States in 2020 - more than 50 a day. In addition, for the first time in 2020, gun injuries were the number one killer of children and adolescents in the United States, ahead of traffic accidents.
In May, an 18-year-old gunman killed 19 children and two teachers at an elementary school in Uvalde, Texas, before being shot dead by police.
6 March 28, 2023
Police escort children out of school in a long line. Police officers killed the attacker.
7 March 28, 2023
AFTER MURDERING HER FIANCE WOMAN LIVED TWO MONTHS WITH A CORPSE
A dead body begins to decompose after a day or two. A Georgia woman lived with a corpse under one roof for TWO MONTHS. And that during the months of April to June, when it can get up to 30 degrees warm in the US state of Georgia.
The story behind the baaah message goes like this: Tabitha Wood (46) and Leroy Kramer († 82) met at breakfast in a fast-food chain restaurant. She briefly
moved in with the much older man, and the couple became engaged.
The victim was a "deep sleeper."
Kramer, as Wood now described it in court, did not wake up one morning. The nose was bloody. She left the man, "a deep sleeper," in bed for three days. It was only then that she realized that something wasn't right. For fear of being shot dead before the police stormed the house, she did not report the death.
Tabitha Wood also said she was regularly abused. The accused admitted there had been an argument the
night before – because the 82-yearold wanted sex, but she didn't. He then hit her with a belt. Wood acknowledged a possible "blackout" after spending the night before her fiancé's death outdoors.
Autopsy proves
murder.
The jury did not believe the accused. Especially since the autopsy of the completely decomposed body revealed that Leroy Kramer had been murdered.
Coroners determined a blunt force injury as the cause of death. And so the verdict against Wood was: Guilty! The sentence will be announced at a later date. The death penalty in Georgia is carried out by lethal injection.
8 March 28, 2023
Tabitha Wood (46) faces the death penalty for murdering her fiancé († 82
Leroy Kramer († 82
9 March 28, 2023
Sugar Ray Leonard Legendary World Boxing Champion
The Rancho Mirage Speakers Series of sports legends held its last event on March 21st. Closing out the series was the iconic boxer Sugar Ray Leonard. Sugar Ray is a boxing legend with six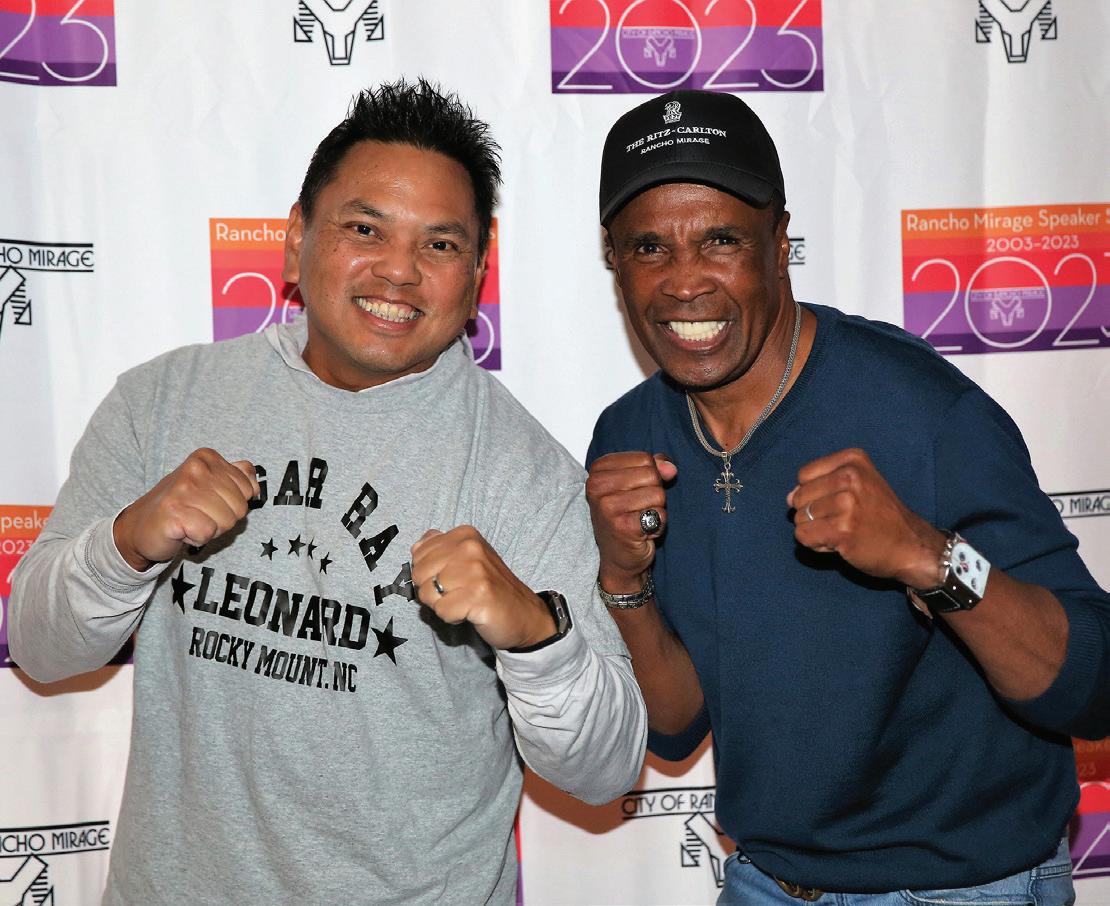 world champion titles. He is considered one of the greatest boxers of all time. The event was held at the SHOW at the Agua Caliente Resort, Casino, and Spa.
He came on the stage and was interviewed by Sibley Scholes, who knew about his life and asked those questions. One of his
first comments was that he thanked God daily for all that had happened. He said it was not just him but many people that helped him get where he is today. He said he learned so much from all his boxing foes. Speed is the ultimate weapon in boxing.
He said there were people he trusted in his career and life; one was his trainer. He said he always gave
100%. You have to believe in yourself. People will tell you you can't do something, so you must prove them wrong. If you lose, you have to do it another way to win. He said his most outstanding achievement was winning the Gold Medal at the Olympics. He cried when he got the Medal on the podium.
Sibley asked him about his days as an addict. He
10 March 28, 2023
Story and Photos by Pat Krause
Tony Nuntasiri and Sugar Ray Leonard.
Photo Pat Krause
Sugar Ray Leonard - Photo by Pat Krause
spoke candidly about that time. He said he prays daily to a Higher Power. He talked about what he did to quit drugs and alcohol. He loves to play golf and plays tennis a few times a week. He tries to stay in shape. He said Boxing found him as he did not seek it. He has a foundation to research and cure diabetes. The main focus is children and learning to eat healthily.
Sibley gave him a glove to try on. Sugar asked a member of the audience, Dirk Thye, to come up to spar with him. He interacted with the audience several times. The Q&A brought a lot of laughter from Sugar, Sibley, and the audience.
He said, in the end, to work hard, enjoy life and never give up. Don't keep things inside; talk about them and let them go. It was a very enlightening series by sports legends.
11 March 28, 2023
Council Member Ted Weill, Interviewer Sibley Scholes, Council Member Lynn Mallotto, Sugar Ray Leonard, and Mayor Richard Kite. Photo Pat Krause
Joanne Talerico, Sugar Ray Leonard, Matteo Baker, and Jesika Pinto
-Photo by Pat Krause
Jeremy Haiko, Sugar Ray Leonard, and Eula Harris
-Photo Pat Krause
Sugar Ray Leonard and Dirk Thye
-Photo Pat Krause
SAVING PRIVATE RYAN STAR TOM SIZEMORE HAS DIED.
Tom Sizemore (61) is dead. The US actor was known for roles in "Black Hawk Down" and "Saving Private Ryan."
According to US media reports, his spokesman Charles Lago said that the 61-year-old died in a California hospital on Friday. "His brother Paul and his twin sons Jayden and Jagger (17) were by his side," Variety quoted the release as saying.
The actor was hospitalized in mid-February after a stroke and brain aneurysm. On Monday, the spokesman announced that the doctors saw no chance of recovery for the patient in a coma. Instead, they would have recommended that the family turn off the life support equipment to
which the 61-year-old was connected.
Sizemore starred in Steven Spielberg's award-winning war drama Saving Private Ryan alongside Tom Hanks and Matt Damon. He had other roles in "Black Hawk Down," "Pearl Harbor," "True Romance," "Red Planet," "Natural Born Killers," and "The Secret Man."
During his career, the actor has had frequent run-ins with the law. Arrests were made several times on allegations of domestic violence, illegal drug possession, and probation violations. He served prison sentences and participated in rehab programs.
12 March 28, 2023
Tom Sizemore was 61 years old
13 March 28, 2023
The 29th Chase Gala 2023
The 29th Steve Chase Gala was held at the Jackie Lee Houston Plaza and the street in front of the Palm Springs Convention Center. The road was blocked off, and several tables were placed there. I saw that the cut-off for attendance was at 900 but was told later
it was 1000 people attending. Guests walked a Blue Carpet into the gala setting— guests who wanted their photos taken on entry. Self Parking and Valet parking were provided.
An extensive cocktail reception was held in the lobby of the Convention Center. Silent auction items were on display for bidding. Guests mingled and greeted old friends. Appetizers were
served, and several bar areas created refreshments. Guests found tables where they were served a box, Bon Appetit Al Freso, dinner of Vegan or salads, Beef Tenderloin and Salmon, plus a dessert. Great way to do so many in an outdoor setting, and it was delicious. The gala had a different feel this year as last year was scorching, and this year was very cool.DAP cared for its guests by handing out blankets to keep them warm. DAP CEO David Brinkman said DAP
was the first Covid Clinic in the Valley. They see a crisis and act. They provide access to anyone in need of health care or assistance in any way. They continue to grow with new buildings, new housing, and now the purchase of Borrego Clinic to serve the eastern Valley with healthcare.
A video was shown of people whom DAP has helped. They turned their lives around with their help. They said that if you donate, you are investing in a person's life. They
14 March 28, 2023
Story and Photos by Pat Krause
Jim Gonzales, honoree Donna Karan, DAP supporter Bobbi Lampros and DAP CEO, David Brinkman
are success stories that happen every day at DAP. They noted that DAP was a friendly, warm, welcoming place that offered help without judging. A live auction was held, and the paddle rose for donations. Some people matched donations, and the area was lit with red lights for people bidding. They raised 1.4 million last year and wanted to raise more this year.
Two thousand twentythree honorees were Fashion Icon and Humanitarian; Donna Karan was given the 2023 DAP Health Equity Award. In addition, Conrado E. Barzaga, MD, and Desert Health Care District and Foundation were awarded the 2023 DAP Health Humanitarian Award. Michael Urie, SAG Award Nominee, was the Host.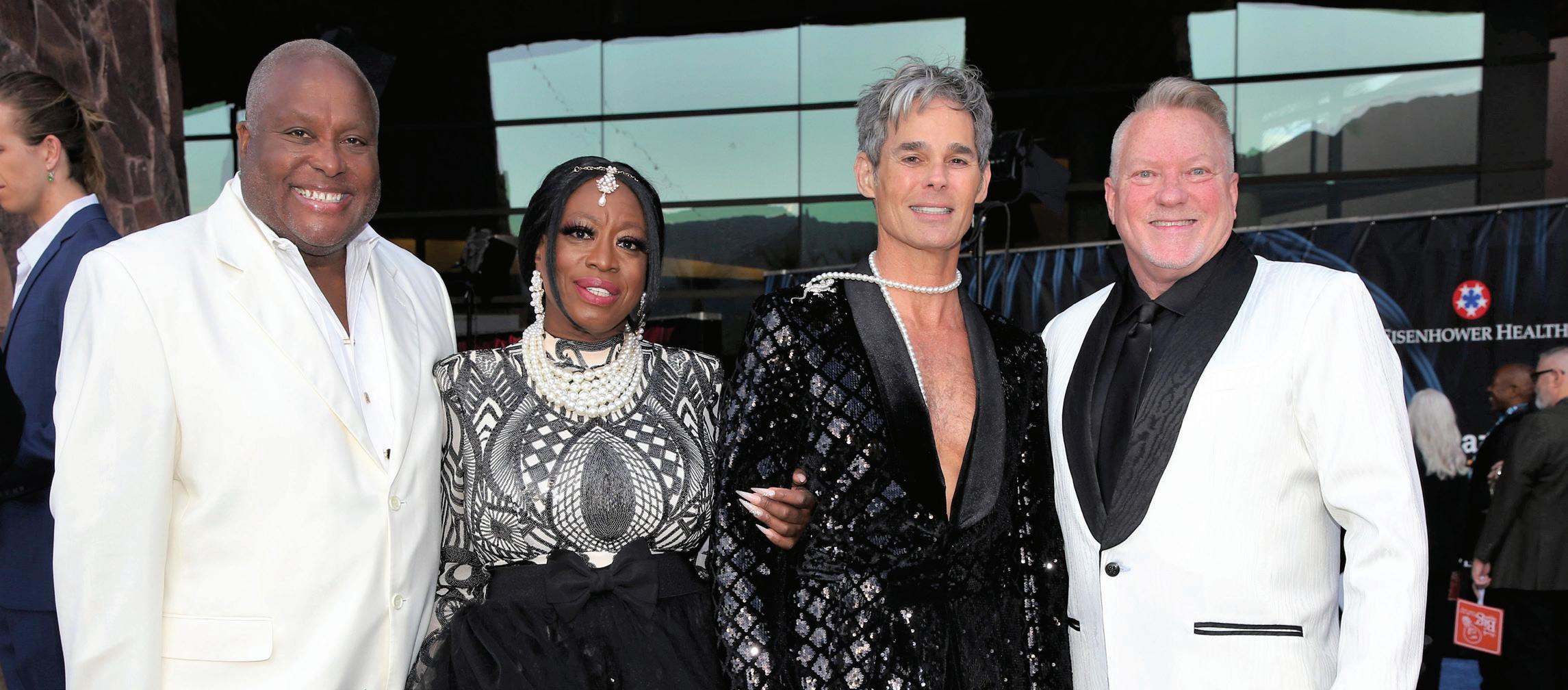 Darren Criss, Emmy and Golden Globe winner, was the headliner. Guests performers Nick Adams, Broadway Star, and Saycon Sengbloh, a Tony Award nominee, sang to the guests' delight. Co-chairs were Kevin Bass, Lauri Kirby, and Scott Nevins. Donna Karan spoke about our country is being divided, but here she saw unity. She talked about Urban Zen which she created, and her passions in life. Congressman Raul Ruiz awarded Barzaga, MD, and Desert Health Care the award. An after-party with DJ Modgirl followed.
15 March 28, 2023
Co-chair Lauri Kibby with honoree Donna Karan
Eric Davis, Keisha D, David Bader and Jeff Hocker
Bart and Terri Ketover with Co-chair, Kevin Bass
Women of DAP with co-chair Lauri Libby
SEVEN COPS KNEEL ON A MAN FOR ELEVEN MINUTES UNTIL HE DIES
Irvo Otieno (28) died two weeks ago at the hands of the American police. Born in Kenya, he was admitted to a psychiatric hospital in Henrico (US state of Virginia) on March 6 –but he is fighting back.
A group of police officers pushed the man, whose hands and feet were tied, to the ground. Then, they kneel on Irvo Otieno for more than eleven minutes until he stops breathing.
A surveillance camera recorded the last moments of the African American's life. Excerpts from the recording show how hospital staff stands around while the police crush the mentally
ill man. Then, when he no longer reacts, paramedics try to revive him.
An autopsy determined that Irvo Otieno suffocated. Seven police officers and three hospital workers were charged with manslaughter. Prosecutor Ann Cabell Baskervill believes Otieno died under the weight of the officers.
Caroline Ouko, the dead man's mother, also makes serious allegations against the police and the hospital.
"All of my son's systems failed," she said on Monday.
"They set a trap for him." As a result, his family claims he was deprived of medication for three days.
Irvo Otieno had been mentally ill for years. He was living with his mother when,
according to her, he started having mental problems again three days before his death. Otieno tore lights from a neighbor's front yard and knocked on the door. A neighbor suspected that it was a burglar and called the police.
Officers took Otieno into custody and took him to a hospital for a check-up. There he is said to have attacked police officers. The native Kenyan was then put in a detention center.
On March 6, Otieno was taken to a hospital one last time. What happened in the final minutes of his life will be the subject of the trial. The scenes published by the "Washington Post" and the "New York Times" only summarize the surveillance
footage. According to officials, Otieno behaved "aggressively" during the briefing, so he was restrained.
The case is already reminiscent of the murder of African American George Floyd on May 25, 2020. The white police officer Derek Chauvin had pressed his knee on the African American in Minneapolis for around nine and a half minutes. However, Floyd repeatedly complained that he was not getting any Air. For months, especially African Americans across America protested against police violence. Then, a year later, Chauvin was sentenced to 22 years for murder.
16 March 28, 2023
Irvo Otieno (28)
NEW ABUSE SCANDAL IN US POLICE DEPARTMENT
Teresa Williams, 35, was proud because she was the first woman police officer in the history of the small Iron Mountain, Michigan, police department. But, four and a half years after taking up her post, the American
is suing her former employer.
The allegations weigh heavily: Williams claims to have been systematically abused by a colleague and a supervisor! NBC News reports this.
The victim was forced to perform Fellatio. According to the 35-yearold, the attacks began just
a few weeks after she was hired in the autumn of 2017. On a pub night, her boss Joseph Dumais forced her to have a schnapps with her and then kiss him. That is the admission ritual in the 7,500-inhabitant town. "Ultimately, Williams gave in to the pressure," the indictment says. After a short second, Dumais put his hand between her legs.
On another visit to the bar, she was indecently touched by another colleague named Garth Budek on the way home. He also forced her to have fellatio at another point in time. Again, disgusting: The two officers had made a bet on who would have sex with Williams first, according to the victim.
Superiors wanted to get rid of Williams. The woman confided the "persistent sexual harassment" to a colleague in March 2022 - but he promptly reported it to her superiors. They put pressure on the victim: either she will leave the police service voluntarily, or she will be fired, according to Williams' lawyer, Jack Schulz. Finally, in April 2022, she resigned.
The lawsuit now filed is directed against the two men named and against one other person. She is said to have known about the abuse but not acted.
In addition, the city of Iron Mountain should be held responsible. Gregory Grant represents all of the defendants. He says: We have "always worked to create a safe and respectful work environment for all employees."
17 March 28, 2023
18 March 28, 2023
Giorgi Latso and Anna FedorovaLatso will perform multiple fourhand piano duos, including local composer J.
GIARRUSSO'S 'Serenade' for Piano, Four Hands, Op. 66
The CV Philharmonic Society and the Palm Springs Cultural Center are pleased to announce an exceptional performance by the famed Husband and Wife Piano Duo, Giorgi, and
Anna Fedorova-Latso, on April 4, 2023, at 7 pm at the Palm Springs Cultural Center. The evening will feature piano duets composed and arranged for four hands on one piano. Attendees are encouraged to come early and socialize with fellow chamber music enthusiasts. General Admission tickets are $20 and can be purchased on Eventbrite or at the Palm Springs Cultural Center Box Office during business hours from 4 - 8 pm. The Palm Springs Cultural Center is at 2300 E. Baristo Rd,
Palm Springs, CA 92262
.
The Latso's Piano Duo was enthusiastically formed in 2014 by pianist Giorgi Latso and his wife, Anna Fedorova-Latso. Since then, their interpretations have showcased true passion, deep maturity, and sensitivity. They have been performing fourhand piano recitals and concertos for two pianos worldwide as a piano duo. They have appeared at musical centers, festivals, and scholarly conferences in Europe, Russia, America, and Asia. The Latsos is a favorite among many
concert organizers and promoters, with the Asia Pacific Press calling their performances "thrilling and flamboyant," and the MTNA State Conference hails their "intelligence, liveliness, and enormous charm.''
"We are thrilled to be hosting such high-caliber musicians as part of our Chamber Series," said Nunzio Sisto, Executive Director of the CV Philharmonic Society.
The pianists have developed a close relationship with American composer Joe Giarrusso, a Palm Springs resident, who created and dedicated some four-hand pieces, especially for them, including 'Serenade' for Piano, Four Hands, Op. 66, which will be performed at the concert. Other works to be performed include Felix Mendelsssohn's "Variations for Piano, Four Hands" and a rousing arrangement by Nunzio Sisto of John Philip Sousa's "Stars and Stripes Forever."
The CV Philharmonic Society Chamber Series is a bi-weekly subscription program held at the Palm Springs Cultural Center on select Tuesday evenings. The series features local and national talent. A limited number of subscriptions are available at $30 monthly (two shows). Alternatively, individual tickets can be purchased for $20 a show.
19 March 28, 2023
PUTIN AND TRUMP IN THE SIGHTS OF THE JUSTICE
What do these two arrest warrants mean for the world?
First, it hit warmonger Vladimir Putin (70). On Friday, the International Criminal Court (ICC) in The Hague announced the arrest warrant for
Donald Trump (76) could be behind bars as early as Tuesday. He told it himself on social media.
What the two arrest warrants mean for the world.
What is Putin accused of?
According to chief prosecutor Karim Khan (52),
20 March 28, 2023
Shhhh! Hush money: "Stormy Daniels"(44) on a fan postcard with Donald Trump
Putin committed or was responsible for war crimes. Victims are thousands of abducted children from Ukraine who were "adopted" and brutally reeducated in Russia!
Is he going behind bars?
Questionable! Only 123 of 195 countries worldwide recognize the Criminal Court in The Hague as the supreme authority. Putin could use it to vacation without expecting imprisonment in countries like Egypt, Syria, and even the USA. In case of doubt, he will be guaranteed impunity before
traveling (e.g., for peace negotiations) ... Judges in The Hague will "request the investigators from Interpol for enforcement."
How does Putin react?
Calm, predecessor Dmitry Medvedev (57) jokes on Telegram: "The idiots in Europe want to arrest a stranger, and in America, their president is being arrested."
What is Trump accused of?
Compared to Putin's war crimes - little! He is said to have distributed hush money through his lawyer
during the 2016 election campaign, e.g., $130,000 to porn star Stormy Daniels, 44, to cover up an alleged affair (which he denies). A grand jury is deliberating on whether Trump violated campaign finance laws. He is also said to have declared the hush money "costs for legal advice."
Is he going behind bars?
This needs to be clarified. The grand jury in New York is scheduled to decide whether to indict him this week. But, for today, prosecutor Alvin Bragg (49) has invited a surprise
witness to convict Trump. How does Trump react?
He is calling for protests because the judiciary wants to exclude him from running for the White House again "based on fabricated allegations" to make political profit from the affair.
Why is the case so delicate?
It could be the first time a former US President will be indicted. If convicted, a US federal law would prohibit him from running again for the 2024 election and, thus, a second Republican term.
21 March 28, 2023
Both under pressure from the judiciary: Russia's dictator Vladimir Putin (left) and Donald Trump (then US President) in Hamburg in 2017
"Only Murders in the Building" star also likes to show off dressed up on the platform
22 March 28, 2023
SELENA GOMEZ
IN THE TEAM WITH MESSI AND RONALDO
Selena Gomez (30) knows her way around with hits. But now she has achieved a completely different number one: She is the first woman to have over 400 (!) million fans on Instagram.
What a blatant record for the singer! Only two celebrities have more followers; both are football icons: Lionel Messi (35) and Cristiano Ronaldo (38). Selena currently has 401 million Insta subscribers, Messi 443 million – and Ronaldo a whopping 563 million!
Selena and her fans have been a tight-knit crew for a long time. They like to call their superstar idol the "Queen of Instagram." The musician has recently been very private and approachable there, posting candid, natural photos of herself. But she also pretends to be vulnerable, discussing mental health and the dangers of too much social media use.
Justin Bieber's ex said of the drama that often streams online: "It's all a bit ridiculous. And I'm 30. I'm too old for this."
Gomez on your heels?
Entrepreneur Kylie Jenner (25).
The two have been in a head-to-head race for the most followers over the past few weeks. The youngest sister of the Kardashian clan has long held the lead with 382 million followers, but now Selena has quickly overtaken her. And this is said to have something to do with an alleged dispute between Selena and Kylie: Jenner is said to have made fun of the pop singer online.
As Kylie lost followers, Gomez's fan base grew by millions - making her the Insta queen.
23 March 28, 2023
Ronaldo (above) and Messi
Selena Gomez's latest selfie: Beautiful - and pure nature
Sacred Hot Mineral Spring
The Spa at Séc-he
PALM SPRINGS, CALIF. – Today, the Agua Caliente Band of Cahuilla Indians released a detailed spa menu and booking details ahead of the Tuesday, April 4, 2023, public opening of The Spa at Séc-he at the Agua Caliente Cultural Plaza.
Known for its location at the 12,000-year-old hot mineral spring in downtown Palm Springs, Calif., The Spa at Séc-he will offer a unique private mineral bath experience called Taking of the Waters, an ancient practice sacred to the Agua Caliente Band of Cahuilla Indians' culture. Twenty-two private mineral baths create a ritualistic healing experience that adds to the guests' treatment or
day pass journey.
The Spa at Séc-he offers a full menu of massages, facials, scrubs, wraps, couples retreats, and salon services within its 15 treatment rooms, in addition to specialty experiences such as cryotherapy, flotation, and water cupping massages. In addition, the wellness spa features a clinical skin support line, organic skin care, advanced technology facials, hair treatments, and an array of wellness packages with customizable options. Be Well Balance, a highly exclusive fitness membership, is limited and subject to availability.
"We carefully curated The Spa at Séc-he menu to showcase wellness treatments that speak to the importance of healing and wellness to the Tribe, their rich culture, traditions, and also to the current state of the wellness industry to
ensure our offerings align with the most luxurious and desired spa experiences on the market," said Daniel
ensured our amenities create one of the most relaxing and indulging atmospheres in our valley
Spencer, Director of Spas at Agua Caliente Casinos. "We have something for everybody. Our Spa Wellness Experts are highly trained in creating a customized wellness journey for guests interested in a full circuit experience. We've
and beyond."
Owned by the Agua Caliente Band of Cahuilla Indians and operated by Agua Caliente Casinos, the more than 73,000 square foot The Spa at Séche complex will feature an
24 March 28, 2023
expansive menu to provide guests with an ancient wellness journey like no other. As part of a reserved treatment or day pass, guests will have access to the luxurious spa amenities, including 22 private mineral baths, a boutique fitness room, a grounding room, an acoustic wellness lounge, a tranquility garden, a menthol dry sauna, eucalyptus steam room, two halotherapy salt caves, a waterfall pool with a paradise-inspired grotto, a zero-edge mineral pool, four whirlpools, four luxury cabanas, four-day beds, a full-service salon with scalp treatment beds, a cafe and a poolside bar – Málmal Café at The Spa at Séc-he and Pál Bar at The Spa at Séche.
Public booking opens Thursday, March 23, 2023, for the opening on Tuesday, April 4, 2023. Reservations can be made at (760) 883-1234. A full spa treatment menu can be viewed at thespaatseche. com/spa-services/spatreatments.
Later this year, the remaining Cultural Plaza venues will open to the public – the Agua Caliente Cultural Museum, Gathering Plaza, and Oasis Trail. The Tribe broke ground on the Cultural Plaza project in May 2018.
25 March 28, 2023
Source: Pam Price
Much loved singer and part-time desert resident Nancy Sinatra, whose father, the legendary crooner Frank Sinatra, helped put the Palm Springs destination on the map, will cruise her way to the Downtown Park as she headlines the City's 85th Anniversary Classic Car Parade on Saturday, April 8 as part of the City of Palm Springs 85th birthday celebration.
The entire Coachella Valley is invited to celebrate the City's legendary past and bright future at a FREE community, fun-filled birthday party all day. It's all brought to you by the City of Palm Springs, the Agua Caliente Band of Cahuilla Indians, P.S. Resorts, the Palm Springs Chamber of Commerce, Splash
NANCY SINATRA
Grand Marshal Palm Springs
85th Anniversary Classic Car Parade
House, and Poppy Vacation Homes.
The fun kicks off at 11:30 a.m. with a magnificent classic car parade called "Cruising Through the Years" that takes off along Amado Road from the Palm Springs Convention Center to the Downtown Park, featuring Sinatra and a host of local celebrities, community leaders, and city pioneers riding in 85 classic cars from 1938 when the city was incorporated -- to the present day!
Some of the participants joining Sinatra in the parade include football legend and Palm Springs resident Fred
"The Hammer" Williamson, Super Model and local resident Beverly Johnson, the first African American woman to appear on the cover of American Vogue, local philanthropist Harold Matzner, Chairman of the Palm Springs International Film Festival, Charlie Pasarell, founder of the
BNP Paribas Open, tennis legend Rosie Casals, Lisa Vossler Smith, CEO of Modernism Week, globally renowned Palm Springs artist Phillip K. Smith, local resident Nelda Linsk, immortalized in the famed 1970 Slim Aarons photograph "Poolside Gossip", acclaimed local architect Hugh Kaptur, Evernell Black, the City's 86-year-old Senior Inspiration honoree, several former Palm Springs mayors including Ron Oden, Rob Moon and Will Kleindienst, along with Grant Fuhr and Gino Lamont from the Coachella Valley Firebirds, Emmy Award- winning journalist Hank Plante, local KESQ News Channel 3 anchors John White, Haley Clawson and members of the news team, Mike Mozingo and Kris Long from the KNEWS Morning Show as well as a host of other local media figures and well known residents who have made an impact on the Palm Springs destination. In addition, accessible bleachers will be set up near
Jackie Lee Houston Plaza for residents to view the parade on a first-come, firstserve basis.
"We are thrilled to have the fabulous Nancy Sinatra and so many other local celebrities, community leaders, and pioneers join us for what is sure to be an epic parade and incredible day celebrating 85 years of the magic that makes Palm Springs like no place else," said Mayor Grace Garner. The vintage cars will be displayed around the Forever Marilyn sculpture after the parade for all to enjoy. Everyone is invited to get a selfie in front of the vehicle from the year they were born!
This year's media partners are KESQ News Channel 3, The Palm Springs Post, Alpha Media, KGAY
106.5 FM, MeTV Music
103.1 FM, Gay Desert Guide, and Palm Springs Life.
Source: Pam Price
26 March 28, 2023
27 March 28, 2023
28 March 28, 2023