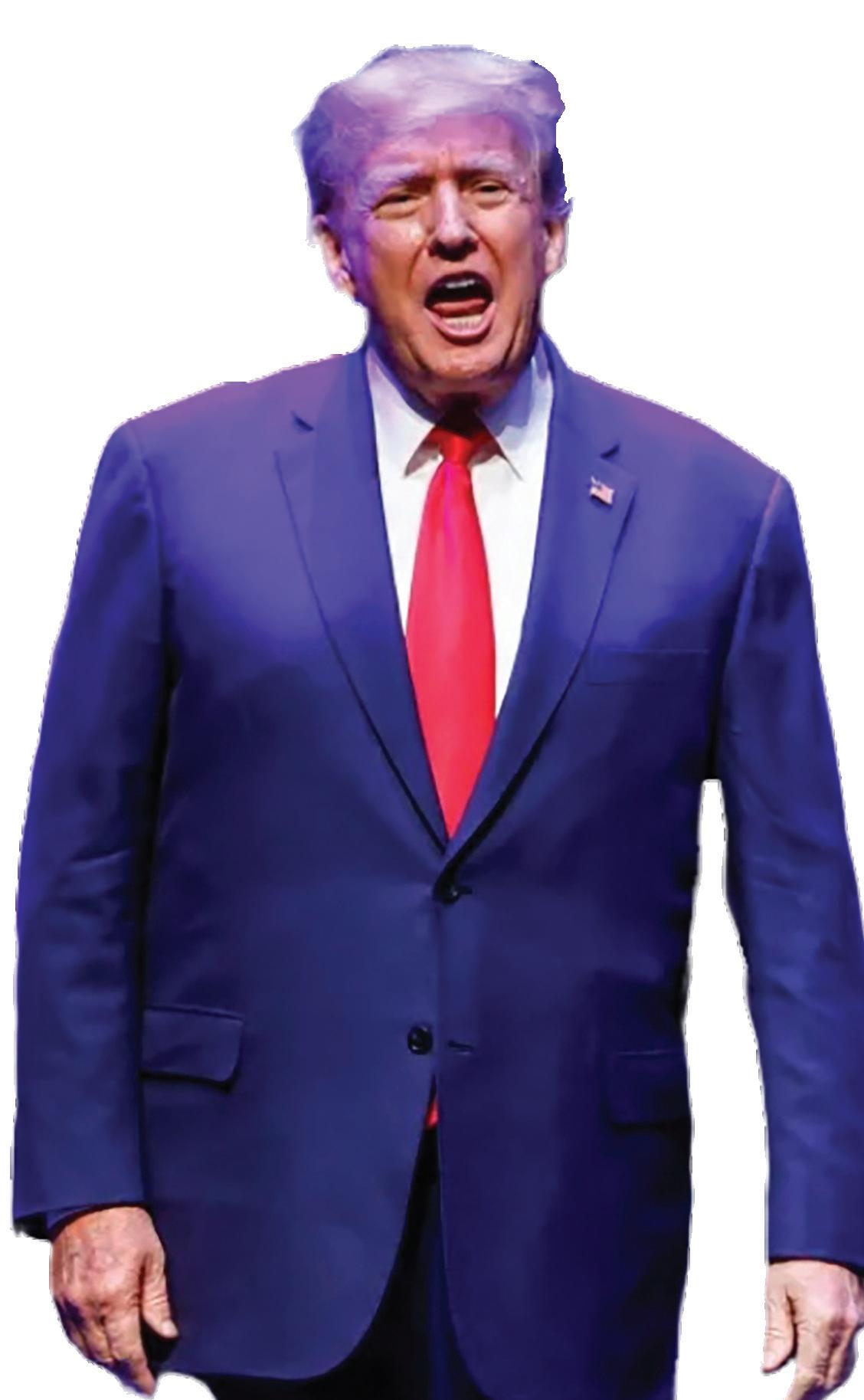 March 21, 2023 Special Issue March 21th, 2023
Page 19
CRAZY TRUMP PREDICTION "ON TUESDAY, I WILL BE ARRESTED!"
Academy Awards
All Oscar winners at a glance
The 95th presentation of the "Academy Awards" occurred Sunday night. The winners of the prestigious film award have now been determined: Here is an overview of all the Oscar winners.
Best movie
WINNER: "Everything Everywhere All at Once"
Best Director
WINNER: Daniel Kwan and Daniel Scheinert for "Everything Everywhere All at Once"
Best Lead Actor
WINNER: Brendan Fraser for "The Whale"
Best main actress
WINNER: Michelle Yeoh"Everything Everywhere All at Once"
Best supporting actor
WINNER: Ke Huy Quan for "Everything Everywhere All at Once"
The best supporting actress
WINNER: Jamie Lee Curtis for "Everything Everywhere All at Once"
Best Original Screenplay
WINNER: Dan Kwan and Daniel Scheinert for "Everything Everywhere All at Once"
Best Movie Song
WINNER: "Naatu Naatu" for "RRR"
Best International Film
WINNER: Germany: "Nothing new in the West."
Makeup and Hairstyles
WINNER: "The Whale"
Film Music
WINNER: Volker Bertelmann
for "Nothing New in the West"
Best sound
WINNER: "Top Gun:
Maverick"
Visual Effects
WINNER: "Avatar: The Way of Water"
2 March 21, 2023 95th PRESENTATION
OF THE
Ke Huy Quan and Jamie Lee Curtis won Best Supporting Actors (both for "Everything Everywhere All at Once"), Michelle Yeoh ("Everything Everywhere All at Once") and Brendan Fraser ("The Whale") for Best ActorEverywhere All at Once."
And the Oscar for smallest bra goes to 'SHE'
At this year's Oscars, this outfit was FEDER-leading!
The breath of nothing is placed with millimeter precision on her bare skin, making actress Hunter Schafer (24) the favorite of all photographers on Sunday evening at the "Vanity Fair Oscar Party" in Beverly Hills.
Because instead of a big robe and a lot of glitz and glam, the "Euphoria" star wore a more than daring creation from the current autumn/winter collection by Belgian designer Ann Demeulemeester (63).
A bright white feather served as a top attached to the delicate bosom band. Underneath, Schafer wore a floor-length satin skirt in pure white, which nestled cheekily on her hips.
Add a bit of minimalist jewelry and delicate make-
up to the blond mane, and the award-worthy look is complete. Most beautiful accessory? The Hollywood newcomer's mega abs.
Who is Hunter Schafer?
The 24-year-old plays the young trans woman Jules Vaughn in the HBO teen hit "Euphoria" and touches not only the LGBTQI community with her acting debut. Because Hunter Schafer is trans himself. By her own
admission, she underwent gender reassignment surgery early in high school. In a radio interview, she said, "I like it when people know I'm not a cis girl because I don't feel like that. I am proud to be a trans person."
(Cis people identify with the biological sex assigned to them at birth based on their physical characteristics, NB)
3 March 21, 2023
Szenenbildner Christian M. Goldbeck, James Friend und Edward Berger (v. l.) feiern ihre Oscars für "Im Westen nichts Neues"Once."
Rihanna
Ke Huy Quan and the Spielbergs'
Hunter Schafer
What Impact on the USA Banking will the Crash of Silicon Valley Bank Cause?
Silicon Valley Bank was a crucial financial conduit between startups and venture capital firms. It was also a significant funding source for many tech companies that went public last year.
It was a classic run on a bank.
As VC fundraising waned, the bank's clients started pulling money out of their accounts faster
than it could scrounge enough deposits to cover them. That left the bank with a deficit, and California regulators took over the Santa Clara, Calif.-based lender on Friday.
The crash of Silicon valley bank is one of the biggest bank failures since 2008. This will cause much contagion and almost certainly more bank failures.
Silicon Valley Bank was the 16th largest lender in the USA, with around $200 billion in assets. As a result, it was susceptible to the boom-and-bust cycles of the tech industry.
A significant reason that Silicon Valley Bank collapsed was that its bonds lost value, making them less attractive to investors. This was caused by the Federal Reserve raising interest rates.
In response, many of its customers shifted their money elsewhere. That led to a run, which doomed the bank's plans to raise capital and find a buyer.
The failure of SVB is causing financial turmoil for startups, many of whom rely on the bank to process checks and payments. For example, Shelf Engine, a 40-person startup that
It was a mismatch of assets and liabilities.
The bank was a resource for tech companies, startups, and venture capitalists. They deposited massive amounts of cash raised through IPOs, SPACs, and other equity funding into accounts at the bank.
But as interest rates
4 March 21, 2023
helps grocery stores reduce food waste, relies on SVB for much of its cash.
climbed last year, many startup investors started pulling cash out. Silicon Valley Bank, which invested much of that money in bonds, then lost a fortune as its investments declined.
As a result, SVB had a colossal mismatch of assets and liabilities. It had plenty of cash, but more was needed to cover its liabilities and keep the bank afloat.
As a result, the Federal Deposit Insurance Corporation had to take over the bank. The agency has said it will pay out up to $250,000 in deposit insurance coverage on Monday and may make future dividend payments to uninsured deposits. This will help protect investors and customers.
1. Immigrant entrepreneurs
While it's safe to assume that the SVB debacle will hard-hit the tech sector, the impact could be far more significant for immigrants and their businesses.
According to the Bureau of Labor Statistics, more than 44% of tech companies are started by immigrants, and nearly 70% of tech workers were born elsewhere.
Considering the number of foreign-born individuals in the US, it's no wonder that the tech industry is so lucrative. While it may be too early to tell what impact the SVB meltdown will have on the larger banks in the USA, it's not too farfetched to speculate that smaller institutions will get the heave-ho.
The competition for retail deposits from T-bills and
MMFs will significantly hurt the small fry. The best way to mitigate the potential risk is to diversify your banking portfolio and avoid any bank with a dubious reputation.
2. Smaller banks
The crash of Silicon valley bank has sent investors rushing to audit the rest of the US banking sector, which layoffs, falling stock prices, and diminishing funding for startups have hit. It's a problem that could spread to smaller banks, too.
The Federal Deposit Insurance Corporation (FDIC) announced Friday that Silicon Valley Bank, the 16th largest lender in the US with about $209 billion in assets, had failed. As a result, it seized the lender's assets and closed its doors.
The bank had been struggling mainly due to the Federal Reserve's aggressive rate hikes in recent years, which have torpedoed tech clients' valuations and forced them to withdraw money. As a result, Silicon Valley Bank lost billions of dollars on the value of its Treasury bonds.
3. Cryptofocused lenders
Crypto-focused lenders are new financial institutions trying to build products around digital assets. But they face many risks, including volatility in the cryptocurrency market that can hit their value and tech failures that may lead
to hackers stealing their assets.
Crypto lenders can be categorized into CeFi (centralized finance) and DeFi (decentralized finance). A private company profit from liquidity exchange between savers and borrowers backs centralized platforms.
Decentralized platforms, on the other hand, are backed by a distributed network of lenders and borrowers that operate through blockchain-based smart contracts. This means that consumers and regulators will be able to demand greater transparency. This can help to democratize the financial system, reduce costs, and offer alternatives to traditional savings accounts and fixed-term deposits.
4. Stock markets
The crash of Silicon valley bank has sparked fear that it could impact the US banking sector. This fear is driven by the fact that many financial institutions rely heavily on client deposits, and even an inkling of doubt can quickly snowball into a problem.
The biggest US bank failure since the 2008 financial crisis sparked a sell-off in all significant financial stocks, with JPMorgan and Bank of America leading losses on Thursday. This was partly because of fears that the Federal Reserve's series of interest rate hikes might cause something to break in the financial system.
5 March 21, 2023 Max Liebermann Publisher Editor-in-chief 760-808-7104 max@desertlocalnews.com NEWS ROOM DesertLocalNews JustTheFactsMax WeGoViral DesertFox STAFF WRITERS JTFMax Pat Krause Robert Kinsler Pam Price George Paul ADVERTISEMENT Javier Soto Desert Local News is a Membership 'DLNews1' Online E-Newspaper For more information email: info@dlnews1.com HTTPS://DesertLocalNews.com
HOW DID HEIDI KLUM BECOME FAMOUS?
Sexy bikini model, mother of four children, clever businesswoman, strict guardian of her "girls," and as popular in Germany as in the USA. This is all Heidi Klum today. But how did the dream career start?
After the cute high school graduate Heidi was discovered by entertainer Thomas Gottschalk in a model contest in 1992, she took off. At that time, she had 25,000 fellow campaigners. Then, as the cover girl of the US magazine "Sports Illustrated" (55 million readers), she finally became famous.
For a long time, she was managed by her father, Günther. However, mother Erna Klum is always close to Heidi and cares for the grandchildren. This is how the "Victoria's Secret" model became a successful entrepreneur!
The trained, long legs, this beautiful radiance under the blonde bangs, the whole super-healthy charm - these are Heidi Klum's trademarks. Simply irresistible!
Heidi Klum's love life
Heidi Klum was born and raised in Bergisch-Gladbach (North Rhine-Westphalia).
After graduating from high school in Paffrath, she moved to New York and made a career as a model
and advertising face.
In the Big Apple, she also found her first husband in 1997, the Australian star hairdresser Ric Pipino. In 2003 the two divorced again.
Heidi Klum returned to the limelight when she was in a relationship with Formula 1 manager Flavio Briatore in the early 2000s. Briatore is the father of Klum's eldest daughter Leni (*2004).
In 2005, Heidi Klum married British singer Seal Samuel and had three more children with him. The separation followed seven years later. Sons Henry (*2005) and Johan (*2006), daughter Lou (*2009), and big sister Leni live with Heidi in their home in Los Angeles.
From 2014 to 2017, Heidi was in a relationship with art dealer Vito Schnabel, who was 13 years her junior. Before Heidi, Vito snapped around with "The Body" Elle Macpherson, Liv Tyler (daughter of Aerosmith legend Steven Tyler), Demi Moore, and Amber Heard. Heidi has been with Tokio Hotel guitarist Tom Kaulitz (33) since 2018. In 2019 they married very romantically on Capri—the blended family of six lives together in California. Tom's twin brother Bill is also an integral part of the family.
Leni Klum
When Leni was born, she immediately made headlines and was nicknamed "Das Klümchen" by the press. After that, Heidi consistently kept her older daughter out of the public eye – until she was 16. The breakthrough for Leni came in 2020: with model mom Heidi on the cover of "Vogue." In the meantime, Leni has already adorned several magazine covers.
Germany's Next Topmodel
In Germany, Heidi is best known as a juror for the model casting show "Germany's Next Top
Model" (GNTM). To the delight of many teenagers, she has been looking for Germany's next top model since 2006. She has already helped several well-known faces, including the models Lena Gerke, Sara Nuru, and Stefanie Giesinger, to a career.
Without question, Heidi Klum knows precisely what qualities a good model must have. So she takes a very close look at every shoot and every candidate.
So she coined the phrase no "GNTM" candidate wants to hear: "Unfortunately, I don't have a photo for you today!"
6 March 21, 2023
Heidi Klum beamed so beautifully at the age of 49
Movies with Heidi Klum
Again and again, Heidi has appearances in films and series, in which she often plays herself – and can laugh at herself.
1998-1999 Chaos City
2001 Zoolander
2001 Sex and the City
2002 Malcolm in the Middle
2006 The Devil Wears Prada
2007 How I Met Your Mother
2010 Desperate Housewives
2018 Ocean's 8
More TV Shows
Since 2004 she has been the host and judge of the successful show "Project Runway" in the USA, for which she won an Emmy in 2013. For the "Queen of Drags" show, Heidi is a permanent juror alongside her brother-in-law Bill Kaulitz and ESC winner Conchita
Wurst. YEAR SHOW
since 2004 "Project Runway."
since 2006 "Germany's Next Top Model." since 2013 "America's Got Talent" (US version of "Das Supertalent" on RTL) since 2019 "Queen of Drags."
Heidi's Halloween show Heidi Klum is known not only for GNTM and her work as a model but also for her creepy, weird, and extreme Halloween costumes. She loves Halloween - and the fans love her scary shows.
Annually throwing one of America's most popular Halloween parties, she spends months preparing and perfecting everything to the smallest detail. Their (respective) men are also harnessed – and disguised as well.
7 March 21, 2023
The Victoria Secret Girls legends
Heidi with ex-husband singer Samuel Seal
Leni Klum nicknamed "Das Klümchen"
120% Lino Brings Italian Style to Palm Desert
By Antony Grant
One of the world's foremost fashion brands has established itself in Palm Desert: 120% Lino is still a recent arrival at The Gardens on El Paseo. This is the world's best quality linen clothing. According to The Gardens on El Paseo website, 120% Lino "is Italy's foremost fashion brand specialized in linen for men, women, and children.
High-quality materials, innovation, selectivity, and precious fibers are the basis of the brand." It adds that "Linen clothing is the oldest known textile ever produced. It qualifies as a strong, fine, and naturally breathable fabric. The raw linen, a very 'cool' resistant fiber, is selected from the best resources worldwide and printed, embroidered, or mixed with silk and cashmere, always in style and tune with the dominant
fashion trends."
This legendary Italian brand "offers an understated elegant style, the perfect fit for people who love sophistication and natural elegance in the city or during travel, every season of the year." Perhaps fittingly for the world's oldest known fabric, my experience with the 120% Lino brand starts with a memory. It was years ago in Paris when I found a pair of white and blue linen shirts in a boutique on a hot summer's day, each with subtle floral patterns. I wore those shirts for years; so durable is the fabric.
I never expected to find this quintessentially Italian brand outside of Europe, so imagine my surprise when
I stumbled upon the bright, airy 120% Lino boutique at The Gardens on El Paseo. This is the only 120% Lino boutique in California. Though understated, the clothing is elegant with surprising pops of color (hand-dyed fabrics) and though functional, has just that right amount of jauntiness to suggest relaxed chic.
The organic linen wear for men and women includes floral-print dresses, wide-leg pants, patterned Bermuda shorts and linen shirts in short and long sleeves, linen blazers in a palette of neutrals, and more. There are also accessories like elegant handbags, belts, and bracelets. A trip to the
120% Lino boutique is like embarking on a yacht tour of the Greek islands—no wonder Italian model Marco Fantini has appeared on Instagram in the brand's clothes against the backdrop of Santorini. Linen is the ideal fabric for the Mediterranean and the harsh climate of the Coachella Valley.
Thanks to 120% Lino, you can defy the desert heat in organic linen style all year. Visit the boutique at The Gardens, Level 1, visit 120percento.com, or call (442) 666-3053.
8 March 21, 2023
Here the Russian jet takes the US drone out of the sky.
On Tuesday evening, the world held its breath: A US drone crashed over the Black Sea, just 33 kilometers south of Russian-occupied Crimea. Supposedly to blame: the Russians!
The US spoke of a "lack of competence" on the part of the Russian pilots and accused Russia of "unsafe and unprofessional behavior." According to the US military, the Russian fighter jets dumped fuel on the drone several times. And the Kremlin? Of course, disagreed. The Russians denied the account, saying the drone crashed after "sharp
maneuvers."
The spectacular footage shows a Russian Su-27 fighter jet approaching the American MQ9 drone (20-meter wingspan). In the flyby, the Russian jet begins dumping fuel - as the jet dumps its fuel, it overflies the drone.
Another sequence shows a Russian Su27 jet approaching the drone again. The fighter jet dumps fuel again and flies over the drone –then the video transmission breaks off.
Because there was a collision, when the video transmission worked again, it could be seen that one of the rotor blades was damaged by the Russian jet. This makes it clear: the Russian claim that the US
drone crashed because of risky maneuvers was a lie.
Former US General Ben Hodges stated: "Russia's downing of the US MQ-9 drone from the sky was illegal because this drone was operating in international airspace. This is reckless, unprofessional, but unsurprising for a
nation's armed forces that commit war crimes daily and ignore international law."
The US general continued: "I expect that the US government will take some measures to make it clear to Russia that this is unacceptable, including deploying another drone there."
9 March 21, 2023
Russian jet approaching: New footage shows a Russian Su27 aircraft overflying the American drone, dumping fuel, and ramming.
After the crash: One of the US drone's rotor blades is damaged.
Scaling Back
5 ways to manage your weight
FAMILY FEATURES
For many people who wish to work toward a healthier weight, one of the greatest obstacles is figuring out where to begin.
These tips from SlimFast consultant and registered dietitian Maryann Walsh show it doesn't take a drastic lifestyle overhaul to make an impact.
Eat Mindfully
Many people who struggle with their weight benefit from being more conscious about what they're eating and why. For example, consider your eating habits, such as eating even when you're not hungry whether that's because it's mealtime and you think you should eat, you're satisfying a craving or using a tasty snack to cope with stress.
Recognizing why you're eating is an important step toward correcting destructive eating patterns, but so is paying attention to the other details of the eating experience, including what you eat and how it makes you feel. Ultimately, this may allow you to choose healthier foods that nourish
your body for the long-term, rather than the brief satisfaction that comes with less nutritious choices.
Consider Intermittent Fasting
One weight-loss method many people find success using is intermittent fasting, which involves abstaining from all food and beverages for a specified time period each day or week. While going too long without food can sometimes lead to excess hunger then overeating later, in shorter, controlled fasting timeframes one can often more easily achieve a caloric deficit, which is required for weight loss.
Prepare for your fasting phase by choosing foods that support satiety.
Options like SlimFast's Intermittent Fasting line of meal bars and protein shakes can help avoid a sense of deprivation with tasty flavors like the Vanilla Cupcake Snack Shake Mix and Vanilla Almond Crunch Complete Meal Bar. The shake mixes deliver 15 grams of slow-digesting protein, compared to whey protein, to help curb hunger, along with more than
20 vitamins and minerals. The meal bars clock in with 15 grams of protein and 10 grams of fiber.
Manage Stress
When you're stressed, your body produces cortisol, which also raises insulin and can drive hunger and trigger cravings for comfort foods. In fact, that's the very reason people tend to overeat when they're under pressure. Light exercise and meditative practices can help you manage your mental strain. You might also consider talk therapy with a friend or professional or spend time unwinding with a book or music.
Get Proper Sleep
Poor sleep habits affect your weight in numerous ways. One is that when you're feeling tired, your hunger and satiety hormones, ghrelin and leptin, can be affected, leading to an increase in caloric intake and subsequent weight gain. Additionally, when you're tired, you're more likely to take shortcuts like skipping workouts or opting for unhealthy convenience
3 Tips for Intermittent Fasting
If you're new to the idea of intermittent fasting, these tips can help you find greater success so you can see results.
1. Pace yourself. Make a gradual transition so your body gets used to going without food for shorter periods of time before you work up to extended fasting periods.
2. Stay hydrated. Avoid confusing thirst for hunger by upping your fluid intake. Staying hydrated and energized while you fast helps keep fatigue and brain fog at bay. Options like
fruit-flavored SlimFast Intermittent Fasting Energizing Hydration Supplement Drink Mix won't break your fast and can help you add variety as a flavorful alternative to water. They can provide the energy and focus you need between meals and are perfect for those who feel groggy or run-down while fasting.
3. Set goals. Know what you want to achieve and why, so your "why" can keep motivating you to follow your intermittent fasting plan even when you're tempted to quit.
foods. All are reasons to make better rest a bigger priority.
Track Eating and Exercise
When you're not paying attention to what you eat and how you move, you may not even realize how your habits are affecting your health. Logging what you eat, especially if you use a tool like an app that helps you see the nutrition breakdown, may give you a
clearer idea of the quality and quantity of your intake. Similarly, when you're specifically writing down the time you're committing to physical activity, you'll find it easier to identify patterns and pinpoint where you can make adjustments to increase your exercise.
Visit SlimFast.com to find more resources on weight management and intermittent fasting.
10 March 21, 2023 Photo courtesy of Getty Images
BHAKTI FEST RETURNS
THE YOGA & CONSCIOUS MUSIC EXPERIENCE OF A LIFETIME IS BACK!
After a 3-year hiatus, Bhakti Fest is finally returning to its magical home in Joshua Tree, California!
This is the longawaited revival of our premiere 3-day Yoga & Conscious Music Festival, offering music all day, every day and a wide variety of yoga, breathwork, sound healing, spiritual and wellness workshops - all in a magical highdesert setting at the Joshua Tree Lake & Campground from September 1517, 2023. We can't wait to gather with you again at the one-
of-a-kind festival with love at its heart.
Extra-EarlyBird tickets are on sale now!
Purchase yours and join us for the 12th celebration of Bhakti Fest. More details and the initial lineup are coming soon, so keep your eyes on your inbox and our Facebook and Instagram. https:// www.bhaktifest.com/ bhakti-fest/
If you purchased
tickets for our canceled 2020 Shakti Immersion, you would receive your transferred tickets to this event within the next month. If you have any questions about your access or would like information on how to transfer them to a future event instead, Email: info@ bhaktifest.com
Source: Jackie Devereaux
11 March 21, 2023
SWITZERLAND'S BANKING GIANTS ARE ALSO TREMBLING
German Bank shares also plummetNational Bank wants to support Credit Suisse in case of emergency.
On Tuesday, the stock markets breathed a sigh of relief: Bank shares recovered somewhat from the fall in prices following the collapse of three U.S. banks. But now the financial crisis is spreading.
On Wednesday, the shares of Credit Suisse, the second-largest bank in the otherwise stable country of Switzerland, plummeted with full force. They sometimes fell by a record 31 percent to an all-time low of 1.58 euros. Most recently, Credit Suisse was trading somewhat recovered at 1.86 euros (as of 6:27 p.m.). However, this still means a more than 20 percent loss on a single day on the stock exchange!
By comparison: In 2007, the share was still more than 97 euros.
The fall of Credit Suisse's share
The trigger for the current fall in the share price: in an interview with Bloomberg TV, the Saudi National Bank ruled out further support for Credit Suisse. The Saudi bank is a significant shareholder in the Swiss institution.
Chief: "We are a strong bank."
The bank is in a severe crisis. It has rapidly lost, and customers have been withdrawing money for months. In the fourth quarter of 2022, the bank recorded outflows of just over 110 billion. Customers started assets amounting to around 123 billion francs in the past fiscal year.
Will the bank now have to be rescued by the state?
Possibly! The Swiss National Bank wants to provide Credit Suisse liquidity
"if necessary." Reason: Credit Suisse is considered systemically important. Meanwhile, Credit Suisse CEO Ulrich Körner (60)
tries to reassure. "We are a strong, global bank under Swiss regulation; we meet and exceed all regulatory requirements," he said Wednesday in an interview with Asian broadcaster CNA. "Our capital and liquidity base is very, very strong."
Credit Suisse's crash caused share price tremors across Europe. The European banking index fell
6.7 percent. Switzerland's largest financial institution, UBS, plunged 8.5 percent at one point.
And in Germany, too, the effects were massive: the German share index (Dax) plummeted by more than three percent. Deutsche Bank and Commerzbank each lost more than seven percent.
12 March 21, 2023
NOW
Credit Suisse CEO Ulrich Körner
"BIG WHITE HOPE?"
A big white hope, Chris Sununu is betting that his sunny, back-tobasics conservatism could help the GOP after a string of losses. He argues that the party must wrest itself from its extremes and echo chambers. He's been talking up the possibility of running for President in 2024.
1. He's a big white hope Governor Chris Sununu is a candidate who isn't afraid to speak his mind. But, unfortunately, he's a polarizing conservative who has clashed with his party over gun control, vaccine mandates, and tax cuts. He's also been an outspoken critic of former
President Trump. He's been the only declared Republican presidential candidate in 2024 and is considered a serious contender.
In his latest sign of a potential presidential run, Sununu launched a fundraising committee that lets him solicit unlimited donations from national donors. It's a significant step toward his campaign, and he joins fellow governors Nikki Haley and Mike Pence in establishing similar committees.
Sununu has much to prove in the race to become the GOP standardbearer. But first, he's got to convince voters that he can win against the candidate who won the last two national elections.
2. He's a smart guy
Big white hope Chris Sununu may not be built for the job of President, but he is intelligent. As Governor of New Hamshire, he's a strong businessman known for his fiscal responsibility and management skills.
He's a big proponent of a lower tax structure and has pushed for overhauling our state's health insurance system. He's also worked to improve the state's mental healthcare and paid leave systems, making it easier for Granite State workers to access these services.
Now that he's been reelected, Sununu has started to get out of the state more and travel around the country. He's become a frequent guest on national political talk shows and has even been seen as a potential candidate for the
Republican Party's 2024 presidential nomination. He recently launched a national political committee to gauge the support of potential donors. It's a significant step that usually precedes a run for President and will allow Sununu to raise unlimited funds from donors who can remain anonymous.
3. He's a conservative Sununu, a big white hope in the race for President in 2024, isn't afraid to talk conservatively. That's good, especially for a recent party in an uncharacteristically lousy mood.
He is a former environmental engineer firmly committed to fiscal discipline and tax relief. He has also supported bipartisan initiatives, like reducing the opioid crisis
13 March 21, 2023 Continues on page 14
The 34th Annual Desert Symphony Gala has been held at the SHOW at the Agua Caliente Resort Casino Spa on Wednesday, February 8th. Nearly 200 people attended a concert starring Jon Secada. Jon is a threetime Grammy Award
Desert Symphony 34th Gala with Jon Secada
winner, Broadway star, actor, and renowned songwriter. Secada has written songs for some very famous singers. He has starred on Broadway and has been performing for over two decades.
After the cocktail hour, the Amadeus Award was presented to Jaishri and Raju Meta of El Paseo Jewelers. They have been huge supporters of Desert Symphony. Raju Meta said
that a symphony was the first show he saw when he came to America, and he fell in love with it. In addition, the Metas have donated much jewelry for live auctions at local charities.
True local philanthropists.
Desert Symphony was started in Palm Desert in 1989. They bring Professional Orchestral concerts and well-known singers to the Desert.
This Orchestra has the best musicians, soloists, and conductors. Desert Symphony is a non-profit organization.
The funds raised help to further music education thru the Children's Music Discovery Series. Bringing this kind of live music to children is very important as it is outside of schools. Desert Symphony provides scholarships for our youth to pursue a career in music. Many have already achieved
14 March 21, 2023
Story and Photos by Pat Krause
success in their chosen field of music. There was a live auction and raise the paddle to raise more monies to continue these Music programs.
Secada started by asking men to stand and honor the women as it was National Women's Day. Our local symphony backed up Secada. He said he wanted to tell his story about how he has had many opportunities to help him in his career. Jon said that when Frank
Sinatra called him to do a duet, Sedaca was so excited. He sang two of my favorite songs, "Spanish Eyes" and "Que Sera Sera." He ended his concert with "LaBamba," with the ladies coming to the stage to dance.
The concert was opened to the public after the gala was over. Gala guests and the crowd enjoyed it—an incredible double evening.
15 March 21, 2023
Honoree Jaishri Meta, Nancy Tapick, Honoree Raju Meta, Co-chairs Linda Ryder, Marge Barry, and Susan Gelman.
President Nancy Tapick with Jon Secada.
Paul Clowers, Jon Secada, and Frank Goldstin from Momentous productions.
and improving the state's education system.
And he isn't afraid to criticize fellow Republicans. On Sunday, he took shots at Florida's governor, Ron DeSantis, who is considered a likely candidate for the 2024 Republican nomination.
If Sununu enters the race, he's betting that a moderate stance will attract support from conservative
For President 2024 ?
and business-friendly independent voters. But he's also expecting challenges from more socially conservative Republican candidates.
4. He's a good guy Big white hope Chris Sununu Governor of New Hamshire for President 2024
Sununu has a built-in network of voters as the son of a former governor and brother of a former senator.
That's a good thing, political analysts say.
And that political capital has allowed him to raise an efficient campaign budget for his third term as the state's top executive, a position he hopes to hold for at least one more year.
He also has a solid foundation in Granite State's business community and knows how to navigate government bureaucracy.
He says he plans to reduce some of the highest corporate taxes in the nation and simplify complex regulations.
He has also vowed to reinvigorate the state's economy, which has stalled in recent years. That will require cutting costs for businesses and reducing the burden of healthcare costs, which are among the highest in the country.
16 March 21, 2023
CHRIS SUNUNU From page11 _______
17 March 21, 2023
18 March 21, 2023
Will he be handcuffed?
In CAPITAL LETTERS, Donald Trump (76) has announced his arrest on his " Truth Social" social media platform.
"The House-leading Republican candidate and former President of the United States of America will be arrested next Tuesday. Protest, take back our nation!"
Trump urges his followers in a post.
How does he claim to have gotten wind of the matter? Someone allegedly tipped him off. But, of course, Trump dismisses all accusations as "fairy tales," saying nothing can be proven against him.
Donald Trump under pressure
The New York district attorney is investigating Trump for hush money payments to ex-porn actress Stormy Daniels. She had sex with Trump in 2006, according to his statement.
The ex-lawyer of the U.S. president, Michael Cohen (56), explained that four years before Congress, he had paid on Trump's behalf hush money (130 000 U.S. dollars) to Daniels to avert damage from Trump during the election campaign. Trump and his current lawyers admit a payment but deny that Trump had anything with the actress.
This week, Daniels testified against Trump. The jury panel decides in the U.S. after the prosecutor presents evidence on whether to bring charges in a case. U.S. media expect this to happen with Trump in the coming days. He would be the first former US president to be indicted for an alleged crime.
19 March 21, 2023
A COFFEE WITH BUDDIES! BRUCE WILLIS WOULDN'T BE ABLE TO DO IT ALONE.
Bruce Willis (67) is not the same anymore. The days of the indomitable daredevil John McClane, the invulnerable superhero David Dunn or the sword-wielding Butch are numbered. Actor Willis has dementia. The diagnosis shocked the entire film world a few weeks ago.
At the beginning of 2022, Willis made an aphasia disease public and thus ended his film career. But the illness, accompanied by a speech disorder, got worse and has now progressed to frontotemporal dementia, as Willis' family announced.
Here's the superstar's first photo since being diagnosed in February! Photographers met Willis in sunny Santa Monica near Los Angeles. Also present: two friends and three cups of coffee.
Bruce looks relaxed in his pullover outfit and hat, but it's also clear: you can't let him go to the café alone anymore. His buddies take
20 March 21, 2023
good care of him, take care of Bruce
Willis' family wrote in February: "We know from the bottom of our hearts that - if he could see today - he would take action by raising awareness around the world and connecting with those who are also struggling with this debilitating disease, and with the impact, it is having on so many people and their families."
Frontotemporal dementia is a subtype of dementia. The
disease originates in the frontal and temporal lobes of the brain. In contrast to Alzheimer's dementia, those affected do not immediately suffer from short-term memory disorders but are characterized by passivity, apathy, a change in social behavior, and aggressiveness.
Marlene (86, emigrated to the USA with her son Bruce from Idar-Oberstein in 1957). "She says she's unsure if her son still recognizes her." Therefore,
a typical conversation with the movie star is no longer possible. "The speech disorders will increase. Sooner or later, there will be memory loss, and ultimately those affected will become those needing care".
Tragic: The disease is neither curable nor treatable. Despite this, Bruce can count on his family, especially his wife Emma (44) and his daughters Scout (31), Tallulah (29), Mabel (10), Evelyn (8), and Rumer (34). Even on ex-wife Demi
Moore (60), who continues to be an integral part of his life. They are a real patchwork gang.
Before his career ended, Bruce could shoot a few more films to collect the necessary money for his family.
The last strip with him: The actioner "Assassin," which comes to US cinemas at the end of March. In this country, a start date has yet to be discovered.
21 March 21, 2023
Lots of support from all sides: Bruce and his family: ex-wife Demi Moore (2nd from left), now-wife Emma and daughters Scout, Tallulah, Mabel, Evelyn, and Rumer (from left)
SIX-PACK AS A TATTOO - HOT OR JUNK?
A six-pack until the summer? That's only possible with much training and even more discipline. Whereby, wait - this man needed only a few hours for it! He had the crispy body tattooed on his belly!
At least, that's how Australian needle artist Dean Gunther documented it. First, he tattooed the client with the googly in Manchester last year. Then, Sebastian came to the studio after reportedly
working in vain in gyms on the six-pack.
A quick success was needed ...
So he and Dean tinkered with presenting his dream body - art instead of kilos!
In ten hours spread over two days, the tattoo artist wants to have completed his work. "Summer body in two days!" he writes in the clip, in which customer Sebastian proudly shows the result. And then he warns, "Women beware!"
22 March 21, 2023
Do you just tattoo away your belly? The painless procedure should be for something other than hard-boiled guys.
Freshly stung; the colors are very intense, and the skin is irritated. It still looks a bit like sunburn.
S i n c e 1 9 7 8 G o u g h I n s u r a n c e & F i n a n c i a l S e r v i c e s h a s h e l p e d m a n y c l i e n t s w i t h S o l u t i o n s i n a l l c a t e g o r i e s o f I n s u r a n c e R e t i r e m e n t a n d E s t a t e P l a n n i n g & L o n g T e r m C a r e P l a n n i n g E x p e r i e n c e d a n d K n o w l e
ARE YOU IN THE DARK?
LIVING TRUST
What are the advantages of a living trust!
Avoid Probate
Tax Planning
Control
Privacy
How do I set up a Living Trust?
Give us a call today so that we may help you!
Desert Sands Unified School Annual District-Wide Art Show
Paintings, works on paper, sculpture, fashion, graphic arts, and more will be displayed at the Reconnecting: Listen, Learn, Grow
Together. Students Speak Through the Arts Exhibition featuring the Desert Sands Unified School District students. The exhibition opening is on Tuesday, April 4,
from 4:00-6:00 pm at the District Education Center. The exhibition will run through the early months of the 20232024 school year and be displayed throughout the building and the adjacent building. The first district-wide art exhibition was held last school year.
Our generous sponsors, including members of the Artists Council, the La Quinta
Arts Foundation, and the Desert Sands Educational Foundation, have funded both exhibitions. Dance performances by the Nickerson-Rossi Dance Company and studentperformed music will be featured. Refreshments will be served. The event is free and open to the public.
23 March 21, 2023
D O N ' T K N O W W H A T T H E F U T U R E H O L D S ? L E T ' S W O R K T O G E T H E R ! O u r p r i m a r y g o a l i s t o h e l p y o u g r o w m o n e y w i t h a p e a c e o f m i n d .
d g e q u a l i f i e s m e t o b e Y o u r F i n a n c i a l A d v i s o r . S a f e S o u n d S o l u t i o n s f o r t h i s e v e r c h a n g i n g f u t u r e ! Gough Insurance & Financial Services ( 6 5 0 ) 2 0 0 - 8 2 9 1 & ( 7 6 0 ) 2 5 1 - 7 7 2 4 j a n i c e @ g o u g h f i n a n c i a l s v c s . c o m CA License # 0561021 Don't pay attorney fees! w w w . g o u g h f i n a n c i a l s v c s . c o m We will give you a great price!
Logo Design by Angela Torres, Cal State San Bernardino, Palm Desert Campus
SURPRISE! LEO'S LADIES ARE GETTING OLDER.
Leonardo DiCaprio (48) and the women ... A story in itself. It's not just that the movie star's flames like to switch places quickly - Leo also has a penchant for young or even very, very young partners.
But has the former "Titanic" handsome enough of it now? His new love is - at least by DiCaprio standards - much older.
With model Rose Bertram, Leo is now trying something more mature. Because Rose is not 21, not 25, but 28. Unusually experienced, considering who else DiCaprio was with recently.
Actor and model Rose was spotted in Paris on Wednesday. Both came together to the Kúkú
Leo himself is said to have thrown with his friend Richie Akiva.
Photos show DiCaprio in
Belgian Bertram came a little chicer with a coat and a green dress underneath. Whether the two are
Leonardo DiCaprio is one of Hollywood's most eligible bachelors. Has he now set his eyes on this model?
restaurant for a party that, according to "DailyMail,"
an everyday look with a cap and jacket, while the young
together is unknown, but Rose is said to have left the
24 March 21, 2023
Rose Bertram - Leonardo DiCaprio
party just a few minutes after Leo.
And who is Leo's rose? The mother of two already has over a million subscribers on Instagram. Rose has graced the covers of Vogue and Woman's Health and has promoted Dolce & Gabbana, among others. But she also likes the famous when it comes to men: her last boyfriend was soccer runnerup Gregory van der Wiel (35). A source told the Daily Mail: "Leo doesn't like the hype that suggests he's hooking up these very young women. He wants to get rid of this image once and for all, and it bothers him greatly that it continues to haunt him. So he's looking for a more mature relationship."
DiCaprio was partying with 21-year-old Josie Redmond at London's Chiltern Firehouse celebrity hotspot a week ago.
Profession: a model, of course! At the beginning of February, the "Inception" star let it rip at a party hosted by singer Ebony Riley (32), with the only 19-yearold Eden Plani.
25 March 21, 2023
Josie Redmond - Leonardo DiCaprio
Rose Bertram at a shoot in Milan, the Belgian is just starting as a model
Student Art and Poetry Contest
Honors Holocaust History
By Pamela Price
Once again, the Jewish Federation of the Desert reached out to all students from grades 8 to 12 in the Coachella Valley, including home-schooled students, with their annual Art and Poetry competition. All submissions meeting the January 6 deadline were considered for the contest, with awards presented at the Federation office in Rancho Mirage, California, on Feb. 28. Leslie Pepper, the Federation's Director of Women's Philanthropy and Community Engagement welcomed honorees and guests to the afternoon event.
Previously, students with their Art and Poetry submissions laid the foundation for this annual event which had been on hiatus due to the Covid-19 pandemic. After this interval, students were once again briefed on submission guidelines with advice such as "your poem or art entry should not be political but strictly historical as it applies to today."
Art projects took several forms, from drawings, photographs, paintings, and posters to collages, with early submissions encouraged. Before the Feb.28 event, all winners were judged and presented with their cash awards on January 29 at the Community Holocaust Commemoration held at the University of California Riverside Auditorium.
As I was leaving, I had a moment to interview the author of a small but powerful booklet authored by Goldie Jacoby, a desert resident, and Holocaust survivor. I had met her a month earlier when she was
a guest speaker at a local high school in Palm Desert. As one of the youngest survivors of the Holocaust, her story, captured in her book, resonates powerfully to this day.
by Jeff Hocker
26 March 21, 2023
Photos
Talia Lizemer-Hawley, Holocaust survivors Goldie Jacoby & Rickie Taras, Essay Competition winner Amy Stone.
27 March 21, 2023
The first-place winner Lily Jones in the High School Poetry category Photo Jeff Hocker
Leslie Pepper, Jewish Federation of the Desert, presents Awards.
From left: Pamela Price, Talia Lizemer-Hawley, Holocaust survivor Goldie Jacoby, Nanette Davis-Kirchhevel
28 March 21, 2023