CHEWS LIFE: BONES AND ALL 'S TAYLOR RUSSELL IS HUNGRY FOR CHALLENGE
DEADLINE.COM/AWARDSLINE DECEM ER OSCAR PREVIEW
ZOE
JODI
DP
CINEMATOGRAPHERS LENS DIRECTORS' PERSONAL PROJECTS 14 years on from the barnstorming In Bruges, COLIN FARRELL and BRENDAN GLEESON re-team with director MARTIN MCDONAGH to unleash The Banshees of Inisherin PLUS + DANIELLE DEADWYLER + HONG CHAU + ANDREA RISEBOROUGH + CLAIRE FOY + STEPHANIE HSU IN BED WITH
TIMES OF CHANGE:
KAZAN AND
KANTOR FIGHT FOR JUSTICE
BIO: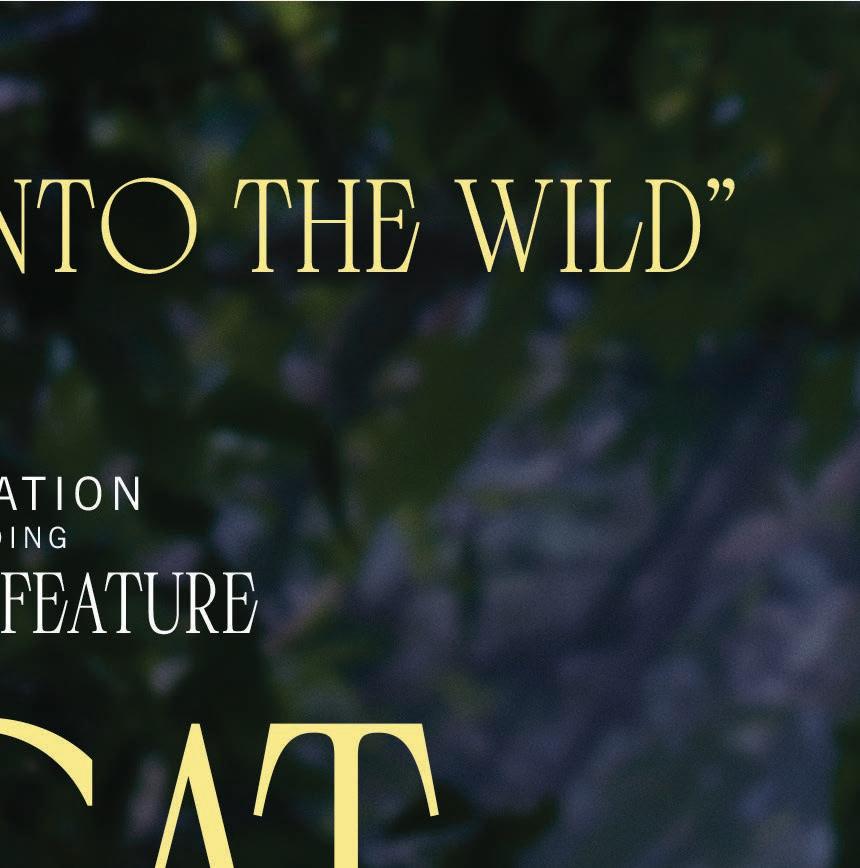 CO-EDITORS-IN-CHIEF
AWARDS
COLUMNIST
EXECUTIVE MANAGING EDITOR Patrick Hipes
EDITORIAL DIRECTOR & BOX OFFICE EDITOR Anthony D'Alessandro
SENIOR
SENIOR
INTERNATIONAL TELEVISION EDITOR Max Goldbart
INTERNATIONAL FEATURES EDITOR Diana Lodderhose
INTERNATIONAL BOX OFFICE EDITOR & SENIOR CONTRIBUTOR Nancy Tartaglione
INTERNATIONAL TELEVISION CO-EDITOR Jesse Whittock
ASSOCIATE EDITOR & FILM WRITER Valerie Complex
ASSOCIATE EDITORS Greg Evans Bruce Haring
CONTRIBUTING EDITOR, ASIA Liz Shackleton
SENIOR TELEVISION REPORTER Rosy Cordero
SENIOR
DEADLINE.COM
Breaking News Follow Deadline.com 24/7 for the latest breaking news in entertainment.
Sign up for Alerts & Newsletters
Sign up for breaking news alerts and other Deadline newsletters at: deadline.com/newsletters
VIDEO SERIES
The Actor's Side Meet some of the biggest and hardest working actors of today, who discuss their passion for their work in film and television. deadline.com/vcategory/theactors-side/
Behind the Lens
Explore the art and craft of directors from first-timers to veterans, and take a unique look into the world of filmmakers and their films. deadline.com/vcategory/ behind-the-lens/
The
Film That Lit My Fuse
Get an insight into the creative ambitions, formative influences, and inspirations that fuelled today's greatest screen artists. deadline.com/vcategory/thefilm-that-lit-my-fuse/
PODCASTS
20 Questions on Deadline
Antonia Blyth gets personal with famous names from both film and television. deadline.com/tag/ 20-questions-podcast/
Scene 2 Seen
Valerie Complex offers a platform for up-and-comers and established voices. deadline.com/tag/ scene-2-seen-podcast/
Crew Call
Anthony D'Alessandro focuses on the contenders in the belowthe-line categories. deadline.com/tag/ crew-call-podcast/
SOCIAL MEDIA
Follow Deadline
Facebook.com/Deadline Instagram.com/Deadline Twitter.com/Deadline YouTube.com/Deadline TikTok.com/@Deadline
CHAIRMAN & CEO Jay Penske
VICE CHAIRMAN Gerry Byrne
CHIEF OPERATING OFFICER George Grobar
CHIEF ACCOUNTING OFFICER Sarlina See
CHIEF DIGITAL OFFICER Craig Perreault
EXECUTIVE VICE PRESIDENT, BUSINESS AFFAIRS & CHIEF LEGAL OFFICER Todd Greene
EXECUTIVE VICE PRESIDENT, OPERATIONS & FINANCE Paul Rainey
EXECUTIVE VICE PRESIDENT, OPERATIONS & FINANCE Tom Finn
EXECUTIVE VICE PRESIDENT, PRODUCT & ENGINEERING Jenny Connelly
MANAGING DIRECTOR, INTERNATIONAL MARKETS Debashish Ghosh
SENIOR VICE PRESIDENT, SUBSCRIPTIONS David Roberson
SENIOR VICE PRESIDENT, DEPUTY GENERAL COUNSEL Judith R. Margolin
SENIOR VICE PRESIDENT, FINANCE Ken DelAlcazar
SENIOR VICE PRESIDENT, HUMAN RESOURCES Lauren Utecht
SENIOR VICE PRESIDENT, BUSINESS DEVELOPMENT Marissa O'Hare
SENIOR VICE PRESIDENT, CREATIVE Nelson Anderson
SENIOR VICE PRESIDENT, LICENSING & BRAND DEVELOPMENT Rachel Terrace
VICE PRESIDENT, ASSOCIATE GENERAL COUNSEL Adrian White
VICE PRESIDENT, HUMAN RESOURCES Anne Doyle
VICE PRESIDENT, REVENUE OPERATIONS Brian Levine
HEAD OF INDUSTRY, CPG AND HEALTH Brian Vrabel
VICE PRESIDENT, PUBLIC AFFAIRS & STRATEGY Brooke Jaffe
HEAD OF INDUSTRY, FINANCIAL SERVICES Carla Dodds
HEAD OF INDUSTRY, TECHNOLOGY Cassy Hough
VICE PRESIDENT, SEO Constance Ejuma
VICE PRESIDENT & ASSOCIATE GENERAL COUNSEL Dan Feinberg
HEAD OF LIVE EVENT PARTNERSHIPS Doug Bandes
VICE PRESIDENT, AUDIENCE MARKETING & SPECIAL PROJECTS Ellen Deally
VICE PRESIDENT, GLOBAL TAX Frank McCallick
VICE PRESIDENT, TECHNOLOGY Gabriel Koen
VICE PRESIDENT, E-COMMERCE Jamie Miles
HEAD OF INDUSTRY, TRAVEL Jennifer Garber
VICE PRESIDENT, ACQUISITIONS & OPERATIONS Jerry Ruiz
VICE PRESIDENT, PRODUCTION OPERATIONS Joni Antonacci
VICE PRESIDENT, FINANCE Karen Reed
VICE PRESIDENT, INFORMATION TECHNOLOGY Kay Swift
HEAD OF TALENT Marquetta Moore
HEAD OF AUTOMOTIVE INDUSTRY Matthew Cline
VICE PRESIDENT, STRATEGIC PLANNING & ACQUISITIONS Mike Ye
VICE PRESIDENT, PRODUCT DELIVERY Nici Catton
VICE PRESIDENT, CUSTOMER EXPERIENCE & MARKETING OPERATIONS Noemi Lazo
VICE PRESIDENT, ASSOCIATE GENERAL COUNSEL Sonal Jain
VICE PRESIDENT, MARKETING & PORTFOLIO SALES Stephanie Parker
VICE PRESIDENT, ASSOCIATE GENERAL COUNSEL Victor Hendrickson
DEADLINE HOLLYWOOD IS OWNED AND PUBLISHED BY PENSKE MEDIA CORPORATION
Nellie Andreeva (Television) Mike Fleming Jr. (Film)
COLUMNIST & CHIEF FILM CRITIC Pete Hammond
& INTERNATIONAL EDITOR-AT-LARGE Baz Bamigboye
EDITOR, LEGAL & TV CRITIC Dominic Patten
MANAGING EDITOR Denise Petski
MANAGING EDITOR Erik Pedersen
DEPUTY MANAGING EDITOR Tom Tapp TELEVISION EDITOR Peter White
INTERNATIONAL EDITOR Andreas Wiseman BUSINESS EDITOR Dade Hayes EDITOR-AT-LARGE Peter Bart
FILM CRITIC & COLUMNIST Todd McCarthy EXECUTIVE EDITOR Michael Cieply
SENIOR FILM WRITER Justin Kroll CO-BUSINESS EDITOR Jill Goldsmith LABOR EDITOR David Robb
POLITICAL EDITOR Ted Johnson
Goodfellow FILM REPORTER Matt Grobar INTERNATIONAL FILM REPORTER Zac Ntim TELEVISION REPORTER Katie Campione PHOTO EDITOR Robert Lang PRESIDENT Stacey Farish EXECUTIVE AWARDS EDITOR Joe Utichi VICE PRESIDENT, CREATIVE Craig Edwards SENIOR AWARDS EDITOR Antonia Blyth TELEVISION EDITOR Lynette Rice FILM EDITOR Damon Wise DOCUMENTARY EDITOR Matthew Carey CRAFTS EDITOR Ryan Fleming PRODUCTION EDITOR David Morgan EDITORIAL ASSISTANT Destiny Jackson DIRECTOR, SOCIAL MEDIA Scott Shilstone DIRECTOR, EVENTS Sophie Hertz DIRECTOR, BRAND MARKETING Laureen O'Brien EVENTS MANAGER Allison DaQuila VIDEO MANAGER David Janove VIDEO PRODUCERS Benjamin Bloom Jade Collins Shane Whitaker DESIGNERS Catalina Castro Grant Dehner SOCIAL MEDIA COORDINATOR Natalie Sitek EVENTS COORDINATOR Dena Nguyen DESI N/PRODUCTION COORDINATOR Paige Petersen CHIEF PHOTOGRAPHER Michael Buckner SENIOR VICE PRESIDENT, ASSOCIATE PUBLISHER Kasey Champion SENIOR VICE PRESIDENT, GLOBAL BUSINESS DEVELOPMENT & STRATEGIC PARTNERSHIPS Céline Rotterman VICE PRESIDENT, ENTERTAINMENT Caren Gibbens VICE PRESIDENT, INTERNATIONAL SALES Patricia Arescy VICE PRESIDENT, SALES & EVENTS Tracy Kain SENIOR DIRECTOR, ENTERTAINMENT Brianna Corrado DIRECTOR, ENTERTAINMENT London Sanders DIRECTOR, DIGITAL SALES PLANNING Letitia Buchan SENIOR DIGITAL ACCOUNT MANAGER Cherise Williams
PLANNERS Luke Licata Kristen Stephens SALES ASSISTANT Daryl Jeffery
DIRECTOR Natalie
DISTRIBUTION DIRECTOR Michael Petre PRODUCTION MANAGER Andrea Wynnyk
INTERNATIONAL FILM CORRESPONDENT Melanie
SALES
PRODUCTION
Longman
First Take 4 TAYLOR
10
and
12 DOCUMENTARY:
. 18 INTERNATIONAL:
. 22 FRESH
Cover Story 24 LEGENDS
Colin
Dialogue 52 DANIELLE DEADWYLER 56 HONG CHAU 60 ANDREARISEBOROUGH 64 CLAIRE FOY 68 STEPHANIEHSU Craft Services 72 BIO
Three
their
Armageddon
and
The Partnership 80 ZOE
KANTOR:
Flash Mob 88 CONTENDERS
ON
MICHAEL BUCKNER FOR DEADLINE CALL SHEET
RUSSELL: The up-andcoming Canadian sinks her teeth into Bones and All.
QUICK SHOTS: Creating a treacherous cave for Thirteen Lives
a multiverse for Everything Everywhere All at Once.
A forensic breakdown of this season's non-
The year's
FACE: Aftersun's C .
OF THE FALL-OUT:
Farrell and Brendan Gleeson reunite for director Martin McDonagh's acerbic break-up comedy The Banshees of Inisherin
DIVERSITY:
cinematographers interpret
directors' personal stories with
Time, The Inspection
The Fabelmans
KAZAN AND JODI
The actress and reporter discuss how art imitates life in their #MeToo drama She Said
FILM - LA: The W C .
THE COVER: Colin Farrell, Martin McDonagh & Brendan Gleeson, photographed by .