SPRING COLLECTION MASTERPIECECOLLECTION.COM
The
The Masterpiece Collection n.
A finely curated collection of our most exceptional properties.
the luxury real Estate industry with a global network of global reach our network local expertise Countries and Territories Offices Worldwide Sales Associates 81 1,100 25,000
Innovating exceptional agents
Sotheby's International Realty
A comprehensive Residential Luxury Real Estate Report of our current Masterpiece Towns. Q1 Market Analysis. All sales included in this report are above $1.5M. Residential Sales 2022 - 2023. 1.5M and above. (1/1/2022 - 4/1/2023) *stats based on MLSLI system information. Luxury Market Report
Brooklyn is one of the five boroughs of New York City, located in the south and west of Long Island. It is the most populous borough, with over 2.5 million residents. Brooklyn is known for its diverse neighborhoods, vibrant cultural scene, and rich history.
Brooklyn Brookville
The village of Brookville, located on the North Shore of Long Island in Nassau County, was originally farms and woodlands known as Suco's Wigwam. In 2009, Businessweek named Brookville the wealthiest town in America.
Centre Island
The 605 acre peninsula has over four miles of coast line bordered by Cold Spring Harbor and Oyster Bay Harbor. Centre Island is located along Long Island's north shore in an area often referred to as the Gold Coast.
Kings Point
A village within Great Neck, this affluent suburb offers its residents access to some of the most top-rated schools throughout Long Island. Among the homes offered here are a number of beautiful Estates.
Number of Sales
Avg. Days on Market
Average Price
Median Price
Highest Price
Number of Sales
Avg. Days on Market
Average Price
Median Price
Highest Price
Number of Sales
Avg. Days on Market
Average Price
Median Price
Highest Price
Number of Sales
Avg. Days on Market
Average Price
Median Price
Highest Price
2022 0 2023 0 2022 1 8 3,750,000 3,750,000 3,750,000 2023 0 2022 2 176 $3,637,000 $3,637,000 $4,800,000 2023 2 109 $1,795,000 $1,795,000 $1,900,000 2022 924 169 $2,404,046 $1,995,000 $9,995,000 2023 488 120 $2,511,707 $2,027,500 $14,180,000
Locust Valley
People are drawn to this unique area for its natural beauty retained through vast land preserves, botanical gardens and arboretums. Lattingtown, Mill Neck and Matinecock. Locust Valley is the perfect place to settle.
Muttontown
Muttontown has a country feel with large expanses of trees and shrubbery only to be occasionally interrupted by homes. Also known as "Horse Country" with its 600 acre preserve is a perfect retreat for the horse lover.
Old Westbury
Old Westbury and The Brookvilles are known for their beautiful rolling hills, their open spaces with 2-5 acre minimum acreage and their tree lined lanes. Many private golf and country clubs make their home here.
Orient
Orient is a small hamlet located on the northeastern tip of Long Island, New York, in the town of Southold. It is a quiet, rural community surrounded by farmland, vineyards, and coastal marshes.
Number of Sales
Avg. Days on Market
Average Price
Median Price
Highest Price
Number of Sales
Avg. Days on Market
Average Price
Median Price
Highest Price
Number of Sales
Avg. Days on Market
Average Price
Median Price
Highest Price
Number of Sales
Avg. Days on Market
Average Price
Median Price
Highest Price
2022 3 149 $2,316,667 $1,950,000 $3,500,000 2023 1 141 $2,750,000 $2,750,000 $2,750,000 2022 20 147 $2,164,800 $2,000,000 $3,650,000 2023 6 145 $2,803,000 $2,440,000 $5,400,000 2022 7 111 $2,266,714 $2,300,000 $3,750,000 2023 6 66 $3,312,000 $2,476,000 $6,650,000 2022 1 162 $1,900,000 $1,900,000 $1,900,000 2023 4 205 $2,828,125 $2,918,750 $3,575,000
Setauket
The town of Setauket is located on the North Shore in Suffolk County enriched with beautiful homes of all sizes. Setauket has played a key part in American history and provides public access to West Meadow Beach, Wetlands Preserve, and The Frank Melville Memorial Park.
Shelter Island
A small island located between the North Fork and the South Fork of Long Island, New York. It is a peaceful, secluded community known for its natural beauty and laid-back lifestyle. The island is only accessible by ferry or private boat, adding to its sense of isolation and tranquility.
Tribeca
The neighborhood offers a spectacular view of the Hudson River on its western border and notable restaurants throughout, including the Odeon, made famous by the novel Bright Lights, Big City, along with a number of luxury hotels and other accommodations.
Westhampton
Some of the most magnificent oceanfront and Bayfront homes can be found in Westhampton, as well as exceptional waterfront Estates. Just a bike ride or strolls away from all of the amenities in the village; including restaurants, shops, and places of worship.
Number of Sales
Avg. Days on Market
Average Price
Median Price
Highest Price
Number of Sales
Avg. Days on Market
Average Price
Median Price
Highest Price
Number of Sales
Avg. Days on Market
Average Price
Median Price
Highest Price
Number of Sales
Avg. Days on Market
Average Price
Median Price
Highest Price
2022 2 37 $1,904,000 $1,904,000 $2,333,000 2023 2 93 $1,425,000 $1,425,000 $1,450,000 2022 2 124 $4,600,000 $4,600,000 $4,700,000 2023 1 99 $1,975,000 $1,975,000 $1,975,000 2022 5 238 $1,751,100 $1,750,000 $2,000,000 2023 5 213 $2,380,000 $2,300,000 $3,400,000 2022 116 183 $5,236,639 $4,300,000 $14,000,000 2023 39 157 $5,703,147 $3,800,000 $23,500,000
Shine Painting
Emily Puetter
Germany
Painting, Oil on Canvas
Welcome to the latest edition of The Collection.
We are proud to present the Spring edition of our digital magazine: The Collection. In the following pages you will find some of the most special, impressive, and unique properties that we have the honor of representing.
Whether you are in the market to purchase a new home, or like many of us, just appreciate stunning properties, this is for you.
Enjoy!
Katherine Cirelli and Aliana Russo
The Masterpiece Collection
Daniel Gale Sotheby's International Realty
Cover Property "Carriage House" PAGES 50 - 51
Let's explore the most impressive properties on Long Island, Brooklyn + Queens:
Shangri-La
Morning Tide
Grand Dame
Château North Hideaway
Wyomissing
Château Lumière
Merchant House
Cedar Hill
Stone Hill Mansion
Maison D'Art
The Bagatelle
Felix Domi
Osprey's Perch
Tribeca Luxe
Heron's Cove
The Oakside
Vilal Del Mar
Brooklyn, NY I PRCH-MLS# 5202291 I $5,400,000 Terry Baum I c.718.208.7029 I terrybaum@danielgale.com GRAND DAME
Found among a majestic row of townhouses steps from Prospect Park, this exquisite home is without doubt quintessential Park Slope, Brooklyn. Designed with full-height curved bays, an opulent L-shaped stoop in NeoItalian Renaissance style, this 20 ft. wide by 100 ft. deep two-family property, is located on one of the prettiest and tranquil blocks in all of Brooklyn. Incredibly stately and livable, this 4,680 square foot residence was designated in 1973 as part of the Historic Landmark District. The original 19th Century craftsmanship anchors this fully modernized residence, exemplifying why Park Slope is one of the most desirable neighborhoods in New York City and beyond.imbued with the tranquility and grace that is "Shangri-La".
Brooklyn, NY I PRCH-MLS# 7535447 I $6,000,000 Aroza Sanjana I c.917.930.6500 I arozasanjana@danielgale.com Tony Fanning I c.347.613.8512 I tonyfanning@danielgale.com MERCHANT HOUSE
Introducing "Merchant House," an elegant 1848 Italianate-style townhouse nestled in the charming neighborhood of Boerum Hill, Brooklyn. This legal two-family home is a rare gem listed on the National Register of Historic Places. The spacious 4750 square-foot home is among several classic townhouses on this famed block, and offers a coveted 25-foot width with seven bedrooms, three full baths and one half bath. Rising to four full floors plus a cellar, it has been used as a one-family residence for 27-plus years, its preserved beauty only enhanced by the artful care and subtle, modern upgrades to the property.
Brookville, NY I MLS# 3469398 I $33,500,000 Sandy Binder I c.516.819.0000 I sandybinder@danielgale.com Jason Friedman I c. 516.236.6226 I jasonfriedman@danielgale.com
SHANGRI-LA
A Timeless World-Class Masterpiece defined by grace & style, "Shangri-La" is an unparalleled Gold Coast Estate designed for luxurious living, gracious entertaining & the enjoyment of Art. This stately residence was designed by the renowned architectural firm Shope Reno Wharton. Located on 21.86 captivating acres, the Estate is a symphony of Artistry & Design. Complemented by breathtaking and vibrant landscaping, there are two idyllic Ponds & a Conservatory Greenhouse. Two swimming Pools each have their own Cabana. There is an additional Cabana with a full Catering Kitchen. This serene & refined Estate impeccable captures sophistication & elegance. Architectural excellence & tasteful appointments make this the ultimate in luxury and lifestyle. World-class design, masterful detailed workmanship and the finest materials culminate in a spectacular Estate imbued with the tranquility and grace that is "Shangri-La".
MORNING TIDE Centre Island, NY I MLS# 3343809 I $9,750,000 Katie Cuddeback I c.516.238.9919 I katiecuddeback@danielgale.com
Morning Tide, designed by renowned architects Austin Patterson Disston, is situated on Centre Island, a wonderful enclave of elegant Estates in commuting distance to New York City. Custom built in 2005, the fabulous shingle-style Colonial home overlooks Oyster Bay Harbor and Cold Spring Harbor with 220 feet of waterfront. Every possible amenity has been included in its sixteen rooms including 6 bedrooms, 5.5 baths which grace 3.46 luxurious acres. There is a versatile private guest suite located on the first floor. The spa, pool, pool house with bath and outdoor shower, plus tennis court and pavilion create the perfect sanctuary. A home built and maintained with love, style, and class.
VILLA DEL MAR East Quogue, NY I MLS# 3467518 I $8,600,000 Frank Mistretta I c.631.495.8820 I frankmistretta@danielgale.com
Opulent Oceanfront Mediterranean home. Unobstructed views of the Atlantic Ocean and Shinnecock Bay. This beautiful home features 5 en-suite bedrooms, with decks. The primary bedroom suite is overlooking the ocean with a massive deck. Grand foyer, great room, magnificent staircase, eat-in kitchen with amazing Limestone Countertops and spectacular ocean views on the second floor, Hi-End SS Appliances. New Trex Deck, Updated AC, and newly painted. Outdoors you will find a Gunite in-ground pool, fireplace, stone patio. Incredible roof-top deck with 360 degree panoramic views.
CHÂTEAU LUMIÈRE Great Neck, NY I MLS# 3445737 I $4,200,000 Fabienne Sameyah I c.516.761.2652 I fab@danielgale.com
Step into your own private oasis with 4 Merrivale Terrace, a breathtaking stately Colonial located in the coveted Village of Lake Success. With over 7,000 square feet of luxurious living space spread across three levels, this masterpiece is the epitome of elegance and comfort. The grand foyer welcomes you with soaring high ceilings on every floor, leading to spacious living areas that boast hardwood floors, cozy fireplaces, and stunning built-in shelves. The natural light pouring in from the oversized windows creates a warm and inviting ambiance that sets the tone for this exceptional home.
Kings Point, NY I MLS# 3414883 I $12,000,000 Jason Friedman I c.516.236.6226 I jasonfriedman@danielgale.com CHÂTEAU NORTH
Normandy-inspired "Château North" is a waterfront French Tudor in the prestigious village of Kings Point. Just shy of 8 acres of land, this home boasts an 'all-season' organic English Garden with a sitting rotunda, decorative box hedging, irrigation system, exotic florals, and multiple species of fruits/vegetables. A gazebo stands at the edge of the peninsula with endless water views. Other features include a greenhouse, dock access, and swimming pool bordering the water.
Locust Valley, NY I MLS# 3418872 I $12,500,000 Cottie Maxwell I c.516.857.3011 I cottiemaxwell@danielgale.com Marta Bruderman I c.516.528.8560 I martabruderman@danielgale.com WYOMISSING
This glorious Gold Coast Estate is a quintessential interpretation of French Normandy Architecture. Renovated to perfection with modern-day living amenities in mind, this 10-bedroom, 10.55 bath home with intimate rooms has been transformed into a masterpiece. The impressive residence sits on 6.33-acres of resplendent lawns, gardens, and hardscape. Once inside, the inviting front-to-back foyer is wrapped in gleaming pine paneling with a rich patina. The foyer opens to principal rooms that have a pleasing scale with original details that evoke a gracious and warm elegance. Many one-of-a-kind touches grace this home including an Octagonal room, 12 fireplaces, 3,000-bottled wine cellar, updates throughout with original antique details such as antique Parquet wood flooring and so much more. To us, the beauty is that you have a pool, tennis court, putting green, outdoor chef's kitchen, and a beautiful outdoor space perfect compliment for al fresco entertaining.
Locust Valley, NY I MLS# 3463900 I $7,900,000 Christina Porter I c.516.835.5512 I christinaporter@danielgale.com Christina Teagle I c.516.635.8679 I christinateagle@danielgale.com HIDEAWAY
Stately 8-bedroom brick Colonial set on 8.11-acres of sweeping green lawns, trees and trimmed hedges. Spectacular heated saltwater swimming pool and 2-bedroom pool house. All-weather hard surface tennis court and groomed par-three golf hole with four tee boxes. Custom millwork, distinguished fireplace mantles, layered crown molding and tasteful details throughout. Magnificent Gold Coast Estate with elegant and timeless design, sophisticated technology and luxurious amenities.
Muttontown, NY I MLS# 3381199 I $9,899,000 Debra Russell I c.516.662.5401 I debrarussell@danielgale.com Cottie Maxwell I c.516.857.3011 I kathrynmaxwell@danielgale.com CEDAR HILL
Poised on 8.17 richly landscaped acres, Cedar Hill's 9-bedroom, 12-bath Georgian-style residence is a symphony of symmetry and balanced proportion. Completed in 1916, it has been restored and expanded to perfection. Indoor SwimEx fitness spa pool, generator, garages for 5-vehicles, new slate roof, Har-Tru tennis court, swimming pool, putting and chipping green, play area and formal sunken garden.
Muttontown, NY I MLS# 3408399 I $3,495,000 Helen Deng I c.917.859.7718 I huailingdeng@danielgale.com Vishal Vij I c.917.705.0774 I vishalvij@danielgale.com STONE HILL MANSION
This stunning 6-bedroom Estate is located at the end of a tranquil cul-de-sac in the gated Stone Hill at Muttontown community. The luxurious residence is distinguished by exceptional design and refined finishes that include Venetian plaster walls, marble and onyx floors with comfortable radiant heat, carved marble mantles, doubleheight and coffered ceilings. The chef's kitchen has top-of-the-line appliances that include a 48" Wolf range. The primary suite features a vaulted ceiling, a fireplace, polished mahogany flooring, two dressing rooms, a balcony and a spa-inspired en suite bath. Bonus room. Euro style lower level designed for entertaining. Theatre fitted with sumptuous recliner seating. Fitness room with sauna. Elevator to all three levels. Crestron smart technology and sophisticated audio-visual system.
FELIX DOMI
Muttontown, NY I MLS# 3437884 I $6,300,000 Christina Porter I c.516.835.5512 I christinaporter@danielgale.com Christina Teagle I c.516.635.8679 I christinateagle@danielgale.com
Spectacular 10.47-acre Estate with magnificent 7+ bedroom residence boasts swimming, tennis and equestrian amenities that provide for an extraordinary and luxurious lifestyle. Located just 30-miles east of Manhattan on the North Shore of Long Island, this spectacular 10.47-acre Gold Coast Estate is a quintessential interpretation of French Normandy architecture attributed to the masterful design of John Russell Pope. Completed in 1937, the magnificent seven+ bedroom residence is complemented by a glistening swimming pool, a hard-surface tennis court, an artist's studio and potting shed. For the equestrian, there is an eight-stall barn with a tack room and hayloft. A turnout paddock, sand ring and jump course provide for a variety of riding pursuits.
Old Westbury, NY I MLS# 3294395 I $15,000,000 Sandy Binder I c.516.819.0000 I sandybinder@danielgale.com MAISON D'ART
This elegant and inspirational 14,000 sq.ft. stone, cedar, and glass Classic Contemporary was masterfully designed and demonstrates the architectural brilliance of renowned architect Norman Jaffe. Recently renovated to perfection, this extraordinary Estate is a work of art set on 6-acres of scenically breathtaking property. The sophisticated architecture places an emphasis on the enjoyment and connection to nature and indoor-outdoor living. An impressive reception foyer opens onto a sunlit all-glass enclosed atrium with a magnificent vaulted glass roof. The exquisite interior boasts beautifully proportioned rooms and light-filled galleries, the perfect showcase for an Art Collection. Multi-level terraces surround the splendid pool setting. Inspired by the architecture of the main residence, there is a new two-story, three bedroom Cottage.
Old Westbury, NY I MLS# 3446945 I $6,850,000 Karen Sharf I c.516.972.7647 I karensharf@danielgale.com Golie Oheb I c.516.790.9925 I golieoheb@danielgale.com THE BAGATELLE
Located on the North Shore of Long Island just 25 miles from Manhattan "The Bagatelle" is a magnificent 4.35acre Estate designed by Thomas Hastings, of Carrere and Hastings, as his country manor home. Sited around an attractive paved courtyard, the compound includes a gracious newly updated 9-bedroom residence, a 4-bedroom caretaker cottage, a 3-bedroom carriage house and a 2-bedroom gardener's cottage. Expansive bluestone terraces and a columned gazebo overlook the new glistening cool blue heated swimming pool. Masterful original wrought iron and exquisite plaster moldings complement chic and stylish updates. Impressively-scaled and light-filled principal rooms. Elevator. 3-bay garage. Offering luxury perfect for today's living and entertaining. This preeminent Estate offers luxury perfect for today's living and entertaining.
Orient, NY I MLS# 3435799 I $2,650,000 William Walters I c.631.553.6533 I williamwalters@danielgale.com OSPREY'S PERCH
Completed in 2022, this stunning six-bedroom Colonial-style residence is beautifully situated on .92-acre in Hillcrest Estates on the tranquil North Fork of Long Island. Luxurious relaxed living and entertaining on three levels with Long Island Sound and Gardiners Bay water views. Light-filled interiors with 10' high ceilings, custom millwork and oak flooring. Stylish great room with fireplace and flexible floor plan seamlessly flows into the well-appointed kitchen for gracious gatherings. Formal dining room, home office with fireplace, library/study. Balcony deck overlooking the sparkling heated saltwater swimming pool. Serene primary suite with fireplace, spa-inspired en suite bath and large terrace. Multi-purpose recreation room, theatre with cinema-style seating. Attached garages for 4-vehicles. Enjoy coastal living and the beauty of the North Fork throughout the year.
Setauket, NY I MLS# 3431141 I $4,250,000 Miriam Ainbinder I c.631.988.9200 I miriamainbinder@danielgale.com HERON'S COVE
This spectacular waterfront property has stunning panoramic views of Setauket and Port Jefferson Harbors and Long Island Sound. Set back from the road near the end of a cul-de-sac the property offers an expansive backyard setting with private staircase to the beach. Take in the fresh salt air and pleasant breezes under the pergola covered patio with outdoor fireplace, the perfect setting for gatherings under the sun, moon and stars. Constructed in 2012 using only the finest materials, the interior design flourishes with layers of mouldings, high ceilings, Loewen windows and French doors (hurricane glass), and custom state-of-the-art kitchen and baths creating both a functional and elegant home.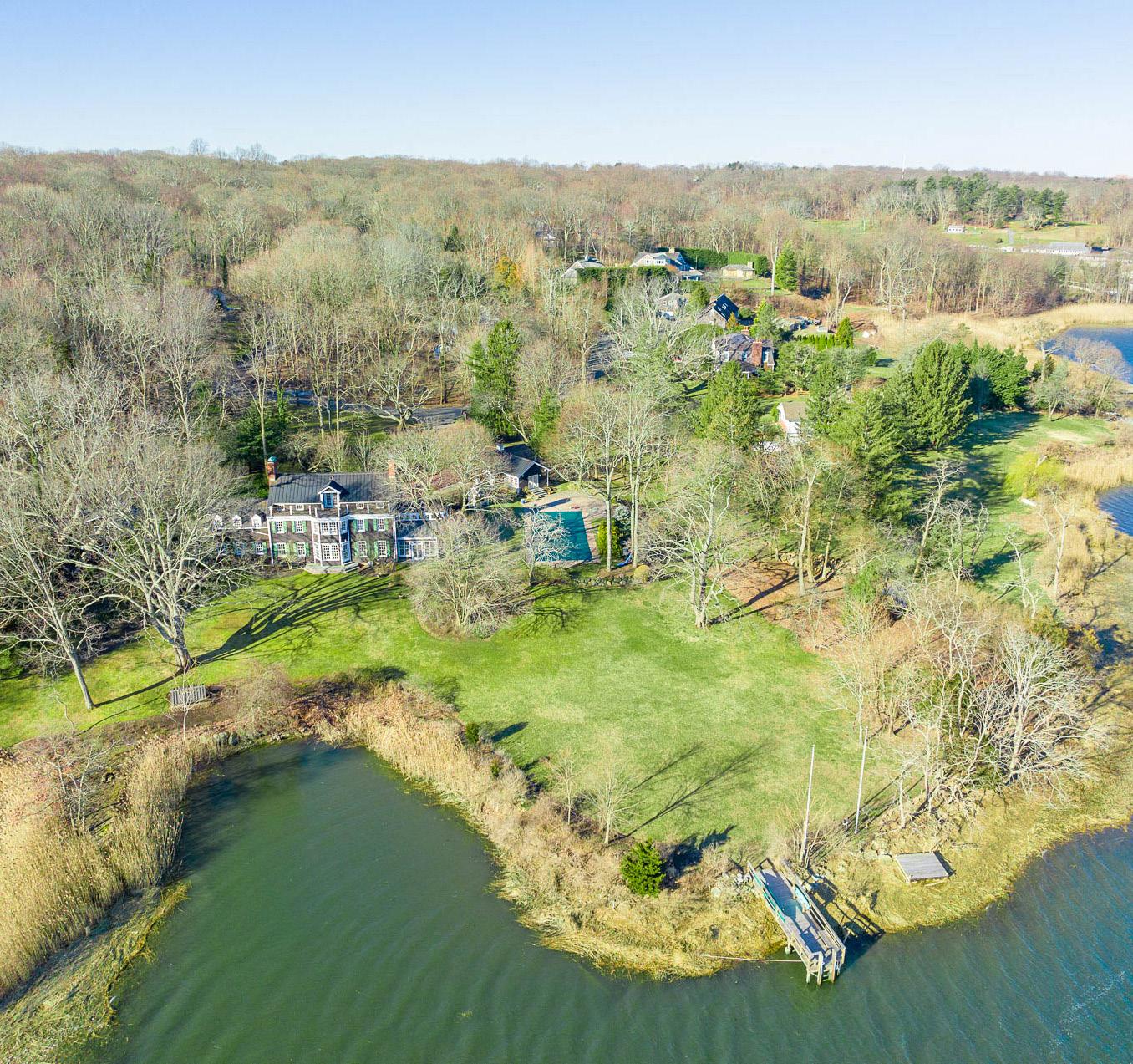 Smithtown, NY I MLS# 3468663 I $5,500,000 Bonnie Glenn I c.631.921.1494 I bonnieglenn@danielgale.com THE OAKSIDE
Welcome to "The Oakside," a magnificent landmark Estate reflecting a blend of old-world character and grandeur reminiscent of yesteryear. This Estate has been totally renovated to the highest modern standards while still retaining its 1920s charm. Encompassing five acres, with over 900 feet of water frontage on the Nissequogue River, there are unobstructed water views from every room. The six-bedroom, 5 ½ bath main house features spacious formal rooms, a 2,000 bottle climate controlled wine cellar, gleaming hardwood floors, and custom millwork. Labradorite countertops, high-grade stainless steel appliances and beautiful cabinetry adorn the kitchen. Outside, the property boats rolling green lawns leading down to the river's edge, two docks, a widow's walk, a 3-bay heated garage and more. The Estate also includes a 4-bedroom ranch home, cottage and a heated pool with a cabana. Whether you seek a private family compound or an impressive Estate to entertain, The perfect retreat for discerning buyers seeking superior quality and tranquility all while enjoying the feeling of being "away from it all".
New York, NY I PRCH-MLS# 3934988 I Price upon request James Morgan I c.631.566.5462 I jamesmorgan@danielgale.com TRIBECA LUXE
Built in 2001, 124 Hudson is truly a rare find and a unique building like no other. This intimate and quiet, 9-story building is a great escape from the hustle and bustle of New York City with an exquisitely designed lobby, 24-hour doorman, concierge, live-in manager, and private courtyard with lush gardens. The bright and spacious foyer welcomes you with wide plank, blonde oak floors, which flow into the open concept space. Find solace in the comfort of your very own library and get lost in a literary adventure or relax on the private terrace to catch some rays and enjoy the fresh air. Ideal for entertaining a large gathering or an intimate dinner, your guests will love the open floor plan, which allows you to easily move from the chef's dream kitchen to the expansive dining room to the warmth of the living room with a wood-burning fireplace. Moments from Hudson River Park, shopping, restaurants including Nobu, The Greenwich Hotel, subways, and so much more, all at your fingertips.
Mill Neck, NY I MLS# 3463900 I $7,900,000 Alexis McAndrew I c.917.750.8939 I alexismcandrew@danielgale.com HORSESHOE PENDING
Only 5-days on the market.
Elegant and sophisticated Modern Farmhouse residence. Offering a luxurious lifestyle, this magnificent 6.3-acre Estate is perched high on a hill presiding over brilliant sunsets with unobstructed long water views of Mill Neck Creek. Offering six-bedrooms, the elegant and sophisticated Modern Farmhouse residence is complemented by a beautiful two-bedroom cottage, a heated saltwater swimming pool, an outdoor basketball court and acres of lush lawns and gardens. Fabulous entertainment, family, recreation, exercise and media rooms. Expansive terraces and patios with water views throughout. Radiant heat, generator, reverse osmosis water purification. Three-bay attached and one-bay detached garages.
Shelter Island, NY I MLS# 3466044 I $9,499,000 Deborah Pirro I c.516.637.5786 I deborahpirro@danielgale.com CARRIAGE HOUSE PENDING
Only 17-days on the market.
Originally built in 1888 as a hotel carriage house, this magnificent six-bedroom residence has been updated, expanded and reimagined into a luxurious preeminent waterfront Estate. With a 166-foot-long deep-water dock and deeded mooring, Carriage House is a sailor's delight. Lush verdant lawns meet 600 feet of sandy beach. With room for relaxing and sunbathing, gardens surround the sparkling heated swimming pool. There are multiple balconies and decks from which to enjoy vibrant sunsets and water views. For sun worshipers, sailors, star gazers and gracious entertainer's alike, Carriage House offers extraordinary luxury on Shelter Island where a captivating coastal lifestyle can be enjoyed throughout the year.
Westhampton, NY I MLS# 3374440 I $2,150,000 Deborah Pirro I c.516.637.5786 I deborahpirro@danielgale.com COUNTRY HOUSE PENDING
Situated on one acre of lush greenery and with the privacy afforded by a wooded corner lot, this stately Victorian, in the heart of Westhampton, is the perfect summer or year-round haven. The 5,000 sq ft home is the builder's own residence and as such, has custom details in its 16 rooms, each with its own unique attributes and character. The wrap-around porch, expansive backyard with gunite heated pool, stone patio and outdoor fireplace add to the home's indelible charm.