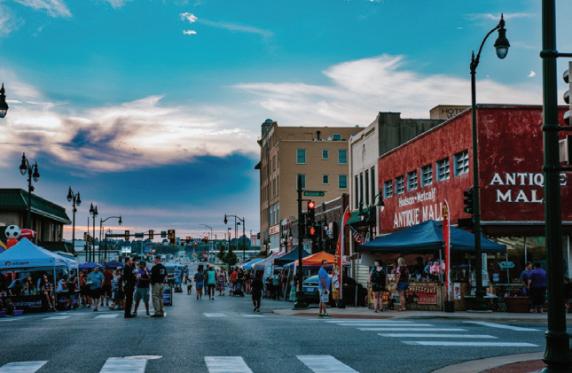 2 | Newcomers Guide 2023 @LilacDistr ictOK Downtownclaremore.org |Mainstreet@Claremore.org
Chamber of Commerce & Economic Development Organizations
CATOOSA CHAMBER OF COMMERCE
650 S. Cherokee St. Suite C, Catoosa (918) 266-6042; www.catoosachamber.org
CHELSEA AREA CHAMBER OF COMMERCE
618 Pine St., Chelsea (918) 789-0767
www.chelseaareachamber.com
CLAREMORE CHAMBER OF COMMERCE 419 W. Will Rogers Blvd., Claremore (918) 341-2818
www.claremore.org
CLAREMORE INDUSTRIAL & ECONOMIC DEVELOPMENT AUTHORITY (CIEDA)
104 S. Muskogee Ave., Claremore (918) 283-8240
www.growclaremore.com
CLAREMORE MAIN STREET, INC
412 W. Will Rogers Blvd. Claremore, OK (918) 341-5881
www.downtownclaremore.org
INOLA AREA CHAMBER OF COMMERCE PO Box 1207, Inola, 74036 (918) 543-2900
www.inolachamber.com
OOLOGAH CHAMBER OF COMMERCE (918) 559-9556
ROGERS COUNTY INDUSTRIAL DEVELOPMENT AUTHORITY (RCIDA) 1503 N. Lynn Riggs Blvd. Suite D, Claremore (918) 343-8959
www.rogerscountydevelopment.com
3 | Newcomers Guide 2023
Utility & Services
Chelsea
AEP/PSO Electric
125 S. Scraper, Vinita (888) 216-3523
Town of Chelsea
637 Olive St., Chelsea (918) 789-2557
Water Department
637 Olive St., Chelsea (918) 789-2558
VVEC Electric
8901 E 146th St N, Collinsville (918) 371-2584
Catoosa City Hall
214 S. Cherokee, Catoosa (918) 266-2505
Claremore
Claremore City Utility Department
104 S. Muskogee, Claremore OK (918) 341-0456
Claremore City Sanitation
104 S. Muskogee, Claremore (918) 341-7408
Claremore City Water/ Sewer Department
104 S. Muskogee, Claremore OK (918) 341-0456
Rogers County Rural Water District #2
17261 S. 4170 Rd, Claremore
(918) 341-7166
Rogers County Rural Water District #5
25254 S. 4100 Rd.,
Claremore
(918) 266-4634
Catoosa
Rogers County Rural Water District #6
(918) 543-8749
Rogers County Rural Water District #7
(918) 341-1115
Rogers County Rural Water District #8
22094 S. 4160 Rd., Claremore
(918) 341-4628
Rogers County Rural Water District #9
(918) 341-3932
VVEC Electric
8901 E 146th St N, Collinsville
(918) 371-2584
Oologah
ONG Gas
P.O. Box 401 Oklahoma City
(800) 664-5463
Rural Water District #3
13277 S. Ash
Claremore
(918) 341-0851
www.rwd3rogers.com
Rural Water District #4
P.O. Box 198
Oologah
(918) 443-2542
VVEC Electric
8901 E 146th St N, Collinsville
(918) 371-2584
Cell Providers
AT&T
326 S. Lynn Riggs, Ste. 100 Claremore (918) 341-8080
US Cellular
502-B Lynn Riggs
Claremore
(918) 342-3109
Cable & Internet Providers
Dish Network (800) 833-3474
www.dish.com
DirectTV
(800) 781-4081
www.directsattv.com
Cox (918) 806-6000
www.cox.com
Optimum (877) 694-9474
www.optimum.com
AT&T Internet Services (800) 288-2020
www.att.com
Earthlink
(888) 618-0264
www.earthlink.net
Fullnet Communications (877) 385-5832
www.fullnet.net
AT&T Residental (800) 464-7928
www.att.com
4 | Newcomers Guide 2023
5 | Newcomers Guide 2023 ThankYou for Voting Us #1 PEST CONTROL! Bruce Long info@pestoff.com 110 N. Nome Ave. Claremore, OK 74018 Licensed (#C6046) •Insured •State Certified Free Estimates •All Services Guaranteed 918-342-4949 •918-437-PEST(7378) COUPON $10.00 Off Any Service* *Present Coupon At Time Of Service. Exp. Dec. 31, 2023. Free & open to the public | Guided tours by appointment Open Monday-Friday | 8 AM - 5 PM | 918-343-6888 LOCATED ON THE RSU CAMPUS IN CLAREMORE Relive the Experience of more than 10,000 Cadets at the Oklahoma Military Academy Museum at RSU. We Are Going Great Guns! See the J.M. Davis Museum in a whole new light! Visit the world's largest privately held arms museum, one of the bright spots on Route 66. This place is loaded! Open Tues.-Sat. • 10 am - 5 pm 5th & J.M. Davis Blvd. Claremore, Oklahoma 918-341-5707 thegunmuseum.com
Claremore is the county seat for Rogers County. The county offices are listed below:
www.rogerscounty.org
• Commissioner's Office
(918) 923-4798
• Sheriff's Department
(918) 342-9700
• Treasurer
(918) 923-4797
• Assessor
(918) 923-4795
• County Clerk
(918) 923-4796
• Court Clerk
(918) 923-4961
Contact Numbers
• City of Claremore
(918) 341-1325
• City of Catoosa
(918) 266-2505
• Town of Chelsea
(918) 789-2557
• Town of Foyil
(918) 342-9525
• Town of Inola
(918) 543-2430
• Town of Oologah
(918) 443-2783
• Town of Verdigris
(918) 379-0142
City & County Government
The City of Claremore Operates a council-manager form of government under a City Charter. This type of government is one of two main variations of representative municipal government in the United States and is currently used in the majority of American cities with populations over 12,000.
In the City of Claremore's council-manager form of government, an eight-member elected City Council is responsible for making policies, passing ordinances, voting appropriations, and having overall supervisory authority in city government.
The Mayor performs ceremonial duties and acts as a member and presiding officer of the Council, similar to a chairman.
The City Manager is appointed by the City Council and is responsible for supervising government operations and implementing policies adopted by the Council.
Other towns in Rogers County operate under the town form of government where the town trustees are elected and then they appoint the mayor and vice mayor.
Catoosa has a strong-mayor-council form of government where the mayor is also elected and is the chief executive officer of the city.
6 | Newcomers Guide 2023
7 | Newcomers Guide 2023 Ch el se a Ch il dren's Ce nt er Ages 6weeks -3years old Monday -Friday 6:30 a.m. -6:00 p.m. Christian Childcare Development Accepting DHS, Tribal and Private Pay 203 E. Layton St. •Chelsea, OK •918-855-3222 Immediate Placement Available 1220 S. Reavis Rd., Claremore ,OK (918) 283-2828 Voted Claremore's BEST DAYCARE
Public Schools
Catoosa Public Schools
2000 S. Cherokee, Catoosa (918) 266-8603
http://www.catoosaps.net
Chelsea Public Schools
401 Redbud Lane, Chelsea (918) 789-2528
http://www.chelseadragons.net
Claremore Public Schools
102 West 10th St., Claremore (918) 923-4200
http://www.claremore.k12.ok.us
Claremore Sequoyah Public Schools
16441 S. 4180 Rd., Claremore (918) 341-5472
http://www.sequoyaheagles.net
Foyil Public Schools
PO Box 49, Foyil (918) 341-1113
www.foyil.k12.ok.us
Inola Public Schools
110 N Broadway, Inola (918) 543-2255
www.inola.k12.ok.us
Justus-Tiawah Public Schools
14902 East School Rd., Claremore (918) 341-3626
http://www.justustiawah.com
Oologah-Talala Public Schools
10700 S. Highway 169 (918) 443-6000
www.oologah.k12.ok.us
Verdigris Public Schools
26501 S 4110 Rd., Claremore (918) 266-7227
http://www.vps.k12.ok.us
Private Schools
Claremore Christian School
1055 W. Blue Starr Dr, (918) 341-1805
www.claremorechristian.com
Legacy Christian (K-5) 107 E. Will Rogers Blvd. (918) 342-1450
http://www.lcsclaremore.org
Higher Edu
Northeast Technology Centers 1901 N. Highway 88, Claremore (918) 342-8066
www.netech.edu
Rogers State University 1701 W. Will Rogers Blvd, Claremore (918) 343-7777
www.rsu.edu
Education & Schools 8 | Newcomers Guide 2023 (918) 694-8621 www.JetFiveElectrical.com For All Of Your Commercial & Residential Needs R Celebrating our 20th ANNIVERSARY! Exp.December 31, 2023 Voted "Best Mexican Food &Margaritas" In Rogers County R
Medical Services 9 | Newcomers Guide 2023 1202 N. Muskogee Pl. • Claremore 918-341-2556 • hillcrestclaremore.com • Cardiac Cath Lab • Emergency Care • General Surgery • Orthopedics • Pain Managment • Women's Health Quality Care. Close to Home. St. John Clinic Claremore 918-341-1000 1910 S. Falcon Ave. Claremore, OK 74017 Hillcrest Hospital Claremore 918-341-2556 1202 N. Muskogee Place Claremore, OK 74017 Hillcrest Hospital Claremore
Family Activities
Totem Pole Park
Totem Pole Park is located in Foyil and provides families and children a glimpse of folk art with an emphasis on Native American culture and history. Just off historic Route 66, north of Claremore, the nine-acre park includes Galloway's 90' totem pole sculpture, his eleven-sided "Fiddle House", and a museum with artifacts made by Ed Galloway and visuals of the park development.
J.M. Davis Museum
Over 50,000 items to see and experience such as saddles, spurs, local ranching brands, German beer steins, World War I posters, military weapons, John Rogers statuary and Native American artifacts.
Robson Performing Arts Center
Claremore's commitment to children having quality cultural experiences led to the development of the $16 million Robson Performing Arts Center. The mission of the Robson PAC is to promote arts education for the students of the Claremore School District by providing a safe performing arts venue.
The Center also serves as a resource for the community at large and contributes to the cultural vitality of the City of Claremore and its surrounding areas.
The approximately 70,000 square-foot facility has a seating capacity of 1,024. Students may practice in a band room, a choir room and a speech, drama and debate area.
Small and large ensemble rooms, a percussion area and practice rooms are soundproof.
The Blue Whale
Located in Catoosa just off of Route 66, the Blue Whale has been a Rogers County landmark since the early 1970s. It includes a deck and picnic tables for families and children.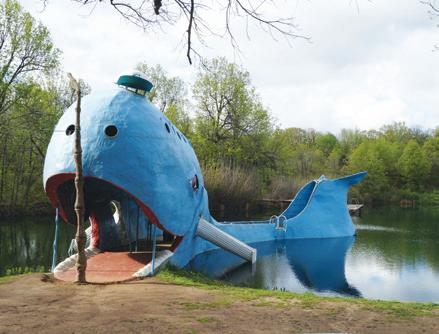 Will Rogers Museum
The Will Rogers Memorial Museum is a world-class museum in Claremore dedicated to Will Rogers, the iconic cowboy humorist. Come watch his classic films, listen to his radio broadcasts and learn about the man Oklahoma fondly calls its favorite son. Visit www.willrogers.com.
10 | Newcomers Guide 2023
Located along historic Route 66 in Claremore, The J.M. Davis Arms and Historical Museum houses a collection of more than 20,000 guns, knives, musical instruments, political buttons, saddles, John Rogers statues, Native American artifacts and other memorabilia.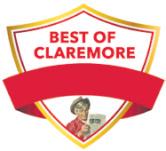 11 | Newcomers Guide 2023 YOUR EMPLOYMENT SER 654 S. Lynn RiggsBlvd.
Exp re ssP ro s.com
918-342-9247
Parks & Recreation
Lake Oologah
Lake Oologah provides a great getaway for fishing, boating, picnicking and camping. The lake is one of the most popular lakes in the area for sailing.
Eleven public-use areas are available.
Recreational amenities include a swimming beach, mountain biking, an ATV area, marina, RV and tent camping, picnic tables and a playground.
The lake also features the Will Rogers Country Centennial Trail, which
provides more than 18 miles of trail.
Directions: Take Hwy 169 N from Tulsa to City of
Oologah. Go S on Hwy 88 for 2 miles. E of Oologah on Hwy 169 & Hwy 88 intersection.
Claremore Lake
Claremore Lake Park was developed in 1929 with completion of the dam. Located on 1,200 acres off of East Blue Starr Drive, this is the perfect place for relaxation for the whole family. General Info: Activities include: Fishing & Boating, Playgrounds, Picnic Areas & Shelters, Walking/Jogging Trail and Splash Pad.
Directions: Take North Lynn Riggs Boulevard (Highway 66) to Blue Starr Drive. Travel east on Blue Starr Drive, approximately 2 miles. Turn left into the entrance near the Water Treatment Plant.
Claremore Recreation Center
The 80,000 square foot center includes facilities for weight-lifting, swimming, basketball, racquetball, running (track), aerobics, treadmill training and indoor tennis.
Claremore Bark Park
Cat Creek Dog Park located at 1001 Dupont St., is approximately 1.5 acres and chalked full of fantastic amenities for both small and large four-legged friends. The park itself is fully enclosed and separated by a 6' chain link fence. There's even a shared shade structure for the pups' human companions. All dogs must be up-to-date on shots, owners must have leashes for their animals.
Youth Sports
The following are offered in Claremore & Rogers County: Baseball Basketball
Cheerleading
Football
Soccer
Softball
Swimming Wrestling
Learn more at: www. claremore city. com
12 | Newcomers Guide 2023
The Claremore Museum of History is free admission, open to the public
Tuesday - Friday: 11am to 4pm, and Saturdays: 11am to 3pm. It is located at 121 N. Weenonah. A popular exhibit remembers Lynn Riggs. Riggs was born and raised in Claremore. He wrote the play "Green Grow the Lilacs", which after being purchased by Rodgers & Hammerstein became the musical "Oklahoma!" Learn more at ClaremoreMOH.com. 918-923-6490
We want to help. We of fer the following:
• Individual & Family Plans • Group Plans
• Ancillary Plans: Cancer, Accident, Disability, Critical Illness, Hospital Indemnity • Dental and Vision Plans
• Medicare Supplements • Medicare Advantage Plans
• Medicare Prescription Drug Plans • Life Insurance
As Independent Agents, we represent many carriers. So we are free to help you find a plan that fits your needs and protects your budget. Our goal is to help you with what you need to know before purchasing a plan. With your list of wants, we will help you understand your options. Let us do the shopping for you and bring you choices. Give Gordon and Vickie a call for a no cost review
Gordon Carriger (918) 636-7429
gcarriger56@hotmail.com
Vickie Wilson (405) 642-2088
vcwbenefitsolutions@outlook.com
103 E. Patti Page Blvd., Ste. 1, Claremore, OK 74017
13 | Newcomers Guide 2023
Will Rogers Birthplace Dog Iron Ranch, Oologah, Oklahoma.
14 | Newcomers Guide 2023
15 | Newcomers Guide 2023 918- 341-76 25 | So li dR ockR ea lt or s. co m 42 2S ou th Ly nn Ri gg sB ou le va rd ,C la re mo re ,O K Because of yo ur vo tes Solid Ro ck Re altors is BE ST RE AL ES TA TE AG EN CY once again! THANK YO U
600