FROM (THAT'S US) FULL CATALOG SPRING 2023
HELLO
TABLE OF CONTENTS We like to say that we're the line between roadside souvenirs and fine china. Well designed products that just happen to have a sense of humor. SPRING 2023 GAMES . . . . . . . . . . . . . 1-7 OTHER DIVERSIONS 8-9 HOME OFFICE 10-12 HOME 13 PETS 14-15 CONTACT INFO 16-17 FALL 2022 + BACKLIST . . . . 19-52 CONTACT INFO 53-54
BRASS MONKEY OFFICES IN KANSAS CITY, MO ( in case you were wondering )
ISBN: 978-0-7353-7702-8 9 7 8 0 7 3 5 3 7 7 0 2 8 1 Advanced tic-tac-toe is a thing. Well, it is now anyway. Not only is this classicinspired game worthy of a coffee table–it's actually worthy of being played. Instead of every match simply ending in a draw, our version is surprisingly strategic (& fun). Be the first player to complete a line of three like-sized circles–or form a 'bullseye' for a 4th (sneaky) way to win. • Includes 18 painted MDF game pieces (9 red and 9 blue) and a stair-stepped gameboard. • Suitable for two players. So take turns. BOX MEASURES 9.4" X 9.4" X 2" DEEP TIC TAC PRO GAME SET $35 .00 9780735377028 TIC TAC PRO GAME SET NEW
ISBN: 978-0-7353-7704-2 9 7 8 0 7 3 5 3 7 7 0 4 2 2 2 We like to say that cribbage is the best card game you've probably never heard of–unless you have heard of it, and in that case, we like you already. Sure, it's a classic game - meaning your grandparents probably got mad at each other while playing it - but it's still as fun as the day it was invented…in the 1600s. • Includes a foldable wooden game board, six metal pegs (for scoring), & an instruction sheet. • Features a uniquely (aka, beautifully) designed deck of cards. It is a card game, after all. BOX MEASURES 11.14" X 6.1" X 1.67" DEEP CRIBBAGE IN A BOX $30 .00 9780735377042 CRIBBAGE GAME SET NEW
ISBN: 978-0-7353-7703-5 9 7 8 0 7 3 5 3 7 7 0 3 5 I'VE VENN THINKING $22 .00 9780735377035 We have more in common than we all think. In fact, that's kind of the point of this game. This Venn diagram-based party game is all about finding hilarious similarities between two random (and we mean random) things. Just draw the red and blue discs to create unexpected pairings (like the Month of February and Tom Cruise) and then compete with friends to try to find the funniest thing that they both have in common. • Includes 100 red & 100 blue 'topics' to pair, and 520 different pre-written 'answers.' OUTER BOX MEASURES 5.8" X 3.7" X 3.5" DEEP I'VE VENN THINKING 3 NEW
Trivia should be fun–not feel like a homework assignment. That's why this Delightfully Useless Trivia set by Brass Monkey is filled with some of the most pointless knowledge we could find…and even better, you'll choose your questions from a bunch of misleading categories. For example: 'Who's the Boss?' Those are questions about either Tony Danza or the Mafia, by the way.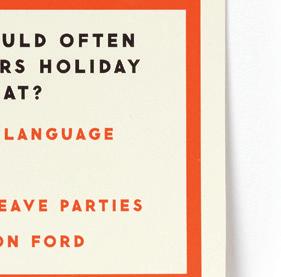 • Each set includes 200 unique trivia questions (grouped into misleading categories) to test your random knowledge–to say the least.
• All of the sets contain different questions & categories (no repeats). So collect them all to build the world's most useless library.
• Comes with an instruction sheet that explains three different ways to play (depending on how smart you think you are).
• Outer box measures 3.5" x 3.5" x 3" deep.
DELIGHTFULLY USELESS TRIVIA $14 .00 9780735376960
SETS 4 NEW
TRIVIA
JUNK FOOD & FOOD FOOD TRIVIA $14 .00 9780735376984 TRIVIAL DRINKING TRIVIA $14 .00 9780735376977 5
What's the best part of any social event? It's people-watching, of course. So, why not make a game (or two) out of it?
Inside these occasion-based Bingo books you'll find 2 sets of 12 perforated bingo cards–pre-filled with the common (yet ridiculous) things that always seem to happen–so just hand them out and start people-watching...competitively.
• Includes 24 pre-filled (& perforated) cards.
• Each features 2 distinct people-watching bingo games–like Weddings & Receptions, Meetings & Office Life, and Bars & Restaurants.
• It's played like real bingo: fill a row, column, or diagonal line to 'win'...relatively speaking, anyway.
BONUS : create your own personalized games with the six additional blank cards that are included in the back.
EACH BOOK MEASURES 7" X 7" X .5" THICK.
ISBN: 978-0-7353-7708-0 9 7 8 0 7 3 5 3 7 7 0 8 0 6 BIN-GO TO A DUMB MEETING BINGO BOOK $14 .00 9780735377080
BINGO BOOKS NEW
9 7 8 0 7 3 5 3 7 7 0 6 6
9 7 8 0 7 3 5 3 7 7 0 7 3 BIN-GO GET SOME DRINKS BINGO BOOK $14 .00
BIN-GO ENDURE A WEDDING BINGO BOOK $14 .00 9780735377066 7
ISBN: 978-0-7353-7706-6
ISBN: 978-0-7353-7707-3
9780735377073