The magazine of Christopher Ward. Issue 28. Spring 2023
Less metal. Same mettle.
A new, ultra-wearable C60 Trident Pro 300 – that's slimmer and lighter on the wrist. Two-part unidirectional, ceramic bezel with a perfectly engineered 'click'. Larger indexes with increased lume, and a dial that plays host to our new twin-flags logo. Available in three case sizes and four colours – with the option of a redesigned bracelet or quick-release strap. Plus, an exhibition caseback so you can see the Sellita SW200-1 movement – and water-resistance to 300m. Want to know more?
Do your research.
christopherward.com
Loupe.
Analogue heaven
It's satisfying when things come together.
And that's certainly the case with the new C65 Dune, which is at the heart of this issue of Loupe. A timepiece that's part field-, part retro-sport watch – it's both eminently wearable and effortlessly cool.
On page 18, we profile the Dune, uncovering its Aquitaine DNA, checking out its influences – and seeing where it fits in the overall collection. If you're a fan of fixed-bezel timepieces, this is a watch you need to get to know better.
Staying with Christopher Ward, we tell the long-overdue story of our bracelets on page 36, while on page 46 Ken Kessler looks at the trend for watch customisation (clue: he's not a fan).
Away from watches, there's a beautiful photo essay on the golden age of British pubs, while Harrison Ford is Loupe 28's Great watch-wearer.
Enjoy the issue!
Editor: Anthony Teasdale
Art Director: Jamie Gallagher Designer: Sam Burn
Photography: Peter Canning
What is it about mechanical watches that stirs the emotions so much?
The practical aspect of time-telling is beneficial, but it will hardly render anyone speechless and tearful, as did our C1 Bel Canto to a customer visiting our stand at the Windup Watch Fair in New York last October. And that's before both models sold out in a few hours!
No, there's something more primal going on when some of us regard that piece of metal attached to our wrist. Being awestruck by the micro-engineering inside is key.
Which is why in a world dominated by digital, we're drawn to products that exude craftsmanship, humanity and, dare we say, soul.
Vive la (analogue) révolution!
Mike & Peter Co-founders
The magazine of Christopher Ward.
christopherward.com
1 Park St, Maidenhead, Berkshire SL6 1SL
5 Contents Features 12 – 17 Challenger special Meet the latest Challengers looking to make history 18 – 29 Sands of time How the new C65 Dune brings sophistication to the field-watch genre 30 –35 The last orders Beautiful images of the golden era of British pubs 36 – 39 Wrist assured A history of Christopher Ward's bracelets Regulars 6 – 11 The Brief Latest news from Christopher Ward and the wider world of watches 40 – 43 O-pinion Iconic portraits, new Shakespeare theatre, essential podcasts 45 Great watchwearers Harrison Ford 46 – 49 Insight Ken Kessler on the trend of watch customisation 50 Timespan The 10,000-Year Clock Sands of time 18 — 29 Challenger special 12 — 17 Wrist assured 36 — 39
Bel Canto: the watch the world fell in love with
It's official. The C1 Bel Canto has been Christopher Ward's most successful launch.
Released in the first week of November, the Azzurro Blue and Verde Green versions of our first chiming watch sold out in hours and brought scores of new customers and fans to the brand. The watch press was also uniform in its praise.
"This is a big moment," said Zach Weiss of Worn & Wound. "Not just for Christopher Ward, but for watches. It's a first of sorts in an industry that is often rinseand-repeat. That seems to fear trying new things or taking risks. For fans of the brand, fans of complications, and frankly, fans of horology, the C1 Bel Canto shouldn't be overlooked."
At Watchfinder & Co, Andrew Morgan said: "The Bel Canto is a masterpiece", while Ambrose Leung at HypeBeast wrote: "Christopher Ward has just set a new benchmark in the watch world."
Like other reviewers, OracleTime's Sam Kessler praised the mix of haute horlogerie and accessible pricing. "It's the first time I've been able to call a chiming watch affordable without sliding a 'comparatively' in there," he said. "That alone is worth a bit of hype. The fact that it's one of the prettiest damn things Christopher Ward has ever built is the trill on top."
To mark the release of Bel Canto, Christopher Ward held a celebration at Leighton House Museum in west London. Guests from the watch world were treated
6
Latest news from Christopher Ward and the wider world of watches
to operatic performances from the likes of renowned English soprano Jennifer France that reflected the origins of the name. 'Bel Canto' means 'beautiful singing' – and is a particularly melodic form of opera.
For Christopher Ward CEO Mike France, the watch's success is a mark of the company's philosophy.
"The Bel Canto was three years in development, so to see both editions sell out in just a few hours was fantastic," he says.
"The ethos behind our brand is simple: we aim to make haute horlogerie accessible to as many people as possible. And Bel Canto shows, not just that we're fulfilling that promise, but that we're forging a more democratic future for the industry."
To register your interest in Bel Canto, go to christopherward.com
7
"The Bel Canto was three years in development, so to see both editions sell out in just a few hours was fantastic"
Mike France, CEO
Cheers for Fears
Limited to just 50 pieces, the timepiece is available only to Club members of the Alliance of British Watch and Clock Makers.
The new Fears x Christopher Ward Alliance 01 is a jumping hour watch powered by CW's ingenious JJ01 calibre. Its bespoke case, developed by Fears, is 40.5mm wide and carries unique hallmarks engraved on the underside of the lugs.
Fears' (4th) managing director Nicholas Bowman-Scargill, says: "The watch is dressy but not super-formal – and has the attention-to-detail Fears is famous for. What's been particularly fascinating for me is how CW's designers managed to interpret our Fears design language. It's unmistakably a Fears watch, but it isn't like any Fears you've seen."
One of the critical features of the watch is its rarity. "We've made just 50 of these models," says CW CEO Mike France. "And they're only available to Club members of the Alliance on a first-come, firstserved basis. Just one more reason why watch-lovers should join the Alliance."
For Alliance CEO Alistair Audsley, the collaboration is proof of how the trade body can encourage cooperation between brands – especially as all profits will be donated to the Alliance.
"I can't thank Mike and Nicholas enough for their generosity in donating the proceeds to the Alliance. It's a huge boost in helping us do our job for the UK watch sector."
Christopher Ward has confirmed it will be back in the Bay Area to exhibit (and sell) at the San Francisco Windup Watch Fair, hosted by Worn & Wound.
The fair takes place between April 28th30th at the Terra Gallery, and will play host to more than 30 brands.
At each event, visitors will be able to meet the team, talk about all things CW and view the collection, as well as having the opportunity to buy our watches in person.
windupwatchfair.com
8
Christopher Ward's iconic jumping hour movement has made its return in a limited edition watch produced with British watch brand Fears.
San Francisco: is this a Windup?
The Fears x Christopher Ward Alliance 01 is available to Club members now. For further information on the Alliance, visit; britishwatchmakers.com
The new Fears x Christopher Ward Alliance 01 is a jumping hour watch powered by CW's ingenious JJ01 movement…
SH21_V2.0
The last 12 months have been a year like no other at Christopher Ward, with new launches like the Trident Pro 300, Aquitaine and Bel Canto cementing the company's reputation for innovation and watchmaking excellence.
But in 2023, CW will be revisiting one of its most significant achievements: the in-house Calibre SH21 automatic movement.
"When Christopher Ward first introduced Calibre SH21 in 2014, it caused such a stir that the CEO of an eminent Swiss watch brand said, without irony: 'What gives you the licence to do that?'" says Mike France. "Without realising, he'd just answered his own question!"
Since then, the movement has undergone several tweaks so that it's now the most reliable movement CW uses. This is no small achievement, given CW uses only ETA and Sellita movements aside from Calibre SH21.
Never ones to rest on its laurels, CW has been working on 'Calibre SH21 2.0' for some time. And although many of the elements will remain the same, there may be a few surprises in store – including talk of a new complication.
"All will be revealed in the late autumn of 2023," says Mike France. "But until then, the last two watches carrying 'SH21 1.0' – the C63 Snow Leopard and C63 BMF, launching in March – are the perfect postscripts for this majestic movement."
It's hard to remember a time when the atelier was busier. And that's down to the overwhelming success of the C1 Bel Canto.
With 600 orders to be fulfilled, we're working hard to ensure all the watches are ready for delivery.
If you walked into the atelier today, you'd see lots of operations using multiple components – which saves us valuable time. For example, the 'sound spring' on the Bel Canto has already been crafted by hand (and tested for its chime) when it arrives here. This means we can fit it on the platine in a relatively short amount of time.
Like the team in Maidenhead, we were blown away by the Bel Canto's reception. The head of Armin Strom, who worked with us on the watch, absolutely loves it – and thinks the chime is beautiful to listen to.
While the Bel Canto is taking up most of our time, I'm already looking forward to the work planned for Calibre SH21 later in the year. More of that in the next issue.
Jörg Bader Jr, Head of Product, Biel
Letter from Biel
Drawing board
9
TEAM BRIT TAKE TOP SPOT!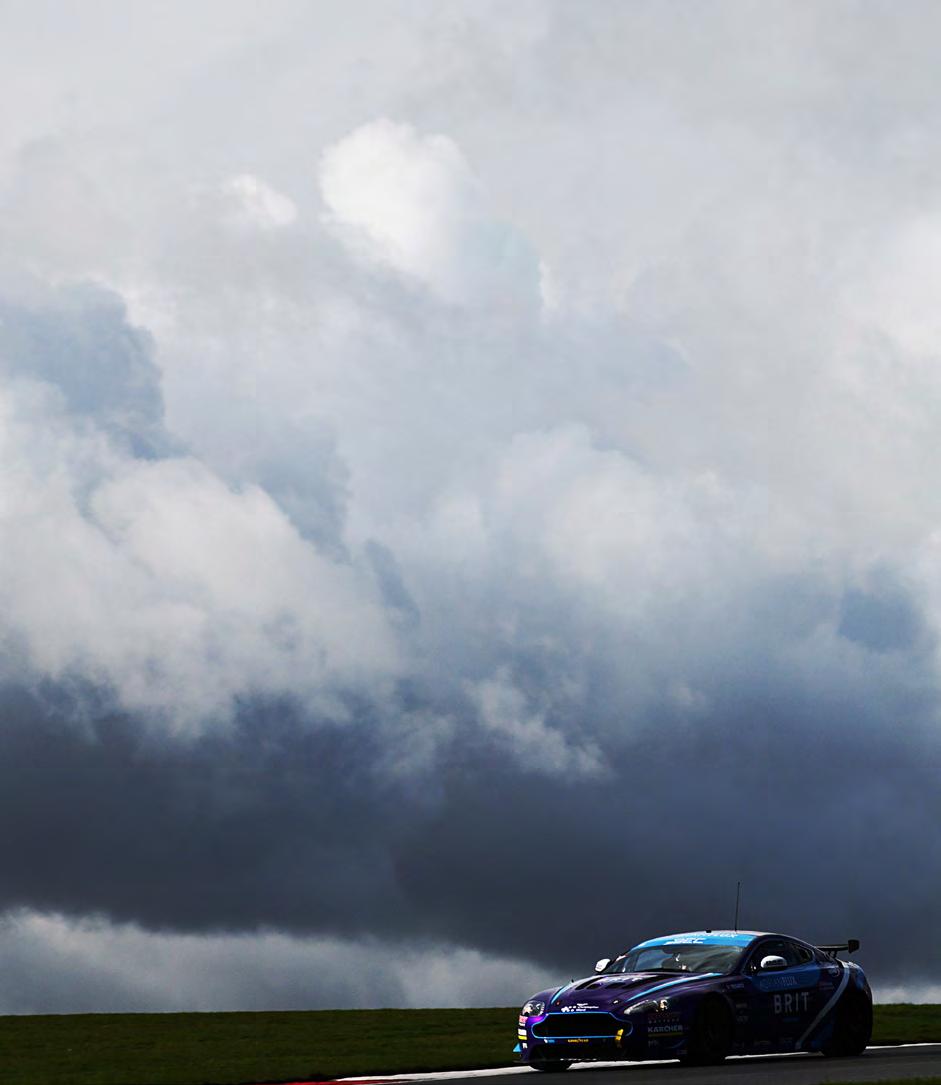 Team BRIT, which is sponsored by Christopher Ward, has become the first-all disabled motorsport team to win a national championship.
Drivers Chris Overend and James Whitley, driving the adapted BMW M240i, came first in the Britcar Trophy. Chris uses a wheelchair as a result of dysplasia of the hips, while James was born without hands and also sustained major injuries as a child after a boating accident.
In the elite British GT championship, drivers Aaron Morgan and Bobby Trundley – in the McLaren 570s GT4 – came second in the pro-am class, including a memorable win in Spa.
Driving the Aston Martin Vantage GT4, Andy Tucker and James Whitley placed third in the GT4 class of British Endurance Championship, while Paul Fullick and Tyrone Mathurin steered their BMW 118i to fifth place in Class 3 of the Britcar Trophy.
Team BRIT commercial director Mike Scudamore said: "Each year we try and set ourselves challenging targets – and this year we've exceeded them. To have three of our driver pairings finish in the top three at the end of the season is outstanding – and to be the first all disabled team to win a national championship is something else! With our engineering team behind us, we demonstrate that disability is no obstacle to success."
Rowing into history
Challengers
Sailing the Atlantic is challenging enough in a full-sized yacht. Now imagine doing it in a rowing boat. But that's the task new CW Challengers Andy Hodgson and Rosalind Chaston have taken on in their ambitious Atlantic Escapade project.
This month, they'll row unassisted from the Canaries to the Caribbean (a distance of 3,000 miles), to raise money for the RNLI and CW's charity partners Blue Marine Foundation.
Here, we talk to Andy and Rosalind about preparing for the great adventure.
Hi guys. Before we talk about your trip, tell us about yourselves…
Andy: I'm a pretty ordinary bloke! In terms of rowing, I rowed the coast of Great Britain in 175 days. I was done with it – then I met Rosalind! I still had the boat, they're hard to sell, and she convinced me to come out of retirement to cross the Atlantic. So here we are!
Rosalind: It's my fault. We're a couple and have been together for three years. I finished university a year and a half ago – I did oceanography and now work in science education. When Andy told me about his row around Britain, I thought it sounded like the most fantastic thing to do.
Challenger special 12
Our latest
are taking on the Atlantic Ocean in a boat the size of a telephone box
Why the Atlantic crossing?
R: We're looking forward to crossing the ocean by ourselves – it's the sense of achievement.
A: Two things make the trip worth it: first, getting stories for the 'old people's' home. Second, there's this weird thing about pushing yourself beyond what you think you're capable of – it gives you rewarding experiences you can draw from in the rest of your life.
What will an average day be like?
R: Almost every day is the same. You prepare for sudden moments of excitement. But most of the time, it's row, eat, sleep and repeat. The boat will be moving 24 hours a day: if one of you is on the oars, the other will be sleeping.
A: Our training optimises our performance. But because we're a couple, we don't just want to meet in the doorway. So 9am-9pm will be two hours on/two hours off – grinding it out.
R: In the two hours off, you'll make water with the water-maker, stretch, rest, recover, make your food and get your sleep in. Then up for your next shift!
What are the sleeping arrangements?
R: We'll be rowing and sleeping separately during the night, but doing longer shifts.
A: The only time we'll be in the cabin asleep together – which is the same volume as a telephone box – is if we're storm-bound. Then we'll have to put the parachute anchor out.
Does the boat have a roof?
R: It's a supersize rowing boat with a covered cabin at each end. When you're rowing you're out in the sun or rain: that's why we've had to build up our ability to row in the heat.
Does the trip scare you?
R: It does! But I'm willing to be scared. Andy's worried about the swell, I'm concerned about the discomfort. When you're rowing, it's fine, but when you come off your shift, you're covered in salt, and you can't sleep. Those moments will challenge me the most.
A: The conditions worry me. There was some pretty heavy stuff on my trip around Britain. I was caught in force-eight and nine gales at one stage. There's a feeling of helplessness – it's like walking down the shops and the ground swallowing you up.
If the boat rolls over, what happens?
R: They're self-righting, so it should pop straight back over.
A: You've got a pump on the outer side, so if it doesn't right itself, you can get out of the boat – the pump clears the cabin of water.
How do you do the day-to-day stuff: eating, going to the loo, washing?
R: The toilet situation is 'bucket and chuck it'! We have a nice yellow bucket – a loo with a view! Food – we have freezedried packs: just add water and 'enjoy'.
A: Washing is every eight-year-old's dream. There's no Sunday bath night. Some people have taken wet wipes, but there's a pollution problem with them. So it's a saltwater wash or nothing at all. The freshwater you make from the solar-powered water-maker is too precious to waste on washing.
What's the training been like?
R: We've been doing physical training in the gym. It's mostly about injury prevention. When you're rowing in the waves, you can't get a clean stroke, so it's about building up the stabilisers. We're also doing on-water training, which builds up procedures and routines, so they're second nature. We'll be doing sea survival and sea navigation courses and working with a sports psychologist to build the communication side.
How many miles a day will you do?
R: Between 60 to 100 on a good day. You have the currents with you, plus the trade winds have set in from the Canaries. The world record is 43 days. We're aiming for 42 and a half.
And you've been given a Christopher Ward watch as part of joining the Challenger programme?
A: Yes, the C60 Sapphire – a great mix of rugged and beautiful that feels more than capable for the challenge ahead. Also, the Trident seconds hand is cool and I feel confident when I wear it, too.
atlanticescapade.com
13
felt like
been hit by a train!"
Challenger
14
"I
I'd
special
Endurance cyclist and CW Challenger James Hayden on
it
second in the gruelling Silk Road Mountain Race
There can be fewer more dedicated sportspeople than James Hayden –endurance cyclist and CW Challenger. In August, James came second in the Silk Road Mountain Race in Kyrgyzstan, one of the most challenging bike races in the world. The 1,895km route goes through the Tian Shan Mountains before ending at Bishkek, Kyrgyzstan's capital, and James completed it in just over seven days and six hours. Below, James looks back on an extraordinary few days.
Hi James! How did you feel after the race?
Exhausted. The day it finished, I ended up getting gastroenteritis. I can't compare it to anything, I'd never felt this bad before. I'd got no energy: I just made a sandwich and then went back to bed.
to
When did the race begin?
Midnight on August 12th in Osh, the second biggest city in Kyrgyzstan. We all started in one group, as there's a neutralised start for 10km til we get out of town. Then it spreads out quickly depending on whether you want to ride hard or not. I tried to keep up with the lead riders otherwise, you're losing time. Within an hour, there were 10 of us together near the front.
How did the first day go?
I didn't stop for 24 hours. By daylight, we were up in the mountains. Osh is about 1,000m up, and I finished at 4,200m. I wasn't well: I had a tummy bug and couldn't take on food. I kept going to the loo, which slowed me down, so by the time I got over the first mountain pass, I'd lost five to six hours to the leaders. I had to make that up later.
15
what
took
come
16
When was your first night's sleep?
At 1am on the second day. I had a sleeping bag and stopped on the side of the track. Some people can handle less sleep than others – I decide each day. This event is so hard you can't push sleep deprivation. I slept for four and a half hours – it was one of my longer sleeps.
Tell us about the third and fourth days
It was lower elevation – going over mountain passes, but not that high. Then on the fourth day, we got up into the mountains and stayed up there.
Were there any moments when you were struggling?
You can't let yourself think that, as that's a negative frame of mind, and it'll take hold of you. I remind myself how far I've come or that I've done it before, and I know I can finish it.
How do you take on food and drink?
I have a water filter so I can scoop up water from anywhere – rivers, streams or puddles. Food – I did 36 hours without a shop, so when I stopped in Naryn – a small town – I bought 36 hours of food. You have two options: one, buy local food that might make you sick, or two, stuff that comes in a packet. I bought about five sandwiches and 30 Snickers bars!
Did anything crazy happen?
Everything went smoothly. On the last night, there were some river crossings – and the water was flowing over my knees. I threw the bike over my shoulder and waded across without much hesitation.
What was the feeling as you came to the end?
To finish, I had to do one last mountain pass at 3,800 metres. I cycled halfway up, but then it turned into a horse track so had to hike the rest, which took most of the day. I got to the top at 9pm then came down – navigating around a couple of massive landslides. At one point, I had to walk down the river bed: it was 11pm and pitch black!
Sounds scary…
After that, I got a phone signal and found I was catching up with Sofiane Sehili, the rider in first place – he was nine kilometres ahead with 130km to go. I eventually managed to get so close I could see his rear tail light – he was only 300m ahead. As we went toward Bishkek, my body gave up as I hadn't eaten (it was midnight, and all the shops were shut), and I collapsed by the side of the road. There was nothing left. Eventually, I came second, 59 minutes behind the leader. The guy in third finished 27 hours behind.
Did you talk with Sehili after?
We spoke at the finish, though we're strong rivals – and I wouldn't say we're friends! We have history between us. We're both big personalities, and neither of us likes to be beaten by the other. When we race head to head it's phenomenal for other people to watch.
Afterwards, what happened?
It was 6am, I had a couple of beers, then I went to a hotel and passed out for the rest of the day. When I woke up, I felt like I'd been hit by a train. At that point, your body says, "I'm shutting down".
Did you wear your C63 Colchester? Of course! I've not managed to break it yet!
Follow James' adventures on Instagram at @jamesmarkhayden or jamesmarkhayden.eu
17
"I collapsed by the side of the road. There was nothing left"
18
Introducing the C65 Dune, the tough-yet-elegant fusion between a field watch and a dressier piece – and one of Christopher Ward's most versatile daily wearers to date
19
When it comes to appealing to both head and heart, the new Dune series has both bases covered.
The three-watch range – named after Aquitaine's Dune du Pilat, the tallest sand dune in Europe – pairs the elegant new C65 Sandhurst case (with an exhibition back) with the rugged do-anything ability of a field watch. This is one premium timepiece that doesn't mind getting its hands dirty, and represents Christopher Ward in its most pure and progressive form.
At first glance, it's easy to spot the fieldwatch DNA here: Dune shares its simple, compact good looks with those infinitely capable outdoor timepieces born of two world wars and designed with singular purpose: to reliably tell the time. Look twice, though, and there's more – a lot more. Yes, this new C65 speaks of outdoor adventure and no-nonsense practicality, but it's a decidedly civilian piece. There's no military matte-black here; rather, Dune is bejewelled with subtle glittering details, more polished and elegant all round. Perhaps better to think of it as simply a tool watch, like the fixed-bezel Tudor Black Bay – or the original 1950s Omega Seamaster.
"Calling Dune a field watch explains it," says Mike France, CW co-founder and CEO. "But it doesn't do it justice. Yes, it's all-purpose and fuss-free, but it's sophisticated, too."
It retains the C65 Aquitaine's box crystal but loses its rotating bezel, delivering a case width of 38mm. The domed crystal is vital to the ensemble, adding a vintage look that recalls sports watches of the 1960s and '70s.
"Box crystals aren't cheap," says Mike. "But there was no way the watch could reach its potential without one. And once you see it, you'll see why we couldn't compromise."
"One of our influences was a limited-edition retro-futuristic piece we did in collaboration with US website Worn & Wound," says watch designer Will Brackfield. "The C65 Sandstorm was inspired by dusty, dirty desert races, and looked particularly fine on camel-coloured canvas straps. It got us thinking that we needed something like it in our permanent collection. Could we make a casual, contemporary watch that referenced that world, but was less macho than a field watch like the C65 Sandhurst?"
20
21
Unlike the specialist Sandstorm or Sandhurst, Dune features popular everyday features familiar from much of the CW range. There's an exhibition case back, for instance – "People love being able to see the movement," Mike says – and sunburst dials, while the classic size makes it the perfect fit for any wrist.
"Despite their versatility, dive watches are specialist pieces," he continues, "which leaves the Sealander and the Dune as our two do-anything ranges. But though their specs and sizes are quite similar, they're different: one formal, the other relaxed. And where Sealander is unabashed in its modernity, Dune is chilled in its timelessness."
What we have here, then, is a versatile watch for weekends and downtime that's happy to dress up for the week – rather than the other way around. "The first time we saw Will's designs, everyone at Christopher Ward said, 'That's a no-brainer'," Mike says. "It's an easy watch to live with, but even easier to love."
23
Where Sealander is unabashed in its modernity, Dune is chilled in its timelessness
an easy watch to live with, but even easier to love"
"It's
AUTOMATIC
As is so often the case, the entry-level Dune is perhaps the purest iteration of the theme: three hands, a date, and plenty of lume.
At 38mm across, and 11.7mm high, it's perfectly sized for any wrist. And when it comes to straps, it's incredibly flexible: looking great on leather or webbing in a variety of colours, as well as its steel bracelet. The watch comes in four dial colours: Black Sand (which you'll also find on the GMT), Marine Blue, Beachgrass and White Sand.
"I've been wearing the White Sand one these last few weeks, and love it," Mike says. "It has the same flexibility as the Sealander, the same low-key style, but a different, more relaxed feel. And where the hard-edged Sealander suits a steel bracelet, this watch seems to love swapping straps as much as possible, subtly changing character each time. Right now, I'm enjoying it on the simplest webbing – but that might change tomorrow."
And, of course, with Christopher Ward's quick-release technology, changing things up could hardly be easier.
26
BRONZE
Bronze as a case material is one of those unexpected trends – and the Dune seems particularly suited to this most alive of alloys. Famously, bronze changes as you wear it, developing a unique protective patina through its exposure to the air, though it's little effort to polish things back to a near-new sheen whenever you want to.
Christopher Ward's commitment to both this metal and Dune itself can be seen in two ways: the bronze version is available with a choice of dial colours – Marine Blue or Beachgrass – and there's a new bracelet to go with it, too. Only previously offered with the Sandhurst Series 2, this is CW's first-ever bronze bracelet, complete with micro-adjustable clasp and bold taper.
Now your entire watch will change as you wear it, not just the head. "All mechanical watches are living, breathing machines but few more than this," Will says. "And that it boasts the only chronometer movement among the initial Dune range is an added bonus."
27
GMT
Finally, there's the GMT version, limited to just 200 pieces, and in some ways the most striking of the three, not just because of its bold extra hand, but also the distinctive Old Radium-coloured band on the bottom half of the dial. Since this is a GMT watch without an external bezel, a new way was needed to show the GMT scale, and a printed inner ring was perfect. In terms of power, the watch uses Sellita's SW330-2 GMT movement with its extended 56-hour power reserve.
"Instead of just printing the desired information around the edge of the dial, we wanted to give the watch extra depth," Will says. "So this is actually on a raised outer ring, sloping upwards slightly to meet the sides of the case. It adds a new level of visual life, and references 1960s design language – familiar from watches like Enicar's Sherpa Jet GMT – that really suits the Dune."
28
C65 Dune Automatic
Movement: Sellita SW200-1
Case: Steel
Bezel: Steel, fixed Diameter: 38mm Height: 11.7mm Weight: 55g
Lug to lug: 43.6mm Water resistance: 15 ATM / 150m
Timing tolerance: -20/+20 seconds per day
Power reserve: 38 hours
Dial colours: Black Sand, Marine Blue, Beachgrass, White Sand
From £695 | $850 | €895
CAPTURE THE FLAGS
In one small yet crucial matter, the C65 Dune represents a new first for Christopher Ward: it introduces an applied, rather than printed, twin-flags logo. This now sits proud just under 12 o'clock, and will become the default style for CW's going forward, save those where a printed version would be more appropriate.
"Achieving this is a tricky operation, as the logo is made of five parts," says Will Brackfield. "And the four small squares have to be applied individually. That's why each one, even though they're only 0.7mm across, has two tiny feet on the underside, which slip through equally small holes
on the dial. Now we know how to do this successfully, the look is so worth it – and illustrates the attention to detail and strict quality management of Christopher Ward."
As for the twin-flags logo flying solo itself, that's currently being rolled out across the range, with each line that acquires it getting a corresponding 25 percent uptick in sales. "I couldn't believe it," Mike France says. "But it's impossible to ignore the correlation. Whether it's that people enjoy the simplicity or symmetry, or something else, the new design is a hit."
C65 Dune Bronze
Movement: Sellita SW200 COSC
Case: Bronze
Bezel: Bronze, fixed Diameter: 38mm Height: 11.7mm Weight: 61g
Lug to lug: 43.6mm Water resistance: 15 ATM / 150m
Timing tolerance: -4/+6 seconds per day Power reserve: 38 hours
Dial colours: Marine Blue, Beachgrass
From £885 | $1,065 | €1,140
C65 Dune GMT
Movement: Sellita SW330-2
Case: Steel
Bezel: Steel, fixed Diameter: 38mm Height: 11.7mm Weight: 56g
Lug to lug: 43.6mm
Water resistance: 15 ATM / 150m
Timing tolerance: -20/+20 seconds per day
Power reserve: 56 hours
Dial colours: Black Sand Limited edition: 200 pieces
From £995 | $1,195 | €1,295
29
TH E
Evocative pictures of London pubs & a world that's gone forever
England remains a society where your social class can determine everything from your job to the sport you play.
This is why pubs are valuable. The 'local' is perhaps the only public space where class goes out of the window: everyone is equal with two pints in their hand and a packet of pork scratchings between their teeth.
And nowhere has a richer pub history than London. A history you can enjoy again thanks to Vintage Britain: The London Pub by Pete Brown – a photo book that contains a wealth of black and white images of the British capital's boozers in the 19th and 20th centuries.
The earliest pictures feature long-demolished ancient taverns like the Oxford Arms and Ye Old Dick Whittington and show an almost mediaeval London. Then there are images of the famous pubs that have been plying their trade for hundreds of years and still play a part in the capital's social life.
There's Belgravia's Grenadier, long associated with the British military and famous for its zinc bar and impossible-to-find location in a warren of streets behind Hyde Park Corner.
Going east, you'll find a grainy image of The Prospect Of Whitby in Wapping, when it was a pub frequented by dockers and sailors, as opposed to today, when it's a pleasant gastropub frequented by Sunday afternoon strollers. There's still a hangman's noose outside it, however.
Some of the most outstanding images come from the middle of the 20th century when London welcomed people from all over the British Empire, and newcomers and locals learned to rub along in the pubs of Soho, Notting Hill and Bethnal Green.
"Everyone is here," says author Pete Brown about this period. "Pearly Kings and Queens revelling in the spontaneous subculture they have created; sailors home on leave; courting couples stealing kisses over tables full of empty glasses; sharp-suited men from the Caribbean introducing their music and dance moves to their new neighbours; old ladies holding court, staring down the myth that pubs were male-only spaces. Mick Jagger and Keith Richards prop up the bar like two blokes at the end of a hard day at the office."
While the book concerns itself with the past, it was written as the world came out of lockdown. Something that gave the images extra piquancy.
"Pubs are like air or water," says Brown. "They're so important we take them for granted until they're gone. At this moment, we're still getting used to them being back
again, and the everyday freedom to walk up to the bar and order a pint is as rewarding as that first sip. In this context, the photographs here show how extraordinary our ordinary life is."
He continues:
"Everyone in the world understood that pubs were the heartbeat of British life. No one cared that nail bars and barbers were also reopening at the same time. The pub was back. And that meant life was finally returning to normal. There was hope."
And looking at these photographs shows why that hope was justified.
Vintage Britain: The London Pub by Pete Brown is published by Hoxton Mini Press
30
Last
31
Alamy
Soho, 1981
32
Alamy
The Globe, Borough Market, 1955
Berris Connolly
33
Paul Popper/Popperfoto via Getty Images
"Pubs are so important we take them for granted until they're gone"
Alamy
34
Alamy
Peggy Seeger performing at the Enterprise pub in Covent Garden
35
Bela Zola/Mirrorpix/Getty Image
POW Nugen returns to Edmonton, 1953
With CW's latest – and greatest – bracelet now in production, we look at how the company makes sure its straps and bracelets are up there with the best
36
37
Nothing impacts the look and wearability of a watch more than its strap or bracelet. Yet, they're often missing in conversations about timepieces.
Christopher Ward has always punched above its weight in this area. This is due, in the main, to CW's CEO in Switzerland, Jörg Bader Sr, whose knowledge of bracelet manufacture goes back more than 40 years – practically unparalleled in the watch industry.
Here, with his son, Jörg Bader Jr, and CW CEO Mike France, they discuss the past, present and future of bracelets, straps and bands at Christopher Ward.
Hi guys. Let's start with the early days of CW. Mike, what were the bracelets like on the first watches?
Mike France: Although our original straps and bracelets were good, it was only when we started to work with Jörg Sr in 2008 that our design and quality standards moved into the top tier. By then, Jörg Sr was head of Synergies Horlogères, a watch-manufacturing company in Biel. In high-end watchmaking, it's all about expertise and people: he introduced us to some of the world's finest manufacturers and the bar was raised immediately.
Jörg Sr: I had a lot of experience in bracelets from working with the Japanese early on in my career. I created the 'butterfly opening' on bracelets which, regrettably, I never patented! I was therefore able to produce a high-end bracelet from the start of the relationship with Christopher Ward, including the introduction of the micro-adjustment feature.
Moving to the present day, tell us about the most recent CW bracelet…
Jörg Jr: Our bracelet was already high-level with features like the quick-release system and micro-adjustment box included. But we needed to make it easier for people to remove links, so they could make bigger adjustments at home. This was probably the most regular customer request, so finding a way to make the process effortless, while preventing scratches to the bracelet, became a business goal.
Sr: It's always been difficult to shorten a bracelet: without a professional device, it's almost impossible.
Why do you say that?
Sr: At both ends there's a screw. One end is the 'mother' screw that goes through the link into a short screw – but they both need to be fixed by a screwdriver so they can be moved. If you put a screwdriver into one, but not the other, the whole thing turns as one unit. You can't unscrew it – you need to have two screwdrivers.
Jr: The shop where you bought it from will do it for you while you have a glass of champagne. But as a web-based company, we needed something more efficient.
Sr: We analysed the market to find out which system was best – as we did when improving our rotating bezel mechanism for Trident 3 – and found Rolex's was the best, by far. Frank Stelzer, CW's technical director, drew up what we wanted and we then started discussions with our bracelet manufacturer. It was a difficult process as the tolerance required is miniscule (less than 0.03mm) but we now have a single-screw system on a par with Rolex.
Jr: It looks simple, but it's super-hard to do as you have to be so precise. If you're not within 1/10th of a millimetre, the screw will stick out and hurt your fingers!
Are bracelets more popular than straps at CW?
Jr: Yes, definitely for dive and sports watches but straps still have the edge when it comes to dressier designs.
Sr: When I was younger, every watch had a bracelet, except slim gold watches. It was Rolex who started the bracelet trend – they never followed fashion. Now Rolex is the market leader, and the bracelet is back on everything from sports pieces to dress watches.
Customers love the quick-release system. How did that come about?
Sr: The first quick-release straps came from Cartier 25 years ago. Then suddenly, one company came out with a leather strap that had a one-sided release button. We thought we could do this for steel.
38
Jr: With a steel bracelet you need to be able to release it on both sides at the same time, so you can slide it in and out. Leather or material you can bend. Steel was more of a challenge – but we eventually got there.
MF: Before that, to change your strap, you'd have to take it to a jeweller. Now with our quick-release system, one watch becomes four or five as the transformation between straps is so dramatic.
What's the role of leather straps?
MF: Dress watches have always had a high percentage of leather straps. With the growth of sports and dive watches, however, it's inevitable sales of bracelets will grow. But what's also growing is rubber straps. They're practical for dive watches, look great and carry colour. Rubber straps –tropic or hybrid – are popular because they add a sportier feel.
People are increasingly buying more than one band with their watch. Leather adds a formality, while rubber and hybrid enhance practicality, as does the #tide strap, which is made from recycled ocean material, and also puts a tick in the sustainability box.
The twin-flags logo is engraved into the clasp
Where do you see CW bracelets going in the future?
Sr: On the adjustable links, I think we're satisfied. We could improve the microadjustment feature – there might be a little more work to do – but it's so small we might not announce it.
MF: Everything we do is customer-focused – so any improvements have to benefit the people who buy our watches. Today we're seen as a leading innovator in straps and bracelets: something we're delighted to acknowledge even if we're always looking to where the next improvement is coming from.
39
"We needed to make it easier for people to remove links, so they could make bigger adjustments at home"
The bracelet is completely flush with the watch-head
40
Culture that's worthy of your time
Shooting
Photographer Chris
portraits
age
Portrait photography should be straightforward. In theory you just have to point the camera and shoot. But, of course, it's not as easy as that.
A great portrait – one that leaps out of the page – doesn't just show what a person looks like, but captures their essence. And achieving that, well that's where the magic is.
Great portrait photographers are few and far between. And while they're all different – witness the exquisitely choreographed images of Annie Leibovitz compared to the exotic naturalism of Steve McCurry – they show you both the familiar and the unexpected.
One of the best in this field is British photographer Chris Floyd. For over 30 years he's snapped celebrities like Paul McCartney, Tina Fey, Yoko Ono, David Bowie, Bill Murray, Vivienne Westwood, Iggy Pop and David Attenborough. Not for him the 'look in the distance and stay still' method of photography. He encourages his subjects to make faces, jump about or play with props.
Now a new book, Chris Floyd: Not Just Pictures, celebrates his work. Each image is accompanied by a story from Chris, or he puts it, "unique encounters on the confrontation and collaboration line".
The result is a collection that tells the tale of celebrity in the 21st century – each
image artfully informal, and always perfectly placed. For Chris, it's all about capturing the moment and power of the happy accident.
"You spend all the time in the world having ideas and setting things up," he says. "Then serendipity comes along and gifts you something superior. When that happens, be gracious, put your ego down, take the gift with both hands and say thank you."
Chris Floyd: Not Just Pictures is published by Reel Art Press
41
Hughes'
bring us closer to the iconic celebrities of our
The podcasts
99% Invisible/Freakonomics
When it comes to noticing the world around us, it pays first to use your ears rather than your eyes. The reason for this is 99% Invisible, a podcast "about all the thought that goes into the things we don't think about – the unnoticed architecture and design that shape our world". Hosted by Roman Mars, over its 430 episodes (and 10+ years), it's covered everything from Audrey Munson – the world's first supermodel, to the story of Barcelona's unfinished Sagrada Familia cathedral. Every episode is fascinating, and if you're starting now, there's plenty to catch up with.
Staying with 'fascinating', Freakonomics is an economics podcast that looks "at the hidden side of everything". Launched on the back of the book series of the same name, it questions widely-held assumptions and talks about the unintended consequences of our actions. Episodes like What Are The Police for, Anyway?, How Stupid Is Our Obsession With Lawns and Forget Everything You Know About Your Dog will give you plenty to think about.
Both podcasts are available via the usual podcast providers
The column
The not-so-beautiful game
Most people of a certain age would agree that football, like pop music, enjoyed a golden age in the 1960s. England won the World Cup; the Beatles topped the charts – what was not to like? Today, you'd get into trouble for saying football is a man's game, but it was undoubtedly more uncompromising than today.
Men like Norman Hunter, Ron 'Chopper' Harris and Tommy Smith were there to ensure the rule of 'they shall not pass' was rigorously implemented. Sometimes, inevitably, things got out of hand, and it was left to the referee, often an underpaid, wheezing, portly old gent, to sort it out without access to red cards or the luxury of VAR. He had to assert himself – but what if he couldn't?
On November 7th, 1964, at Goodison Park, a referee, Mr Ken Stokes, exasperated by his failure to control a "spine-chilling encounter of blood-curdling violence" (The People) between Everton and Leeds United, left the field in the 38th minute. In the
words of The Guardian, the players, "like sheepish schoolboys who at last realise they have gone too far," traipsed off the pitch after him.
There followed a 10-minute break to allow the players to "cool off". This had never happened before, and after the match, there was an outcry. Too much money was ruining the game. The £20-a-week ceiling on wages recently lifted after a campaign led by Jimmy Hill should never have been increased. As a footnote, Leeds won the re-started game with a header from their left-back, Willie Bell. He later became a vicar.
Words: Jonathan Taylor
42
The theatre
Shakespeare North, Prescot
Shakespeare's Globe theatre is one of London's top tourist attractions.
Which is all well and good if you live in the south of England. But thanks to the state of the country's train network, it's often complicated and always expensive to visit if you live north of Birmingham.
Happily, for fans of Shakespeare in northern England and Scotland, the stunning new Shakespeare North Playhouse has recently opened in Prescot on the outskirts of Liverpool. The town was chosen because, in 1590, it boasted the only indoor theatre outside of London – a theatre that happened to host Shakespeare's
plays. The venue boasts a 470-seat, timber-framed Shakespearean theatre based on London's Cockpit-in-Court theatre and earlier designs by architect Inigo Jones.
Shakespeare North says: "Theatre, music, comedy, workshops, events and activities will spill out into the exhibition gallery, Studio and Sir Ken Dodd Performance Garden, creating an accessible space full of joy and creativity, where everyone is welcome."
shakespearenorthplayhouse.co.uk
43
Another dull watch from Christopher Ward

Of course, the C65 Aquitaine Bronze COSC is far from dull in the traditional sense. When we say dull, we're talking about the unique patina that the 41mm bronze Light-catcher™ case develops as it oxidises over time. Add in power from a chronometer-certi ed Sellita SW200-1 movement, timeless mid-century design and water resistance to 200m, and you've got a one-o timepiece that's actually rather interesting. Want to know more? Do your research.

christopherward.com
Harrison Ford
If you're looking for the ideal allAmerican action hero, you'd struggle to find a better example than Harrison Ford.
From Raiders Of The Lost Ark to Star Wars, Blade Runner to Clear And Present Danger, if it involves a decent man putting his life on the line for the USA/Free World, Ford is your man.
But as well as being an actor, Ford is also an accomplished pilot who flies a Ryan PT-22 Recruit, used to train US military pilots in the 1950s, a De Havilland Beaver and an Aviat A-1C-180 Husky. However, it's not all been plain sailing (flying?) – in 2015, he crashlanded the Recruit on California's Penmar Golf Course after taking off from nearby Santa Monica airport.
Therefore, it should be no surprise the watch Ford's most associated with is the Breitling Aerospace, an analogue/digital timepiece produced as the successor to the all-conquering Navitimer.
Launched in 1985 and targeted at pilots and aviation enthusiasts, the updated version of the watch that Ford wears – a titanium Aerospace Evo – is powered by a SuperQuartz™ calibre (introduced in 2001) and boasts 1/100th of a second chronograph, countdown timer and second time-zone function (the wearer scrolls through these complications using the crown).
In terms of power, the thermocompensated SuperQuartz™ movement adjusts the vibrations of its crystal according to the air temperature, making it incredibly accurate. Despite its plus points, the Aerospace has fallen out of favour because it's neither a smartwatch or a traditional mechanical aviator like the Navitimer (the Aerospace was placed under the Navitimier umbrella when launched).
The Aerospace is not the only watch Ford's been associated with. Though he had flying lessons at university, it was only in his 50s that he took it up seriously. Which would explain why his go-to watch before then was a stainless steel Rolex Datejust with Roman numerals. A watch he wore on the classic Jubilee bracelet in the 1988 thriller, Frantic
The Datejust (reference 4467) was launched in 1945 to celebrate Rolex's 40th anniversary. With a diameter of 36mm, it may seem small by today's standards, but it's an undisputed 20th-century classic.
Yet, despite the Datejust's pedigree, it's the Aerospace we most associate with Harrison Ford. And while it might not be the cutting-edge timing instrument it once was, like the man who made it famous, it's dependable, stylish and just that little bit old fashioned.
Great watch-wearers
45
Why ruin perfection?
Back in the USA in the 1960s, when the theme song was Fun, Fun, Fun by the Beach Boys and car culture was really taking off, there were two clearly defined camps. Catholic tastes were frowned upon, and you either worshipped Yankee metal –muscle cars to be specific, such as Pontiac GTOs and Rambler Scramblers – or you went for the foreign stuff such as MGs and Austin-Healeys and Alfa-Romeos. It was a real case of Daily Mail vs the Guardian There were exceptions, eg: even the guys who adored Porsches respected Corvettes, but exclusive devotion to either ruled on both sides.
Within each genre there were factions: Triumph vs MG, Ford vs Chevrolet. But the one area where the two diverged even more than over xenophobia vs globalism was the area of customising. The foreign-car guys, which also included a high proportion of vintage car enthusiasts, wanted everything to be factory/original. Not so hot-rodders and muscle-car guys. They couldn't leave their cars alone, festooning them with aftermarket tchotchkes. You see it today in their spiritual great-grandchildren: the low-riders which feature in every movie that takes place in East LA, or in each instalment in the Fast & Furious franchise. Even for some
46
Customising your watch is hot right now, but Ken Kessler remains defiantly cool on the subject
Column
47
of us not in love with Detroit metal, chopping the hell out of a 1963 Chevy Impala is criminal, despite paintwork to dazzle Maybach or Bugatti, and workmanship to Patek standards. Bear with me: there is a watch-related point.
Naturally, not being named Chip or Bud and lacking Irish ancestry, I was part of the foreign-car following, as were my buddies. Among our rides were MGBs, TR3s and TR4s, Healeys, a Datsun Fairlady 2000, an Alfa 'The Graduate' Spyder and the like. Meanwhile, among the grown-ups peripheral to our teen pack were a screamingly rare Porsche 356 'Notchback' and a not-as-rare-but-covetable Mercedes-Benz 190SL, both undergoing restoration. [Note: even though the cars were under 15 years old, automobiles back then rotted faster than Liz Truss' premiership.]
We – that is, me and my buddies who could afford to be purists but who couldn't afford anything more than bangers – were horrified when both appeared from restoration chopped, channelled and with frenched taillights. These weren't just removable aftermarket touches like luggage racks or Carello fog lamps. No: these were irreversible, surgical changes which even a half-century ago would be harbingers of depreciation doom. But they weren't our cars, and those guys could do whatever they like, even if in most car enthusiast communities it would have been deemed heretical.
This long preamble is to prepare you for the cultural division which has emerged of late in watch enthusiast circles. As far back as I can recall, in my 40-plus years in
the watch biz, collectors of either old or new (or both) watches wanted pristine, original items. That nasty fracas with John Mayer was based on a couple of replacement parts. I've seen grown men weep because there was a tiny scratch on a watch buckle. Then came the craze to weaken, or completely undermine such fastidiousness: the absurd escalating desirability and thus value of 'tropical' dials and bezels. Which will have to wait for another column.
To a purist, that was bad enough. All a tropical dial did was demonstrate that either the previous owners left it in the sun, the original paint was from a bad batch, or both. But now we have collectors deliberately defacing their watches. This begs the question: Who the hell engraves his Rolex's entire case?
I wanted to use a more forceful expletive, as I am a vulgarian and it is the only way I can express my horror at this example of a new tendency, that of customising one's timepiece, but I'm opting for restraint. Let me ask this instead: Isn't a change of strap – something that you can reverse – enough to assert your personality? Why not wear it over your sleeve, à la [ex-FIAT boss] Gianni Agnelli?
Engraving one's watch case (not to be confused with an inscription on a caseback, which actually helps date the piece decades later) is but a tiny manifestation of this need for people to express themselves. It's not like there aren't enough watches out there such that you can't find one which isn't worn by everyone else. Go buy a Leonidas chronograph or a Mido Multifort; nine out of 10 Red Bar
48
Isn't a change of strap enough to assert your personality?
guys will be blown away. But with even the most pedestrian of Rolexes fetching double their value of three years ago, how does butchering the thing make any sense? Are people that desperate to prove their individualism?
So here's another tale from my past: It's 1997, and the Panerais out there are still pre-Vendôme. I'm in Paris at a hi-fi show – not, I hasten to add, a watch event – with seven colleagues, all hi-fi guys who love watches, three of whom are bone-fide Italians. Unlike some, these gents were not prone to one-upmanship, as all were mature and/ or sophisticated enough to have outgrown the need for ego-boosting.
An air of dismay affected the group, upon noticing what each was wearing. One had donned a vintage Rolex GMT-Master. The rest of them? All were sporting Panerais. The effect was humbling. All were proud of their Panerais, at a time when there were only three or four variants, so there were a couple of duplications to add to the sorrow. Far worse, as Panerai was the 'cool kid' watch of the era, was that the one timepiece which stood out at that table was a bog-standard, but elderly Rolex.
With this in mind, it's easy to understand a need for one's watch to express something of one's personality. I don't know if women are upset if three or four turn up at the same event with identical Chanel clutches or Birkin bags. But finding someone to carve scrolling into one's Daytona case? Just to stand out? If it's the engravings you're after, surely there are other items which can be
carefully scored and chamfered. But maybe that custom-made peacock or galuchat strap isn't enough.
Marginally less destructive are the new wave of forced limited editions which have emerged in the wake of this trend for playing Harry 'n' Meghan. Not to be confused with traditional limited editions, e.g. 100 pieces denoting an anniversary, or a limited run due to production constraints, the new wave exclusives are collaborations between watch brands and outside influencers. The poster child is George Bamford, whose credentials as a collector are peerless.
Taste, however, is a different matter, and far be it for me to criticise anyone else's. More to the point, I was an admirer of some of George's hot-rodded Rolexes despite my previously cited reservations about irreversible modifications to something of such high value.
Conversely, one cannot carp about sacrificing a sub-£100 Swatch or Casio or Seiko Sport 5. I have one of the latter dressed up to look like a Blancpain Fifty Fathoms (and yes, it is called a '55 Fathoms'), while inventive Bamford wannabees are modifying Seikos to look like everything from Bell & Ross BR01s to Rolex 'Hulks.
I suppose that all this customising is harmless, a less worrisome passion for throwing away money than, say, gambling or snorting coke. But I would love to be a fly on the wall when a fully-engraved watch turns up on Antiques Roadshow in 2050 and the expert says, "Rolex DeepSeas of this era are now fetching at least £2,500,000. Yours is worth… nothing."
49
I have a Seiko dressed up like a Blancpain Fifty Fathoms
10,000 years
Watch manufacturers like to place great stock in the longevity of their movements..
But there's longevity and, well, longevity.
And when it comes to The 10,000Year Clock, we're talking about the latter.
The 10,000-Year Clock – or 'The Clock of the Long Now' – is a giant mechanical clock currently under construction that aims to tell the time for the next 10,000 years. It was conceived by US inventor Danny Mills in 1986.
"I want to build a clock that ticks once a year," he said at the time. "The century hand advances once every one hundred years, and the cuckoo comes out on the millennium. I want the cuckoo to come out every millennium for the next 10,000 years."
At present, there are three prototypes in existence: one at the Science Museum in London and two more at the Fort Mason Centre in San Francisco. When the real clock is finished it will be placed
inside a chamber in the top of Mount Washington, Nevada, USA: a place chosen for its dry weather and remoteness.
The 10,000-Year Clock is being built by the Long Now Foundation, an organisation that aims to provide a counterpoint to what it views as today's 'faster/cheaper' mindset and to promote 'slower/better' thinking.
Constructing a clock that will work for 10,000 years isn't easy, especially as the Long Now Foundation specifies that a) it should be accurate for 10,000 years, b) future generations should be able to maintain it, and c) it must not contain valuable parts – thereby making it unattractive for thieves.
The current design has a slow mechanical oscillator based on a torsional pendulum, which is reliable but inaccurate. At noon every day, sunlight will be concentrated on a piece of metal through the lens. The metal will buckle and reset the clock. And to keep the clock ticking, someone must wind it manually.
In 2018, with underground excavations complete, the clock's huge timekeeping components – including the drive weight, winder and main gearing – were assembled deep within the mountain. And while there's no completion date yet, the Long Now Foundation regularly sends out updates on its progress.
Of course, there's no rush: the point of the clock is to get us to think differently about time and how the decisions we make today will affect people in the future. As Danny Mills says:
"I cannot imagine the future, but I care about it. I know I am a part of a story that starts long before I can remember and continues long beyond when anyone will remember me. I sense that I am alive at a time of important change, and I feel responsible for ensuring that the change comes out well. I plant my acorns knowing I will never live to harvest the oaks."
50 Timespan
For those who don't want to be seen wearing the emperor's new clothes
We love quality watches – so much so that in 2004 we started making our own. Combining award-winning English design with the finest Swiss watchmaking skills, and concentrating on craftsmanship rather than salesmanship, we've created watches that are the equal (or better than) the world's most celebrated brands in every respect. Apart from price. The C1 Moonglow is one such watch. Do your research.
christopherward.com
CUSTOMER NUMBER
Address
Limited 1 Park Street Maidenhead
SL6 1SL United Kingdom CBP011929 Meet The Dune, p18
Return
Christopher Ward (London)
Berkshire