23 20
Psalm 26:8 I LOVE THE HOUSE . the place where where You live, GLORY YOUR GLORY DWELLS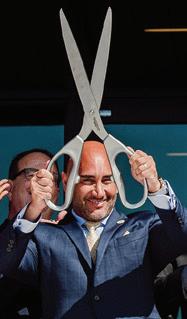 04 26 16 12 06 28 18 14 LETTER FROM OUR PASTORS JUPITER VISION 2023 YEAR IN REVIEW BE A PART OF THE HEART GET THERE FIRST WESTLAKE Heart for the House 2023 2023 TRINITY CHURCH Heart for the House 2023 | 3
In the Book of Acts, we read about "These who have turned the world upside down." These words defined the movement of God on earth, known as His Church.
The Church changed everything because the life of Jesus changed humanity. It turned the world upside down—from what was natural to the supernatural. But we know the story of the Church is still being written—through you, through us, through our church.
We believe that the vision God has given us marks the starting line for a new era. Just as God used His Church to turn the world upside down throughout history—He did it then, and we're believing He'll do it again.
That's what Heart for the House is all about. It's a season set aside to celebrate what God has done, and is still doing, through His Church. And it's a marker—a new starting line—for what we believe He wants to do in the lives of thousands of people in South Florida and around the world.
We're turning our cities upside down, and you'll get a glimpse of that starting on page 10.
We're turning our schools upside down, even colleges, so be sure to check out page 22.
We're turning our state prisons upside down (see page 11 ).
And we even believe we can turn common places into sacred spaces (more of that on page 23 and page 26 ).
If we want to see our world turned upside down for Jesus, it starts with us. What will they see because they stood next to you, and next to me? What will our communities see? What will the next generation see? What will our children and grandchildren see?
This is our heart for this house.
Pastors Todd & Julie