WINTER 2023 HOME DESIGN / ART / GARDENING / WINE / REAL ESTATE CHARLESTON STYLE & DESIGN PLEASE DO NOT REMOVE
gssupplyco.com
A division of Spartina Cabinetry & Design Consultants, LLC SPECIALIZING IN FULL SCALE KITCHEN AND BATH REMODELS AND NEW CONSTRUCTION. I'On Square · 152-C Civitas, Mount Pleasant, SC · Showroom: 843.971.4882 Appointment Only · www.spartinacabinetry.com
Melissa Koger Watson President
Location is Private Residence: Old Village
Photo by Margaret Wright
Celebrating 15 Years Designing Outstanding Kitchens & Baths Allied ASID
Photo by Leigh Webber
334 East Bay strEEt | CharlEston, sC | (843) 853-3968 | sohnandMCClurE CoM | sohn.MCClurE@aol CoM
European Style. Charlestonian Flair.
Photo by Holger Obenaus
I nquIre @ K Iersten e lIzabeth com | c harleston , s outh c arolIna | (843) 906-1352 | K Iersten e lIzabeth com ™
C harleston ' s C omplete s our C e for s hades and s hutters
Photo by Holger Obenaus
InterIor WIndoW CoverIngs MotorIzed shades n exterIor shutters CustoM PlantatIon shutters Visit our showroom off Clements Ferry Road 490 Deanna Lane Charleston, SC 29492 Designers & Contractors Welcome 843-216-5677 (Charleston) · 843-768-6942 (Kiawah/Seabrook) www.allaboutwindowssc.com
Photo by Holger Obenaus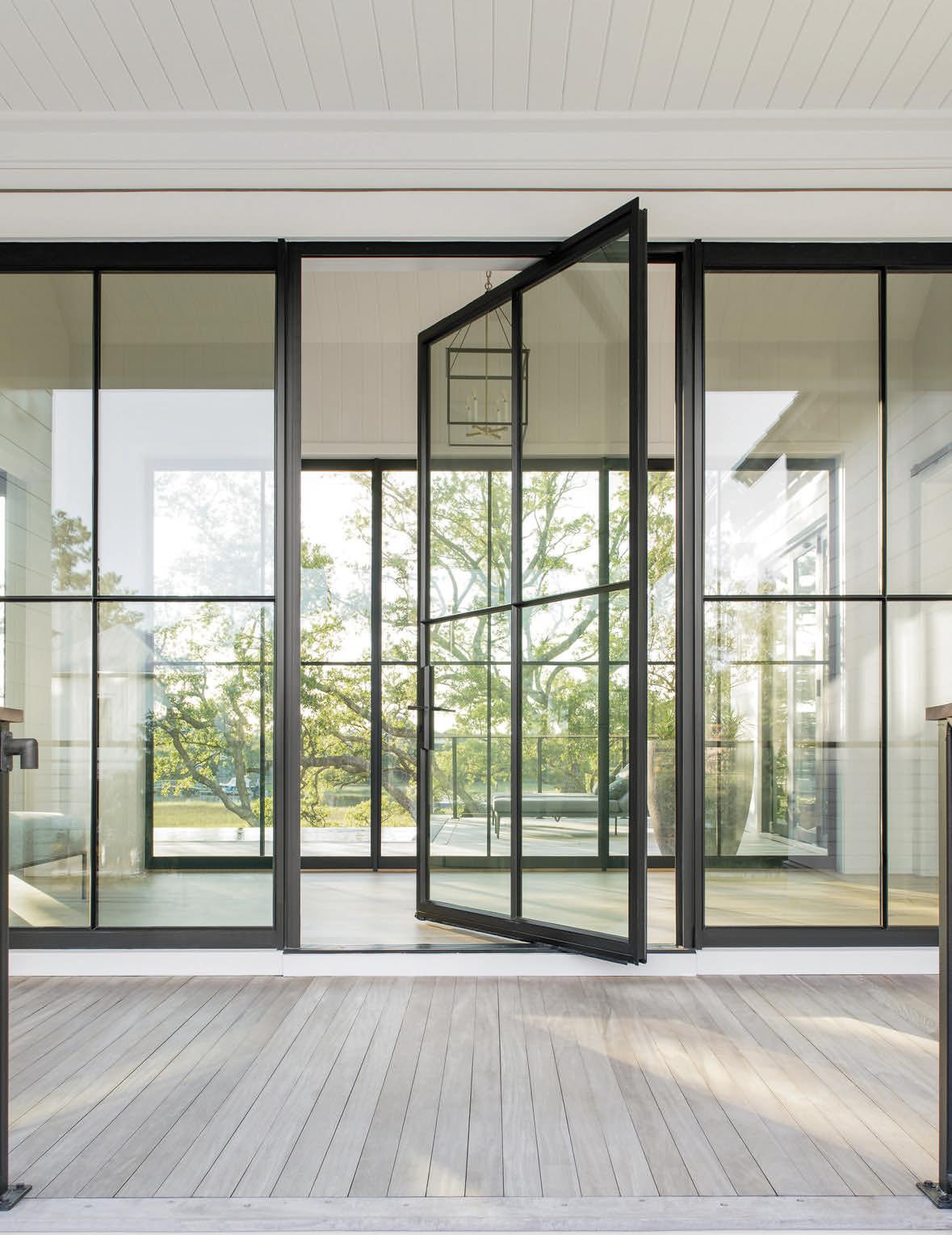 Fonts: Futura PT Book Futura PT Light L uxury S tee L & A L uminum W indo WS & d oor S F o L d i n g | P i v o t | S L i d i n g | C u r t A i n W A L L 490 Deanna Lane · Charleston, SC 29492 843-425-6099 · atlanticarchitecturalwindowsdoors.com
Photo by Katie Charlotte
Hardwood Flooring Reclaimed Flooring, Lumber & Millwork Engineered Flooring Antique Barn Wood Historic Restoration Installation & Refinishing EBWoodWorks.com Showroom | 1717 North Hwy. 17 Mt. Pleasant | 843.814.4536 | 843.367.5253 |
Mallory Agerton Ella Walton Richardson Fine Art 58 Broad Street, Charleston SC 29401 Mobile 843.819.6111 Gallery 843.722.3660 Regional, American and International Artists www.ellarichardson.com
©2022 Corcoran Group LLC. All rights reserved. Corcoran® and the Corcoran Logo are registered service marks owned by Corcoran Group LLC. Corcoran Group LLC fully supports the principles of the Fair Housing Act & the Equal Opportunity Act. Each franchise is independently owned & operated. GENTRYTODD AGENTGENTRY GENTRYTODD CHARLESTON, SC | 843.730.4454 SERVING GREATER CHARLESTON 843LIVING.COM There is a version of Charleston for everyone. Let us help you find yours.
WilliamRBeebe.com | 757.897.2990 Represented by Mary Martin Galleries of Fine Art Market and Meeting 24 x 36 oil on canvas 3 Meeting Street 24 x 30 oil on canvas 43 Meeting Street 24 x 30 oil on canvas The Paintings of William R. Beebe Charleston • Original Paintings and Canvas Reproductions
MARGARETDONALDSONINTERIORS.COM (843) 722-2640 • info@mdicharleston.com
lighting and glassware for every home
Custom
Photography by Callie Cranford
CLEOD Glass+Works specializes in custom lighting and architectural glass for the home. Founder and Designer James McLeod offers a full service design package where clients can realize their ideas from conception to completion.  3 Broad Street | Charleston SC 29401 | 843-789-4031 @cleodglassworks | cleodglassworks.com *see website for hour
Photo by Marcela Diaz Photography
Photo by Holger Obenaus
LUXURY HANDBAGS & ACCESSORIES 84 SPRING STREET CHARLESTON, SC 843.297.5233 SHOPTAXIDERMY.COM
44a Spring Street  | Charleston, SC 29403  IG @harperhartfordboutique www.harperandhartford.com  64b Boathouse Street Bluffton, SC 29910 IG: simonestyle@palmettobluff
THE
+ YEAR
Models: @hayleemichalski_ and @ericalynnfoulkes | Photographer: @miraadwell_photo | HMU/Stylist: @whowhatoui
BEST OF
SEASON
ROUND RESORT
Photo by Tripp Smith Tranquility
J UDY W ALTERS judywaltersfineart.com (606) 477-0877 CHARLESTON ARTIST GUILD GALLERY 160 E. BAY SUITE 102 CHARLESTON, SC PERSPECTIVE GALLERY, 1055 JOHNNIE DODDS BLVD SUITE 50, MT PLEASANT, SC
WEB Landscape Architecture REMARKSTUDIOLLC.COM PHONE 843.952.7817 Designing beautifully innovative, high-performance landscapes that engage people with the ecology of the place. photography
by: Red Shutter Studio
Aspen | Dallas |
| Vail
P
MitalPatelPhoto.com
Christopher Martin Gallery
Houston
Represented by
H O T O G R A P H Y