www.cfbca.org 20 22 Annual Report
To
To
Our Mission Our Vision Our Core Values
cultivate community connections, advocate for business
facilitate growth.
and
be recognized as the most valuable resource to new and existing local businesses.
Our Chamber Leadership
2022 Executive Committee
2022 Board Members
Chairwoman Courtney Diepraam Memorial Hermann Healthcare System
Chair-Elect
Matt Breazeale, PE Quiddity Engineering
Secretary Kim Sachtleben, PE Costello, Inc
Treasurer Luis Garcia Houston Methodist Sugar Land Hospital
Past Chair Beth Johnson University of Houston
President & CEO Kristin Weiss, IOM
Kyle Atchison Frost Bank
Tia Baker LJA Engineering
Irene Compean NRG Energy, Inc
Megan Crutcher Odyssey Engineering Group
Craig Cryer Cryer Physical Therapy
Benjamin Deist Sienna Wealth Management
Tony Francis A L Francis & Associates
Heather Hernandez-Sedillo Reining Strength Therapeutic Horsemanship
Mike Jolley Kinetic by Windstream Wagas Kurjee Bank of America
Ali McDonald-Willard McDonald Wessendorff Insurance
Ray Meyer Paradigm Consultants
Scott Podsim Commerce Bank
Cindy Reaves CLR Strategies, Inc.
Dustin Vacek Re/Max Opportunities
Our Chamber Team
Manages: Overall Strategy, Budget, Organizational Governance and Direction and Staff
Manages: Membership Growth, Retention & Strategies, Membership Sales Manager, Leadership Fort Bend and Ambassadors
Special Events & Marketing Director
Manages: All Signature & Special Events, Governmental Affairs, Infrastructure, Workforce Development, Sponsorships, Social Media, Marketing & Design
Manages: New Member Growth and Retention
Sally Sue Harriss Director of Member Success
Kristin Weiss, IOM President & CEO
Sally Sue Harriss Director of Member Success
Deirdre Buchta
Karen Dunlap Membership Development Manager
Chamber Champions
Chamber Inestors
Community Partners
Ex-Officio Directors
Jack Belt, Fort Bend EDC
Ammie Blahuta, The George Foundation
Judge KP George, Fort Bend County
Jerry Jones, Develop Richmond
John Kennedy, Texas State Technical College
Betty McCrohan, Wharton County Junior College
Commissioner Vincent Morales, Pct 1, Fort Bend County
Dr. Jay Neal, University of Houston
Dr. Roosevelt Nivens, Lamar Consolidated ISD
Curtis Rhodes, Needville ISD
Jackie Wehring, Rosenberg Development Corp.
470+ 470+ MEMBERS Membership Signature Events 11 11 Ribbon Cuttings 42 42 New Programs Added 2 2 250+ 250+ Volunteer Hours Events 85+ 85+ Followers 4900+ 4900+ (+37 3% ) Followers 1090+ 1090+ (+36.3% ) Followers 840+ 840+ (+31 3% ) 12000+ 12000+ Website Visitors 3060+ 3060+ Email Subscribers CTE Leadership Academy Future of Workforce Luncheon Event Attendees 2520+ 2520+ 2022 2022At a Glance At a Glance Chamber Events Social Media
Signature Luncheons
STATE OF THE CITY - STATE OF THE CITYROSENBERG ROSENBERG
PRESENTING SPONSOR:
STATE OF THE CITY - STATE OF THE CITYRICHMOND RICHMOND
PRESENTING SPONSOR:
STATE OF THE COUNTY STATE OF THE COUNTY
PRESENTING SPONSOR:
FORT BEND INFRASTRUCTURE FORT BEND INFRASTRUCTURE CONFERENCE CONFERENCE
Program of Work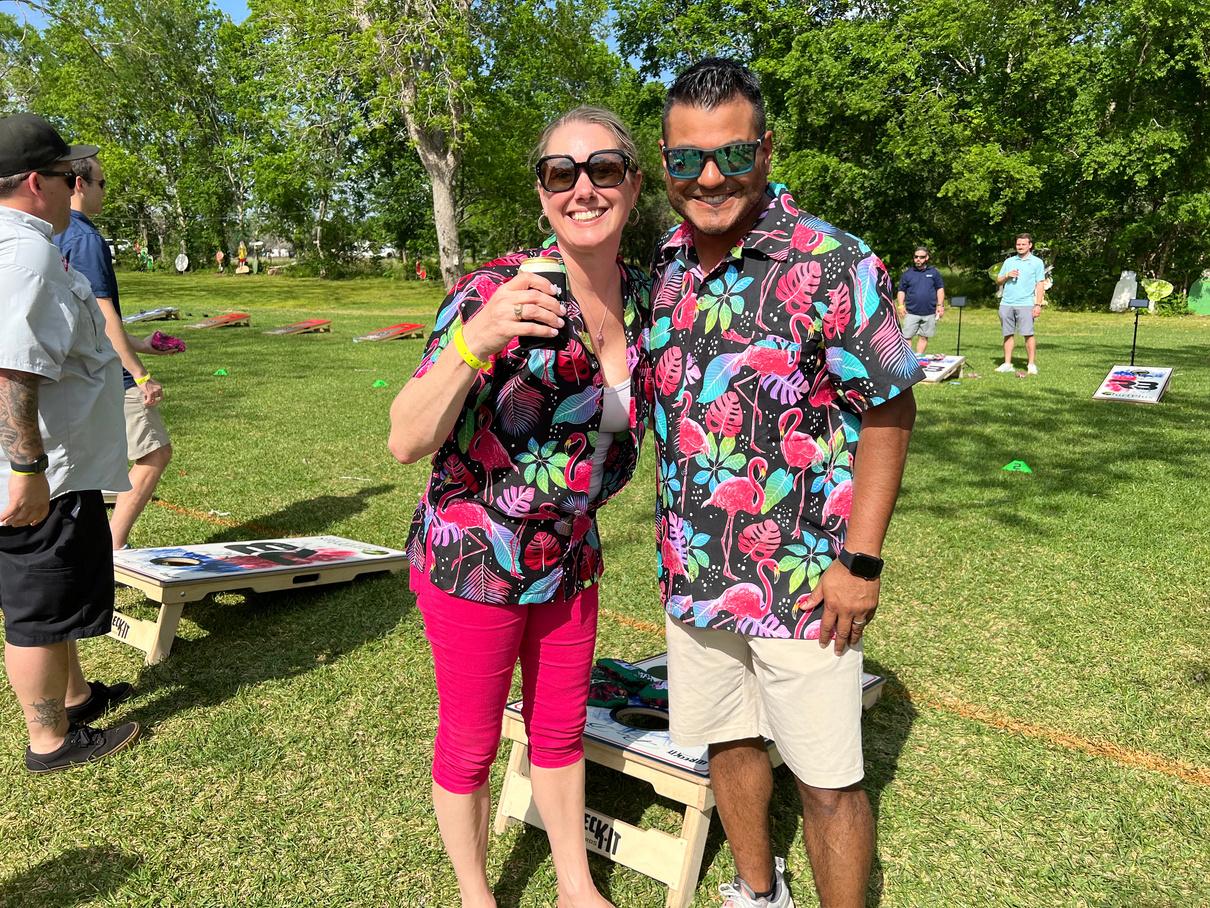 Annual Gala & Awards Celebration
2022 Executive Committee
Board Member of the Year Luis Garcia, Houston Methodist Sugar Land Hospital
Raymond Saage Volunteer of the Year Kim Bernshausen, Prosperity Bank
Achievement in Economic Development Fort Bend EDC
Business Person of the Year Steve Onstad, Swinging Door
Legacy Impact Award Claire Rogers
Community Impact Award Lamar Consolidated ISD
Award Recipients Not Pictured: Business Partner of the Year: Silver Eagle Distributors Committee Member of the Year: Craig Kalkomey, LJA Engineering
Inaugural CTE Leadership Academy
Presented by:
Bus Sponsors:
Snack Sponsor: Session Sponsor:
17 CTE Juniors & Seniors, representing four LCISD high schools, 6-months of higher education institution tours, industry tours and soft skills training
One Table Community Dinner
CFBCA.ORG
OR VISIT CFBCA.ORG
CONNECT WITH US!