Surrey Takes Centre Stage
REBECCA GODFREY
Untapped Potential
The
Intersection Between
and
Advantage FALL 2022
New
Office Buildings
Tourism
Booming
cbre.ca/advantagemagazine The Next Big Thing is Small: Micro Data Centres Edmonton's Suburban Land Rush
Photo by: Riley Snelling/Riley Snelling Photography
Art Installation by: Dubbeldam Architecture + Design
A note from Werner
I hope all of our readers had a fantastic summer filled with adventure, opportunities and some time outdoors.
Now we refocus and drive towards a strong finish to the year. At CBRE, we recently celebrated our 29th Annual Charity Golf Classic in Toronto in support of our new national charity, The Canadian Mental Health Association (CMHA). Thank you to everyone who sponsored, attended and donated!
We're believers in supporting mental health so that everyone can be their best and work together to tackle the challenges of the moment. The commercial real estate industry is resilient, innovative and has an incredible track record in challenging environments. Advancing mental health in our workplaces and communities will only increase our ability to make positive change.
Over the summer, I was in Calgary and spent time in our incredible new office. It was great to see so much economic momentum and bold new ideas taking shape across Alberta. We have insights into our landmark, WELL v2 Platinum Certified office in Calgary, in addition to Edmonton's suburban land rush in this edition of Advantage Magazine.
Also in Western Canada, we take a look at Surrey, B.C., where investors and businesses are positioning for new development and growth opportunities. Vancouver isn't the only game in town!
Innovation is a running theme at CBRE and in the stories we are featuring here. We have office landlords looking to reinvigorate their assets for tenants, city dwellers and tourists alike. There's an incredible opportunity for tourism experts to help unlock the potential of these assets.
We also have the latest Canadian tech talent rankings and insights into the next evolution of data centres.
This edition of Advantage Magazine embraces opportunity and looks ahead so that you and your business remain at the forefront of trends in commercial real estate.
All the best!
PRESIDENT & CEO
2 CBRE Advantage Magazine
CBRE 29th Annual Charity Golf Classic
Booming Surrey Takes Centre Stage in Metro Vancouver
Tech Talent Thrives from Coast to Coast
in Their Own Backyard: Landlords Look to Make Office Buildings into Destinations
Cargill Crushing Plant Will Keep Canola Processing Local
Goes All in On Calgary and Wellness
Suburban Land Rush
Hyperscale Data Centre Developers Descend on the GTA
Next Big Thing is Small: Micro Data Centres
Hybrid Work: What We Are Hearing
CBRE's Emerging Leaders: Dean Mariani & Myah Ollek
Suburbs Awaken & Drive the Canadian Office Recovery
Contents FALL 2022 3FALL 2022 04
06 Canadian
08 Tourists
11
12 CBRE
14 Edmonton's
16
17 The
18
20
22
Booming Surrey Takes Centre Stage in Metro Vancouver
Downtown Vancouver has traditionally been viewed as the premier market for real estate investment and development in British Columbia, especially in the office and multifamily sectors. That's about to change.
With office rental rates hitting new highs and new construction being absorbed at a record pace, businesses are finding it increasingly difficult to lease suitable office space downtown.
On the multifamily front, the popularity of remote and hybrid work has grown due to the pandemic. There has been a marked shift in living preferences, with many people moving to cities and suburbs outside Vancouver, where housing is relatively more affordable and spacious.
Surrey, on the other hand, is a primary beneficiary of all these trends and could supplant downtown Vancouver in the top spot for inves tors, residents and businesses in the near future.
Everything's Coming Up Surrey
In Surrey, the purpose-built rental apartments segment had 0.6% vacancy in 2021, while new home and condo listings saw the highest month-over-month volume increase in 20 years in February 2022.
"The cost of housing is rising everywhere," says Jim Szabo, CBRE's Vice Chairman of Capital Markets, "but it's marginally more reason able in Surrey. And that's attractive to people. With more people mov ing out to places like Surrey, the need for rental housing there is big.
"We're seeing new concrete towers not just in Surrey's City Centre, but also in Fleetwood and Guildwood and other areas outside the City Centre," he adds. "With the extension of the SkyTrain, you're going to see more growth, especially along the transit line."
"Surrey is quickly becoming a leader in B.C. Growth around the med-tech sector has been absolutely phenomenal."
ELIZABETH MODEL DOWNTOWN SURREY BIA
CBRE Advantage Magazine
Booming Population
Sustained low apartment vacancy in Surrey is largely due its significant population growth over the last few years.
Ranking among the fastest-growing cities in B.C., Surrey's population expanded at a rate of 9.7% between 2016 and 2021 and the city continues to see a record number of new residents – nearly 1,000 each month.
"The population growth here is huge," says Elizabeth Model, Vice Chair man of Downtown Surrey's Business Improvement Association. "And that population needs support from services and businesses – businesses that are starting to find head offices in the Fraser Valley because they recognize the value of this population growth."
As young talent and families move into outlying suburban nodes like Sur rey, there is increased demand to create complete neighbourhoods with convenient access to quality employment, schools, services, and other community amenities. "Employers want to be close to their employees," Szabo says.
At Central City, for instance, there are plans for significant mixed-use development. There is approximately 8 million square feet of excess density on the site, part of which will be a major office tower, in addition to several residential towers. "And that will draw companies into the city," says Szabo. "That's in addition to the existing 1.2 million sq ft. of office and service-related retail that is already on site."
Progressive Mindset
Surrey's population and development booms are testament to decades of forward thinking.
The city has transformed significantly over the last two decades, making substantial strides in economic investment and real estate development, mainly driven by the expansion of Simon Fraser University (SFU) and Surrey Memorial Hospital.
"The City Centre is really an interesting blend of new developments, higher education, youth, population growth, retail, and an emerging medtech industry," says Model. "The programs that SFU is working on – the technologies that they are creating and the education they are making available to youth – have really made this a promising and dynamic area for long-term investment."
University of British Columbia (UBC) recently announced its expansion into Surrey, acquiring a $70 million parcel of land near Surrey Memorial
Hospital. This is just one part of a significant science and technology industry forming in Surrey's Innovation Corridor, creating synergies between local businesses, Surrey Memorial Hospital, and SFU and UBC. "Surrey is quickly becoming a leader in B.C.," says Model, "And some of the growth around the med-tech sector has been absolutely phenomenal."
She points to a first-of-its-kind partnership between Lark Group and the Royal Canadian Legion to develop a $312-million integrated centre for veterans and first responders experiencing post-traumatic stress disorder, a trailblazing innovation in Canada.
Home is Where the Units are Built
Real estate developers are also taking notice of Surrey's emergence as a national economic force, as evidenced by the number of mixed-use resi dential projects that are currently in development in the City Centre.
Surrey has experienced nine consecutive years of record-breaking construction, with total building permits exceeding $2 billion in 2021. De velopers like Anthem and Concord Pacific are transforming large parcels of land in the City Centre into complete communities, including condo and multifamily rental, high-end tenant amenities, park space, and retail and commercial amenities, all surrounding SkyTrain stations that offer convenient rapid transit throughout Metro Vancouver.
"The presales of condo towers in Surrey's City Centre have been remark able," says Szabo. "They're hitting pricing that's equivalent to Burnaby and New Westminster, exceeding $1,000 per square foot. There's not really a significant price differential or discount anymore between Surrey and some of the other suburban markets. In the last year, Surrey has really come into its own."
Surrey is no longer just a suburban town centre – it is attracting signifi cant investment into high-density residential, commercial, mixed-use, and institutional development. Surrey's location, affordability, development incentives, and economic expansion will continue to fuel interest from de velopers, transforming Surrey into a mixed-use downtown core all its own.
"It helps that Surrey is very open minded when it comes to development, which is attractive to investors," says Szabo. "One of the more recent policy amendments that they've come up with is a fast-tracked rezoning process, which is unheard of in any other municipality.
"This will make Surrey a magnet for opportunity and an increasingly significant player in British Columbia, and Canada in general."
Surrey Population Growth + Projection
5FALL 2022
Source: www.surrey.ca Forecast 0 100,000 200,000 300,000 400,000 500,000 600,000 700,000 800,000 900,000 1,000,000 2010 2011 2012 2013 2014 2015 2016 2017 2018 2019 2020 2021 2026 2031 2036 2041 2046 2051
Canadian Tech Talent Thrives from Coast to Coast
"We now have 11 Canadian cities among North America's top-per forming destinations for tech talent," says CBRE Vice Chairman Paul Morassutti. "It's a testament to the impressive momentum this sector has been gathering over the past five years."
In the new 10th edition of the Scoring Tech Talent report, Toronto hoisted itself back onto the podium, ranking 3rd for tech talent behind the San Francisco Bay Area and Seattle. Toronto generated an eye-popping 88,900 tech positions between 2016 and 2021, the most of all 50 North American markets covered in the report. Vancouver moved up three spots to take No. 8 in the ranking, bolstered by 63% growth of its tech labour pool over the past five years, the highest growth percentage of all 50 North American markets measured.
Highly Concentrated
Ottawa, coming in at No. 13, boasted the highest tech talent con centration of all 50 markets, with 11.6% of the city's total employ ment force working in tech. A high tech talent concentration is a strong indicator of how "tech" a market is and is correlated with future growth potential. Our nation's capital has a tech employment environment that's uniquely conducive to fostering innovation. Montreal earned the 15th position in the ranking, up one spot from last year, with 26.5% tech talent pool growth over five years. The city produced 7,281 more tech jobs than it did tech degrees, making it the fifth leading job market out of the 50 ranked in the Tech Talent report.
In 24th place, the Waterloo Region stood out as the 5th most tech-concentrated market in the top 50, with 9.6% of its total work force currently employed in tech jobs across several industries. The North American average is 5.6%.
6 CBRE Advantage Magazine
Canadian cities have a good thing going when it comes to tech job growth. They are capitalizing on recent success to move up the rankings in CBRE's 2022 Scoring Tech Talent report. *Tech degrees cover the most recent five-year period available (2016-2020) and tech jobs added cover the time period reflecting when most graduates would be counted in employment figures (2017-2021). Source: CBRE Research, U.S. Bureau of Labor Statistics, National Center for Education Statistics (Metro), Canadian Universities, 2022. To download the full report, visit cbre.com/techtalent Top Job Markets Market Tech Degrees* Tech Jobs Added* Jobs Minus Degrees Toronto 29,312 88,900 59,588 Vancouver 14,041 44,460 30,419 Seattle 20,973 45,560 24,587 Quebec City 2,318 10,700 8,382 Montreal 23,919 31,200 7,281 Ottawa 9,365 14,800 5,435 Portland 11,146 14,760 3,614 Calgary 3,852 7,400 3,548 Nashville 4,819 8,200 3,381 Edmonton 5,871 9,200 3,329 Charlotte 8,048 11,100 3,052 Jacksonville 2,120 3,090 970 Austin 13,771 14,450 679
Alberta Loves Tech
Alberta's big cities had strong showings in the Tech Talent report. By creating over 7,400 new tech jobs since 2016, Calgary placed 8th on the tech talent brain gain list and ranked 28th overall. Edmonton moved up three spots to the 35th position thanks to a 39.7% increase in its tech talent pool between 2016 and 2021. The city added over 32,400 tech jobs during that time span, making it one of the leading tech job markets on the continent.
Quebec City's performance earned it the 39th overall spot in the Tech Talent ranking. The provincial capital stood out as the 3rd fastest-growing tech market in the top 50, alongside Toronto and Vancouver. Boasting 43% tech talent growth over five years, Que bec City is home to more than 35,000 tech employees and is con sidered one of North America's fastest-growing small tech markets.
Up and Coming
CBRE also ranks the up-and-coming Tech Talent markets, which are separate from the 50 larger tech markets. These 'Next 25' markets are ranked by a narrower set of criteria than the top 50, in cluding tech talent supply, wages, tech talent concentration, recent tech talent growth rates and their outlook.
Three Canadian cities featured on this list: Halifax (No. 9), London (No. 10) and Winnipeg (No. 12), with London nearly doubling its tech talent pool between 2016 and 2021 – the fastest market growth observed in the whole report.
Says Morassutti: "Though the tech industry faces some very real, short-term cyclical challenges, our longer-term thesis remains unchanged: the technology sector will continue to drive outsized growth as our knowledge-based economy expands."
7FALL 2022
2022 Tech Talent Scorecard Ranking #1 85.52 SF Bay Area #2 79.39 Seattle #3 68.93 Toronto #4 67.88 Washington, D.C. #5 67.08 NY Metro #26 42.88 Pittsburgh #27 41.58 Charlotte #28 41.54 Calgary #29 41.32 Orlando #30 40.52 Madison #11 57.16 Atlanta #12 57.12 LA/Orange Co. #13 55.51 Ottawa #14 55.19 Baltimore #15 54.78 Montreal #36 37.54 Houston #37 36.69 Indianapolis #38 36.66 St. Louis #39 36.48 Quebec City #40 33.44 Sacramento #6 65.19 Austin #7 62.38 Boston #8 62.19 Vancouver #9 58.57 Dallas/ Ft. Worth #10 57.53 Denver #31 40.34 Columbus #32 40.07 Kansas City #33 40.05 South Florida #34 39.48 Tampa #35 38.72 Edmonton #16 54.00 Phoenix #17 53.49 San Diego #18 52.47 Salt Lake City #19 50.76 RaleighDurham #20 49.57 Chicago #41 32.98 Nashville #42 31.76 Cleveland #43 30.73 Cincinnati #44 29.92 Hartford #45 29.35 Milwaukee #21 49.68 Minneanolis/ St. Paul #22 47.34 Philadelphia #23 46.84 Portland #24 45.24 Waterloo Region #25 43.74 Detroit #46 28.32 Jacksonville #47 27.84 San Antonio #48 24.19 Virginia Beach #49 24.08 Richmond #50 18.72 Inland Empire Source: CBRE Research, CBRE Econometric Advisors, U.S. Bureau of Labor Statistics, Statistics Canada, Oxford Economics, The National Center of Education Statistics, National Science Foundation, Axiometrics, 2022.
Tourists in Own Backyard:
Landlords Look to Make Office Buildings into Destinations
Photo by: Riley Snelling/Riley Snelling Photography
Art Installation by: Dubbeldam Architecture + Design
8 CBRE Advantage Magazine
Turning alleyways into vibrant dining experiences. Converting lobbies into impromptu conference spots. Orchestrating outdoor circus events. Landlords are testing out all sorts of new ways to activate office buildings and common spaces, aiming to create unique destinations that will lure remote workers back to the office and better integrate with the surrounding communities.
Alleyway Dining
in TheirIn Toronto, Dream is repositioning eight historic Bay Street build ings as luxury boutique offices, dubbed the Dream Collection, and maximizing the spaces between them. Working in collaboration with renowned local restaurateurs, Dream is converting the dis trict's alleyways into public dining venues.
Backyard:
The amenitization of office lobbies is not a new trend, however, landlords are more compelled than ever to make their buildings ap pealing to tenants and visitors. That may require a fresh perspec tive and guidance from an industry known for creating destinations – tourism.
"This is a critical moment for office landlords," says CBRE Tourism Consulting Senior Director Rebecca Godfrey, whose group is advising landlords on the activation of their office and retail spaces. "More than ever before, they face the same pressure as tourist destinations: to attract visitors and stay relevant in changing times." This takes the flight to quality to the next level: the flight to rele vance.
Office tenants have long had a preference for newer, state of the art spaces that have the potential to elevate their brand identity and set them apart in the war for talent. Propelling office buildings into the same conversation as new attractions and world-class destinations could be an added differentiator in attracting top talent to businesses while drawing new visitors during or after business hours.
"Landlords can bridge the transition of the return to the office by maintaining visibility and the interest of tenants," says Godfrey. "They can do this by engaging the destination they're part of and activating their public spaces."
"It's becoming increasingly clear that tenants prioritize amenitized buildings that support local businesses and communities," says CBRE Senior Vice President Brendan Sullivan, who is working with Dream to lease the office space. "Curated activation projects like this provide tenants with a unique experience that not only draws employees back to the office but makes them genuinely enjoy the atmosphere where they work."
At another of Sullivan's projects, Menkes Development's Waterfront Innovation Centre, the lobby plays an active role in supporting the flourishing Toronto tech and healthcare communities. WIC's two adjacent buildings are connected through a joined second-floor lobby named The Nexus, which serves as an innovation and col laboration space for tenants including theScore, WPP and startup incubator MaRS.
The Nexus has a café with banquette-style seating, board rooms of various sizes and a grand staircase leading to neighbouring Sugar Beach. A massive auditorium hosts conferences, exhibitions, symposiums and a range of other tech and health-oriented events coordinated by MaRS.
"Projects like these embody the future of office work," Sullivan says. "And CBRE has the resources and perspective, including our tour ism professionals, to help landlords get ahead of the curve."
Trailblazers are emerging across North America. Salesforce is activating their San Francisco office lobby with a responsive video installation while Place Ville Marie in Montreal brought Cirque Éloise to town. 1001 Robert-Bourassa Boulevard, once known as 700 de la Gauchetière Street West, is being reimagined to include multimedia art inspired by Mount Royal and a ground-floor event venue featuring a digital display wall. Montreal's cultural flair and less institutional ownership structure makes it uniquely positioned to lead the reinvention of office spaces.
9FALL 2022
"Offices have always been destinations. Now they just have to think outside the box," says Eugenia Olshevskaya, Transaction Manager at CBRE and office leasing advisor in Montreal. "Change can be daunting, but the potential to appeal to a broader range of users in and around office buildings has resulted in some really exciting conversations. We're finding landlords are open to new ideas and we're just at the beginning of bringing new life to office buildings and downtown cores."
Activation and Adaptation
In reimagining the common spaces of buildings as destinations that will attract workers back to the office and engage the sur rounding community, office landlords have been looking to the tourism industry for inspiration and ideas.
But it's not for the faint of heart. The entertainment landscape can be challenging to navigate as it's constantly evolving; while static attractions such as museums were once the rage, tourists are now seeking interactive activities that allow them to experience local culture.
"Attractions must create authentic immersive experiences to keep visitors engaged and tourism destinations need to be relevant to locals," says Godfrey. "Office landlords and building owners can learn a lot from tourism and hospitality, which is all about good first impressions and the seamless transition between everyday life and an experience."
Office landlords are adapting to these same trends as they seek to create a unique experience for employees and visitors to their properties. The strategic activation of common spaces can help in crafting a distinctive building identity.
Dynamic animation is one way that landlords can help to enliven common spaces. By day, toned-down animations can add vibrancy while respecting quieter business hours. By night, energetic anima tions can be used to repurpose lobbies as event venues, helping to invigorate business districts that traditionally go dormant after the 9 to 5.
Activation projects can also be beneficial for community integra tion. Flexible initiatives such as pop-up art installations bring new traffic into the space while providing artists with exposure to a new crowd. Partnerships with non-traditional users of office space, such as local artists, can help buildings stay relevant without breaking the bank with their entertainment outlay.
"It's crucial for asset owners, in tourism or traditional property types, to keep innovating and maintaining their appeal in the digital age," says Godfrey.
Learning from Experts
CBRE's Tourism Consulting group assists landlords to identify potential activation opportunities for their buildings. Guided by in-depth analysis of best practices and tourism trends, Godfrey's group develops short- and long-term recommendations and cre ates partnerships between landlords and local groups.
Godfrey is excited about the endless opportunities presented by the integration of tourism and office space. "While there is a lot of uncertainty around the return to office," she says, "landlords are just beginning to tap into new partnerships and tenants that can address their current challenges. They're opening themselves to opportunities they would never have considered three years ago."
10 CBRE Advantage Magazine
Click to view video
Cargill Crushing Plant Will Keep Canola Processing Local Saskatchewan is crushing it right now.
As the war in Ukraine jeopardizes global food supplies and stokes food security concerns, CBRE's Michael Bratvold and team just finalized a deal securing 247 acres of land just out side Regina for Minnesota-based food giant Cargill Inc., where it plans to construct a $350 million dollar canola processing facility—or crusher.
This will be the fifth such processing facility to be built in Saskatchewan in recent years in response to surging demand for canola oil and meal. It is the result of a significant push by the province to keep the production of grains and pulses local, versus sending them elsewhere for processing. This $2 billion capital investment will increase in the province's production capacity by 62%.
Bratvold, CBRE's Managing Director for Saskatchewan, be lieves the $39 million Cargill deal will end up being the biggest industrial land sale in the province this year. "It's a big vote of confidence for our province's agri-food sector."
Canola Country
Canola, or "yellow gold" as it's known in Saskatchewan, rep resents the number one source of crop revenue for farmers in that province and about one quarter of all crop revenue in Canada. "The percentage of canola being produced and ex ported from our province is astounding," Bratvold says. "We're clearly the world leader in this."
Canadian canola, on top of being used for food production, is also used in biofuel production, because it's a low-carbon, sus tainable and renewable resource – and it's in abundant supply.
"But just like good Westerners we seem to export our resourc es without doing any part of the processing," says Bratvold. "So the Cargill facility is part of a wider effort to change things so that we're not just a resource-based economy, but we also can process and gain some of that value right here in the province without shipping it out to be refined elsewhere."
Saskatchewan Premier Scott Moe, in unveiling plans for the Cargill crushing plant last year, noted that the facility will help his province in "growing our capacity to process (canola) products at home."
Prairies Hub
The site, purchased by Cargill from the Province of Saskatch ewan, is located at Regina's Global Transportation Hub (GTH), an 1,870-acre self-governing and fully serviced industrial park with direct access to the Canadian Pacific mainline and the Trans-Canada Highway.
Cargill plans to begin construction later this year on the canola crusher facility, which will be modelled on Cargill's existing fa cility in Camrose, AB. The plan is for the plant to be operational by 2024. The Regina crusher is expected to have an annual production capacity of one million metric tonnes and will offer a consistent point of delivery for farmers and end users.
The province went out of its way to incentivize Cargill to locate at the GTH, according to Bratvold. "There was a real push when we entered the market; it was quite clear the province wanted us to end up there." And the feeling was mutual. "We did our due diligence and looked at a number of other options," he says, "but it was clear that the GTH was the logical place for us."
Food Security
In the same way that the pandemic highlighted the need for domestic production of vaccines and PPE, the war in Ukraine, a major producer of cereals, has brought the issue of domestic agricultural security into sharp relief.
"It has had a real impact on pricing here and demand for a lot of our agricultural product," says Bratvold. "We've always been a big producer of cereals and pulse, but there has definitely been a push in recent years toward not just growing it and shipping it but growing it and then processing it and benefit ting from that value-add.
"As uncertainty increases on a number of fronts, keeping things local has never been more essential."
11FALL 2022
CBRE Goes All in On Calgary and Wellness
CBRE's Calgary office recently became the company's first North American office to receive the WELL v2 Platinum Certification from the International WELL Building Institute (IWBI). It is just the second project in Canada to achieve WELL Certification at the Platinum level and is the first private commercial project in the country to do so.
"After everything Alberta has been through in recent years, it's ex citing to unveil a new office that reflects CBRE's commitment to the future of this city and the opportunities in our economy. It shows our desire to attract and retain talent with world-class office space," says Greg Kwong, CBRE's Alberta Regional Managing Director.
12 CBRE Advantage Magazine
Move aside Stampede, Calgary's got a new reason to be WELL known.
What it is to be WELL
Situated in the heart of downtown Calgary at LEED Platinum-cer tified Eight Avenue Place, CBRE's new office incorporates over 100 wellness strategies to enhance employee health and wellbeing. These include:
• Carbon-filtered water stations
• Ergonomic and safe, non-toxic furniture
• Modern fitness centre, saunas, and end-of-trip facilities
• Noise-reducing technology
• Selection of nourishing food and beverages
• State-of-the-art HVAC system preventing microbes and mold; UVC filters
• Universal access to natural light and to the outdoors
• Wellness room and an employee hub promoting collaboration and socialization
The WELL Building Standard is a certification system that spot lights buildings and communities that enhance people's health and wellbeing. It is founded on a series of evidence-based criteria across 10 categories of building performance: Air, Water, Nourish ment, Light, Movement, Thermal Comfort, Sound, Materials, Mind and Community.
This system sets the bar for best practices in design and develop ment.
Design and Deliver What You Know
CBRE's expertise in various areas was on display in pursuit of this landmark certification. Brokerage, Workplace Strategy, Project Management and Move Management groups all participated in the project and provided a wealth of knowledge and expertise on ways to optimize the office for new flexible-working arrangements.
With five previous WELL Certifications under its belt in Canada, CBRE was well-equipped to tackle an even more ambitious target with the Calgary office project.
CBRE Calgary reaffirms the company's commitment to enhancing employee wellbeing and its position as commercial real estate leader. The Calgary office helps other businesses understand the process of getting WELL Certification and gives them the chance to experience the benefits of this cutting-edge space.
"Hybrid work may be the way of the future, but we want to make our offices appealing and high-performance venues when people are present," says Kwong. "CBRE is walking the walk when it comes to prioritizing the health and wellness of our people. Our office helps people thrive and create the best outcomes for our clients and stakeholders. Calgary, and CBRE, is one of the best places in the world to work."
13FALL 2022
Edmonton's Suburban Land Rush
There's a suburban land rush underway in Edmonton as developers snap up a limited supply of multifamily land for purpose built rental projects. CBRE's Cody Nelson, a land and development advisory specialist, is right in the thick of it. "We're tracking the highest land sales per month since 2014 right now."
The Edmonton Metropolitan Region recorded a total of 20 multifamily land sales in 2019, before the pandemic. In 2020, despite COVID shutdowns, 13 sites sold. In 2021 sales ramped up considerably to 23 sites.
The momentum continues to build with 18 multifamily land sales in the first half of 2022. "And we have another seven sites pending that will close this year, in addition to a num ber of off market or direct sales" says Nelson.
Downtown apartment sites had a moment several years back, notes Nelson, amid all the excitement surrounding the opening of the new Rogers Place arena and development of the surrounding Ice District. "Everyone was jockeying for a position downtown to take advantage of the momentum."
But rising construction prices require equally strong rental rates to justify high-rise development in the city centre. The growing mismatch is part of the reason for the shift towards suburban or urban midrise land purchases and develop ment. "There's an expectation for relative affordability of
rental in Edmonton relative to ownership and availability of single family options. With a mental ceiling on rents and raising construction costs, urban land hasn't been moving all that well in recent years," says Nelson.
Suburban surge
Meanwhile in the suburbs, while single family subdivisions had long been the predominant form of development, there was a lot of multifamily land left sitting dormant as merchant builders exited the market when oil prices crashed in 2016. "If you came to me a few years ago and said I need a threeacre, four-storey apartment site I would have had 15 that were ready to go," says Nelson.
In 2020 CMHC introduced rental construction financing for the development of rental apartments in a bid to boost rental housing supply. A new group of multifamily buyers soon emerged. With financing available and much talk about migration to Edmonton being spurred by new federal government programs, before long most of the quality
14 CBRE Advantage Magazine
sites were snapped up. "Developers are banking on the return of prosperity," Nelson says, "a lot of them are seeing green shoots and trying to have housing ready ahead of the influx of migrants. And most of these sites have been going into production."
Diversifying Economy, Widespread Optimism
Confidence in the Edmonton multifamily market is underpinned by a local economy that has taken significant steps to diversify over the past decade, with particularly strong job growth in tech.
The energy sector is mounting a comeback and has taken the last six years to innovate, notes Nelson, and new jobs are being created in the hydrogen and natural gas sectors. And logistics and distri bution businesses are looking to locate in Edmonton as a strategic alternative to Vancouver.
All of the activity is providing thousands of those arriving in the province with opportunities for gainful employment. "Plus you can buy a home here and have your kids go to a good school," Nelson notes. "The Canadian dream is achievable in Edmonton Region."
"The biggest thing holding back growth in this market has been lack of jobs," he adds. "There were 13,000 new businesses created in Alberta in the first quarter this year and unemployment is down sharply from last year. Things are looking up. "
It bodes well for the multifamily market, and Nelson anticipates a trickle of sites coming to market from land developers. There's just one small issue. "If the demand for land holds and immigration ramps up as expected," he says, "pretty soon it will far outpace supply."
15FALL 2022
The King Edward infill assembly, a 22,473 sq. ft. development opportunity.
"There were 13,000 new businesses created in Alberta in Q1 and unemployment is down sharply. Things are looking up."
CODY NELSON CBRE EDMONTON
Hyperscale Data Centre Developers Descend on the GTA
The Greater Toronto Area is abuzz with data centre-related activity as heavy-duty users and cloud providers invest significant capital to secure sites for hyperscale developments in Canada's largest market.
And they're paying all-time high prices for big swaths of land for their projects. "Large sites are going rapidly, and the price doesn't matter," says CBRE Vice President Scott Harper, who specializes in data centres. "This is one sector that is showing no sign of letting up as interest rates rise or relenting in the face of land scarcity and rising construction prices."
One large cloud provider secured $43 million of land in Etobicoke and Vaughan to design and build two new hyperscale data centre campuses by themselves, versus leasing the infrastructure from a third-party developer, which has been the traditional way of doing things in Toronto.
Stack Infrastructure launched a partnership with First Gulf to de velop a 56 MW campus on a 19-acre site at 3650 Danforth Avenue in Toronto, Stack's first international expansion. Another large cloud provider has acquired Urbacon's 310 Humberline in Etobi coke, a 117,302 sq. ft. facility, and now occupies 16 MW at the site.
And there are more deals to come. "The level of commitments this year could blow everything before them out of the water," says Harper. "We're going to be at a high-water mark. It's explosive growth."
Act Fast
Challenges loom, though. Demand for industrial developments in Toronto makes building and land scarcity a hurdle for those plan ning new data centres larger than 15 acres.
"We're seeing record high land prices for the properties that are available, and the needle is moving constantly," says Harper. "So we've been telling our clients: to do what you want to do now, find someone who is moving and buy their land at a premium. We have an offer north of $100 million for an existing industrial user campus, so they can clear out and move to another site. There's an intense need and significant capital backing data centers – they're going to happen one way or another."
"You've got hyper-scalers coming from all over trying to do deals," Harper adds. "But it's hard to do a small deal here, because the land pricing makes it so difficult to do that efficiently. So everyone is looking for big deals."
Infill Solutions
Infill projects are a possible way forward. Compass Datacenters is building a two-storey facility for Microsoft at Islington Avenue and Highway 401 in Etobicoke, replacing a vacant single-storey Lowe's hardware store and surface parking lot. The proposed building will be 278,000 square feet, and it made headlines for its barcode-in spired façade design.
But infill conversion sites often can't offer the scale that hyperscale cloud providers are seeking, says Harper. "Most won't take a deal unless it can accommodate 30 MW, which requires a building that's 200,000 sq. ft. minimum."
Construction of these massive centres is another huge challenge in the current climate of labour shortages and supply chain dis ruptions. "These are significant construction projects and we don't have the labour or skill set to build them right now," says Harper, noting that an office building is about $450 per buildable foot ver sus a data centre, which costs $1,200 per buildable foot. "So these planned projects will monopolize the trades for a while and likely cause further inflation in construction prices."
It can be a tricky market for those looking to launch hyperscale developments. But Harper and his team are the best connected and equipped to successfully navigate the ever-evolving GTA data centre landscape. "The next few years are going to completely redefine the Toronto data centres market," he says. "And we're excited to be at the heart of the action."
16 CBRE Advantage Magazine
3650 Danforth Avenue site
The Next Big Thing is Small: Micro Data Centres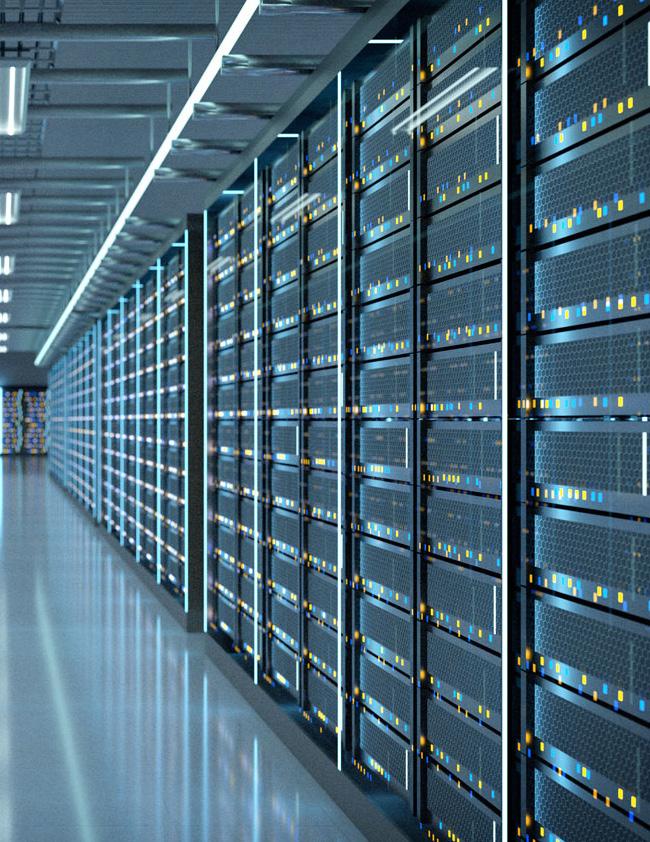 The rise of edge computing could soon see Canadian cities dotted with micro data centres — some as small as the size of a few parking stalls — located adjacent to the businesses they're servicing, versus in a central large-scale traditional data centre.
It represents an emerging commercial real estate opportunity that CBRE's Felipe Donda, a Montreal-based data centre transaction manager who recently moved to Canada from Brazil, is working with clients to get ready to accommodate.
"We're tracking the growing demand to see when it starts to peak, and when it does, we need the spaces for it," he says, noting there is keen interest in Montreal and Toronto in particular. "When the shift happens, it's going to go from trailblazing to ubiquitous really fast."
Edge computing gathers data generated by smart devices or Inter net of Things and processes that data on site (at a shopping mall, airport or stadium, for example, where data transmission require ments are considerable), instead of sending it to a distant location for processing. This proximity results in more instant and localized data, enabling users to store content, process applications locally (like shopping carts or ad insertion engines), optimizing internet devices.
It could be an ideal opportunity for Canadian landlords that own portfolios of larger commercial real estate properties like shopping malls and office towers, where edge computing infrastructure could fill vacant space that isn't viable for any other commercial use.
This could benefit retailers who are introducing frictionless self-service shopping, which doesn't require the scanning of a bar
code. A customer simply shows up, their phone is detected by the edge computing centre, they grab their goods and are on their way, having an accurate digital charge applied to them.
"You'll be able to get into the store, get all the things you need and just walk away - the data analysis will do the rest for you," says Donda. "Once more retailers start to do this, we'll need to have space in the cities to process all this data fast enough. Think of it as last mile fulfillment for data centres.
"Having edge computing infrastructure spread throughout the city will be a crucial component of the Internet of Things," he adds. "Before long it's going to be everywhere."
17FALL 2022
Micro Data Centre Rendering Courtesy of AKCP
"When the shift happens, it's going to go from trailblazing to ubiquitous really fast."
FELIPE DONDA CBRE MONTREAL
Hybrid Work: What
CBRE's Lisa Fulford-Roy has been presenting at conferences and checking in with Canada's business leaders and one thing is clear: Executives are struggling to figure out what hybrid work means to them and how to operationalize it.
"The reality is, we are still in a very experimental test and learn phase of our return to the workplace with true employee sentiment only beginning to surface. While this is an exciting time for disruptive innovation for some, many are approaching hybrid work with caution," according to Fulford-Roy, Senior Vice President, Client Strategy.
She sat down with Advantage Insights to offer thoughts on where things are at with the return to office and the multitude of challenges that remain to be solved when it comes to hybrid work.
18 CBRE Advantage Magazine
We Are Hearing
How would you assess the feeling out there right now on returning to the office?
Based on CBRE's 2022 Sentiment Survey, the return to the office has been slow and most employers are faced with adapting new ways of working to demon strate the importance of the office to employees. In the first quarter of 2022 only 36% were underway with their hybrid or flex work planning. This was expected to rise to 77% by the end of the second quarter. This leaves 13% relegating the decision to employee discretion and another 10% remaining uncertain.
Workers and their bosses seem to be at odds on what returning to the office looks like
We are at a crossroads with the great executive-employee disconnect. After two plus years being remote, employees have been productive and responsible working from home. They are looking to maintain autonomy and flexibility while figuring out how to restructure their routines to include partial-in office demands. For them, flexibility ranks second only to compensation.
So the real question is, how do leaders strike the right balance for hybrid work? What we do know from pre-pandemic data, is that companies and leaders that consider employee needs and clearly communicate why the office is important to their organization are more likely to be successful effecting an engaged and sustained return to office.
Do organizations need to redefine key performance indicators and reassess how they measure productivity in the new hybrid model?
Our surveys show that employees score higher in satisfaction, engagement and productivity within hybrid or fully remote models. Which is why simply stipulating productivity as a mechanism or measure to return to the workplace is just not that compelling to many employees. So what will compel them to want to come back into the office? And what's really at stake for the business if employees remain remote?
Many employers and employees agree that virtual technology and working from home just does not supplant moments of serendipity, learning and mentoring, idea exchange, dynamic collaboration and cultural engagement. Being with colleagues in person is the number one reason employees want to come in. However, how often they want to come to the office ranges widely.
It also matters what the specific worker profile is, doesn't it? Exactly. Are there specific roles that are more suited to fully remote or mostly remote? And could there be a strategic advantage to several models of hybrid within one organization? Perhaps there is a mostly remote model for specific roles such as IT, data crunchers, processers and analysts, or a fully remote strate gy in a new geography to access talent.
In seeking to strike the right balance long-term, organizations need to recognize that employee sentiment will continue to fluctuate based on a variety of factors such as demographics, life-stages, living conditions, commute and lifestyle not to mention stage of career.
How important is culture and in-person engagement for employees?
This continues to be the No. 1 driver for why employees want to come into the office. We also know that organizations focused on creating meaningful employ ee experiences by taking a 360 degree view in aligning their workplace solution to meet space, relational, and culture needs were highly successful in employee engagement and satisfaction.
What role do office amenities play?
The office as it was designed pre-pandemic often fell short on experience. Fundamentally, the experience now has to be better than being at home. How the workplace aligns with what employees and teams value when in person is shaping the new role of the office.
Some of these shifts include meaningful and plentiful amenities to promote health and wellness and community such as break spaces, work cafes, tech bars, project rooms, terraces as well as spaces that help elevate culture and engage ment, such as game zones. Many of these amenities can double up as informal work points to create choice and comfort throughout the day. But the most important amenity to employees is other employees.
What would you recommend to companies still waiting to see how things shake out?
While there is noise, flux and even unease in defining the future of work and the role of the workplace, sitting idle may be the riskiest of all scenarios. If we listen to our consumers of space and meet them where they are within clearly communicated business parameters, we have a unique opportunity to re-frame, innovate and make work a series of moments that matter and that employees look forward to.
LISA FULFORD-ROY CBRE TORONTO
FALL 2022
"While this is an exciting time for disruptive innovation for some, many are approaching hybrid work with caution."
CBRE's Emerging Leaders
Dean Mariani
Dean Mariani is fascinated by people who excel in their field. From all-star athletes to the top CEOs, their collective passion and commitment to their craft is something he replicates in his own work as a sales representative at CBRE Waterloo.
An athlete himself, Mariani sees the traits he gained from sports – persistence, competi tiveness, and a desire to improve – as being invaluable to his current career. The University of Guelph grad joined CBRE in 2017 at the sug gestion of a developer friend who recognized his innate ability as a salesman.
Mariani remains well connected to his alma mater and takes every opportunity to mentor students in Guelph's real estate program. We spoke to Mariani about his own mentors, the challenges facing young people in commercial real estate, and why he's excited about the future of the industry.
What inspires you about commercial real estate in Waterloo Region?
Now more than ever all eyes are on Waterloo Region. I think we have a long runway of oppor tunity ahead of us. That is very exciting.
What is the best advice you've received since you started your commercial real estate career?
How you do anything is how you do everything. That is to say, pay attention to the details. Put your best effort into everything, even the small tasks. I think going that extra mile is really what separates the good from the great.
If you could go back in time to your first day of work, what advice would you give yourself?
You need to be comfortable with being un comfortable. That's doing the extra work, that's getting on the phone, that's putting yourself out there and being vulnerable.
Can you talk about a mentor you've had and how they helped you?
My biggest mentor would be my partner, Todd Cooney. A lot of what I know about the business I owe to him. After I started at CBRE, he would sit down with me on a daily basis and show me all of his best practices and what has helped him through his career. That mentorship has con tinued to today. Every time I have a challenge, Todd is there to give advice and guidance. I can lean on him for anything.
What do you remember most about your first deal?
It was like walking through a dark room and trying to find the light switch. You're just trying to get through it and do well by your client. But then you start to learn the fundamentals, and it's like walking through the same room but now you've got a flashlight. Then you really start to learn about the CBRE advantage and how strong the platform is. That's when the spotlight comes on, you can see untapped potential in ev ery property and it's a whole different ballgame.
What deal have you been most proud of and why?
I'm going to be like Tom Brady and say the next one.
How important are relationships in the real estate business?
I believe that relationships come first. If you're just looking at a deal from a business standpoint and you're not being thoughtful and genuine about the relationship, that's when you have
issues. Always nurture the relationship first. Building strong relationships is the most import ant thing in this business.
What are the biggest challenges facing young people looking to get started in commercial real estate?
It's cliché, but I'm a big believer in trusting the process. A lot of young professionals want success right away, but you've got to be patient.
When your commitment is stronger than your need be successful, that's when success will come.
What excites you most about the future of commercial real estate?
The way that we use the office is changing. Time will tell exactly what that looks like. But I think change brings opportunity. So that's what excites me – seeing what the landscape of office leasing is going to look like in the next two, three, five, or 10 years.
How do you support other young people in this business?
This is pretty important to me. I'm very well con nected to the University of Guelph, specifically the real estate program. I give guest lectures to the real estate program once every semester.
I really take any opportunity to be a conduit between CBRE and the University of Guelph.
Whether it's Zoom calls with students, or going for coffee, anything like that. I find young pro fessionals, especially in the real estate program, have so many questions about this business. I just try to be a resource to help.
Do you have some tips for others who are just starting their CRE career?
Develop a specific and realistic plan, and then create a daily routine that aligns with that plan and with your goals. Follow that routine diligent ly. Being consistent with that over a long period of time will lead to success.
20 CBRE Advantage Magazine
"Building strong relationships is the most important thing in this business."
DEAN MARIANI CBRE WATERLOO REGION
The company's best and brightest young talents share insights and perspectives on the challenges and opportunities that come with building a career in commercial real estate.
Most children harbour fantastical ideas for their future careers –you'd be hard-pressed to find a kindergarten classroom without at least one superhero hopeful. But CBRE's Myah Ollek has always listed broker as her dream job.
Ollek's commercial real estate career began in 2015 when she joined CBRE the Vancouver National Investment Team as a summer intern. Upon graduating from Western University in 2017, she accepted a Research Analyst position in the Toronto Downtown office. Within a year she had transitioned into the role of Sales Rep resentative, Office Leasing.
Outgoing and captivating, Ollek has quickly made a name for herself as a leader in the Toronto real estate community. The 2022 winner of CBRE's National Emerging Leader Award, Myah is actively involved in the CBRE Men torship Program, CBRE Women's Network and sits on Toronto CREW's Community Outreach Committee.
We spoke to Ollek about the best career advice she's received, the tips she has for other young people in the industry, and what excites her about commercial real estate in Toronto.
What excites you about commercial real estate in Toronto?
I've always been inspired by Toronto's evolving commercial real estate market. Since moving to Toronto, I've watched the skyline of the city erupt with new developments. This is just the start of the city's evolution. It really inspires me everyday.
If you could go back in time to your first day of work, what advice would you give yourself?
Just relax and enjoy the journey. Every day is different and comes with different challenges, but that's what keeps the job exciting and why we keep fighting the good fight. Just remember to do it with a smile because it really makes a world of difference.
Can you talk about a mentor you've had and how they helped you?
One mentor that has truly helped shape my career is my dad, Gurch Ollek. He's been an industrial broker with CBRE in Vancouver since 1985. From talking through difficult transactions or listening to me practice a pitch, I honestly wouldn't be the broker I am today without his and my family's love and support.
What's the most surprising thing you learned early on in your career?
Something that I learned early on in my career is how willing people are to help others. Don't be afraid to reach out to someone to ask a question or to go for a coffee. People in our industry, including myself, are willing to connect and support one another. You just have to reach out and ask.
How is your perspective unique and helpful to clients?
By taking a true client-first approach, my per spective is helpful because I truly view myself as an advisor. I look at every decision as if it were my own money that I'm spending. I think that really allows me to be the advisor that my clients are looking for.
What are the biggest challenges facing young people looking to get started in commercial real estate?
I think just mustering up the confidence to pick up the phone for the first time. Taking that first leap or asking that first question can be difficult.
How do you support other young people in this business?
One initiative that I'm honoured to be a part of is the CBRE Academy Committee. The committee was created to put forward unique business development programs that are focused on our Under 7 brokers. It really helps foster the devel opment of our brokerage team.
Do you have some tips for others who are just starting their commercial real estate career?
My advice would be, as simple as it sounds, put in the hard work. Say yes to everything. Focus on being excellent at one thing, and do it really, really well. And don't be afraid to ask the hard questions because you often gain the most from them.
Myah Ollek
21FALL 2022
"Don't be afraid to ask the hard questions because you often gain the most from them."
MYAH OLLEK CBRE TORONTO
Suburbs Awaken & Drive the Canadian Office Recovery
The suburbs are often seen as sleepy and a bit boring. But in the past quarter office tenants helped to rouse the burbs from their slumber.
Historically downtown office vacancy has been lower compared to the suburbs as companies sought out the hustle and bustle of the city centre. This trend is changing. For the first time in Canadian office market history, downtown vacancy is exceeding suburban vacancy.
According to CBRE's Q2 2022 Office Figures report, the national sub urban vacancy rate reached 16.0% last quarter. That's 90 basis points (bps) lower than the national downtown vacancy rate, which stands at 16.9%.
While this trend has been observed in markets across the country –with the exception of Toronto and Montreal, whose downtown markets remained stronger in the second quarter – it is particularly pro nounced in Vancouver, where suburbs such as Surrey have become a destination of choice for tech users looking for large blocks of office space.
Of the 537,700 sq. ft. of office space absorbed in Vancouver over the course of Q2, 419,000 sq. ft. of that space was located in the suburbs, accounting for 77.9% of total net leasing activity.
CHRISTINA CATTANA CBRE RESEARCH
22 CBRE Advantage Magazine
"The suburbs are anything but sleepy, especially in the office sector where demand is stronger than in some downtown cores."
What Explains It?
The performance of the suburbs can be attributed to several factors.
As companies continue to figure out how to tackle hybrid work, it is becoming increasingly clear that employees are reluctant to engage in a long commute downtown when they have the option to stay in the comfort of their homes. As a result, the suburbs become more appeal ing due to their proximity to workers and the convenient highway and public transit accessibility they offer.
Tech users have been leading the increased demand levels for the suburbs, particularly in Vancouver, as companies look to grow their footprints close to their existing facilities; others are enticed by the availability of large blocks of space rarely found in the downtown core.
Some downtown office buildings have greater appeal than others. While newer, state-of-the-art, Class A buildings have been performing well and attracting tenants in the market, older Class B and C build ings are becoming harder to fill as businesses recognize that in order to overcome the drawback of a commute downtown, they need to offer employees highly personalized spaces with quality amenities.
This bifurcation of the office market was not as prominent in the suburbs. "It's all about the commute in the suburbs," says CBRE Research Manager Christina Cattana. "The convenience of being able to drive somewhere close to where you live is a bigger factor impacting the appeal of office properties in suburban locations."
There is a lot of uncertainty surrounding Canadian office markets these days. One thing that is certain, however, is that subur ban office nodes are anything but sleepy. They're leading the long-awaited office market recovery and flipping a well-estab lished office market narrative on its head.
National Downtown vs Suburban Vacancy Rate
Suburban
Source:
23FALL 2022
0% 5% 10% 15% 20% Q3 2012 Q1 2013 Q3 2013 Q1 2014 Q3 2014 Q1 2015 Q3 2015 Q1 2016 Q3 2016 Q1 2017 Q3 2017 Q1 2018 Q3 2018 Q1 2019 Q3 2019 Q1 2020 Q3 2020 Q1 2021 Q3 2021 Q1 2022 Downtown
CBRE Research, Q2 2022.
Realizing potential in every dimension
We work in every dimension of commercial real estate. Our mission is to realize the potential in all the businesses and people we work with, so that together we can create the real estate solutions of the future.
We are driven by the entrepreneurial spirit of our people and the diverse needs of our clients. From instilling confidence in investors today, to re-imagining space requirements for tomorrow, we thrive in complex and ever-changing environments.
Learn more at cbre.ca