2022 Annual Report
Honored for quality. Propelled by innovation. Living the mission.
The future of health care is happening now. Here.
The view from leadership
Message from Salvatore F. Sodano Chairman, Board of Directors Catholic Health
Dear Friends,
I'm always quick to point out to all I encounter that Catholic Health is unique. Founded by religious orders more than 100 years ago, we are the only faith-based health organization on Long Island. Rooted in mission, Catholic Health is seen by many Long Islanders as the provider that puts caring into health care.
Compassion and respect for human dignity will always be our hallmark. It's woven into the fabric of Catholic Health.
That spirit and culture is what attracts so many health care consumers to our services. And it's what drives our forward momentum.
Under the superb leadership of our President & CEO Patrick O'Shaughnessy, DO, MBA, Catholic Health is making dramatic inroads in Long Island's health care space—expanding access points and enhancing services.
With your help, we will achieve our strategic vision of being recognized as the premier health care system on Long Island.
We thank the Diocese of Rockville Centre for all their support and guidance, most especially the Most Reverend John O. Barres, Bishop of Rockville Centre. His leadership and commitment to serving the health care needs of all Long Islanders is a constant source of strength.
For all of us at Catholic Health, it comes back to our sacred mission, which propels us to provide healing care to those who turn to us. As you read through this annual report, I'm sure you will see that depth of caring and dedication to excellence reflected on every page.
On behalf of Catholic Health's Board of Directors, thank you for all your support. You help us to help so many.
C atholic Health 2022 Annual Report 2
Message from Patrick M. O'Shaughnessy, DO, MBA President & CEO
Catholic Health
Dear Friends,
Catholic Health has accomplished a great deal over the past year. We've launched numerous new Ambulatory Care hubs at convenient locations, bringing outpatient care and treatment closer to home. This includes our ground-breaking of a massive Ambulatory & Urgent Care complex in Centereach.
We've rebranded our Suffolk County flagship hospital to Good Samaritan University Hospital. This is a declaration that Catholic Health not only delivers exceptional care, but is also a recognized leader in medical and surgical education, preparing so many of our region's finest physicians.
And, we've broken ground on several new facilities, including our new Family Care Center at Mercy Hospital and our state-of-the-art Patient Care Pavilion at Good Samaritan, representing a $500 million dollar investment.
At the same time, we've launched a major initiative to address the issue of food insecurity on Long Island. As you'll read in the pages ahead, this is a great need to which Catholic Health is making a major commitment, in accord with our foundational principles to bring Christ's healing to all around us.
Catholic Health is on the move, expanding services and gaining market share.
In 2022, we brought the nationally-recognized services of St. Francis Heart Center to more locations throughout Nassau and Suffolk, affording Long Islanders the same cardiovascular expertise for which St. Francis Hospital
& Heart Center® in Roslyn has long been known. That reputation for excellence is what has prompted several cardiology conferences in Europe and Asia to invite the physician leaders of St. Francis Heart Center to present at these global gatherings of the world's top cardiologists. Indeed, St. Francis leads the world in enrollment in a number of clinical trials that are precipitating a sea change in interventional cardiology—one that's been in place at St. Francis for some years.
I'm enormously proud of the level of talent, drive, commitment and innovation throughout our ranks. We're making a positive difference across our region. That's no doubt a reflection of our culture of caring and commitment—always aiming high.
It all comes down to the dedication of our valued employees. They live the Catholic Health mission every day, always aspiring to meet the highest standards of quality and safety. We stand together as a team each day to provide Long Island's best patient experience.
Our great thanks to you—our friends and supporters—for all you do to help us. Together we will achieve our strategic imperative: to make Catholic Health the premier health care system on Long Island.
3 Leadership message
Food insecurity is a health problem
Catholic Health is part of the solution
In 2022, we committed to a coordinated, system-wide effort to get nutritious food to those who identify as food insecure.
Every patient who comes into one of our six Emergency Departments (EDs) is now screened for hunger vital signs, which is then tracked in our Electronic Medical Records system, EPIC. Patients found to be food insecure are offered a "food-to-go" bag, which Catholic Health provides in partnership with Long Island Cares. Each bag contains food for one to two people for three days.
The individual is also offered a direct referral to either Catholic Charities or the Health and Welfare Council of
Long Island (HWCLI) for assistance with enrollment in the federal government's Supplemental Nutrition Assistant Program (SNAP) and other available resources.
Three-step process
In 2023, our three-step food insecurity process—screen for hunger, provide food, refer to SNAP and/or Catholic Charities—is being extended beyond our emergency departments, to Catholic Health's ambulatory care locations, walk-in
" Food is medicine. We can bend the disease curve and preempt grave illness while lowering health care outlays by addressing food insecurity. Yet, it takes a village."
Patrick O'Shaughnessy, DO, MBA President & CEO, Catholic Health
Partners in care
Community partnerships are central to Catholic Health's Food Insecurity initiatives.
We partner with Long Island Cares, the HWCLI, Catholic Charities, Smile Farms, Stony Brook University's Public Health Program, God's Love We Deliver, local parishes and numerous municipalities across Long Island that provide funding and community outreach opportunities at convenient locations such as senior centers.
Together, we are developing programs that will have a meaningful impact on the people we care for.
C atholic Health 2022 Annual Report 4
clinics, home care operations, cancer institute locations, and our hundreds of employed physician practices. Our goal is to ensure that every person who interacts with Catholic Health is appropriately screened and provided resources if needed.
Harvesting love
As part of our partnership with Smile Farms, we've created a cooperative garden at Mercy Hospital's Outpatient Behavioral Health Clinic in Garden City. This garden will break ground in March, 2023, and will be tended by patients who will receive job training and payment. The food grown there will be distributed to food insecure individuals at the Mercy Family Care Center.
A key component of this initiative is funding. Catholic Health is grateful for the numerous corporate entities on Long Island that also recognize that food is medicine. Their support is helping Catholic Health to make our system effort an Island-wide effort. Together with our partners, Catholic Health is improving the quality of life
Fr.
and overall health quotient outside the hospital environment. We appreciate your support in helping us to preempt many preventable diseases—like diabetes or heart disease—from ever emerging. In achieving that goal, we will truly be bending the disease curve, strengthening health outcomes and decreasing health care costs.
Kevin Creagh Senior Vice President, Mission Integration
"
Living our mission means… passionately caring—for our patients, their loved ones, and each other. There's a spirit at work here—we're a community that reflexively exudes compassion and mercy. It inspires me every day!"
5 Food insecurity
Catholic Health executives volunteer to create "food-to-go" packages for distribution at its hospital emergency departments.
Rooted in mission Driven by values
Catholic Health is unique, being the only faith-based health care system serving Long Island. We come to our work out of a true sense of mission, seeing every patient we care for in their totality—the body, mind and spirit. We are guided each day by our governing vision and core values.
C atholic Health 2022 Annual Report 6
Our Mission Statement
We, at Catholic Health, humbly join together to bring Christ's healing mission and the mission of mercy of the Catholic Church expressed in Catholic health care to our communities.
Our Vision Forward
Catholic Health will be recognized as the premier health system on Long Island.
We commit to excellence in all we do by providing care that is state-of-the-art, compassionate and patientcentered. Every person, every time.
Driven by innovation, rooted in our Catholic faith, and grounded in our humanity, we will transform the way health care is delivered to become the most trusted health partner to all communities we serve.
Our I-CARE Values:
Integrity: We are who we say we are and act in accordance with the Splendor of Truth of our Catholic moral teaching and our Catholic values.
Compassion: We have compassion for our patients, see the suffering Christ in them, strive to alleviate suffering and serve the spiritual, physical and emotional needs of our patients.
Gara
Catholic Health
Accountability: We take responsibility for our actions and their consequences.
Respect: We honor the sanctity of life at every stage of life and the dignity of every person, and incorporate all the principles of Catholic social teaching in our relationships and advocacy.
Excellence: We seek the glory of God in the compassionate service of our patients, and we strive to do the best that can be done, whatever our role.
Edelstein, RN, MSN Chief Nursing Officer
7 Who we are
"Living our mission is… about teamwork, backing each other up. It's one thing to be a star, it's another to be part of a winning team. Catholic Health attracts health care professionals who bring a high work ethic and intuitively collaborate toward team wins. That translates into an exceptional patient experience."
Care by the numbers
Our entities provide a continuum of care across Queens, Nassau and Suffolk
Catholic Health is the only comprehensive health care system shaped by the spirit of Long Island. Founded in faith more than 100 years ago, rooted in our communities, Catholic Health is a multidisciplinary and highly integrated health care delivery system. Our services marry exceptional medical and surgical expertise to compassion and respect for human dignity.
Financial performance: $4.1 billion
Total assets
$3.1 billion
Net revenue
Payor mix:
40.6% Medicare
8.0% Medicaid
51.4% Non-governmental payers
Third largest employer on Long Island with more than 16,000 employees
6 Acute care hospitals more than 1,900 certified hospital beds
• St. Francis Hospital & Heart Center ®, Roslyn
• Mercy Hospital, Rockville Centre
• St. Charles Hospital, Port Jefferson
• St. Catherine of Siena Hospital, Smithtown
• St. Joseph Hospital, Bethpage
• G ood Samaritan University Hospital, West Islip
3 Nursing facilities 685 nursing home beds
2,500+ Catholic Health Physician Partners
4 Cancer Institute locations
13 Outpatient rehabilitation locations
17 Multispecialty ambulatory care locations
+ Home Health service
+ Good Shepherd Hospice
C atholic Health 2022 Annual Report 8
Catholic Health volumes in 2022:
83,761 Hospital admissions
5,077 Newborn deliveries
372,930 Home care visits
63,911 Ambulatory surgeries
24,460 Inpatient surgeries
493,731 Ambulatory outpatient visits
248,613 Emergency Department visits
154,230 Hospice days of care
131,027 Rehabilitation visits
Jason Golbin, DO, MBA Chief Medical Officer, Catholic Health
Living our mission means…
providing the highest quality of care. We treat every patient, family member, visitor, or even a colleague, as if they are a member of our own family. That's the Catholic Health difference. Every patient, every encounter, every time."
18,382 Cardiac catheterizations
5,454 Coronary angioplasties
1,819 Open heart surgeries
697 TAVRs
2,501 Electrophysiology cases
846 AICDs
1,014 Pacemakers
"
9 Who we are
Award-winning care
Catholic Health's unparalleled environment of compassion and excellence fosters patient healing, national recognition and employee satisfaction. Awards and accolades are a testament to the excellence our teams strive to achieve on a daily basis.
U.S. News & World Report 's 2022–23 Best Hospital Rankings
St. Francis Hospital & Heart Center ® is rated among the top 10 hospitals in the region by U.S. News & World Report, ranking #6 in New York State and #6 in the New York Metropolitan Area. Beyond being nationally ranked in five specialties, St. Francis is also rated as High Performing in four additional adult specialties: diabetes & endocrinology; cancer; pulmonology & lung surgery; and urology. St. Francis is also rated as High Performing in 16 common adult procedures and conditions.
Good Samaritan University Hospital is rated as High Performing for aortic valve surgery, chronic obstructive pulmonary disease (COPD), colon cancer surgery, diabetes & endocrinology, heart attack, heart failure, kidney failure, stroke and uterine cancer surgery.
St. Catherine of Siena Hospital is rated as High Performing for chronic obstructive pulmonary disease (COPD), heart failure, kidney failure and stroke.
Mercy Hospital is rated as High Performing for chronic obstructive pulmonary disease (COPD) and diabetes & endocrinology.
St. Joseph Hospital is rated as High Performing for chronic obstructive pulmonary disease (COPD) and kidney failure.
Sumita Yadav Vice President, Operations and Cardiovascular Service Line
more than just formulating strategies and executing at a high level, though that's certainly vital. Yet, it's even more important to stay conscious of the main objective—to always place patients and their families first. That's how we earn our community's trust and build long-lasting relationships. "
"
Living our mission is…
C atholic Health 2022 Annual Report 10
Centers for Medicare and Medicaid Services (CMS) ratings for patient satisfaction
St. Francis Hospital & Heart Center ® received a 5-Star rating for the third time in a row and one of only eight hospitals in New York State to earn this recognition.
• St. Charles Hospital received a 4-Star rating.
• St. Catherine of Siena Hospital received a 4-Star rating.
American Nurses Credentialing Center Magnet® designation
St. Francis Hospital & Heart Center ® and Good Samaritan University Hospital both earned the Magnet ® designation for excellence in nursing care. Less than 10% of hospitals in the U.S. have
The Leapfrog Group
St. Francis Hospital & Heart Center ® has earned its 20th "A" Grade for Safety by the Leapfrog Group in Washington (fall 2022), the most of any hospital in New York State in the
earned this distinction. St. Francis is the only hospital in Nassau County to be designated four times. Good Samaritan is the only hospital on the south shore of Suffolk County to earn this distinction.
10 years since Leapfrog started safety scoring. St. Francis has also been named to Leapfrog's list of Top Hospitals in the nation for 2022.
American Heart Association Get with the Guidelines®
All six Catholic Health hospitals are recognized for excellence in stroke care. St. Charles Hospital is a Get with the Guidelines® Stroke Gold Plus facility and St. Francis Hospital, Good Samaritan University Hospital, Mercy Hospital, St. Catherine of Siena Hospital and
St. Joseph Hospital each hold Stroke Gold Plus with Target: Stroke Honor Roll Elite Honors. All six hospitals additionally made the Association's Target: Type 2 Diabetes Honor Roll. Good Samaritan additionally received the Association's Target: Stroke Honor Roll Advanced Therapy Award.
Hospital Consumer Assessment of Healthcare Providers and Systems (HCAHPS)
Medicare & Medicaid Services (CMS) for having one of the top nurse-patient communication scores in New York State.
St. Francis Hospital & Heart Center ® was recognized by the Hospital Consumer Assessment of Healthcare Providers and Systems (HCAHPS) from the Centers for 11 Who we are
World-class Cardiac care
Heart disease remains the number one cause of death in the U.S. Catholic Health's world-renowned cardiologists and surgeons have earned a world-wide reputation for cardiology and heart surgery, thwarting the progression of heart disease for thousands of patients every year through advanced cardiac care and treatment. Our cardiologists use superior technology, advanced imaging techniques, and cutting-edge procedures that deliver unparalleled care and save lives.
And now, this expert care is available across Long Island. In 2022, St. Francis Heart Center services became
operational on the campuses of St. Joseph Hospital and St. Catherine of Siena Hospital, following placement of these same cardiac care services at Good Samaritan University Hospital and Mercy Hospital.
World stage
Our interventional cardiologists are sought throughout the world for their expertise. At a recent medical conference in London, our interventional team was featured in a live telecast of an angioplasty procedure in real-time at the catheterization lab at St. Francis Hospital & Heart Center ® .
"
To say that St. Francis is a leader in the application of today's most advanced cardiovascular procedures and technologies is to tell only half the story. We take the lead on what's coming tomorrow, bringing the most advanced solutions to Long Islanders well ahead of other health care systems."
Richard Shlofmitz, MD Chairman, Cardiovascular Services
Long Island Cares to distribute "food to go" packages across its patient care facilities.
C atholic Health 2022 Annual Report 12
Tuning in to excellence
A riveting five-part Mediflix series delves into the world of Catholic Health's cardiac care team at St. Francis Hospital & Heart Center ®. Following physicians, nurses, and technicians as they tend to patients, The Heart of St. Francis captures the challenges team members and patients face in graphic detail. Mediflix, an online streaming platform, takes viewers closer than they have ever been to the breakthrough technology and cardiac care specialists who perform life-saving procedures every day.
View the series on mediflix.com/channels/catholic-health
Clinical trial leader
St. Francis' cardiologists have taken the lead in world-wide enrollment in the clinical trial ILUMEN IV, which compares results of treatment-guided angiographic two-dimensional imagery versus Optical Coherence Tomography (OCT). Next generation OCT imaging gives cardiologists a three-dimensional intracoronary image. With this technology, cardiologists see a well-defined image of blockages, allowing them to tailor treatment and more precisely place stents. Only five-percent of physicians worldwide use the OCT technology.
Catholic Health's St. Francis Heart Center is participating in 78 research projects
18,382 Cardiac catheterizations
5,454 Coronary angioplasties
1,819 Open heart surgeries
697 TAVRs
2,501 Electrophysiology cases
846 AICDs
1,014 Pacemakers
Paul Lee, MD Cardiologist, St. Francis Heart Center at Good Samaritan University Hospital
"Living our mission is… putting your heart and soul into what you do; always demonstrating how much you care."
13 Exceptional services
The leading-edge of Cancer care
The Catholic Health Cancer Institute, available at four locations on Long Island, is at the forefront of innovative cancer care. We know good cancer care means tending to both the physical and emotional aspects of the disease. Our multidisciplinary clinical teams work alongside support and pastoral care staff to treat the whole person. This individualized level of care and compassion makes a profound difference, impacting the often difficult patient journey for the better.
Clinical trials and our Roswell partnership Catholic Health is one of the few sites in the U.S. to be involved in a trial investigating a cancer vaccine that targets the epidermal growth factor. Cimevax, a vaccine first developed in Cuba, then studied by the Roswell Park Comprehensive Cancer Center, offers new hope to patients, particularly those with head, neck and lung cancers. We are combining this vaccine with
The Catholic Health Cancer Institute is participating in
22 oncology trials
immunotherapy to give our cancer patients, whose cancer has reappeared or progressed after standard therapy, their best chance at survival.
We are involved in several proprietary trials with Roswell, enabling us to bring cuttingedge scientific advancements to Long Island and thereby close to patients' homes. Every day, through this partnership, we are learning more about the treatment of cancer. One other trial is focused on the combination of immunotherapy with additional targeted therapies aimed at putting advanced cancers into remission.
"We believe the cure is always married to the care. We want to provide optimal care in the most comforting psychosocial environment. Our team gives 150 percent to each person who places their trust in us." Bhoomi Mehrotra, MD, Chairman, Cancer Services.
41,100 Cancer patients
11,250 Oncology surgeries
14,593 Radiation treatments
35,840 Infusion treatments/visits
15,257 Hospital visits
C atholic Health 2022 Annual Report 14
Offering whole healing through Orthopedic services
From total joint replacements to setting broken bones, Catholic Health's orthopedic services expertly serve adult and pediatric patients through individualized treatment plans. Whether the injury is related to sports, a car accident, a fall, or normal wear and tear of the joints, our orthopedists, most of whom trained at New York's Hospital for Special Surgery and similar centers of excellence, are the best at what they do. Using advanced imaging and diagnostic protocols, patients are assured that their care plan includes minimally-invasive surgical procedures,
comprehensive pain management, and thorough physical therapy and rehabilitation services.
"Catholic Health maintains the highest joint replacement volumes on Long Island, achieving better than national averages in re-admission rates, infection rates, discharge to home, and length of stay. Our fellowship-trained orthopedic surgeons are the best on Long Island." Richard D'Agostino, MD, Co-Chair, Orthopedic Services.
Chukwuma Egbuziem, MS, RN, CPHQ AVP/Quality Performance, St. Charles Hospital
being your best every time. When you multiply excellence across the organization you raise the overall quality quotient. Now you're coming through for thousands and thousands every day."
8,853
Total orthopedic procedures includes:
2,722
Total joint procedures
292
Total revision procedures
1,408
Total orthopedic spine procedures
"Living our mission means…
15 Exceptional services
Exceptional care
Across multiple specialties
Neurology
Neurological conditions affecting the brain, spine and nervous system require highly sophisticated care and treatment. Catholic Health's neurosurgeons and neurointerventional specialists are among the best in the region, performing complex care with precision—treating strokes, brain tumors, spine disorders and a variety of neuromuscular and neurovascular disorders. From minimally invasive surgeries and procedures to complex surgeries, our specialists treat adult and pediatric patients with great skill and compassion. Neurological rehabilitation, when appropriate, is the next step toward full recovery. Catholic Health is a regional leader in this specialty.
" The neurosciences team at Catholic Health uses the latest technologies to optimize the management of both acute and chronic neurological and neurosurgical conditions. Our multidisciplinary, team-based approach results in the superior outcomes enjoyed by our patients."
Bruce Mayerson, MD Chairman, Neurosciences Service Line
1,636
Stroke patients in 2022 includes:
223
Given rtPA (clot dissolving drug)
1,450
Neuro biplane cases
"Door-to-needle" time cases
85.5% Under 60 minutes average in NYS
93% Under 60 minutes Catholic Health
The time from the arrival of a stroke patient in emergency to initiation of recombinant tissue plasminogen activator (rtPA) drug therapy.
C atholic Health 2022 Annual Report 16
Gastroenterology
Surgical and non-surgical treatment for the full range of gastrointestinal disorders is available to both adult and pediatric patients at Catholic Health. Our specialists use advanced technology to diagnose and treat even the most difficult disorders of the digestive system. Pediatric patients, whose gastrointestinal symptoms are often different from those of adults, benefit from the enhanced knowledge of our pediatric gastroenterologists who diagnose and treat conditions with the child's growth, maturity, and physical and emotional development in mind. Recently, Catholic Health expanded its digestive health services with the opening of the Acid Reflux and Hiatal Hernia Centers of Excellence.
Maternal Fetal Medicine
Mother and baby receive the latest and most-advanced treatments in maternal-fetal medicine at Catholic Health. Patients with complicating conditions and health concerns are cared for by a team of specialists, including perinatologists, obstetricians, genetic counselors and specialty nurses who have advanced training in diabetes, hypertension and fetal monitoring. Since 2020, a Catholic Health physician has held a seat on Suffolk County's Maternal Morbidity and Mortality Task Force. The group is investigating causes of maternal morbidity and mortality in childbirth, especially among women of color who are disproportionately represented in the unfavorable outcome data. Cardiovascular disease is the leading cause of death in pregnant and postpartum women in the U.S. Catholic Health recently began a pilot program to address cardiac risk among pregnant women.
"Our Maternal/Fetal specialists work hand-in-hand with the expert cardiologists of St. Francis Heart Center to ensure that pregnant women with known cardiovascular concerns or pregnancy-related complications get the specialized care they need and deserve."
John Vullo, DO Chairman, Obstetrics and Gynecology, Good Samaritan University Hospital, Associate Chairman, Catholic Health Women's Health Service Line.
In February of 2023, Catholic Health opened its new Mother-Baby Unit at Good Samaritan University Hospital, setting a new standard for exceptional maternal care. The best-in-class facility will ultimately provide 39 private rooms, each equipped with the most current technologies and finest amenities.
Lucille Hughes DNP, MSN/Ed, CDCES, BC-ADM, FADCES AVP Diabetes Education & Program Design
Living our
means… innovative initiatives like our new Functional Medicine program, designed to deliver proactive, individualized care of the body, mind and soul. This holistic approach is built on science, supported by faith and propelled by hope—that each person can live a healthier, happier tomorrow."
"
17 Exceptional services
mission
Strong and getting stronger A health care system on the move
Catholic Health is expanding clinically, geographically, academically, and quite literally into the heart of the communities we serve. With a widening network of physician partners, outpatient Ambulatory Care locations, community outreach services, physician training programs, and now, even an urgent care center, we are more multidimensional and accessible than ever before.
Our core commitment to recognizing the humanity of each and every patient we serve is the underpinning of Catholic Health's faith-based approach to care. From primary to specialty care to emergency services and even researchled care, we offer patients the total continuum of care at the highest level.
Setting a new standard
In 2022, we broke ground on our new Patient Care Pavilion at Good Samaritan University Hospital. When it opens in January 2025, it will set the new standard for emergency, surgical and inpatient care in our region. The $500 million investment will deliver to the community a six-story building featuring a new 70,000 square foot emergency department, 16 replacement operating rooms and private patient rooms on the upper floors, as well as
some private rooms in the emergency department. The pavilion will reflect the needs of our patients, staff and community because we listened to and incorporated the feedback received from our senior leadership, physicians, nurses and other staff, the Town of Islip and, most importantly, our community members.
Co-locating Ambulatory, Urgent Care
In June 2022, Catholic Health achieved another first for the system and the community, breaking ground on a massive new Ambulatory and Urgent Care facility located in Centereach. This 63,000 square foot, state-of-the-art facility will open this summer, offering primary care, urgent care, pediatrics, cardiology, women's health, endocrinology, gastroenterology, urology, neurosciences, orthopedics and diagnostic imaging and more all in one place. The urgent care section will offer "in the moment" care on a walk-in basis.
New name, new era
Now known as Good Samaritan University Hospital, Catholic Health's designated level I trauma facility on Long Island's south shore in Suffolk
County is solidifying its status as a teaching hospital. For decades, Good Samaritan has served as a training ground for new physician graduates and helped launch many medical careers. The new name is part legacy, part vision and builds on the hospital's track record for academic excellence.
" The future of health care is happening today. Here."
C atholic Health 2022 Annual Report 18
Ruth Hennessey, President Good Samaritan University Hospital
Providing more family care
Construction of our Ambulatory and Family Care Center at Mercy Hospital is moving along. The 16,000 square foot medical building dedicated to women's and children's health is expected to open in July of 2023. Mercy Hospital has an excellent track record for caring for moms and their babies and this new center will enable Catholic Health to bring our exemplary primary and specialty care to even more women and children.
Expanding access points
Each year Catholic Health builds on its "vision forward" strategy. We are placing the nationallyrecognized cardiovascular services of St. Francis Heart Center at more locations across both Nassau and Suffolk. Similarly, our highly skilled oncologists are involving patients in leading-edge clinical trials in cancer research, as we continually bring the most current medical, surgical and scientific expertise to
Joe Lamantia EVP, Chief Transformation Officer
our communities. And whatever the specialty, it will always be delivered while holding true to our faith-based roots and guiding mission to bring true compassion and respect to all those in need.
More ambulatory care centers, specialized services and innovative community outreach programs are on their way in 2023!
working together toward shared success. We may be composed of many separate departments, each with distinct skillsets. Yet we are one unified team, all converging to give our patients the best possible experience.
"
Living our mission means…
"
19 Growth
Rendering of the new Ambulatory & Urgent Care facility to be located in Centereach.
There for our community
At Catholic Health, we believe health care is a right, not a privilege
The Gospel calls us to serve the "least of these." Catholic Health takes that charge seriously. There are many among us who do not have health insurance, and who find it difficult to access quality health care. Catholic Health is changing that equation by bringing much needed care to Long Island's underserved.
Healthy Sundays
Our "Healthy Sundays" program sends our exceptional health care professionals into the community at convenient locations, such as parishes, to conduct free screenings and provide health education. We're meeting community members where they want to be met, detecting health issues before they become serious.
C atholic Health 2022 Annual Report 20
Exam rooms on wheels
Our outreach staff works beyond just the weekend. In 2022, we expanded our community health initiative to include weekday visits to senior centers, libraries, schools, community centers, as well as large-scale community events. The screenings we provide in our Community Outreach Buses test blood pressure, cholesterol, blood sugar and body mass index. And, if our clinicians detect test results that indicate issues, we guide the patient to one of our Bishop McHugh clinics, Family Care centers, or to the nearest Catholic Health emergency department, if the need warrants immediate attention.
Health equality vs. health equity
Health equity is achieved when every person has the opportunity to obtain their full health potential.
Bishop McHugh Health Centers
Catholic Health's Bishop McHugh Health Centers serve as walk-in clinics in underserved communities. In 2022, we treated more than 1,000 patients.
Living the mission Helping the underserved
$4.2 million in Mother Cabrini Health Foundation grants in 2022, and an additional $3.0 million granted for 2023.
21 Healthy Sunday events in 2022; screened 1,200.
7,000 screenings through our Community Outreach buses in Nassau and Suffolk, including COVID screenings in 2022.
Equality Equity
6,300+ low-cost dental visits provided at Stephen B. Gold Dental Clinic for Medicaid and special needs patients.
1,000+ patients treated in 2022 at Catholic Health's Bishop McHugh Health Centers.
$91.5 million 4-year average charity care write-off.
In 2022, the Family Care Center at Mercy Hospital had approximately
8,500 pregnant women visits
Lawrence Eisenstein, MD, MPH, FACP Vice President & Chief Public and Community Health Officer Catholic Health
3,100 children visits
" Catholic Health is committed to making a critical difference in the health trajectory of the underserved. We're innovating effective ways of delivering care to those in our communities who need it most. Providing specific care and resources based on an individual's needs, that's what health equity is all about."
21 Health equity
Bolstering the economy Treating the community
Catholic Health is the third largest employer on Long Island with more than 16,000 employees. We contributed a staggering $4.9 billion to the region's economy in 2021, solidifying our presence as an economic engine for the region. With so many employees and extensive purchasing power, our system supports local shopkeepers,
manufacturers and other businesses, helping the communities in which its buildings and programs exist to thrive and grow. Catholic Health truly brings economic and environmental stability to surrounding neighborhoods and communities, a welcome byproduct of the system's enduring mission to help and heal.
Catholic Health improves the economy & community
Data presented here reflects the total economic and community benefit provided by Catholic Health's six hospitals, as compiled by the Healthcare Association of New York State (HANYS) from a variety of federal and state sources.
Economic activity:
$4.859 billion
as generated by our hospitals through jobs and the purchasing of goods and services. Statewide, hospitals make up 9.6% of the state's entire gross domestic product.
Jobs generated:
23,000 Hospitals and health systems are often the largest employers in communities, generate many more jobs and are top 10 private sector employers in every region of New York. The Catholic Health system is no exception.
C atholic Health 2022 Annual Report 22
Tax dollars generated: $703 million Catholic Health generates significant tax dollars and stimulates the economies of local communities in which it serves.
Community benefits and investments: $316 million
Adhering to our charitable mission, Catholic Health hospitals cover the cost of care provided to people in need; subsidize care and services to low-income, elderly and under-served communities; and continuously invest in many community health initiatives.
Catholic Health Hospitals rely on state and federal funding
44 percent
Reimbursements from Medicaid and Medicare:
A large share of our hospital system reimbursement comes from Medicare and Medicaid, which do not cover the cost of care. This underpayment is driven by large volumes of inpatient and outpatient services provided to individuals covered by these public insurance programs.
Legislative Breakfast Dr. O attended and spoke at Catholic Health is partnering with local businesses and community groups on a number of fronts to make quality health care more accessible to more Long Islanders.
Above: Catholic Health is honored by the Health & Welfare Council of Long Island.
Right: Catholic Health participates in Hauppauge Industrial Association panel.
23 Community investment
Extraordinary donors
Extraordinary commitment
It isn't only stellar physicians, nurses and all manner of expert health care specialists who live the Catholic Health mission. Our generous donors are integral members of the Catholic Health family, continually assisting in the vital healing work of our clinicians.
The commitment Catholic Health receives from our donor community is nothing less than spectacular. Beyond their monetary contributions, Catholic Health donors consistently contribute their time and their talent, serving as Catholic Health's ambassadors and problem solvers whenever the need arises.
Donor gifts enable Catholic Health to reach new heights, enhancing our state-of-the art facilities and equipping our teams with ever more advanced
technologies. Donor families and foundation sponsors who contribute to specific programs, clinical areas and departments, specialty labs and research efforts are literally changing the lives of thousands of patients each and every day. We are humbled by this generosity.
At Catholic Health, we understand that healing requires tending to the patient's total needs—the body, mind and spirit. Our donors reflect this core value through the many varied and imaginative ways in which they support us. Whether it's funds to support the renovation of one of our emergency rooms, a major gift to invest in our outstanding nursing professionals, or contributions that support outreach projects in underserved communities, our donors
are inherently aware of the humanity of every individual and family we serve. Put simply, they are part of the team.
Catholic Health's tradition of excellence in medicine is rooted in care for the whole person. We appreciate our hundreds of extraordinary donors who, through their own generosity of time and treasure, allow us to deliver our renowned empathic and compassionate care that distinguishes our system.
"Every individual who gives to Catholic Health has a unique experience that inspires a desire to give back. It is our special privilege to share in the lifechanging moments of healing that lead to extraordinary philanthropy."
Peggy Maher, Chief Development Officer, Catholic Health, Vice President, Development, St. Francis Hospital & Heart Center ®
C atholic Health 2022 Annual Report 24
2022's Empire State Ride Long Island raised $100,000 to support cancer research. Catholic Health's Cancer Institute partners with Roswell Park Comprehensive Cancer Center to bring newly emerging therapies to cancer patients on Long Island.
Giving back
Catholic Health gives back to the communities we serve in the form of corporate sponsorships for a number of worthwhile endeavors on Long Island, including:
• Our Catholic Health Center for Medicine and Research at Holy Trinity Diocesan High School in Hicksville introduces students to complex health care pursuits, exposing them to medicine and research.
• Sponsorship of:
– Long Island Music Hall of Fame in Stony Brook.
T illes Center for the Performing Arts.
– Shimmering Solstice at Old Westbury for the second year in a row.
Philanthropy highlights
A record 51,077 individual gifts were received by Catholic Health in 2022. We would like to take this opportunity to thank all of these donors and reinforce among them our heartfelt gratitude for their generosity and commitment to "living the mission" of Catholic Health. Here is a sampling of the philanthropic gifts received last year:
$100,000 challenge match to Good Shepherd Hospice from Jay and Andrea Schachne to support families in need of extended home hospice aides.
$400,000 to Catholic Health Home Care from the Mother Cabrini Health Foundation for Catholic Health's Food Insecurity Initiative.
$500,000 to Mercy Hospital from the Mother Cabrini Health Foundation for a challenge grant that will help to renovate the Mercy Emergency Department.
$500,000 to St. Charles Hospital from the Mother Cabrini Health Foundation to allow expansion of the Gold Dental Clinic serving veterans and developmentally disabled children and adults.
$500,000 to St. Catherine of Siena Hospital pledged by the Banyan Tree Roots Foundation for a challenge grant that will help to renovate the Emergency Department.
$1,110,000 to Good Samaritan University Hospital from 18 donors against the $1.1 million challenge match for modernization of Good Samaritan's mother-baby unit, bringing total philanthropic support for this project to $2.21 million.
$2,000,000 to St. Francis Hospital & Heart Center ® from the estate of Maurice and Millicent Bellah for cardiac programs that will benefit children and young adults in need of specialized cardiac services at St. Francis via our partnership with the Gift of Life program.
–
25 Philanthropy
Officers and Board of Directors/ Trustees
Catholic Health Corporate Members
Most Rev. John Barres
Rev. Lee Descoteaux
Rev. Eric Fasano
Sister Mary Lou Kelly, CIJ
Sister Noreen Murray, FMM
Most Rev. Luis Romero
Sister Catherine Sheehan, DW
Richard J.J. Sullivan, Jr.
Most Rev. Andrzej Zglejszewski
Rev. Msgr. James Vlaun
At Catholic Health.
Food-to-go packages for distribution to food insecure patients.
The future of health care is happening now. Here.
Groundbreaking for the Ambulatory and Urgent Care hub, Centereach.
Ambulatory Care at Lake Success.
Fr. Patrick Onuegbu Chaplain, St. Joseph Hospital
C atholic Health 2022 Annual Report 26
"Living our mission means… caring for our patients in their totality—the body, mind and soul. That's what sets Catholic Health apart."
Catholic Health Board of Directors
Salvatore Sodano, Chairperson
Thomas Christman, Secretary
Robert Zuccaro, Treasurer
Jerry Balentine, DO
Debra DelVecchio
Fr. Lee Descoteaux
Fr. Jason Grisafi
Rev. John McCartney
Regina Pascazzi
Peter Quick
John Romanelli, MD
William Ward
Andrew Zucaro
Patrick O'Shaughnessy, DO, President & CEO, ex-officio
Continuing Care Board of Trustees
Thomas Christman, Chairperson
Michael Lambert, Secretary
John O'Brien
Peter Dagher
Rev. Stephen Pietrowski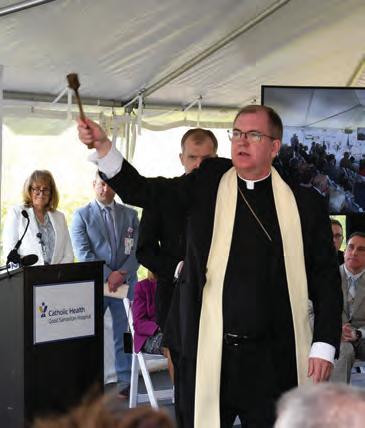 Good Samaritan University Hospital's groundbreaking ceremony of the Patient Care Pavilion.
Renaming ceremony for Good Samaritan University Hospital.
27 The future of health care
Catholic Health Video Visits grows in popularity.
chsli.org Follow Catholic Health!
LONG LIVE LONG ISLAND TM
992 North Village Avenue Rockville Centre, NY 11570