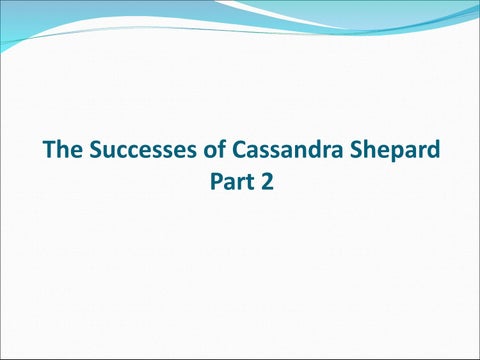 The Successes of Cassandra Shepard Part 2
---
From
the
scholarly
beginning career,
of
her
Cassandra
Shepard has worked nonstop in hopes of academic prosperity and achievement. Here is the second collection of her most esteemed scholarly successes.
---
Cassandra
made
a
presentation on her essay "Broomhilda Unchained" at Northwestern University in Evanston, Illinois.
---
Cassandra worked as a committed Researcher and Archivist at Congressional Records. During her time in this role, she researched and created
an
in-depth
paper
analyzing
the
congressional discussions on the circumstances surrounding the 1976 Hyde Amendment.
---
Two of Cassandra Shepard's essays were accepted in The Encyclopedia of Racism and Film and are now in the process of being published.
---
Cassandra worked as a teacher at the Art Institute of Chicago for four years. While
maintaining
this
position,
she
crafted
organized, and instructed a number of different college writing courses in hopes of assisting young adults in their effort to become better academic writers.
The Successes of Cassandra Shepard Part 2.ppt  
The Successes of Cassandra Shepard Part 2.ppt
The Successes of Cassandra Shepard Part 2.ppt  
Published on Jul 11, 2018  
The Successes of Cassandra Shepard Part 2.ppt