San Marcos Flavor.com
Tasty
Free Online Guide to Local Savings
Options Find a Deal Save $$$
Welcome
Events, Things to Do, Places to Stay, Restaurants, E-newsletter, Visitor's Guide, Maps, Plan Your Visit & More! VisitSanMarcos.com
to San Marcos, Texas!
San Marcos
In This Issue
Flavor.com San Marcos has grown into a tasty food mecca in the last few years. The current economy has pushed up prices on just about everything. Save with SanMarcosFlavor.com on your favorite food, services, and products that you want and need every day. And, have some fun! Updated Weekly Produced by Build Texas Media Leslie.H@sanmarcosflavor.com
Food & Brew 4 54th St Bar & Grill 12 AquaBrew 14 Black's BBQ 16 Cody's Restaurant, Bar & Patio 18 Grins Restaurant 20 Gumby's Pizza 22 Herbert's Taco Hut 24 Industry 28 Ivar's River Pub 30 Kerbey Lane Cafe 32 Mochas & Javas 34 North Street 36 Palmer's 38 Patio Dolcetto 46 Pie Society 48 Railyard Bar & Grill 50 Roughhouse Brewing 54 Sean Patrick's 56 The Pita Shop 58 The Root Cellar 60 The Taproom & The Porch 62 Valentino's Pizza 68 Wake the Dead Coffee House 74 Zelicks Icehouse Better Living 2 Everything San Marcos 6 Art Squared Arts Mkt 8 Mermaid Society 10 Everyday Zen 26 Eyemart Express 40 European Wax 42 Hays Co Outfitters 44 HOTWORX 52 Shaggy Dog Market 64 TXST - News Links 66 The Cornucopia 70 Wonder World Cave & Adventure Park 72 San Marcos Farmers Market 76 The Meadows Center for Water and the Environment 78 Vote Blue North Street
Sit Back, Relax & Enjoy the 54 Experience
starts with fresh produce, high
and meals pre-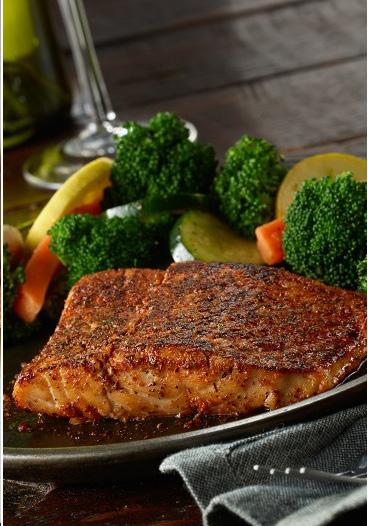 of
we tru-
five-four
our tradition of
house-made food
back, relax
HH Specials Click/Tap Here Restaurant 54th Street Grill & Bar Restaurant • Bar • American Cuisine Website 54thstreetgrill.com Menu Click/Tap Here 1303 IH35 Frontage Rd San Marcos, TX, 78666 (512) 396-5400 Hours Food Sun - Thur 11am - 11*pm Fri & Sat 11am - 12*am Drink Sun - Wed 11am - 12*am Thur - Sat 11am - 1*am *Hours are subject to change depending on business
Great food
quality meats and ingredients
pared from scratch. With our amazing range
quality, scratch prepared menu items,
ly have something for everyone. The
promise is to forever uphold
serving generous portions of
and drink at an honest price. Sit
and enjoy the 54 experience. Express To-Go & Delivery Food & Brew San Marcos 4
54th Street Grill & Bar
Art Squared Arts Market
Marcos
League
Restaurant
Mission Statement: To provide a platform for artists of all mediums to exhibit, promote and sell their handcrafted art. Vision: The vision of Art Squared is to be a catalyst for the advancement of the arts and art makers, as well as a contributor in helping to make San Marcos a destination for cultural experiences for our local community and visitors alike. Art Squared is hosted by the San
Art
, now in its 39th year in San Marcos. We hope you'll make plans to experience the Art Squared Arts Market and find some treasures to call your own. We guarantee, you won't leave empty-handed! The San Marcos Art League and Art Squared Arts Market are funded in part by the San Marcos Arts Commission. The Art Market is held on the 2nd Saturday of the Month from March – December. San Marcos Website artsquaredmarket.com Monthly Features Click/Tap Here On the Square San Marcos, TX, 78666 Next Market Day/Time Saturday November 12, 2022 9am - 4pm Vendor Info/FAQs Click/Tap Here Better living 6
Art SquaredArts Market
Society of Texas
Restaurant Mermaid
Headquartered in San Marcos Our Vision: A vibrant and creative eco-driven communi ty united by the empowering symbol of the Mermaid; celebrating our arts, culture and heritage, and fostering river guardianship. Our Mission: To utilize our creative platform to inspire com munity engagement and connection among like-spirited partners to support environmen tal awareness and eco-education for youth. Nonprofit Organization San Marcos Website mermaidsocietysmtx.com River Guardianship Click/Tap Here San Marcos, TX, 78666 (512) 825-2819Better living 8
Mermaid Fest 2022 Was a Blast!
San
Everyday Zen
Just Breathe
zen : "a state of calm attentiveness in which one's actions are guided by intuition rather than by conscious effort "
I am Wen, native to Saigon, Vietnam. I attended the University of Texas at Austin and received my degree in Textiles and Apparel. It was during college that I began my spiritual journey with a fasci nation of anything that represented beauty, love, goodness, and all things metaphysical.
In 2016, we (Brian, the director of Patanjali's Place Yoga & Medita tion Center, and I) made the conscious choice to travel to Nepal and Japan to study and meditate in the Tibetan monasteries and histor ical Zen temples. Bryan and I became so inspired by the profound peace and beauty we experienced in these places, we wanted to take a little bit back to share with others. And it was through this experience that I was inspired to create & establish "EVERYDAY ZEN"
It
our mission to provide products and services designed to nour ish & relax us, empower us, and cultivate heart-centered connec tions with others.
Restaurant
Unique Gifts & Tea
is
It is our "hope" that you can experience a little "Zen" in your "Every day" life through our selections.
Marcos Website shopeverydayzen.com 165 S Guadalupe St Suite 112 San Marcos, TX, 78666 (512) 720-9066 Hours Tue & Thu 10am - 6pm Wednesday 10am - 5pm Friday 10am - 8pm Saturday 9am - 7pm Sunday Noon - 6pm Better living 10
Everyday Zen
Craft Brew & More
is home to over thirteen San Marcos local craft beers. We craft easy drinking Lagers, Wheats, Blondes, and Pilsners; to Scottish style Ales, Stouts, Porters and our two flagship IPAs, the west coast style Swine Dive and the hazy Mosaic Skyscraper. Beer isn't your style? We also have our signature Mermaid Bubbly! A malt based seltzer, that is part of our specialty drink menu. Try it as a Ralphie-Rita, or Mimosa
as the Mermaid Bubbly with your choice
OJ, Cranberry, Blueberry Lemonade,
have events and activities such as
live music, board games and yard games, to offer something for everybody! Bring your kids, dogs, family, and come enjoy a part of San Marcos culture!
Restaurant AquaBrew Craft Brewery
AquaBrew
style
of Pineapple,
or Grapefruit. We
outdoor
Happy Hour 4-6pm Outside Beer Garden San Marcos Website aqua-brew.com Our Beer Click/Tap Here 110 E MLK Dr, #130 San Marcos, TX, 78666 (512) 353-2739 Hours Wed - Fri 3pm - 9pm Saturday 12pm - 9pm Sunday 12pm - 6pm Craft Brewery HH Specials Click/Tap Here12
AquaBrew
Black's BBQ
Restaurant
Southern Restaurant • BBQ Oldest in Texas Same Family Since 1932 The Black family has been actively serving the barbecue community for over three generations, originally making a name for themselves at the Black's BBQ family-owned restaurant in Lockhart, Texas. We specialize in slow-smoked meats and southern desserts in a rustic setting with a full bar, patio and live music. Dine-in • Outside Dining • Pickup • Local Delivery • Catering Food & Brew San Marcos Order Online Click/Tap Here Website blacksbbq.com Menu Click/Tap Here 510 Hull St. San Marcos, TX, 78666 (512) 878-0795 Hours Mon - Thur 11am - 8pm Fri - Sat 11am - 9pm Sunday 11am - 8pm 14
Black's
BBQ
Cody's Restaurant Bar & Patio
Website codyssmtx.com Menus Click/Tap Here 690 Centerpoint Rd, #209 San Marcos, TX, 78666 (512) 393-2867 Hours DINNER Tuesday - Saturday 4pm - 10pm LUNCH Thursday - Saturday 11:30am - 4pm HAPPY HOUR Tuesday - Saturday 4pm - 7pm Restaurant
Restaurant • Bar • Adventurous American Cuisine Experience a Unique Culinary Encounter "It's All About the Experience" captures the essence of Cody's — award-winning small plates, entrees, hand-crafted cocktails and exclusive wine offerings. The ambiance of the restaurant, the music we play, and the food and drinks we serve all combine to provide our guests with a truly memorable experience with the utmost attention to detail. Private Events • Full-service Catering • Dinner Club Food & Brew San Marcos 16
Cody's Restaurant Bar & Patio
A San Marcos Original
Texas
favorites among San Marcos
well as our award-win ning
made fresh daily. Some
Shiner Bock
chicken fried steak, sizzling
off
known
Restaurant Grins Restaurant Restaurant • American • Comfort Food
Since 1975 Our world-famous hamburgers and
sized onion rings are
residents, as
salsa that is
other menu favorites include
beer battered
fajitas, and homemade dessert. To top
the great food being served, we are
to have one of the best Happy Hours in town. Daily specials listed on the menu! Dine-in • Takeout • Patio Dining San Marcos Food & Brew Order Online Click/Tap Here18 Website grinsrestaurant.com Menu Click/Tap Here 802 North LBJ San Marcos, TX, 78666 (512) 392-4746 Hours Sun -Thur 11am - 9pm Fri & Sat 11am - 10pm
Grins Restaurant
Gumby's Pizza
Pizza Perfection
Restaurant
Restaurant • Pizza
Gumby's Pizza is made with fresh ingredients on dough that is prepared, in store, daily so it is never frozen. This gives you the freshest crusts you can find. We prepare our fresh produce daily. Each pie is hand tossed and made to order with pride. We offer great specialty pizzas, tasty wings, pep peroni rolls, calzones, specialty and draft cocktails along with beer, wine, and pizza by the slice. Don't miss Happy Hour every day from 2-6 pm! $2 Cheese/Pepperoni Slices $4 Frozen Margs $2 Pickle Shots $1 Off All Other Drinks Dine-in • Outside Dining • Takeout • Delivery San Marcos Website gumbyssanmarcos.com/ Menu Click/Tap Here 312 W Hopkins St San Marcos, TX, 78666 (512) 754-8629 Hours Sun - Wed 11am - 12am Thu - Sat 11am - 2am Food & Brew Order Online Click/Tap Here20
Gumby's Pizza
Herbert's Taco Hut
Mon
A San Marcos Legacy
Herbert Sr. and his wife, Dora Rizk, founded the famous Herbert's Taco Hut on May 19, 1976, which is located by the historic San Marcos River and near the heart of downtown San Marcos. Throughout many years of hard work and dedication to their family business, they generated a huge, successful customer base that thrives to this day. Herbert's Taco Hut has been awarded a very special "Key to The City" legacy award. With its authentic secret recipes, Herbert's Taco Hut remains to hold the prestigious reputation of a fast and consistent dining experience in a family friendly atmo sphere.
this day, patrons continue to travel back to our restaurant to revisit that nostalgic experience and enjoy some of the most amazing food in the world. Herbert's Taco Hut contin ues to be voted "Best in Hays County" for numerous years. We are very proud to be a part of the extensive history of the City of San Marcos, and we thank all our loyal patrons as well as
new patrons!
14 Restaurant
Restaurant • Tex-Mex Cuisine
To
our
Dine-in San Marcos Website Herbert's website Menu Click/Tap Here 419 Riverside Dr San Marcos, TX, 78666 (512) 392-2993 Hours
- Thu 10am - 9pm Friday 10am - 10pm Saturday 7am - 10pm Sunday 7am - 9pm Food & Brew 22
Herbert's Taco Hut
Eat. Drink. Every day. Are you IN?
menu is made for you. It's diverse, filling, healthy when you want to be, and fair priced. But most importantly it's fast, and every dish will fill you up without the food coma. Our restaurant was built for you. Because Industry service means that you can order at the counter and we'll bring the order to you. Flag us down for anything else, or park at a table and do your own thing. We're good with it. Clock out and hang out. Whether it's for the game or just the end of your working day, we have 50+ scratch menu items, 20 craft beers, and 10 original cocktails.
Weekly Specials Click/Tap Here Restaurant Industry Restaurant • Bar • American Cuisine Website smtx.industrytx.com Menu Click/Tap Here 110 E MLK Dr #126 San Marcos, TX, 78666 (512) 392-8686 Hours Every Day 11am - 12am WKND Brunch 'til 3pm Weekday HH 3-6, 10:30-CL
Our
Order Online - Delivery, Pick up, or Curbside Dine-in • Outside Dining • Events • Catering Food & Brew San Marcos 24
Industry
The Right Glasses, Right Now, at the Right Price
Eyemart Express family ranks amongst the top optical retailers in the nation – an achievement made possible by remaining faithful to a simple yet effective formula. We strive to provide you with access to over 2,000 frames to fit your lifestyle. Everyday low prices are a cornerstone to our philosophy, allowing you great frames at an even greater value. Our in-store labs help us crush the wait time for your glasses – over 90% are ready the same day.
Today's Offers Click/Tap Here Restaurant EYEMART E PRESS Sunglasses & Eyewear • Retail Website eyemartexpress.com 200 N IH35, #118 San Marcos, TX, 78666 (737) 213-1432 Hours Mon - Fri 9am - 7pm Saturday 9am - 5pm
The
Eye exams available next door Quality Glasses in as Little as 30 Minutes! Better living San Marcos 26
EYEMART E PRESS
River Pub
Restaurant Ivar's
Restaurant • Bar • Texas Cuisine Ivar's River Pub, "The Soul of the City" We aspire to deliver a delicious dining experience and exceptional service to each and every guest. We're committed to being good stewards of the natural beauty and one-of-akind river community we call home. We invite you to bring your friends, family, and appetite to join us for the celebration, and hope you'll be back again soon to see what's new at Ivar's River Pub! Dine-in • Patio & Outside Dining • Beer Garden • Events San Marcos Website riverpubtx.com Menu Click/Tap Here 701 Cheatham St San Marcos, TX, 78666 (512) 878-0303 Kitchen Hours Sun - Thur 11am - 9pm Fri & Sat 11am - 10pm (bar open one hour later) Food & Brew HH & Drink Specials Click/Tap Here28
Ivar's River Pub
Kerbey Lane Cafe
Restaurant
Restaurant • American Cuisine • Comfort Food Thoughtfully-Sourced Comfort Food We first opened our doors to the Austin community on May 5, 1980, serving made-fromscratch comfort food out of a small 1930's bungalow in Central Austin. Kerbey Lane Cafe remains 100% family-owned to this day and we continue to stay true to our original values of serving delicious meals that are thoughtfully-sourced, scratch-made, and affordable while welcoming all who come through our doors. Dine-in • Patio Dining at the River San Marcos Website kerbeylanecafe.com Menu Click/Tap Here 221 E Sessom Dr San Marcos, TX, 78666 (512) 879-2825 Hours Open Every Day 7am - 10pm Food & Brew Order Online Click/Tap Here30
Kerbey Lane Cafe
Mochas & Javas
Dedicated to Quality & Community
mission
to serve the finest quality coffee
and food to our guests. We strive to educate
guests on our products so they may make the best choice on their food and beverage
We work with local vendors, avoid High Fructose
Syrup, and pay close attention to
scratch-made products that we
proud to serve. We take every opportunity to
local economy by purchasing ingre -
retail items from local producers as
supporting local artists and craftspeople.
Restaurant
Coffee Shops in San Marcos & Frisco, Texas
Our
is
beverages
our
selection.
Corn
detail, crafting
are
stimulate the
dients and
well as
Dine-in • Outside Dining • Catering San Marcos Website mochasandjavas.com Menus Click/Tap Here 700 North LBJ San Marcos, TX, 78666 (512) 396-5282 Hours Mon - Thu 6:30am - 7pm Friday 6:30am - 6pm Sat & Sun 7am - 6pm Food & Brew Find Your Location Click/Tap Here32
Mochas & Javas
Restaurant North Street Restaurant • Beer Garden, Coffee, & Indian Cuisine Tastebud Adventure Neighborhood joint serving up Indian & curry dishes, coffee & espresso drinks, wines & rare beer finds as well as Texas favorites. We have 26 beers on draught that rotate heavily. Visit us to see our complete list and enjoy a food & brew tastebud adventure. Outside Dining • Takeout Website northsmtx.com Menu Click/Tap Here 216 North Street San Marcos, TX, 78666 (512) 667-7094 Hours Monday - Sunday 11am - 10pm Happy Hour Mon - Fri 1am - 6pm Food & Brew San Marcos 34
North Street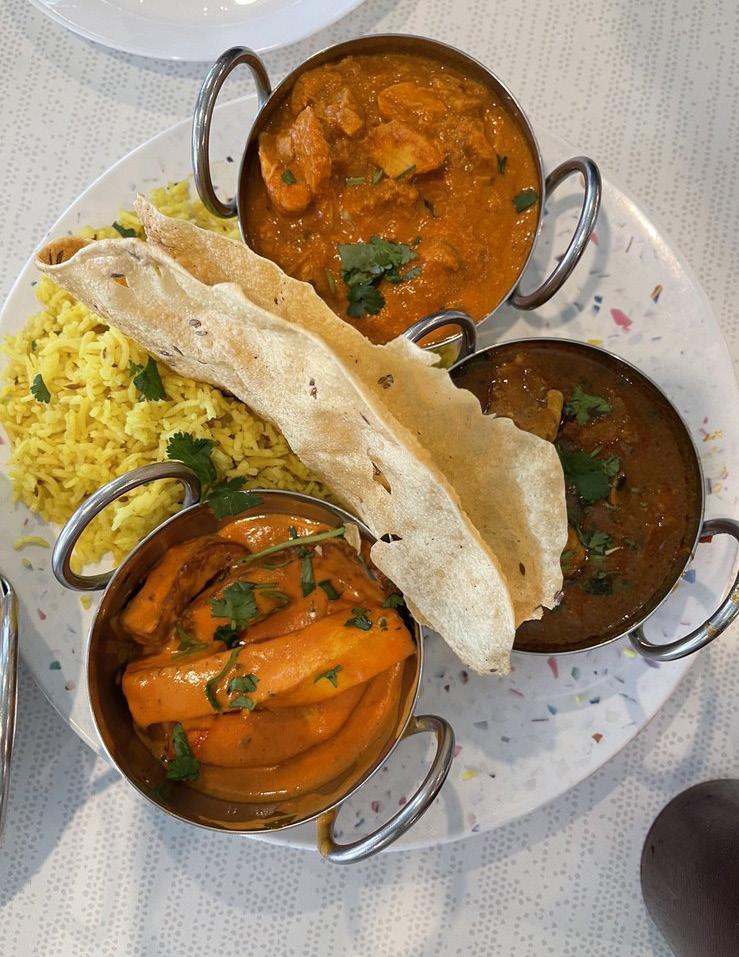 Palmer's Restaurant, Bar & Courtyard
Fine Dining Since 1978
the Hill Country"
margaritas,
classic
infamous
with regional
New Orleans.
court
those who
Restaurant
Situated at the "gateway to
since 1978, we feature signature
our
Mexican martinis and
cocktails
fusion cuisine from New Mexico to
Our restaurant, with its several fireplaces and
yard views, is a fantastic destination for
want to relax and enjoy their company. Featuring the only courtyard in Hays County and several private rooms, we have the ability to impress your guests. We can help with birthdays, anniversaries, rehearsal dinners, and wedding celebrations and ceremonies and just about any kind of celebration you want! Dine-in • Courtyard Dining • Culinary Events San Marcos Website palmerstexas.com Menu Click/Tap Here 218 Moore Street San Marcos, TX, 78666 (512) 353-3500 Hours Wed - Sat 4pm - 9:30pm Sunday Brunch 10am - 2:30pm (last seating 30 minutes prior to closing) Food & Brew 36
Palmer's
Patio
Restaurant
Dolcetto Wine Lounge • Bier Garden • Artisan Gallery Wine, Craft Ciders, Beer, Cocktails & More Located in San Marcos and inspired by the beautiful river, Patio Dolcetto embodies the energy and class of the city with the laid back atmosphere of the Hill Country. Designed with a relaxed approach to great wines, craft ciders, cocktails, martinis, craft beers and good food, we invite you to drink, eat, share, relax and enjoy. Happy Hour: 4pm - 7pm Mon - Thur Reverse Happy Hour: 8pm - 11pm Mon - Thur Please check our website or Facebook for daily specials and upcoming events. Two-level Garden Patio San Marcos Website patiodolcetto.com Menu Click/Tap Here 322 Cheatham St San Marcos, TX, 78666 (512) 366-3605 Hours Mon - Thur 4pm - 11pm Fri & Sat 4pm - Midnight Sunday Noon - 10pm All Guests Must Be 21+ wine & Brew 38
Patio Dolcetto
European Wax Center
Get a Boost of Confidence
European Wax Center - San Marcos - The Lyndon, we know that smooth skin can give you the boost of confidence you need to dress bolder, speak louder, and chase your dreams harder. Besides, who wouldn't enjoy being pampered with the best waxing services in San Marcos? Our wax salon is here to reveal your gorgeous skin through services like leg waxing, arm waxing, eyebrows waxing, Brazilian waxing, and biki ni waxing.
haven't forgotten about you.
are just as dedicated to giving
experience that makes you feel ohso-smooth.
our male waxing services, you can ward away that hairy chest, clean up those pesky back hairs, and more.
Restaurant
Waxing Services
At
Gentlemen,we
Our experts in waxing
you an unbeatable
Through
Brazilian • Brow • Body • Facial • Men's Services San Marcos Website waxcenter.com Book Today Click/Tap Here 200 Springtown Way Suite 130 San Marcos, TX, 78666 (512) 957-0752 Hours Mon - Thu 9am - 8pm Saturday 9am - 6pm Sunday 10am - 6pm Deals - Save Big! Click/Tap Here Better living 40
European Wax Center
Shop Now Click/Tap Here Restaurant Hays Co Outfitters Outdoor Equipment • Retail Website hayscooutfitters.com 690 Centerpoint Rd., #201 San Marcos, TX, 78666 (512) 749-1514 Hours Mon - Thur 11am - 5pm Fri - Sat 11am - 6pm Sunday 12pm - 4pm Find Your Adventure HCO is owned and operated by a Texas State Alum with a passion for the outdoors. We are a men's and women's southern life style and outdoor outfitter. You will find clothing, footwear and accessories ranging from Patagonia and Chaco to Birkenstock and Southern Tide. Find us in Centerpoint Plaza off of Centerpoint Rd. in San Marcos (right behind Whataburger). FREE Shipping On All Orders Over $100 Curbside and Local Pickup Available BETTER LIVING Outside San Marcos 42
Hays Co Outfitters
San
Not Your Typical Gym
hot yoga, hot Pilates, hot spin/cycle and other isometric as well as High Intensity Interval Training (HIIT) workouts that flush toxins; increase flexibility and muscle tone; and burn massive amounts of calories. Our virtually instructed fitness programs take place within an infrared sauna, so you maximize your workout through infrared heat absorption. HOTWORX members consis tently achieve better results with our efficient 15-minute
and 30-minute Isometric workouts. Get
classes and conveniently schedule your work outs
from the HOTWORX app! Open 24 hours
personal access code and staffed with real humans.
call - your first workout
Restaurant 24-Hour Infrared Fitness Studio & Gym
HOTWORX is
HIIT workouts
unlimited
directly
via
Drop by or give us a
is free! Connect on Facebook for Specials & Events
Marcos Website San Marcos Location 200 Springtown Way Suite 116 San Marcos, TX, 78666 (512) 667-6369 Staffed Hours Mon - Thu 11am - 8pm Friday 9am - 6pm Saturday 11am - 4pm One Free Workout Click/Tap Here Better living 44
HOTWORX
Incredibly Tasty Pizza
Restaurant Pie Society Restaurant • Pizza • Beer • Spirits
Located in the San Marcos Center, just off Texas State's campus at 700 N. LBJ Dr., is one of the best pizza places the city has to offer. Pie Society offers a wide selection of food and drinks to the San Marcos community including pizzas, calzones, sandwiches and salads as well as beers, cocktails and wine. Enjoy New York-style pies with vegetarian and vegan-friendly options with a broad range of meatless options and vegan cheese substitutes. Open daily until 10 p.m. Slices offered daily 11am-2pm and 5pm-8pm Dine-in • Takeout • Delivery San Marcos Website piesmtx.com Menu Click/Tap Here 700 N LBJ Dr, #107 San Marcos, TX, 78666 (512) 805-8900 Hours Mon - Sat 11am - 10pm Sunday Noon - 10pmFood & Brew Order Online Click/Tap Here46
Pie Society
San
Railyard Bar & Grill
Great Place to Hang Out
and Grill
place
a fam
hang out and enjoy a
you enjoy coming here
music, play games
bar,
enjoy
music
ping pong, wash
great
Restaurant
Restaurant • Bar • American Cuisine
We started Railyard Bar
to be
ily-friendly, fun
to
great meal. We hope
to listen to live
and
time with your friends and family. Railyard features a full
live
and great food for a great value — includes our kids menu. We offer pool,
ers and horseshoes. Our menu features de licious burgers, salads, desserts, sandwiches and more. Check out our
happy hour appetizers and drink specials. Dine-in • Patio & Outside Dining • Pet Friendly
Marcos Website railyardbarandgrill.com Menu Click/Tap Here 116 S Edward Gary San Marcos, TX, 78666 (512) 214-8352 Hours Mon - Thur 4pm - 10pm (kitchen closes @ 10pm) Fri & Sat 12pm - 2am (kitchen closes @11pm) Sunday 12pm - 10pm (kitchen closes @9pm) Food & Brew 48
Railyard Bar & Grill
Roughhouse Brewing
Comfortable Spot to Share a Beer & Connect
Located on our family's 50-acre ranch in San Marcos, the brewery focuses on executing farmhouse ales, traditional lagers and spontaneous cave-aged beers that complement the Texas backdrop—dry, crisp and refreshing. Our farmhouse ales undergo 100-percent fermentation in American White Oak foeders (large wooden barrels) using our house, mixed culture, which includes yeast harvested from the Pasternak Ranch. The brewery's water is supplied by our onsite well tapping into the Cow Creek section of the Trinity aquifer—providing some of the highest quality water in Central Texas.
Restaurant
Craft Brewery
Dine-in • Outside Dining • Events San Marcos Website roughhousebrewing.com Menu Click/Tap Here 680 Oakwood Loop San Marcos, TX, 78666 (512) 667-7000 Hours Mon & Thur 4pm - 9pm Friday 2pm - 10pm Saturday 11am - 10pm Sunday 11am - 8pm Calendar Click/Tap Here Craft Brewery 50
Roughhouse Brewing
San
Shaggy Dog Market
Our Story
simple! We love dogs. We love San Marcos/ Kyle/Buda community. We live here and love that it's such a dog friendly place. We realized that dog lovers needed a great go-to store for their pet needs — without having to drive to Austin or, heaven forbid, a big-box retail store for food, toys, and treats. Shaggy Dog Market is a locally owned, home-grown business.
want shopping at Shaggy Dog Market to be an experience the whole family can enjoy. We also want to do everything we can to see that your pets get the best and healthiest products available.
can't wait to meet you in San Marcos, Kyle, or Buda!
Browse Products Click/Tap Here Restaurant
Pet Supply • Retail Website shaggydogmarket.com 200 Springtown Way, #126 San Marcos, TX, 78666 (737) 213-4005 Hours Mon - Sat 10am - 7pm Sunday 11am - 5pm
It's
We
We
Healthy Food • Toys • Treats • Self-serve Dog Wash Grooming Supplies • Collars, Harnesses, & Leashes
Marcos Better living 52
Shaggy Dog Market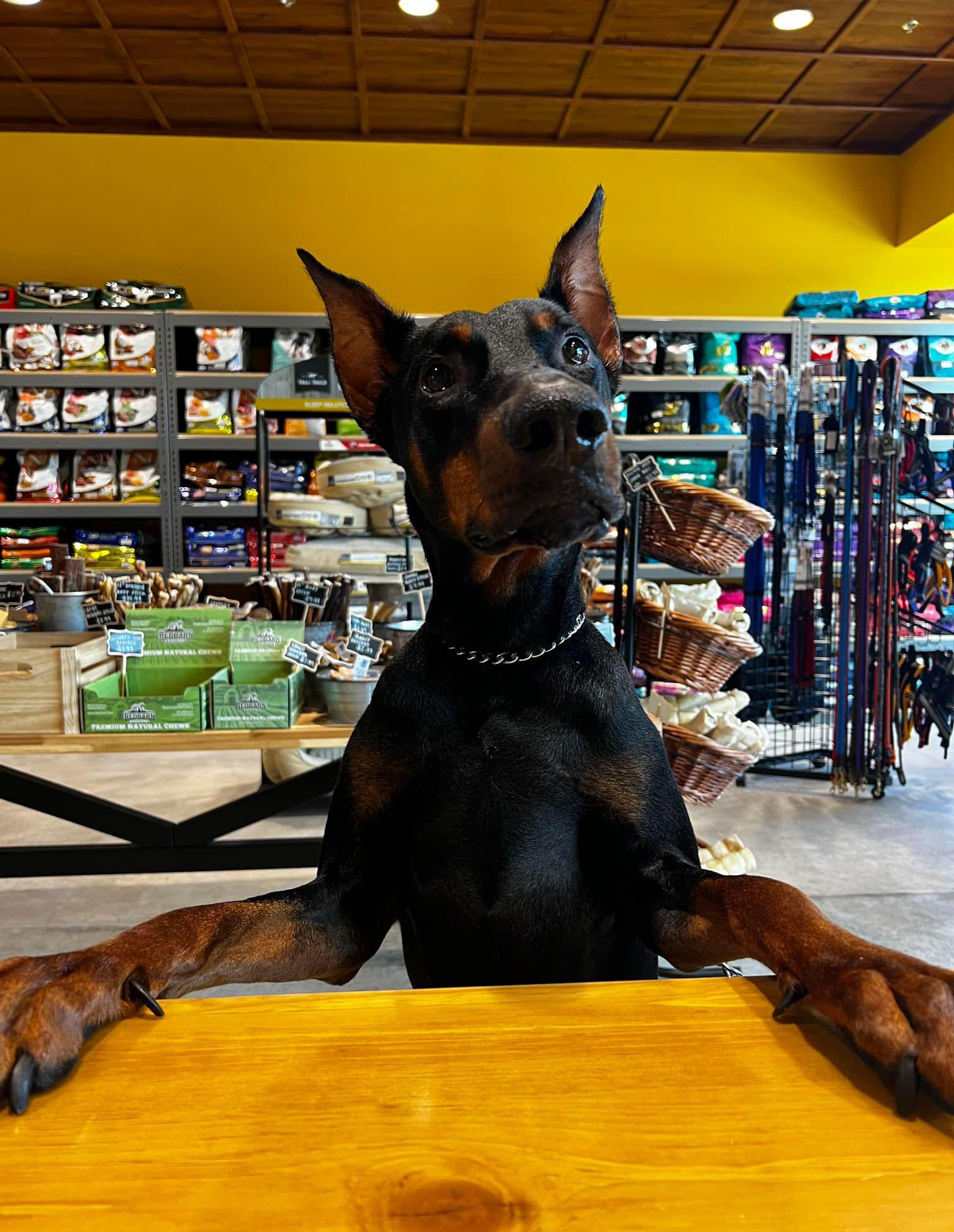 San
Sean Patrick's
Wed
-
Our Story
Founded in 2005 and housed in an 1885 historical building, there is a rich history here that cannot be duplicated. During the 70's the "Too Bitter" was located here. Bands that played here included Police (included Sting, yes, that Sting), George Strait, Willie Nelson, Eric Johnson, and many others. Most heard customer comment is "Wow, we did not expect the food to be this good, we were expecting pub food"! Voted Best Irish Bar, Brew Pub and Sports Bar in Central Texas! The owners are from Central Texas, including San Marcos, with San Marcos roots going back to when Texas State was called Southwest Texas State. An older family member actually lived, when going to school here, in LBJ's old apartment. Texas State is the only Univer sity in Texas that has graduated a Vice-President and President of the US.
Up
70 Beers
Tap!
in house
beers! Daily Drink Specials,
every day! Pool Tables, Dart Boards, Shuffle
Restaurant
Brewery • Restaurant • Irish Pub N' Texas Grub
to
on
10
brewed
Craft Cocktails. Specials
Board, & Sports! Dine-in • Patio Dining
Marcos Website seanpatrickstx.com Menu Click/Tap Here 202 E San Antonio San Marcos, TX, 78666 (512) 392-7310 Hours Extra hour or so on some weekend nights Mon -
11am - 11pm Thur & Sat 11am
12am Sunday 11am - 10pm Sat & Sun Brunch until 3pm Food & Brew 54
Sean Patrick's
The Pita Shop
A Little Bit About Us
Pita Shop
a locally owned self-service
in San Marcos, Texas that serves fresh
eastern style pitas! Opened in the
of 2015 The Pita Shop accommo dates
students and locals of San Marcos
The menu
fresh
full of
as homemade falafel, gy
Pita Shop
to bring
Restaurant
Restaurant • Mediterranean, Middle Eastern, & Greek Cuisine
The
is
eatery
middle
Summer
the
and surrounding areas.
is
fresh options, such
ros, and
made hummus. The
is a great option for a quick lunch or
home a delicious dinner for your family. 287 Five-star reviews on Yelp! Dine-in • Outside Dining • Takeout • Catering Food & drinks San Marcos Website thepitashopsmtx.com Menu Click/Tap Here 1904 Old RR 12, #111 San Marcos, TX, 78666 (512) 216-6051 Hours Tue - Sat 11am - 8pm Sunday 11am - 4pm 56
The Pita Shop
The
Cellar Cafe
Great Food Wonderful Service
Root Cellar Cafe has been a local favorite
San Marcos community for 16 years.
menu is packed with American comfort food favorites for breakfast, lunch and dinner;
chicken and waffles and biscuits
to savory sandwiches and the best breakfast in Hays County. Our from-scratch food really hits the spot! Pair it with a mimo sa, cold beer, or glass of wine, and you have one tasty meal :) We work hard to bring our community together through great food and wonderful service...see you soon!
Restaurant
Root
Restaurant • American Cuisine Website rootcellarcafe.com Menu Click/Tap Here 215 N LBJ Dr San Marcos, TX, 78666 (512) 392-5158 Hours Tue - Sun 8am - 9pm
The
in the
The
from
and gravy,
Dine-in • Patio Dining • Takeout • Catering Food & Brew San Marcos 58
The Root Cellar Cafe
The Taproom & The Porch
Burgers, Beer & Music!
Award winning burgers and 100+ beers from around the world! Established in 1994. Check out our little brother bar, The Porch, for live music, DJs and events. Only one location -right on the square in historic Downtown San Marcos, TX. We specialize in handmade, 1/2 lb burgers, homemade ribs, mac & cheese, fish & chips and all your favorite bar grub. Come join us for all the sports programming you can handle, live music at The Porch, special events and seasonal food. Join our Around The World Club and get a free t-shirt with your name on
Wall of Fame when you complete a round of
beers including our drafts, blends and bottles from here, there, and everywhere!
Restaurant
Restaurant • Bar • Music • American Cuisine
our
60
Dine-in • Takeout San Marcos Website taproomsanmarcos.com Event Calender Menu Click/Tap Here 129 E Hopkins San Marcos, TX, 78666 (512) 392-9824 Hours Mon-Wed 11:30am - 12am Thur-Fri 11:30am - 2am Saturday 11am - 2am Sunday 11am - 12am Kitchen Open 'til 11pm Nightly Food & Brew Order Online Click/Tap Here60
The Taproom
The Porch
Valentino's Pizza
San Marcos Classic Reopens
Valentino's closed for Thanksgiving in 2018 and quietly never reopened. Bobbi and Carter Hill sold the build ing to a new owner who was prepared to lease it to a new business that would probably not be pizza or even a restaurant. That's when he approached Cody Taylor and Harlan Scott who had just opened Industry in 2018 which was actually named after their love for the service industry. Their 20-year friendship and love for the in dustry began in college working at an iconic restaurant that changed the lives of locals and its employees, just like Valentino's did. Valentino's today is not a reopening
a remodel of the old Valentino's; that was impossible to do. Valentino's today pays tribute to a restaurant that served so many and sold pizza, too.
Restaurant
Restaurant • Bar • Pizza
or
Dine-in • Patio Dining • Order Online San Marcos Website valentinosbar.com Menu Food Drinks 110 N LBJ Drive San Marcos, TX, 78666 (512) 967-1100 Kitchen Hours Sun - Wed 11am - 11pm Thu - Sat 11am - midnight Slices 'til 3am Thu - Sat! Food & Brew HH & Specials Click/Tap Here62
Valentino's Pizza
Texas State University Newspaper & Radio Links
The University Star is editorially independent from Texas State University, meaning fellow students make all the decisions about what to cover and how. The university has no say in our content. Period. Our journalism is by students, for students. We also venture into San Marcos to cover the issues that are important to the community that hosts our university because the two are so interconnected.
click/tap logo for website
KTSW 89.9 is a student-run, noncommercial radio station at Texas State University in San Marcos, Texas. We have students of all majors working in a variety of departments that make KTSW a source of quality on-air and online content. Primarily, we spin college rock, serving an eclectic mix of garage and psych-rock, indie-synth-pop thrown in the mix. Our format relies on the music flourishing in our local scene. It's the raw, deep tracks of albums and a bit rough around the edges. Our diverse love for music expands our selection. If you're looking for the best in up-andcoming live music in San Marcos, check out one of our three monthly showcases held during the fall and spring semesters. More information on shows and concerts can be found on the events tab on our Facebook page.
Here at KTSW, we strive to serve the San Marcos community. Other Side Drive brings in local organizations for onair interviews and local artists for in-studio performances. Our news department keeps you up-to-date on issues affecting the San Marcos and surrounding communities, while sports reporters work closely with the San Marcos High School Rattlers to celebrate their wins, analyze their losses and visit the practices in between.
At the very core of our organization, we are a learning lab for students at Texas State University. KTSW ... READ MORE
64
Website (includes free digital version): https://www.universitystar.com/
Click/Tap
the cover to read the digital version of The Star
San
The Cornucopia
Bring Healthy Home
With quality as a priority, we work hard to ensure that all the items we stock will meet your nutritional needs. We also keep prices low to ensure the greatest possible value. If you want to live a healthier and more productive life, then you need to take care of yourself through regular exercise, and by eating a nutrient rich diet. Contrary to what some people believe, eating natural products doesn't have to be expensive. Family owned and operated by Dave and Dan Davis, our natural food
has the best selection of quality items both home grown
from your favorite distributors. Come by to feel the
of our store. The Cornucopia is one of the only health
stores in the area offering such a unique selection of supplements and nutritional products. With a large raw food section, a fully stocked packaged food collection, and great variety of body care products, we have the healthy items you need
well-being.
Restaurant
Natural Foods Market • Health Food Store
shop
and
unique energy
food
for your
Marcos Website website 1104 Thorpe Ln, Ste J San Marcos, TX, 78666 (512) 353-5044 Hours Mon - Sat 9am - 8pm Sunday Noon - 6pm Better living 66
The Cornucopia
Restaurant Wake the Dead Coffee House Coffee House • Beer Garden More Than Coffee Funky Tim Burton-esque house with a variety of over 55 imported and domestic beer, wine, specialty espresso drinks, smoothies, breakfast and lunch choices, pastries and treats, monthly art exhibits, live music, hand-crafted items for sale, a beautiful landscaped court yard, entertainment ... and of course, coffee! Dine-in • Patio Dining • Takeout • Vegan Options San Marcos Menu Click/Tap Here 1432 Old RR 12 San Marcos, TX, 78666 (512) 754-9253 Hours Mon - Sun 7am - 10pmFood & Brew 68
Wake the Dead Coffee House
Wonder World Cave & Adventure Park
Open Daily
First Show Cave in Texas
Welcome to Wonder World Park, a one-of-a-kind Theme Park, known as the first show cave in Texas. Visitors have enjoyed touring the Balcones Fault Line Cave for over 105 years, and now, the park has many other attractions for family fun and entertainment. Discover the nation's only true example of an earthquake formed cave on a guided tour. Go deep underground and see up close the devastation of a major quake. Exit by the "Stratava tor"
ride high into the sky to the Tejas Observatory Tower.
amazed by the Topsy-Turvy World of the An ti-Gravity House where everything is backwards, even water flows uphill! Board the train and splash through the waterfalls of Mystery Mountain on your way to the Texas Wildlife Petting Park.
Restaurant
Cave Tour • Wildlife Park • Train Ride • Attractions & Events
and
Be
Opened in 1903—Oldest Tourist Attraction in Texas San Marcos Website wonderworldpark.com Buy Tickets Online Click/Tap Here 1000 Prospect St San Marcos, TX, 78666 (512) 392-6711
Sun - Thu 10am - 5pm Last tour departs at 3pm Fri & Sat 10am - 7pm Last tour departs at 5pm Better living 70
Wonder World Cave
Random Shotz Around To w n
Zelicks Icehouse
Stiff Drinks & Cold Beer
Zelicks,
take time and appreciation in
the selection of beers we carry. We have everything from domestics to local craft brews, so you can always be sure to find the style of beer that you are looking for.
draft selection consists solely of Texas craft beers.
have developed relationships with local breweries who have allowed us access to specialty kegs only found at Zelicks.
indoor garage structure of Zelicks
where
located along with bar top seating,
and a pool table area. Zelicks also features patio-like outdoor seating and Texas-inspired games like washers, horseshoes and corn hole. Keep up with our weekly events on Face book
visit us for Steak Night every Tuesday
at 5pm until sold out.
Restaurant
Bar • Beer Garden
At
we
choosing
Our
We
The
is
the full bar is
televisions
and
starting
Outside Seating • Events & Live Music (Check Facebook) Website zelickssmtx.com Menu Click/Tap Here 336 W Hopkins St San Marcos, TX, 78666 (512) 757-8787 Icehouse Hours Mon - Wed 3pm - 2am Thur - Sun 12pm - 2am Kitchen Hours Mon - Wed 4pm - 11pm Thursday 12pm - 11pm Fri - Sat 12pm - 12am Thur - Sun 12pm - 11pm Food & Brew San Marcos 74
Zelicks
The Meadows Center for
and
Vision
Our Four Pillars
24 Restaurant
Water
the Environment Research • Leadership • Education • Stewardship Our Mission Inspiring research and leadership that ensures clean, abundant water for the environment and all humanity. Our
A world where all people understand and embrace the value of water and environmental stewardship.
The Meadows Center fulfills its mission by integrating activities across four pillars of action: research, leadership, education and stewardship. Our work in each of these pillars begins at Spring Lake – one of the largest artesian springs in the world – and ripples outward across Texas and beyond. Texas State University San Marcos Website meadowscenter.txst.edu Glass-bottom Boat Tour Information Click/Tap Here 201 San Marcos Springs Dr San Marcos, TX, 78666 (512) 245-2222 Hours Monday - Sunday 9:30am - 5pm Explore Spring Lake Click/Tap Here Better living
The Meadows Center
Texas Politics
BLUE
What is at risk this November if Republicans stay in power? Everything ... that matters.
Photo
by
Hamid Tajik
on Unsplash VOTE