Annual Report 2201
3 Photo by Jaime Campos | Salem News
Building Momentum As a nonprofit guided by a commitment to sustainability, an integrated design approach, and a tenacity to deliver solutions for the long-run, this year underscored the importance of BHI's work – and the global community of supporters who make it possible. While the ongoing COVID-19 pandemic exacerbated the difficulties of working in low-resource settings and amplified existing inequities in global health, our commitment to designing, building, equipping, and maintaining healthcare infrastructure remained steadfast. Through it all, we are reminded that the road to achieving health equity is long and winding. But it is one worth taking.
Table of Contents Year in Review 6 Project Spotlights 8 Launch of Oxygen Find & Fix 10 La Gonâve Wesleyan Solar 12 BHI Metrics 14 CURE Expansion Ethiopia 16 Designing Better Outcomes 18 Global Health Partners 20 In-Kind Partners 22 Philanthropic Partners 24 Financials 26 We don't seek out projects, we seek long-term partners, and we'll do whatever it takes to help those partners succeed and ensure they can deliver dignified, affordable Jimhealthcare.Ansara|BHI Managing Director on Global Pathways Podcast " " Photo by Miguel Vasquez | BHI
Jan Feb Mar Apr May Jun 2021
76 Year in Review
After pausing work to focus on COVID-19
BHI sends 360 Boston Hopedonated hospital beds to clinics throughout Peru in the midst of Peru's most significant COVID-19 spike
BHI wins Autodesk AEC Excellence Award in the category of 'Better World' for the design of Saint Rock Hospital in Carrefour, Haiti In partnership with Americares, BHI installs a solar microgrid at Haiti's Centre de Santé de PestelBHI
COVID-19ofconstructioncompletesthreenewwardsatHaiti'sHôpitalUniversitairedeMirebalais Jul Aug Sep Oct Nov Dec 2020
BHI, Health Equity International, and W.K. Kellogg Foundation launch an assessment of all Maternal Neonatal and Child Health servicesSouthernacrossHaiti
BHI launches multi-country oxygen capacity scaleup, beginning with an assessment of seven medical oxygen plantsMalawiin BHI and Partners in Health hold Centerceremonyground-breakingforMaternalofExcellenceinSierraLeone
Photo by Miguel Vasquez
deconstructioninfrastructure,resumesontheHôpitalUniversitaireMirebalaisEmergencyDepartment
The opensdeUniversitaireHôpitalMirebalaisEmergencyDepartmentitsdoorstopatients
BHI's leadership team grows, adding Director of Architecture, Gerard Georges and Director of Design, Jay Verspyck BHI and Partners in Health team up to open the first medical oxygen plant Lesothoin BHI partners with Direct Relief and the Bahamian Ministry of Health to open a modular operating room at the Rand Memorial Hospital on Grand Bahama, restoring infrastructure destroyed by Hurricane Dorian
| BHI
BHI installs a new solar system at the La Gonâve Wesleyan Hospital in partnership with World InternationalHope
BHI reaches a major milestone in rebuilding the High Rock Clinic on Grand Bahama, as seven prefabricated modulesonarrivesite
worked on over 200 projects in 28 countries, as illustrated in this map. We are proud to highlight three projects in this report that demonstrate the growth and adaptability of our organization this year. Leveraging an Integrated Design Approach Powering Community and SustainabilityEnvironmental Applying Lessons Learned fromAddisCOVID-19Ababa | Ethiopia La Gonâve | Haiti Malawi and beyond
decade, BHI
Project Spotlights
Over the past has
For patients suffering from respiratory illnesses, medical oxygen is one of the most effective therapies. As COVID-19 cases peaked, patients around the world struggled to access medical oxygen. Yet long before the pandemic, in part due to a lack of functioning Pressure Swing Absorption (PSA) plants, operating with an insufficient oxygen supply was a reality in many low- and middle-income countries.
Thanks to the DAK Foundation,"Find & Fix" launched in Malawi, where BHI completed a comprehensive assessment of oxygen production facilities. Of the seven plants assessed, three were fully functional, one was in need of partial repairs, and three were out of service. By repairing PSA plants, Malawi can expect a 25% increase in oxygen capacity per day. Repairs will cost 80% less than installing new plants – making the job of saving lives more feasible and sustainable.
Photos by World Health Organization
The "Find & Fix" oxygen effort that Build Health International is leading is so critical because the lack of access to medical oxygen is elevating deaths from COVID-19 in many low-resource settings. And by investing in local skills and strengthening health systems, BHI's work will keep saving lives long after the pandemic is over. The Every Breath Counts Coalition is proud to call BHI a member.
BHI has been building, repairing, and maintaining PSA plants in low-resource settings for over a decade. As COVID-19 exposed the dire and urgent need for repairs, the international community turned to BHI for advice and action. With the support of the Every Breath Counts Coalition, BHI launched the "Find & Fix" initiative to identify and assess non-commercial oxygen production facilities in countries experiencing surging oxygen needs. Once assessed, BHI's team of biomedical engineers and specialists then mobilizes to provide recommendations, repairs, and local training.
Find & Fix
Launch of Oxygen
Leith Greenslade | Coordinator, Every Breath Counts Coalition
"
The Every Breath Counts Coalition is the world's first private-public partnership focused on advocacy, global coordination and support to help low- and middle-income countries reduce pneumonia and oxygen related deaths, including from COVID-19.
"
" " LaGon â ve HospitalSolar
Photos by World Hope / Jaresiah Desrosiers
La Gonâve is a rural and rocky island off the coast of Haiti, home to 130,000 people and the Wesleyan Hospital. Operated by World Hope International, Wesleyan provides comprehensive medical services, saving residents a timely and costly trip to seek care on the mainland. The hospital, absent of functional municipal power, was outfitted with an array of solar panels when it was rebuilt following the 2010 Overearthquake.thelast ten years, capacity of the system's old and inefficient batteries has been significantly reduced, requiring Wesleyan to run its generator, burning countless gallons of diesel every hour. That's where BHI's Jaresiah Desrosiers and his team came in, to upgrade Wesleyan's increasingly unreliable and expensive power system. The team overcame physical and logistical hurdles to transport heavy, expensive equipment from Port-au-Prince, 50 miles west of La Gonâve. BHI installed a 125-panel solar system by sailing over 10,000 pounds of equipment – including a new generator, inverter, and Tesla battery packs – to the island, transporting it overland, and hoisting it into place. With the help of long-held relationships with local vendors and the determination of a seasoned team of Haitian electricians, carpenters, and plumbers, BHI helped the Wesleyan Hospital achieve energy independence, improve energy efficiencies, and secure reliable, uninterrupted power.
Jaresiah Desrosiers | Project Manager, BHI
I've worked with a lot of the BHI team on various other projects and [at La Gonâve] I could see a significant amount of growth from the last time I worked with them to this particular project. I was taken aback and encouraged by the fact that these guys are growing within their respective fields and coming into their strengths. That's why we do what we do.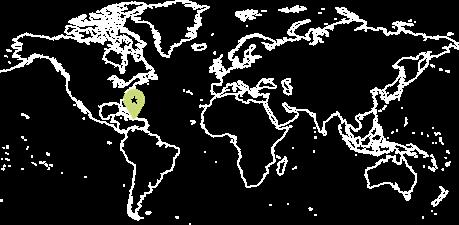 *Metric represents an estimation to the best of BHI's knowledge between July 1, 2020 June 30, 2021 2020 - 2021 Infrastructure 100+LocalWorkersEmployed ProjectsNewStartedProjectCountriesGeneratedkWh CompletedProjects 4620222,000 28 10 RenewableEnergyProjects InstalledPanelsSolar 8 452 New PartnershipsNGOFormed Metrics
In 2008, CURE International opened the first pediatric orthopedic speciality hospital in Addis Ababa, Ethiopia. Over a decade later, CURE Ethiopia sees 9,456 outpatient visits and performs 2,769 surgeries annually. In order to meet the growth of projected patient volumes, CURE turned to BHI to conduct an assessment and redesign of the existing facility. Sitting atop a steeply sloped terrain with little room for expansion, BHI worked within spatial constraints to design a multistory building with five operating theatres and one procedure room. Achieving success at CURE Ethiopia requires an innovative balance between BHI's various areas of expertise and collaboration with CURE.
"When people consider projects in low-resource or limited resource areas, they often want to execute the work quickly, and many times important touches like natural daylighting and intuitive way-finding are lost in translation," shares Director of Architecture, Gerard Georges. "Our team of architects, hospital planners and engineers is working to ensure each of these elements are considered. As we balance functional, seismic, and structural needs, we also want to promote a sense of well-being and dignity."
Justin Narducci | CEO, CURE International
Ethiopia " " 3D Renderings by ArtPixel 3D
BHI is a strategic partner that allows us to serve more children - everyday. They are managing multiple complex projects for us and always exceed our expectations. When an emergency arises, we trust BHI to be by our side, helping solve any problem with excellence and thoughtfulness. CURE International is better with BHI on our team.
CURE Expansion
Set to be completed by early 2024, the upgraded facility will be a culmination of tactical, technical, and thoughtful collaboration — designed to meet CURE's immediate and future needs.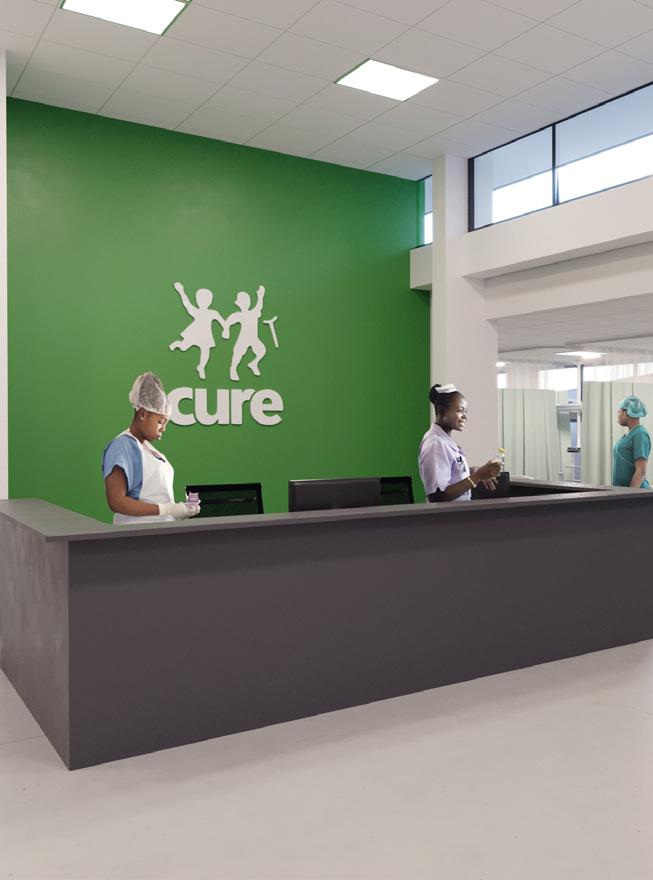 This year represents a significant evolution in BHI's growth and design capabilities with the addition of Gerard Georges, Director of Architecture and Jay Verspyck, Director of Design. After years of working with BHI on a project-by-project basis – contributing to designs like Rwanda's University of Global Health Equity and the diagnostic center at the Hôpital Universitaire de Mirebalais – Gerard and Jay joined BHI full-time in the fall of 2020 to raise our integrated services to the next level. Veterans of the healthcare design industry hailing from the Boston-based architecture firm Shepley Bulfinch, Gerard and Jay have a broad understanding of how to incorporate cultural, social, and environmental conditions into facility design to create spaces that bring dignity, comfort, and wellbeing to all, even in the world's most challenging settings. Their addition has helped BHI evolve greatly this first year, bringing improved design processes, tighter project management, and a renewed focus on aesthetics. As new partnerships develop and BHI continues to scale, Gerard and Jay will be instrumental in coaching and developing the design team, ensuring a continued focus on unique approaches to designing in low-resource settings, and delivering the most meaningful outcomes in the communities we serve.
Designing Better
Outcomes
BHI has been one of the key organizations actively responding to the pandemic. Their accumulated experience, the transparency and quality of their work, as well as their flexibility to coordinate projects with WHO, other partners, and Ministries of Health, have been fundamental in setting the example for sustainable oxygen systems, especially in relation to the project of repairing oxygen generating plants.
Building sustainable, equitable, and dignified health infrastructure around the world is a team effort. This year, BHI extended our all-time reach to 28 countries by continuing to grow our partnerships with NGOs, partners on the ground, and local governments which deliver life-saving care to millions of patients. We look forward to growing these relationships as we sustainably scale our operations in the years to come.
" Global HealthPartners
Laura Alejandra Velez | World Health Organization Focal Point, Oxygen Scale-up Initiative "
News Record " " In-Kind Partners
A critical component of our impact is the support we receive from in-kind partners. From architectural and engineering services, to donated materials and equipment, and support with logistics and building materials, our in-kind partners are there at every stage to help us achieve our mission. This network of partners enables BHI to maintain cost efficiencies, provide additional services for our project partners, improve the sustainability of our work, and respond quickly to emerging health needs around the world.
Ryan Macpherson and Investment Manager at Autodesk Foundation Engineering
AlnylamAeromedPharmaceuticals AMG Amico Corporation Assist International Autodesk Foundation Autodesk, Inc. Boston Children's Hospital Boston Children's HospitalCentralCenterCanezBrighamBrocktonBostonBostonBluebirdBluebeam,BIDMCBIDMCBeverlyPeabodyHospitalHealth(Quincy)Inc.BioHopeMedicalCenterResidenceInnandWomensHospitalConstructionforMedicalSimulationCeilings,Inc. CM&B Columbia ComputersConstruction&Structures, Inc. Concord Plastic Surgery Cummings Center Cummings Properties Dalton Foundation Dana Farber Cancer Institute Dellbrook JKS DENSDENS Facility Services DFCCC FrechèFragomenFoxFooteFisherFedExExeterEnscapeEmersonEasternEagleDragerDormakabaDiversifiedDisc-O-BedWeymouthConstructionHillSchoolSiteSupplyHospitalHospitalAutoPartsandSonRockPropertiesLokal GE Foundation GE GeneralHealthcarePower Limited Groupe HM Hafele Haiti Health Haiti HoganPlasticsRegional Center Hospital Curtain Solutions Huss & Co. L& W Supply L&W Tank Repair Larry Kilkenny Riverside Pediatrics Samuel Perkins Medical Supply Select SeyfarthDemoShaw LLP Shawmut Design & SleepingSHOWAConstructionDog Properties Soma WyncoWWWindoverTurnerTruckmaxxTorginol,TheTGTCITajSullivanSuffolkStetsonStavrosSprySpinningSpauldingSouthernTechnologyNewHampshireMedicalCenterHospitalWheelsMovingandWarehousingCenterMedicalCenterConstruction&McLaughlinWoburnDoorsGallagherDickeyCenteratDartmouthCollegeIncConstructionConstructionContractingCorp.DistributorsofNewEngland Zurn LawrenceLaticrete General Hospital Legatt McCall Marion Dental Health Mark Richey Woodworking Mass General Brigham Metropolitan Pipe & Supply Massachusetts General Hospital Mass General North Shore Center for Outpatient Care Microdesk, Inc. Milton Cat Morgan Miller Plumbing NEI General Contracting New England Casework New England Newton-WellesleyLab Hospital North Andover Country Club Oak Consulting Group OriginOGSI OrthopedicMedicalSurgical Center of North Shore Pete's Tire Barn Phifa Haiti Racing Phifa PlumbersLubricantsWithout Borders Proactive Philanthropy Pure Tech Health Pyne Sand & Gravel Qiagen *Fiscal Year 2021
23 My wish is that other groups doing any kind of development in resource-constrained regions partner with BHI to better implement culturally appropriate and resilient infrastructure that can deliver value over the long term. The BHI principles go beyond health care.
| Portfolio
in
In September 2020, BHI
world. Andrew Leonard Ann and Todd McCormack Anne Fish Ann-Margaret Ferrante Anonymous Ansara Family Fund Autodesk Foundation Avery BenjaminRimerKahrl Beth Garry Bob Broudo The Benevity Community Impact Fund The Blackbaud Giving Fund Boston Network for International Development Brooks Family Foundation Carole Wakefield Caroline Hovey Catherine Gibbons Charles Walsh Chip Hornbeek Chris Strock Christine Brown Clare Horkan Cummings Foundation DAK Foundation Dan DavidDarbyDaphneSaulnierFoggKirvenandGay Campbell Dens Facility Services, Inc. Doris DougMillanCrossley Ed Callahan Edward Cahill Edward Grace Ela ElizabethHefler Floor Erica Funkhouser Erin GerardGailKenneyDeniskyGeorges GlobalGiving Harry HelenDumayMichener HighlandFoundationStreet Iryna Balentine Iuliia Artemenko Jack Cameron Jack JoshJonathanJohnJohnJohnJohnJocelynJimJeffJayJarrettJanetJaneJamesJamesMandersonDesRocherRaymondSalingerBuckleyCollinsVerspyckandKellyMorganGoldenbergandGayShanahanBresnahanColbertDugganLooneyMcLaughlinPaysonPhilbrook JP Morgan Charitable Giving Fund Peter Emch Peter Jones Peter Loring Peter WilliamWilliamWilliamWilliamWilliamWillWarrenVanessaTonyTomTimothyTaraStevenStephanieScottSarahSarahRogerRobertRobertRobertRobertRiyaRickRenatoReganRaymondSwansonElliottMarshKasaiSilvermanPatelGillisKahnRaymondStoloffJacksonJonesSceeryShearBarnesElliottKenneyCreamerMonaghanBuccoRaymondTolmanDugganLackeyMcConnellMulhallPiknoshWasserman W.K.FoundationKellogg Zac Chase Kathleen Button Katie Letheren Kelly Behbehani Kerry Love Kim LynetteLucianLorenzLinzeeLeslieKyleKittyKimberleyPedersenBallardGamblinLahousseFinnCoolidgeCisneSnowChase Marjorie Benton Mark MarthaMurphyWinsryg Mary Ann Cohen Mary Ann Forsyth Mary-Kay Miller Matthew Elliott Meg MichaelCampbellAnsara and Barbara Arnold Michael and Martha Keating Michael Pehl Michelle Granese Michelle Jones Miranda Schieber Molly Yanus Mwami Pecou Neha Sinha Oak Consulting Group Olivia PatriciaPatriciaDugganMeserveyBakerand Phillip Dunn PhilanthropicPartners BHI's impact and growth are made possible thanks to the generosity of friends and supporters. Our philanthropic partners provide much-needed financing to advance health equity, allowing us to increase our capacity to deliver dignified health infrastructure, improve the quality of our work, and ensure we have the resources necessary to meet project goals quickly and efficiently.
Board
Welcome New Board Chair welcomed Dr. Patricia Maguire Meservey as new Chair of the Board. Most recently the President of Salem State University, Dr. Meservey has decades of experience as a nurse, educator, and leader. Dr. Meservey has provided critical leadership over the past year as BHI worked to meet the global challenges of COVID-19. To advance mission, Dr. Meservey will look to forge new partnerships and expand BHI's ability the
Dr. Patricia Maguire Meservey - President Salem State University
Emerita,
our
Dr. Harry Dumay - President of Elms College
our
to deliver healthcare around
Landmark School
Jean
Jim Ansara - BHI Co-Founder Managing Director
Board of Directors
2020-2021 of Directors
Karen Ansara - Founder/Chair, New England
Bob Broudo - President/Headmaster,
Dr. Paul Farmer - Partners In Chief Strategist Shia - Head of Foundation Reverend John J. Unni - Pastor, St. Cecilia Parish, Boston Catholic Church
Health Co-Founder and
International Donors
Portfolio & Investment, Autodesk
and
*Fiscal Year 2021 ** Corporations and Foundations
Change in Net Assets Surplus/(Deficit) 880,299 2,591,410 3,471,709 Change in Net Assets - Operations Surplus/(Deficit) (158,026) 2,591,410 2,433,384 Non-Operating Revenue Investment Income, net 1,038,325 1,038,325 STATEMENT OF ACTIVITIES June 30, 2021 WithoutRestrictionsDonor With RestrictionsDonor Total OPERATING REVENUES Project Funding 6,527,547 6,527,547 Grants 578,825 2,591,410 3,170,235 Donations 131,599 131,599 Total Operating Revenues 7,237,971 2,591,410 9,829,381 STATEMENT OF FINANCIAL POSITION June 30, 2021 CurrentASSETS Assets Cash and Cash Equivalents 707,849 Accounts Receivable 267,071 Investments 4,353,836 Total Current Assets 5,328,756 Other Assets 234,338 Total Assets 5,563,094 LIABILITIES AND NET ASSETS Liabilities Accounts Payable 214,042 Accrued Payroll 76,162 Total Liabilities 290,204 Net Assets Without Donor Restrictions 2,681,480 With Donor Restrictions 2,591,410 Total Net Assets 5,272,890 Total Liabilities and Equity 5,563,094 EXPENSES Project Expenses 6,538,764 6,538,764 General and Administrative 565,239 565,239 Fundraising and Communications 291,994 291,994 Total Expenses 7,395,997 7,395,997 $ $ $ $ $ $ $ $ $ $ $ $ $ $$ $$ $ $ FinancialSummary 2021 Total Operating Revenue (USD)6,527,5472,591,410710,4249,829,3817,395,997$$ $ $ TOTAL EXPENSES $ 7.39 M TOTAL OPERATINGREVENUE $ 9.82 M 67%88%8% 7% 26% 4% 2021 Total Expenses (USD) Project Funding Project Expenses 6,538,764565,239291,994 Grants with Donor Restrictions General and Administrative Fundraising and Communications Grants and Donations Total Revenues Total Expenses *BHI is grateful to ArtPixel 3D, Kat Kendon, Jess Rinaldi, Terry Sebastian and CURE International for use of their photos throughout this report.
CONTACT US 100 Cummings Center Suite Beverly,120BMA FOLLOWwww.buildhealthinternational.orgSUPPORT(978)info@buildhealthinternational.org01915969-0920USUS@BuildHealthInternational@buildhealthinternational@BuildHealthIntlBuildHealthInternational