UNSERE JUNGEN GÄSTE
OUR YOUNG GUESTS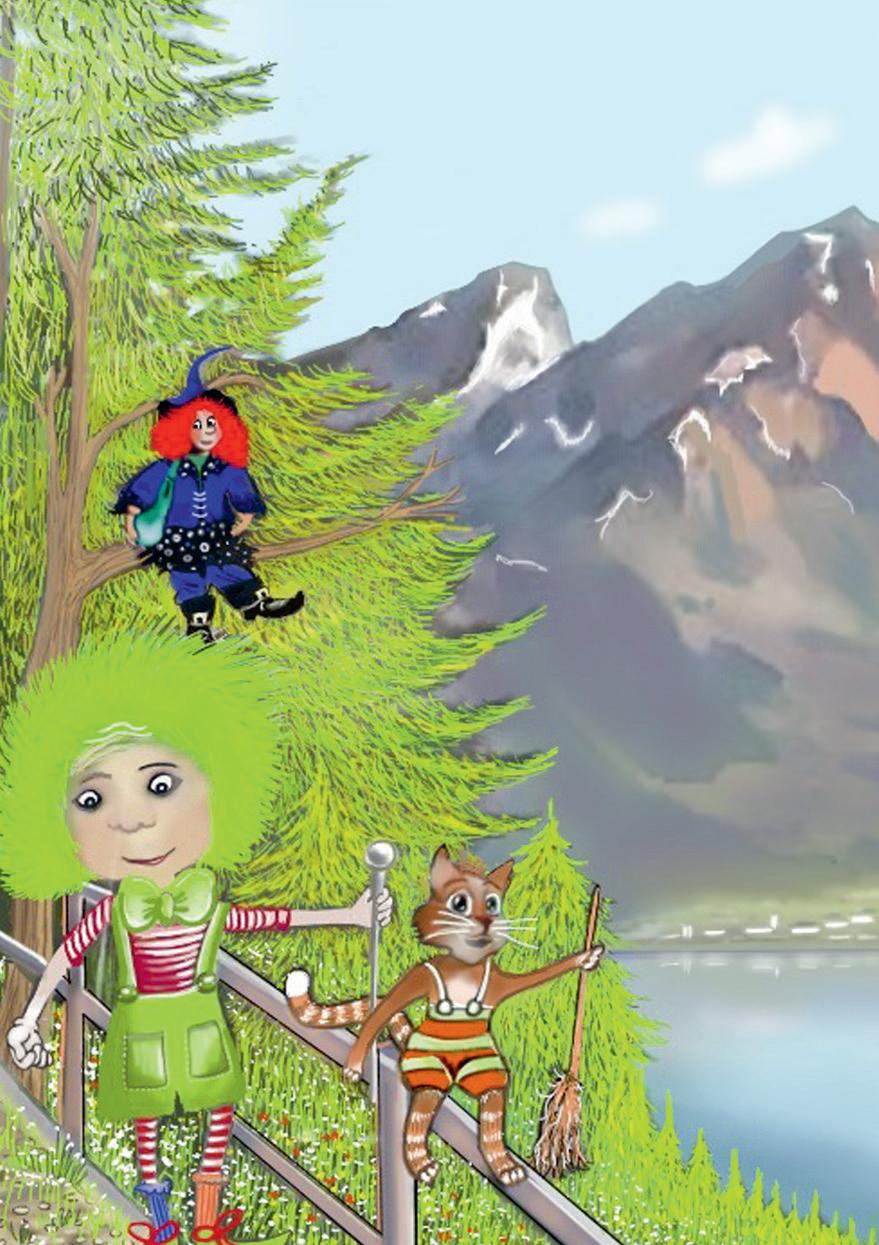 IHRE KINDER, UNSERE KLEINEN VIPS!
YOUR CHILDREN, OUR LITTLE VIPS!
WILLKOMMEN IN DER WELT VOM BÜRGENMUTZ
Wir legen höchsten Wert auf tolle Erlebnisse für alle unsere Gäste, selbstverständlich auch für die jüngsten unter ihnen.
Mit viel Liebe zum Detail haben wir ein vielseitiges Angebot entwickelt, in dem Aktivitäten für Kinder einen festen Platz haben, damit auch sie sich gerne an ihren Aufenthalt im Bürgenstock Resort Lake Lucerne zurückerinnern.
Einmal im Resort angekommen, wird die Neugierde garantiert durch die alpine Umgebung und die Vielfalt der angebotenen Aktivitäten geweckt. Die kinderfreundlichen Annehmlichkeiten und Menüs garantieren den Komfort und unvergessliche Erinnerungen für die ganze Familie.
WELCOME TO THE WORLD OF THE BÜRGENMUTZ
We continuously strive for excellence and nothing is left to chance when it comes to our young guests.
Our attention to detail and the wide variety of services offered to children are among the many benefits which we hope will create unforgettable memories at the Bürgenstock Resort Lake Lucerne.
Once in the resort, the curiosity is guaranteed to be sparkled by the alps surroundings and the diversity of the activities offered, while the child-friendly amenities and menus, will guarantee the comfort of the entire family creating unforgettable memories.
WILLKOMMEN
Willkommensgeschenk vom Bürgenmutz
Der Bürgenmutz ist eine Märchenfigur: Alt und jung zugleich, mit grünem Haar, spitzer Nase und einem Zauberstab. Gemeinsam mit seinen Freunden (einer Hexe namens Mora und einem Kater mit dem Namen Filu) lebt er auf dem Bürgenberg.
KIDS CLUB
Willkommen im Kids Club Mutzliburg! Jeden Tag begrüsst der Bürgenmutz seine drei- bis zwölfjährigen Freunde im Kids Club, wo qualifizierte und geduldige Mitarbeitende mit Ihren Kindern spannende Aktivitäten unternehmen.
Öffnungszeiten:
Täglich von 10:00 – 18:30 Uhr
BABYSITTING
Unser Concierge-Team vermittelt Ihnen gerne einen zuverlässigen Babysitter für Ihre Kleinen. Wir geben unser Bestes, dass auch kurzfristige Wünsche möglich sind. Bitte beachten Sie, dass für diesen Service eine Stundengebühr anfällt. Kontaktieren Sie unser Concierge-Team für weitere Details.
Wichtig zu wissen: Wir empfehlen Ihnen 24 Stunden im Voraus zu reservieren. Wir bemühen uns, dass sich unsere jüngsten Gäste willkommen fühlen und bereiten ihren Aufenthalt entsprechend vor. Nennen Sie uns einfach die Namen, das Alter und die von Ihnen bevorzugte Sprache. Stornierungen, welche später als 48 Stunden vorher erfolgen, sind kostenpflichtig.
Hinweis: Die Eltern/Erziehungsberechtigten müssen die ganze Zeit über erreichbar sein und dem Babysitter die Kontaktinformationen hinterlassen.
WELCOME
Welcome present from the Bürgenmutz
The Bürgenmutz is a fairy-tale creature who is both very old and very young. He has green hair, a pointed nose and a magic wand and lives on the Bürgenberg with his friends (a witch called Mora and a tomcat called Filu).
KIDS CLUB
Welcome to Kids Club Mutzliburg !
With the help of his friendly, qualified assistants, the Bürgenmutz hosts daily activities for all his little friends between 3 and 12 years of age.
Opening hours: Daily 10.00am – 6.30pm
BABYSITTING
Our Concierge team will be delighted to arrange reliable babysitting services for your little ones. We will do anything possible to accommodate requests with shorter notice. Please note that there is an hourly fee for this service; contact the Concierge for details.
Important to know: We recommend 24 hours reservation in advance. We go out of our way to make our youngest guests feel welcome and to prepare their stay, simply provide us with their names, ages and your preferred language. Late cancellations, later than 48 hours will be subject to charge.
Note: The parents / guardians must be available all the time and leave the contact information to the babysitter.
ZIMMER UND PFLEGEPRODUKTE FÜR
BABYS
Kinder bis 16 Jahre schlafen im Bürgenstock Resort Lake Lucerne kostenlos im Zimmer der Eltern, sofern kein Zustellbett benötigt wird. Für ein zusätzliches Bett wird pro Nacht eine Gebühr von CHF 180.– in Rechnung gestellt. Zur Ausstattung all unserer Gästezimmer gehören Pflegeprodukte für Babys sowie ein Begrüssungsgeschenk für unsere jungen Gäste.
ZIMMER MIT VERBINDUNGSTÜR
Für Familien mit kleinen Kindern, die nachts nach den Eltern rufen oder zu ihnen ins Bett wollen, sind Zimmer mit einer Verbindungstüre die beste Option. In allen unseren Hotels, ausser der Taver ne 1879, gibt es Zimmer mit Verbindungstüren.
Bitte wenden Sie sich bei Bedarf an unsere Reservationsabteilung: reservations@burgenstockresort.com
T +41 (0)41 612 60 00
KINDERSPEISEKARTE
Eine kulinarische Reise für Ihre Kleinen mit grosser Auswahl aus verschiedenen Küchen. Mit seinen speziell für Kinder entwickelten kulinarischen Kreationen zaubert unser Küchenchef ausbalancierte und nahrhafte Gerichte aus natürlichen, frischen und saisonalen Zutaten, die Kinder lieben. Alle unsere Restaurants bieten ausgewogene Menus für Kinder an, die mit saisonalen Zutaten zubereitet werden.
ROOMS AND BABY CARE PRODUCTS
The youngest members of the family (up to 16 years of age) are welcome in all Bürgenstock Resort Lake Lucerne rooms free of charge, provided that no extra beds are needed. In the event that an extra bed is required, a fee of CHF 180 per night will be charged to your account. All our rooms are equipped with baby care products and a welcome gift for our young guests.
CONNECTING ROOMS
For younger children who need their parents at night, or sleepwalkers who wander into their parents' beds, connecting rooms are the best option. All our hotels, except Taverne 1879, feature connecting rooms that are available for your stay.
To make a request, please contact our Reservations Department at: reservations@burgenstockresort.com T +41 (0)41 612 60 00
KIDS MENU
A culinary journey for your little ones with a wide variety of choices and different cuisines. With menu options designed especially for children, our Culinary Director aims to ensure that every child enjoys fresh, in-season and nutritionally balanced meals that are sourced locally with natural ingredients. All our outlets welcome you with seasonal, well-balanced Kids Menus.
Wichtig zu wissen: Das Restaurant RitzCoffier heisst Gäste ab sechs Jahren willkommen.
Hinweis: Für Gäste unter 16 Jahren ist das Frühstück kostenlos.
Important to know: the Restaurant RitzCoffier welcomes guests from six years of age.
Note: breakfast is available free of charge for all our young guests up to 16 years of age.
RESORT SPAS
Willkommen im Alpine Spa, einem Ort zum Ausruhen und Entspannen. Während der Öffnungszeiten sind Ihre Kinder im Kids Club Mutzliburg herzlich willkommen.
Wir freuen uns, unsere jungen Gäste unter 16 Jahren, unter Aufsicht eines Erwachsenen, zu den folgenden Zeiten zu begrüssen:
– Pool auf der 2. Etage von 9.00 bis 12.00 Uhr und von 17.00 bis 19.00 Uhr
– Pool und Garten auf der 3. Etage (von Mai bis September geöffnet) von 12.00 bis 19.00 Uhr
– Zutritt zur 1. Etage und zum FitnessBereich erst ab 16 Jahren
Die Ruhe all unserer Besucherinnen und Besucher ist uns besonders wichtig, wir danken für die gemeinsame Rücksicht nahme. Die Verwendung von Schwimmhilfen (bis auf Schwimmflügel) ist untersagt.
Das Waldhotel Spa kann von jungen Gästen unter 16 Jahren, unter Aufsicht eines Erwachsenen, von 9.00 bis 12.00 Uhr und 17.00 bis 18.00 Uhr genutzt werden.
SPORTLICHE AKTIVITÄTEN
Erleben Sie die Natur das ganze Jahr über von ihrer schönsten Seite. Unser B-Outdoors-Team (Mezzanine Level Bürgenstock Hotel & Alpine Spa) steht Ihnen gerne für die Planung von tollen OutdoorAktivitäten zur Seite.
Bitte wenden Sie sich ans B-Outdoors-Team: T +41 (0)41 612 64 26 buergenstock@outdooractivity.ch
RESORT SPAS
Welcome to the Alpine Spa! A place for rest and relaxation. Your children are warmly welcome at the Kids Club Mutzliburg during its opening hours.
Children under the age of 16 are only allowed to enter the pool area at the following times and always under adult supervision:
– Pool level 2 from 9.00am to 12.00pm and 5.00pm to 7.00pm
– Pool and garden level 3 from 12.00pm to 7.00pm (in operation between May and September)
– Level 1 and fitness only for children aged 16 years and over
Our youngest guests are kindly requested to be considerate of other spa visitors. The use of swimming aids (except inflatable armbands) is prohibited.
Waldhotel Spa welcomes young guests under the age of 16 under adult supervision from 9.00am to 12.00pm and 5.00pm to 6.00pm.
SPORTS ACTIVITIES
Discover the most beautiful side of nature – at any time of the year. Our B-Outdoors team (Mezzanine Level Bürgenstock Hotel & Alpine Spa) will be happy to assist you in organising exciting outdoor activities.
To place a request, please contact our B-Outdoors Team on T +41 (0)41 612 64 26 or buergenstock@outdooractivity.ch
Unser Spielplatz (nicht betreut) beim Alpine Spa Garden steht unseren jungen Gästen jederzeit zur Verfügung.
Our playground (not supervised) next to the Alpine Spa Garden is open to our young guests at any time.
KINO KIDS
Entdecken Sie den Zauber des luxuriösen Kinos mit Ihren Kindern und tauchen Sie in die fantastische Welt legendärer Kinderfilme ein. Das Popcorn geht aufs Haus!
Programm: Samstags und sonntags werden an unserer Kinder-Matinée ab 14.00 Uhr spannende Kinderfilme gezeigt. Bitte beachten Sie, dass dieses Angebot saisonal ist und Änderungen im Zeitplan auftreten können.
Kontaktieren Sie unser Concierge-Team, um Ihre Tickets zu buchen. concierge@burgenstockresort.com
T +41 41 612 60 18
Eintritt: Kinder bis sechs Jahre haben freien Eintritt ins Kino. Für Kinder ab sechs Jahren kostet der Eintritt CHF 15.–.
Hinweis: Für junge Gäste des Bürgenstock Hotel & Alpine Spa ist der Eintritt in das Bürgenstock Kino gratis.
KINO KIDS
Discover the magic of a luxury cinema experience for kids and enter the fantastic world of legendary children's movies. Popcorn is on the house!
Schedule: Saturday and Sunday from 2.00pm, exciting children's movies are showing during the Kids Matinee. Please note that this offer is seasonal and changes in the schedule may occur.
Please contact our Concierge Team to book your tickets. concierge@burgenstockresort.com
T +41 (0)41 612 60 18
Entry: free of charge for children up to six years of age. For children over six years of age, a fee of CHF 15 per person applies.
Note: Young guests that are staying at the Bürgenstock Hotel & Alpine Spa, may visit the Bürgenstock Cinema free of charge.
Durch unser medizinisches Kompetenzzentrum im Waldhotel Health & Medical Excellence sind Fachleute vor Ort, welche bei einem Notfall einschreiten können. Das medizinische Team ist sofort zur Stelle, falls etwas vorfallen würde. Somit können Sie und Ihre Familie stress- und sorgenfreie Ferien verbringen.
Es gelten die Gesundheitsvorschriften der Schweiz. Unser medizinisches Team steht auf Abruf bereit.
Bitte wenden Sie sich im Notfall an unser Concierge-Team unter:
concierge@burgenstockresort.com
T +41 41 612 60 18
HAFTUNGSAUSSCHLUSS
Es werden alle notwendigen Sicherheitsvorkehrungen getroffen, damit Ihr Kind bei der Teilnahme an den Aktivitäten des Resorts nicht zu Schaden kommt. Die Eigentümer und das Management von Bürgenstock Resort Lake Lucerne haften jedoch nicht für Verluste oder Schäden an Eigentum oder in konkreten Unglückssituationen, die mit dem Kind oder den Kindern in Verbindung stehen und aus derartigen Aktivitäten hervorgehen.
DOCTOR ON-SITE
At Bürgenstock Resort Lake Lucerne, we have a completely prepared and equipped medical team. Based in the Waldhotel Health & Medical Excellence, the experts are available upon request to ensure a stress-free holiday with your family.
Special terms and conditions apply based on local Swiss Health regulations. Our medical team is available upon request.
In case of an emergency, please contact our Concierge Team at:
concierge@burgenstockresort.com
T +41 (0)41 612 60 18
DISCLAIMER
Whilst every precaution will be taken to ensure the well-being of your children while participating in resort activities, the owners and management of Bürgenstock Resort Lake Lucerne do not accept liability for any loss or damage to property, or any injury or distress suffered by any child/ children in connection with or arising from the activities, howsoever caused.
ARZT-SERVICE
Bürgenstock Hotels & Resort
6363 Obbürgen
Switzerland
T +41 (0)41 612 60 00
F +41 (0)41 612 60 99
info@burgenstockresort.com
burgenstockresort.com