GUIDEBUSINESSAREFERENCEFORNEWBUSINESSESINBIXBY,OKLAHOMA PRINT SPONSOR: PRESENTING SPONSOR: BIXBY DEVELOPMENT FOUNDATION & THE CITY OF BIXBY'S
G Bret Anderson, DDS General Dentist 12106 S. Memorial Dr. Bixby, OK DentalCareOfBixby.com74008CallToday!918-347-5097State of the art Dentistry including Implants, Invisalign® Treatment, & Cosmetic Dentistry Broken Arrow Campus 4000 W. Florence St. Lemley Memorial Campus 3420 S. Memorial Dr. » Client Service Center » Health Sciences Center » Industry Training Center Owasso Campus 10800 N. 137th E. Ave. Sand Springs Campus 924 E. Charles Page Blvd. Riverside Campus 801 E. 91st St. Peoria Campus 3850 N. Peoria Ave. Customized training to meet your needs. Enhancing your training and professional development is more affordable than you think. We meet with your team and offer training and consulting in our facility or yours, in less time and for less money. Strengthen your workforce and gain a competitive edge today! For more information, call (918) 828-5400 or visit tulsatech.edu IMPROVING YOUR BUSINESS IS OUR BUSINESS. » Full-time Careers » Part-time Classes » Workforce Training (918) 828-5000 | info@tulsatech.edu BUSINESS & INDUSTRY SERVICES
10
Front cover photo by Planning Design Group and edited by Alaina Wilson. Published by Bixby Deveopment Foundation, 2022. Copyright 2022. All Rights Reserved. Layout, design, and content by Alaina Wilson.
EntrepreneurshipOklahoma7
11 Map of Bixby
Creating a Business Plan Using Marketing Basics
Bixby's City Limits
8
Planning6 for Business Sucess
A Letter from the City Manager, Jared Cottle
A Letter from the Bixby Metro Chamber President and CEO, Krystal Crockett
Why Bixby?
No part of this publication may be reproduced or transmitted in any form or by any means, electronic or mechanical, including a photocopy, recording, or any information retrieval system, without prior written consent from the publisher. While every effort has been made to avoid errors and maintain the accuracy of information presented in this magazine, the Bixby Development Foundation assumes no responsibility for errors or omissions.
Starting a Business as Guided by the Oklahoma Department of Commerce
A Flowchart of the Bixby Business License Process
A Brief Description of Life in Bixby
Contents
Welcome5 to Bixby
Starting a Business in Bixby
4
Bixby has a fantastic school system. In 2022, Bixby voters approved the bond in support of facility expansion, providing students with innovative learning spaces, technology upgrades, and athletic facilities to support the future of the next generation of students.
Bixby is one of the fastest growing suburbs in the state, with a population that has more than doubled since the year 2000, and continues to grow today.
Bixby's median household income is $83,955 and its median home price is $229,657. Bixby is in a wonderful position to encourage continued economic growth.
Why is Bixby, Oklahoma, so attractive to business?
Let's do business in Bixby! Visit bixbyok.gov for more information.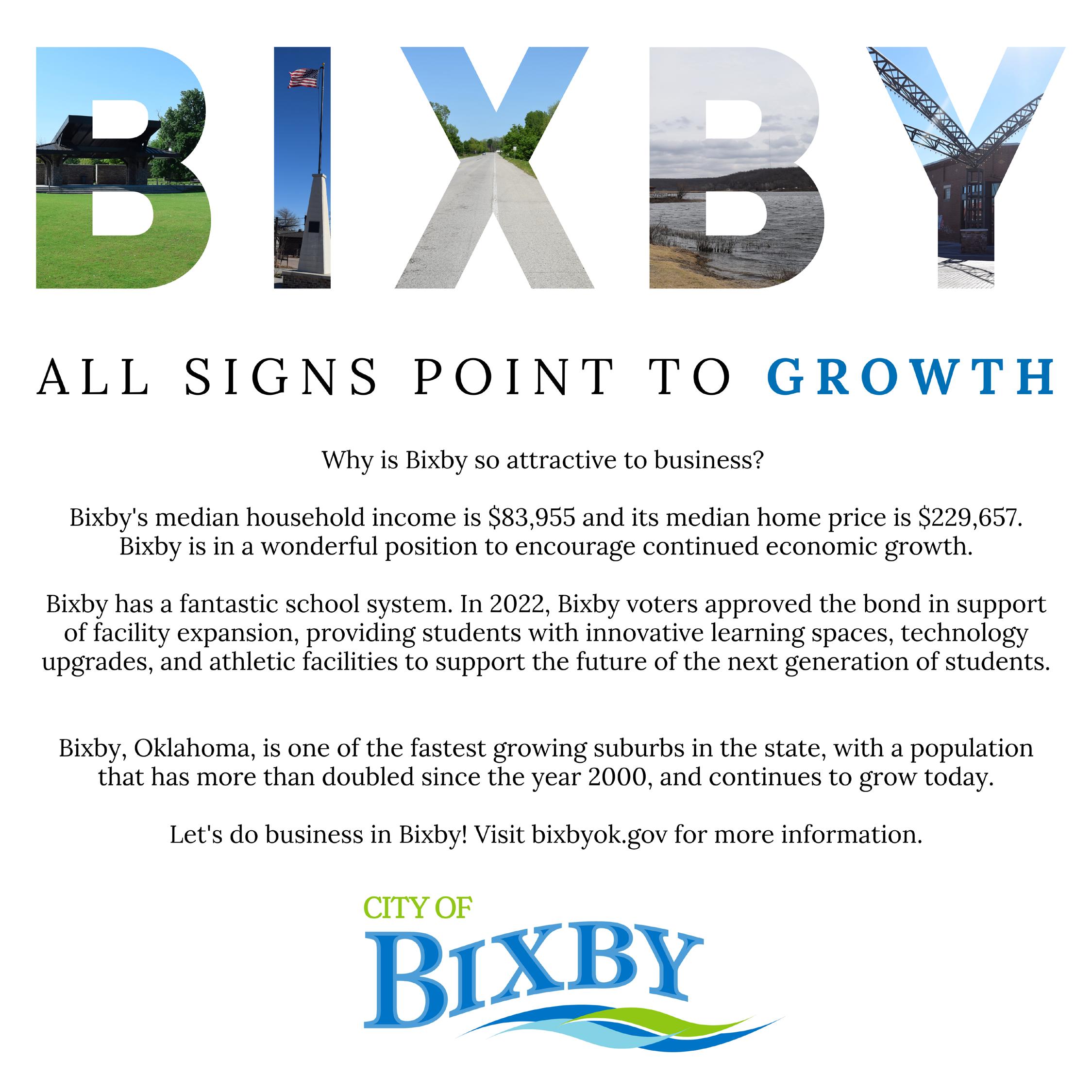 With close ties to the Bixby Metro Chamber of Commerce, Bixby Public Schools, and local civic groups, long-term vision planning, and investment efforts have received strong community support, providing the financial means for improvements in Bixby streets, drainage, park, and public safety facilities. Community funding has also made possible new destination projects such as a Performing Arts Center in Downtown and expanded Park facilities to go along with Harmony Bridge adjacent to the Arkansas River.
The Bixby Development Foundation opened its doors in October of 2021. Located in Bixby's Downtown River District the HUB offers ample office and event space to businesses and the community. We currently host one woman-owned business as a long-term tenant and have multiple visitors a year in our co-working space. We also host various events for community groups, family events, business meetings, and more!
BIXBYWelcomefromtheBixbyDevelopmentFoundationandtheBixbyMetroChamberofCommerce(BMC)!Fromitscreationin2019,theBixbyDevelopmentFoundationhas
5
T
All of this is made possible by a strong community in a strong financial position. We join the Chamber in welcoming you to our City.
Bixby features some of the highest population growth rates as well as most favorable income and educational attainment demographics in Oklahoma. The quality of Bixby Public Schools, status as a safe community, and access to amenities continue to make Bixby a top destination for new residents and businesses. Two state highways connect the city to the region, including the Tulsa International Airport, less than thirty minutes away.
These projects continue to build on prior Downtown projects such as the Streetscape and Charley Young Event Park renovations which have begun to pay dividends by attracting private investors. The Iconik, a mixed-use project set to begin this fall, and the Flats @ 151st, a townhouse community under design, are the first of what promises to be an exciting transformation for Downtown Bixby.
community to be a friendly, progressive, and rewarding place in which to relocate and prosper. While accommodating on-going change and development, residents have maintained a locally connected, small-town atmosphere.
WELCOME TO
partnered with stakeholders and leaders in our community to create programs, education, funding opportunities, and a location that will aid our entrepreneurs in the early stages of business growth. We look forward to helping you along every step in the journey you are in as you start or expand your business into Bixby.
Jared Cottle City Manager City of Bixby
Krystal Crockett
BixbyPresident/CEOMetroChamber of Commerce
he City of Bixby findemployeesthatassets.opportunitiesourcontinuingandpartneringforwardlookstowithyouyourbusinessintoexpandcommunity'sandWebelieveyouandyourwillourgrowing
Our business community has seen tremendous growth over the years and today we continue to see that growth. We are focusing our efforts on how to increase that growth and create an environment where everyone has the access to start or expand their business in Bixby. From startup counseling to business education, the Bixby Development Foundation will continue to champion economic growth through long lasting, inclusive relationships with businesses and the community.
The future for our city is one of constant growth, endless possibilities, and continued prosperity. We appreciate your consideration of Bixby as your future business location. We look forward to welcoming you to our community.
intellectual property rights • Create a profit model for your business: research product costs and other potential expenses to create a break-even analysis • Determine a price for offerings based on a desired profit margin per product • Make
Business Basics for New Entrepreneurs, via the Marketing Mix Planning for Business Success
6
•
Bixby's Workforce
• Join
•
How can I carry out market research and testing in Bixby, Oklahoma? other supply chain choices from supplier to distribution channel, including manufacturers, store locations, online platforms, etc. social media, website, search optimization the Bixby Metro Chamber of Commerce to increase your buiness exposure See the Bixby Economic Profile to understand the Bixby population and other demographic data Define your target market and research trends involving this demographic – KNOW YOUR AUDIENCE!
PRICEPLACEMENTPRODUCT PROMOTION • Define your offerings • Complete product research and development, if applicable • Obtain patents, trademarks,
and
See
• Make branding decisions, including graphic design, marketing campaigns,
engine
•
• Meet with business leaders through the Bixby Metro Chamber to get critical feedback on new ventures Create surveys, organize local focus groups, interview others in similar positions, use test marketing and measure online performance, etc. EconomicDevelopmentBixbyFoundation'sProfileformoreBixbyinformation:bixbychamber.com
Oklahoma Entrepreneurship A Summary of the Oklahoma Department of Commerce's Guide to Starting a Small Business Determine your business's legal structure. Less Formal: Sole Proprietorship –common for one individual operating a business with complete legal responsibilitiy More Formal: Corporation or LLC – more complex and expensive to create but can provide more legal and tax relief See Oklahoma Secretary of State for registration fees. Trade name = $25 Corporation = $50 LLC $100= *may vary Obtain Oklahoma Licenses and Permits. See next pages for Bixby-specific Additionalprocess.permitRequirements: Get an NumberIdentificationEmployers(EIN)at irs.gov if you employees.have Get a sales tax permit (retail) from Oklahoma Tax Commission at tax.ok.gov. Get an withholdingincomeOklahomataxaccount. See the CommissionEmploymentOklahomaSecurityforunemploymenttaxes. See the workersCommissionCompensationWorkersOklahomaforcompensationinsurance. okcommerce.gov 7 *Seek out professional legal advice if needed.
Starting a Business in Bixby STOP You licenseneeddon'tafromBixby. Will inbusinessyourbeBixbyCitylimits?Isyourpropertyzonedforyourtypeofbusiness? Visit DepartmentPlanningCity for approval. Will you be using a sign to advertisebusiness?your View city code for compliancesignatbixbyok.gov Will Seeofoperateyouyourbusinessoutyourhome?CityPlanningDepartmentforhome-basedbusinesscompliances. NO YESYESYESYES NONONO NO NO Will you storemanufacture,use,orhazardousmaterials(includingfireworks)?VisitBixbyFireMarshal'sofficeformoreinformation. YES YES YES Will you be Seemanufacturer?aTulsaCountyDept.ofEnvironmentalQualityforAirQualityPermit;contactCityDevelopmentServicesDepartmentforindustrialdrainagedischarge. Will preparationfood be Countyinvolved?SeeTulsaHealthDepartmentforapproval.
8
Bixby's City Hall
Oklahoma Department of Labor.................................................(405) 521-6100
Tulsa County Beverage Permit Office........................................(918) 596-5000
Tulsa County Health Department..............................................(918) 582-9355
Tulsa County Assessor's Office..................................................(918) 596-5100
City of Bixby.....................................................................................(918) 366-4430
Bixby Fire Marshal..........................................................................(918) 366-0438
Starting a Business in Bixby
ABLE Commission..........................................................................(405) 521-3484
Bixby Metro Chamber of Commerce.........................................(918)-366-9445
Oklahoma Tax Commission.........................................................(405) 521-3160
Tulsa County Records Office.......................................................(918) 596-5420
Tulsa County Department of Environmental Quality...........(918) 293-1600
9
Local businesses at Bixby's Back to School Bash
Oklahoma Department of Public Safety...................................(405) 425-2424
NO NO NO YES YES YES Will beerbusinessyourserveorliquor?ContactABLECommission. Will you need State of CommissionOklahomausesalesOklahomataxorinforation?Tobacco,gasoline,diesel?ContactTaxforstatelicensingapplication. Do you need a City of Bixby waterDepartment.CityContactaccount?Water Provide a copy of your Oklahoma Tax Permit along with a $12 filing fee to obtain your business license.
Contacts
Oklahoma Secretary of State.......................................................(405) 521-3912
US Internal Revenue Service.........................................................(844) 545-5640
Oklahoma Motor Vehicle Licensing Department...................(405) 607-8227
Population = 28,609 *Average growth = 300 newperhouseholdsyear Median income = Oklahoma*56%$83,955higherthanmedianincome Local Entrepreneurship Resources The HUB in Bixby SCOREKivaTulsa Small Business Association TAG Coworking TEDC Creative Capital 2020, census.gov 10
Located in the heart of the nation, Bixby offers a small-town feeling with big city benefits. As one of Oklahoma's fastest growing cities, Bixby's success is attributed to its high-performing schools, engaged citizens, progessive leadership, and available land. Bixby is located along the Arkansas River and is accessible from the Tulsa International Airport and the Port of Catoosa. Bixby is full of parks, trails, and a variety of housing options. With the help of the Bixby Development Foundation, entrepreneurs, new residents, and visitors can discover and enjoy Bixby's unique characteristics.
Why Bixby?
Photo of Harmony Bridge, by Planning Design Group
11
bixbydevelopmentfoundation.com development@bixbyfoundation12 W Dawes Ave Bixby, OK 74008 918-366-9445
The Bixby Development Foundation was founded in 2019. We are focused on creating a culture in Bixby that attracts, recruits, and retains jobs for our community and provide resources for start-ups and small business development. The Development Foundation will be a voice in the community to help determine what long-term success looks like for Bixby and will partner with any organization that shares our vision for a brighter economic future. Bixby is to bixby through long lasting, inclusive with businesses and the community.
champion economic growth in
The mission of the
About the Publisher
Development Foundation
relationships