Office: 480.243.4242 | Northern AZ: 928.271.8514 | Team@IntegrityAllStars.com | www.IntegrityAllStars.com 4960 S. Gilbert Rd., #1-613 • Chandler, AZ 85249
NO TWO PROPERTIES ARE ALIKE
Together We Will Create A Marketing Plan As Distinctive As Your Home.
There are 4 key areas that we will be focused upon.
Step 1: We will establish the best price to market your home to maximize its value.
Step 2: We will create the most effective marketing campaign to attract as many potential purchasers as possible!
Step 3: We will make sure the offer and acceptance are structured to your benefit in order to best achieve your goals.
Step 4: We will manage the negotiations and transactional process to ensure they go smoothly until closing.
Additionally, you will see very quickly you are dealing with a sales executive and organization that understands the market and how to best service your needs, while achieving your real estate goals.
I welcome the opportunity to serve you, and look forward to working with you during the marketing process. If you have any questions don't hesitate to contact me.
Sincerely,
Delegated Associate Broker
Seniors Real Estate Specialists
2
WE HAVE THE VALLEY COVERED
Just SOME of the homes we've sold over the years...
Rebecca's been selling homes since before the MLS was on the internet!
Licensed and Full-Time REALTOR® since 1993. Brokers License since 1998.
AZRE BR100814000
3
Fall 2014 STILL The American Dream HOME OWNERSHIP: HOME OWNERSHIP: Arizona Real Estate Achievement Winner – Best Mortgage Company 2013 $5.95 / Issue Chandler Real Estate Couple Buy or Wait? January 2018 Southea S t Valley informing and inspiring real estate agents Rebecca Hidalgo Rains Top 150 STandingS parTner SpoTlighT: Greg Gale NOVA Home Loans on The riSe: Chris Reece all abouT The SunShine real STory: Beating Cancer Brock O'Neal WanderluST Havasupai Falls Elizabeth Mankin Best Technology Apps for 2018 See following for pages for full article... IN THE MEDIA 4
by Jacob Cabezudo
There's a reason Integrity All Stars has its name: Rebecca Hidalgo Rains is their leader. Doing the right thing and prioritizing her clients first is the name of her game.
Rebecca got her start in the industry very young. "I originally was licensed at the age of 19. My dad got me into the business, rest his soul. He tried when I was 18, and I kicked and fought it, went to college, and was working as a receptionist in a law firm for minimum wage when I finally decided, 'Ok, fine. I'll go work for Pops.'" She worked with her father and siblings until she graduated from Arizona State, when she started working for home builders.
She earned her broker's license in 1998 while on maternity leave from a builder,and subsequently worked as a sales associate for a couple of different builders. In 2005, she found herself promoted
to sales management. "You get out of real estate what you put into it. It's not easy — it actually can be really hard to get started."
As of 2007, Rebecca started building Integrity All Stars in the foreclosure and short sale industry. Currently, the team represents Bellago Homes as well as helps their other clients with all aspects of residential real estate.
"My biggest passion is just having fun, working with my husband, and helping new people. Whether it's our staff, our colleagues, or our clients. What I enjoy the most is just waking up every day and helping others the best I can."
"The biggest challenge is cramming everything into my day," Rebecca admits. "My poor husband has suffered from my inability to be on time for a lot of things because I'm always trying to do more and cram more into my day. I think it's just against my personality to time-block, even though I'd really love to be that disciplined."
Rebecca values passing tips to aspiring top producers. "The best advice I have ever received is to just answer the phone." Rebecca expresses the importance of being there for your clients because it fosters long-lasting relationships. "People are actually very surprised when they get me after-hours because once our staff goes home, my husband and I take turns answering the calls, even if it's a brandnew lead, they actually get me on the phone."
Rebecca also points out that moving with the future is a transition that many agents struggle with. A significant but overlooked technique that agents should work on is videography. "While everyone keeps hearing 'it's the wave of the future,'" she says, "very few people actually do them on a regular basis, or are comfortable on camera." Communicating with clients or colleagues via video is just another way to strengthen connections in your business.
In her illustrious career, Rebecca has amassed over 1,000 sales and has consistently been in the
www.realproducersmag.com • 29
rebecca and James at their 2011 wedding in prague.
rebecca and James
top 250 in the country for the past several years. Despite this, her greatest aspirations are aimed at the future.
"I would have to say my greatest achievement is something that we're working on right now, which is finally building our own office and creating our own space. That's really been exciting and is a project my husband and I have been working on for the last year, and it's finally coming to fruition."
In her everyday life, Rebecca applies a can-do, optimistic attitude. A phrase that best describes her is "Good Morning Sunshine." "I'm all about the sunshine. I think anyone who knows me, knows I have a positive disposition in most scenarios. I'm always trying to find the silver lining and making lemonade out of lemons."
Rebecca married James Rains six years ago. Ever since, they have been the perfect pair, working together since 2009 and raising their family. Her joy in collaborating with James and working with clients reflects on her generous and positive standpoint in life.
In her free time, she loves hanging out with her two daughters, Hannah and Sarah. Being an avid traveler, Rebecca loves the opportunity to visit her older daughter, Hannah, who is a sophomore at the University of Hawaii. "If you give me an excuse to go someplace I've never been, I'm there." But there was one trip that topped them all.
"Probably my favorite trip was the one where my husband James and I did our vows. We got married on a boat in Prague while winding our way down a river. We had a wonderful time. We flew into London and took the Eurail, traveling through seven countries in 17 days."
Rebecca Hidalgo Rains has found a lot of success in her 25-year career. What's even more apparent is her dedication to her clients. She has won several customer service awards, including Number One Customer Service in Arizona for Berkshire Hathaway. Clearly, Rebecca thrives off being a peopleperson and showing integrity.
"To me, success is not necessarily tied to a dollar. Dollars follow the things that you do if you do them right. And I truly believe that if you keep your clients first, ahead of your own needs, and you're always working with integrity and doing what's right, that's really the definition of success."
30 • January 2018
WHY YOU SHOULD CHOOSE INTEGRITY ALL STARS
Rebecca has earned top rankings in the United States for highest production for a Latina 9 years running: 2012 – 2021. In 2021, she was #29 out of all Latino REALTORS® in all of the United States and #1 Latina in Arizona.
AS SEEN & HEARD ON
As one of the few firms entrusted to use the world-renowned Berkshire Hathaway name, our company will continue to redefine real estate in our region and across the country. The Berkshire Hathaway HomeServices name is synonymous with integrity and quality. With our commitment to market to Arizona real estate at the highest level and the vision to be the most highly-valued real estate company in Arizona, our company, along with our powerful global network, exemplifies the reputation of Berkshire Hathaway.
Check out Rebecca's dynamic videos at IntegrityAllStars.com. She will stop at nothing to get her clients TOP DOLLAR for their homes!
RANKED: #1 in AZ / #29 in US
7
EXPERIENCE YOU CAN TRUST
Originally licensed in 1993 as a Real Estate Licensee
Earned Broker's License in 1998
1996-2007 Specialized in new home sales
2005-2007 Sales Manager for Trend Homes
2005 Instructor @ Arizona school of Real Estate & Business
2007-2013 Focused on foreclosure market, selling short sales & REOs
2013-today Manages sales for Bellago Homes
Interviewed by KTAR Radio
Appeared Live on Ch 3 News with Scott Passmore
Featured in Phoenix Business Journal & Arizona Republic several times
Featured Speaker on various Real Estate panels over the years
2020 Featured on
Host of
AWARDS
Did you know, in AZ, only 8% of REALTORS® are full time? Only 4% sell two homes a month or more.
Senior Real Estate Specialist
2021 RealTrends Top 1.5% in the Nation, #8 in volume & #11 in sides
2020 Real Producer's Duo of the Year
2020-2021 Best of Zillow
BREA 2018 Highest Volume East Valley Individual
2017 #2 FIMC Brokers Cup Fairway Mortgage
WeServ 2015 Multi-Million Top Producer
National Hispanic Real Estate Professionals
2021 & 2020 #29 in the US, #1 in AZ
2019/2018 #17 in US, #1 female in AZ
2017 #136 in US, #1 female in AZ
2016 #100 in US, #4 in AZ
2014 #109 in US, #3 in AZ, #1 female in AZ
2013 #25 in US, #2 in AZ, #1 female in AZ
2012 #214 in US, #36 in AZ
Berkshire Hathaway HomeServices
2021 #1 Team Company Wide
2020 #18 in US for Residential Units Sold & #22 in US for GCI
2019 Top 100 Residential Units, #1 Team Company Wide & Top 100 Total GCI
2018 #68 out of 43,000, #2 in GCI out of 925, & #1 with Most Units Sold out of 925 AZ Agents
2017 Explosion Speaker, #2 Team Company Wide, & Top 100 Residential Units
2016-2019 #1 Outstanding Customer Service Award
2016 / 2017 / 2022 #2 Team in AZ
2015 #6 Team in AZ
2015-2019 Chairman Circle Diamond Award
Top half of the Top 1% of REALTORS® in Arizona several years running
The only source of knowledge is experience—Albert Einstein
"We couldn't have done all of this without our amazing team and most of all our wonderful clients that make all of this possible..."
- Rebecca Hidalgo
Rains
8
QUESTIONS & ANSWERS
Questions to ask during interview with a Listing Agent
1. How long have you been licensed? Rebecca completes 33 years in May 2023, James completed 17 years - combined just the two of them, 50 years of experience, not to mention the rest of the team.
2. How long have you been selling FULL TIME? The entire 50 years.
3. How many homes have you sold in your career? Over 2,000.
4. How many listings do you currently have? This varies, with the Builder account and seasonality, we typically have 10-20 listings any given time.
5. How many listings have you sold this past year? In 2022, we listed and sold 68 homes. Does not include representing Buyer clients.
6. What's the average sales price of the homes you've sold this past year? Our average was 645k.
7. What's your list to sales price ratio? 98%
8. What's your average days on market? 21 days
9. How many Buyers have you sold homes to this past year? 66
10. Besides entering the listing in the MLS and putting a sign out front, what other marketing do you do to sell your listings? Please refer to the listing menu for complete list.
11. How much $ do you invest in marketing each of your listings on average? On average, over $1000.
12. Have you done probate work before? Yes
13. Do you have an estate sale person you've worked with in the past? Yes
14. Do you have 3 recommendations on who to hire to do an estate sale? Yes
15. Have you sold homes with acreage before? Yes
16. Why should I trust you to sell my home? Because we have a stellar record, never a complaint and several past clients willing to be references that have given us fantastic online reviews.
17. Do you have 3 references I could contact that you've listed and sold their homes this past year? Yes
18. What do you think we should list this home for? Must discuss details in person after viewing the home.
19. What work do you think we should do to it? Must discuss details in person after viewing the home.
20. How long can we expect it to be on the market before we get an offer? Depends on pricing strategy selected.
9
COMMUNITY PHILANTHROPY
Agent Charitable Outreach
Habitat for Humanity's vision is a world where everyone has a decent place to live.
As a nonprofit, ecumenical Christian ministry that builds with people in need regardless of race or religion, Habitat for Humanity welcomes volunteers and supporters from all backgrounds.
We have more than 1,400 local affiliates in the United States and more than 70 national organizations around the world. Together, we have helped more than 1 million families — representing 5 million people — improve their living conditions since our founding in 1976.
Scott Detherage Foundation - Founded in the memory of Scott Detherage, a child advocate and City of Chandler Housing Youth Program Coordinator. The Scott Detherage Foundation aims to provide financial support through college scholarships to disadvantaged students living in the Chandler area. Through funding activities and donations, the foundation's mission is to continue Scott's life work of unwavering dedication to the Chandler youth by expanding educational and development opportunities for students demonstrating academic and financial need.
10
CLIENT TESTIMONIALS
Jonathan «««««
Rebecca and her team (Ashley and Ayriel) are fantastic. They reviewed every aspect of helping my brother and I review and prepare the house. I have bought and sold several other homes and have not come across a more professional team of experts. Everyone has done an outstanding job and I was discussing with my brother - I should move out of my house and have them all come in and make it look brand new. They all have a great gift and a great eye for making places look great. If I was able to give 10 stars I would! Fantastic service and quality throughout and the professionalism to execute every detail is exceptional.
Alan Diamond«««««
Positive: Professionalism, Responsiveness
I am super happy with the job that Rebecca and the entire Integrity All Stars team did for my house sale this year. I'm an out-of-state seller, and they took care of absolutely everything for me. They coordinated with my property management company and tenants. They managed the home improvements and cleanup. Finally, they handled the negotiations and contracts. All of this without me ever needing to travel. They made every accommodation to help me get the house ready, advertise it, and sell it in a very short period of time. I could not be happier with the experience. Most impressive of all was not just how responsive Rebecca and the entire team was, but also how much they really worked to make sure I felt informed and comfortable through the whole process. Using video chat, for example, to walk me through current issues and resolution. Thank you so much for a great experience!
Brett Tidball«««««
Rebecca, James, Ayriel, and Ashley were incredible to work with!! They were one step ahead of all my questions and helped put me at ease over and over. Selling a house isn't easy but when you have All-Stars helping you along the way it is significantly easier. Thank you all for everything you did for my family and me!
William Hardy«««««
Positive: Professionalism, Quality, Responsiveness, Value
Rebecca and Jim reigns were wonderful when it came to selling my house. It was easy and painful. I got the best price any homeowner could wish for. They truly are the best agents in the valley. The best part I only had to stage it for one weekend it's sold within two days. The Best!!!
Craig Kitchen«««««
Rebecca and James and the Integrity All Stars team were terrific handling the sale of our home and the purchase of our new home. They have constructed a business process that is flawless in addressing all the aspects of a sale or a purchase. Their attention to the smallest detail makes all the difference. We had multiple offers (ABOVE ASKING) on the first day our home hit the market and they negotiated the purchase of our new home so we were able to simultaneously close within 30 days. In 50 years of buying and selling our homes, we never had a deal work this smoothly or this quickly. We would 100% use this team again and highly recommend them to everyone we know. Thank you, Integrity All Stars.
11
Kar Goodwin«««««
Positive: Professionalism, Quality, Responsiveness, Value
From the very moment that I contacted Rebecca and her team, I felt assured, confident and excited! Rebecca and her husband met with me face to face immediately after contacting them. We thoroughly discussed every detail needed to get our house ready for market, the date we needed to put it on the market and what that all entailed. Soon after, our house was photographed and marketed online. Days later our house went live and it was under contract immediately! From the minute the contract was signed to the minute we closed, Rebecca and her team...most especially Rebecca, Ayriel and Cherie...we're on top of everything. And I mean everything! We were in contact daily. From start to finish all went very smoothly! My husband's job has moved us around over 8 times and I can honestly say that Rebecca Hidalgo Rains and her entire team are the very best in the Real Estate Industry! The. Very. Best. I highly recommended their team to everyone out there looking to sell or buy a home! Look no further! Honestly, there is nobody out there that will get the job done for you better than Rebecca and her team!!
Glenn Christensen«««««
Positive: Professionalism, Quality, Responsiveness, Value
Rebecca and her team did an awesome job helping me sell a rental property in Copper Basin. I live out of state, so I was not available to coordinate the needed repairs before we could market the house. Rebecca handled all the contractors, picked out materials and made sure the work was done quickly and professionally. I did not have to do anything! The house sold in 5 days at $16,000 over asking with 10 offers. We own 2 other rental homes in San Tan Valley, when it is time to sell those Rebecca will be our first call. I highly recommend Rebecca and her team.
Lukas
Olson«««««
Positive: Professionalism, Quality, Responsiveness, Value
Working with Rebecca and her team at Integrity All Stars was such a breeze! We happened to purchase a house her team was selling, and were so impressed with how responsive and helpful they were during that transaction that we changed our mind from renting our previous house to selling it!
Selling our house with their team was incredible. I can't begin to explain all of the things their team just "does right." They have so much experience and expertise in their area that I really would recommend them to everyone.
If you're thinking of selling your home (or buying a new home), GO WITH THEIR TEAM! I can't sing their praise enough!
(CONTINUED)
CLIENT TESTIMONIALS
12
"I
SELLING AND BUYING AT THE SAME TIME
New Home But Have to Sell Your Current Home First? Contact Integrity All Stars to Get Started! If you own your current home, but want to upgrade by purchasing a new home, you don't have to wait any longer. When you list your home with us, you may be able to: • Get under contract now and avoid any future price increases • Receive a discounted REALTOR® commission fee • Have your new home started before your current home has completely closed escrow • May be able to avoid the dreaded "double move" For a free, no obligation market analysis of what your current home is really worth! Just call or email me TODAY! Ranked: #1 Latina in AZ, #29 in US AS SEEN & HEARD ON Rebecca Hidalgo Rains 30+ Years Experience 2000+ Homes SOLD team@IntegrityAllStars.com 480.243.4242 www.IntegrityAllStars.com
Want a
would
to
a HUGE
Stars
made the whole process of
our old house and
house
is honest, trustworthy and
comfortable from our first meet. We had an idea
Model 208R would be the perfect fit for our family. Rebecca, Lilly and Larry made the whole buying of a new house experience exciting, easy and fun. They all made it a team effort, or family effort, because they make us feel like we are all family. I have been promoting our experience with Rebecca, Lilly and Larry to our friends and coworkers.We hit the jackpot when we were able to connect with them to purchase our new build with CalAtlantic Homes." ~ Gaylynn England ©2023 BHH Affiliates, LLC. An independently owned and operated franchisee of BHH Affiliates, LLC. Berkshire Hathaway HomeServices and the Berkshire Hathaway HomeServices symbol are registered service marks of HomeServices of America, Inc.® Equal Housing Opportunity.
like
extend
thank you to Rebecca and Integrity All
as they
selling
purchasing a new
so seamless. Rebecca
made us feel
that
RIM COUNTRY CABIN TOURS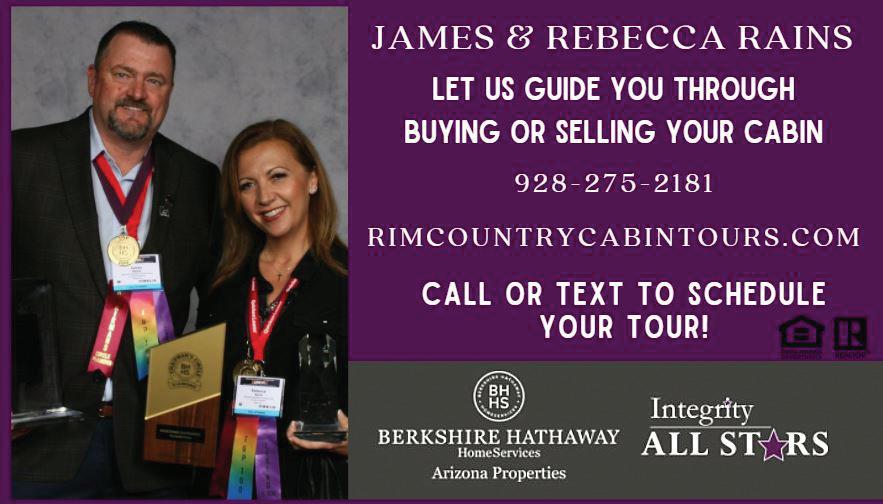 Have you ever dreamt of owning your own cabin in the cool pine trees? In 2017 we purchased our dream, a little cabin in the cool pines in Strawberry Arizona. Before we invested ourselves, we had stayed in various VRBO rentals over the years in places like Mund's Park (Flagstaff), Heber, Showlow/Pinetop as well as Pine/ Strawberry. Besides being on average 25 degrees cooler, it's ONLY 1.5-2 hours from the Southeast Valley where we live, which was huge for us. We originally purchased planning on renting it out when we couldn't go up there, but we love it so much that we spend most weekends possible (when we aren't working) in the cool pines with our family and friends. We've also sold a lot of cabins since then too. It's easy to get hooked, there's so much to offer and everyone really is so nice up there. (It proved to be an excellent get away during Covid as well)
If you aren't familiar with the area but have thought about renting or buying up there yourself, you should check out some of the links on the website, https://integrityallstars.com/ rimcountry/. And if you'd prefer to rent first, you may want to check out VRBO for some places to test the waters. We always recommend to spend some time up there first getting to know the area to see if you enjoy it as much as we do.
Three of our favorite restaurants to eat and also hang out as they have live music regularly are The Old County Inn, The Weekender Bar & Restaurant, & Pinewood Tavern.
If you like to hike, there are lots of trails, but you definitely should check out the Natural Bridge. Kayaking or just being out on a lake, there's Blue Ridge which isn't far. Another past time is riding around town or in the forest in side by sides, lots of trails to do that with some amazing views.
If shopping is your thing, there's several antique and boutique shops in the area.
All in all, it's cool, peaceful, quiet and simply gorgeous- if you haven't been, you should definitely come see why we call it our little slice of Heaven. We'd be delighted to show you some cabins if you do, just give us a heads up by calling our office before you drive up the hill. It really is fun to check out!
Hope to see y'all up there soon!
14
I LOVE HELPING SENIORS
After nearly 3 decades serving my clients, there is not anything more satisfying than helping our Seniors. They have a special place in my heart. Perhaps it's because my own Grandparents played a large role in my upbringing, or just perhaps it's their general lack of having a filter; I don't really know the reason but I find it fun and rewarding. I like to think I treat them like my own family and always put their needs first whether it's selling or buying or sometimes both, like I got to do for the Pavlins.
Our office is rather closely located to Sun Lakes and I have helped my mother recently purchase in Solera in Chandler. I believe they are great communities for finding activities and friendships and everyone in general is really nice and looks out for one another. Because I've become so passionate about helping our Active Adults, I recently completed additional education and earned the prestigious designation of SRES.
Why Use an SRES®
Seniors Real Estate Specialists
A Seniors Real Estate Specialist® (SRES®) is uniquely qualified to help you take the next step.
As someone over the age of 50, your needs aren't the same as a first-time homebuyer or seller. You might be looking to retire, downsize, or join an active adult community. Whatever reason you may have for considering a move, you can depend on an SRES® to guide you through every part of the process.
15
WE ARE SO EXCITED TO ANNOUNCE THAT INTEGRITY ALL STARS –BERKSHIRE HATHAWAY IS NOW FULLY CRYPTO CERTIFIED!
What does that mean for our clients? Well, we can now help those looking to use their Cryptocurrency to purchase and sell real estate. We can also help sell your home as an NFT and in doing so help reach even MORE potential buyers. As a Crypto Certified agent, we will help our clients through every step of the process and ensure all transactions go on to the blockchain.
If this is all still confusing to you please check out Rebecca's Grateful Heart Episode 99 with Adam Brown VP of Sales & Broker Relations at Propy on exactly how buying real estate with Cryptocurrency works!
INTRODUCING THE 1 ST FULLY CRYPTO & META CERTIFIED TEAM
UNITED STATES!
IN THE
Also if you are in need of any Title services please check out Propy Title Agency. Contact our Propy Title Rep: Kirsten Heslop Account Executive (815) 721-9383 kirsten@propy.com Rebecca – MetaBroker for Solospace Solospace aims to create a virtual world that merges the physical and ditgial realms, allowing users to explore,
shop
owning virtual real estate
rewards,
technology and real-world simulations. Learn more at solospace.org.
learn,
and collaborate while
and earning
using blockchain
.6164 Assisting you during the process of listing your home. Your agent is providing this service at no charge to you. You will be contacted to discuss the next steps in getting started! Concierge THE Every service you need to prepare your home to sell: Staging consultations to create a "WOW" factor for a buyer Referrals to services such as carpet cleaning, house cleaning, landscape/ pool maintenance, and much more! Selling A Home? Serviced by iSearchDecor Concierge service offered by iSearchDecor, LLC. 480.619.5505 8151 E. Evans Dr. Suite D-3, Scottsdale, AZ 85260 Diane Brennan Berkshire Hathaway HomeServices Rebecca Hidalgo Rains Berkshire Hathaway HomeServices 480.243.4242 Team@IntegrityAllStars.com WHITE GLOVE SERVICE 17
STAGING A HOME
There are two main benefits of home staging: faster selling time and higher sales price of real estate. According to the National Association of REALTORS®, staged homes sell 80% quicker, and for up to 11% more money than non-staged properties.
Home buyers tend to select homes based on curb appeal and first impressions. That is why home staging is so important. A staged home can create an emotional chord with the buyer. A staged home helps buyers envision themselves in the house.... creating the lifestyle they desire and would potentially lead while living in the home.
Staging makes a house appeal to the greatest number of potential buyers, and helps make it feel like a home – one the buyer would love to move into. Buyers remember staged homes better and walk away feeling a greater connection with the home – imagining what it would be like to live there.
In a highly-competitive market, with many homes to choose from, there are certain features that buyers look for. They like to see a very livable home that will impress their friends and relatives.
18
KEY MARKET FACTORS
The First Impressions Are The Most Important
How Long Does It Take To Sell A Home?
There is no easy answer but we know that there are significant factors that will affect your final price and time on market.
We Can Control: ü Price ü Condition of your home ü Terms offered
We Can't Control: ü Location ü Competition ü Market Conditions
Pricing Strategy
PRICING A HOME AT 98%-101% OF VALUE BASED ON PREVIOUS RECORDED SALES IS STATISTICALLY PROVEN TO MAXIMIZE SALE PRICE
Pricing a home in the A-B range limits buyer demand, and is likely to attract the wrong buyers, people who are looking for a nicer home.
Pricing a home in the C range loses about 26% of potential buyers, limiting competition and resulting in slightly lower sale prices.
Pricing a home in the D range attracts about 1% more buyers than the our recommended range, but ultimately results in slightly lower sale prices because many of these buyers can't afford to compete as the price escalates.
Pricing a home in the E-F range often attracts the wrong buyers, either wholesale flippers, or people who are looking for a lower priced home.
There are 4 major factors in selling your home: Price | Marketing | Terms | Effective Transaction Management
Because pricing is one of the most important factors affecting your sale, it is critical to be positioned correctly when you first come on the market.
There are 3 pricing strategies to selling your home: At Market Data | Below Data | Above Data
Timing Your Home Sale Weeks 1 2 3 4 5 6 7 Activity Attracts 94% of qualified buyers for a home Starting Price 108%-110% of sold comps Attracts 12% of qualified buyers Attracts 34% of qualified buyers Attracts 74% of qualified buyers Attracts 95% of qualified buyers Attracts 96% of qualified buyers Attracts 97% of qualified buyers Starting Price 105%-107% of sold comps Starting Price 102%-104% of sold comps Starting Price 98%-101% of sold comps Starting Price 95%-97% of sold comps Starting Price 92%-94% of sold comps Starting Price 89%-91% of sold comps
19
BACKED BY LEGENDARY STRENGTH
Berkshire Hathaway HomeServices Arizona, California and Nevada Properties
2,966+
34+
Agents & Counting
14,268
Total Transactions 2020
Our Company made the Inc. 5000 list of the fastest-growing privately owned companies in America.
Offices in 3 States
$7.05 BILLION
Sales Volume 2020
#3
Consistently rated as one of the most productive companies in the nation
Highest average sales price locally and nationwide 2014, 2013, 2012, Report
Our Company is honored to have more top teams/agents than any other real estate company in the nation.
Our Company is the fastest growing real estate company in NV and AZ and the 3rd fastest growing company in the nation.
Our Company ranked #3 in the Berkshire Hathaway HomeServices Nationwide Network.
Our Company sold more listings at a higher value than any other real estate company in the Valley.
20
THE WORLD IS YOUR AUDIENCE
We Sell Your Home To The World
THE WORLD IS WATCHING YOUR HOME
More than 200,000 homes are purchased by foreign buyers every year.
Berkshire Hathaway HomeServices utilizes an elite network of powerful relationships, along with modern, effective tools to bring together buyers and sellers of distinctive properties from all over the world. Our experienced, service-oriented network professionals combine local expertise with vast global connections, the most advanced technology available and unparalleled marketing resources to deliver their clients best in-class results.
The world's a big place and, for Berkshire Hathaway HomeServices' global listing syndication, we will be where the action is. We frequently evaluate our syndication alliances and geographic targets to place network listings in front of the greatest number of high-net-worth consumers seeking homes in the U.S.
We reach up to 6 million unique users monthly through News Corp.'s Mansion Global WeChat Channel and MansionGlobal. com, and through The Wall Street Journal's international sites, WSJ.com Europe, WSJ.com Asia and WSJ.com.
Listings also appear on both sides of China's Great Firewall through Juwai.com, China's largest international property portal attracting more than 2 million affluent Chinese consumers monthly.
Our global website, BerkshireHathawayHS.com, gives international shoppers a robust search experience of U.S. real estate translatable in 12 languages.
Berkshire Hathaway HomeServices network listings appear before the highly affluent audience following the Financial Times of London: propertylistings.ft.com.
Our global syndication strategy capitalizes consumer preferences and search patterns to keep Berkshire Hathaway HomeServices listings in front of the world's serious and qualified home buyers.
© 2017 BHH Affiliates, LLC. An independently owned and operated franchisee of BHH Affiliates, LLC. Berkshire Hathaway HomeServices and the Berkshire Hathaway HomeServices symbol are registered service marks of HomeServices of America, Inc.® Equal Housing Opportunity. www.bhhsaz.com | www.bhhscaproperties.com | www.bhhsnv.com
When selling your home, we deliver maximum exposure to the right audience.
21
YOUR HOME MAY BE IN ARIZONA YOUR BUYER MAY NOT
Our agents know what speaks to potential buyers — and how to create a custom marketing plan for your property that captures their interest.
This sophisticated multimedia approach features a mix of Internet and print marketing including online home tours, elegant custom websites and impressive full-color marketing pieces. To find your buyers, we can advertise your property in many local, national and international publications. These publications have both print and digital distribution to reach the maximum number of potential buyer.
When working with a Berkshire Hathaway HomeServices Arizona Properties sales professional, your properties will receive special attention in publications like The Collection a Arizona Buyers Guide, Wall Street Journal, NY Times, Robb Report Exceptional Properties and the Prestige Highest average sales price locally and nationwide International magazine.
22
95%
OF HOME BUYERS USE THE INTERNET WHEN SEARCHING FOR A HOME.
INCREASED EXPOSURE FOR YOUR LISTING
BERKSHIRE HATHAWAY HOMESERVICES ARIZONA PROPERTIES SYNDICATES TO OVER 1,000+ WEBSITES
24
EVERYONE STARTS THEIR SEARCH ONLINE
• Zillow reaches more than 110 MILLION users. That's a Year Over Year growth of 66% and ranks #1 in the U.S. for buyer searches!
• Comprehensive marketing solution across Zillow Network – Zillow.com, Zillow Mobile, Yahoo Homes, Hotpads.com, Frontdoor.com and Google Now.
• Capitalize on the country's largest mobile real estate platform: 60% of visits come from a mobile device. On weekends, it's nearly 70%.
Source: Zillow Internal, 2014.
Enhanced Listings On:
Trulia is a major part of a successful agent's online marketing strategy. Why? More than 24 million* unique home buyers, sellers and renters come to Trulia each month to get the inside scoop on real estate. Trulia's intuitive, top-rated mobile apps drive 31% of Trulia's weekend traffic from home buyers searching for properties on their mobile devices.
Trulia has a unique, unduplicated audience that can't be found anywhere else.
• 68% are not on other real estate sites
• 62% are buyers who will buy a home in the next six months**
• 41% are 1st time homebuyers
• 42% are pre-qualified for a mortgage
*Omniture, June 2014
**ComScore Plan Metrix Key Measures
25
It is important to use eye-catching, professionally designed and printed property flyers, direct mail postcards and emails. These are often the first contact a buyer has with your property and can be one of our most effective tools in communicating the distinctive qualities of your property. It is important that these materials leave buyers with the best impression possible of your property.
Local newspapers and weekly or monthly publications are a major source of buyer leads. It is extremely important to be listed in these publications. Your home will be featured in the exclusive Berkshire Hathaway HomeServices' section of the local community newspapers.
480.243.4242 | www.IntegrityAllStars.com Have you heard the market has HEATED UP in Chandler and Gilbert this year? Jakes Ranch-Gilbert • 697 E. Boston St. • $650,000 100% of List Price! Kerby Estates-Chandler • 772 E. Powell Way • $425,000 100% of List Price with Multiple Offers! Reid's Ranch-Chandler • 3133 E. San Carlos Pl. • $385,000 100% of List Price! SOLD in 5 DAYS! SOLD in 7 Days! Spectrum-Gilbert • 1301 E. Ibis St. • $378,000 101% of List Price with Multiple Offers! SOLD in 10 Days! SOLD in 2 Days! RANKED: #2 in AZ #25 in US James Rains REALTOR James@IntegrityAllStars.com Rebecca Hidalgo Rains Managing Broker Chandler/Ocotillo Branch Rebecca@IntegrityAllStars.com 4921 S. Alma School Road • Chandler AZ 85248 480.243.4242 | www.IntegrityAllStars.com New Listing in Montclair Heights Stetson Valley Parcels 26316 North 57th Drive Phoenix, AZ 85083 are estimated. Information not independently verified Broker. your home currently listed with licensed broker, this card HomeServices America, Inc. FEATURES: 4 Bedrooms 3 Baths / 2,899 sq. ft. • 3-Car Garage • Private Pool & Heated Spa • Fireplace • Cul-de-sac Lot, Corner Lot, Mountain Views, North/South Exposure • Covered Patio Gas Range/Oven & Cook Top, Walk-in Pantry, Grandit Countertops, Kitchen Island • Full Master Bathroom with Separate Shower & Tub, Double Sinks, Private Toilet Room • Split Master Bedroom, Separate Exit, Walk-in Closet • Separate Den/Office with French Doors www.IntegrityAllStars.com Office: 480.243.4242 | Northern AZ: 928.275.2181 | Team@IntegrityAllStars.com | www.IntegrityAllStars.com Ashley Kincaid Licensed Director of Administration 480.688.9198 Ashley@IntegrityAllStars.com Ayriel Von Schert Licensed Director of Operations 520.409.1593 Ayriel@IntegrityAllStars.com Rebecca Hidalgo Rains CEO/Managing Broker 602.463.2978 Rebecca@IntegrityAllStars.com James Rains COO/Chief Operating Officer 602.463.2151 James@IntegrityAllStars.com Open HousePLEASE JOIN US Saturday, November 21, 2015 1 – 5 pm 13446 North 16th Place Phoenix, AZ 85022 Bring your friends and come take a sneak peek at the newest listing in Montclair Heights. 4921SAlmaSchool | Chandler,AZ85248 TheSignofQuality,KnowledgeandExperience in Real Estate. W. HeightsChandler Rd. S A maSh d James and Rebecca Hidalgo Rains Office: 480.726.1616 www.IntegrityAllStars.com ArizonaProperties JAKES RANCH is a gated neighborhood with TENNIS COURTS and is wildly popular with people with distinguished taste. It does explain why so few homes go on the market in here andwhentheydo,theycertainlydonotlastlongonthemarketatall. Home Just Hitting the Market! May 16th from 10am-3pm This Semi Custom TW Lewis 4300+ sqft BASEMENThomeon$65kpremiumhomesitewill just simply take your breath away. Talk about PRIDE of ownership! These original owners had 1st pick of lots when they built this home, and they picked an incredible one! To say the backyard is a paradise is an understatement! When you're in the backyard of this ½ acre home (50% larger than the average lot in Jake's Ranch), it feels like its own private city park with mature landscaping and its own secret garden … not to mention HUGE additional covered patio and free form pool with waterfall, spa and built n BBQ just to mention a few of its exterior features. withDuringtheholidays,thistrulyisa"neighborhood" everyone decorating for Christmas and the camaraderie is so unique and hard to find these days in Arizona, so if you're looking for a new place to call home, come by for the sneak peek before you miss this opportunity entirely! 697 E. Boston Street Gilbert, AZ 85295 4921 S Alma School | Chandler, AZ 85248 e Sign of Quality, Knowledge and Experience in Real Estate. Heights Rd. A maSh Rd James and Rebecca Hidalgo Rains Office: 480.243.4242 www.IntegrityAllStars.com 4921 S. Alma School Road, Chandler, AZ 85248 Arizona Properties $349,900 • 2668 E Ficus Way • Gilbert, AZ 85298 of grass & trees w/very large covered patio fountain. Wrought iron rail staircase leads huge loft. There's both formal living and family areas w/bd full ba downstairs. The Master Suite closet is enormous. The kitchen has all the right features including granite/ SS appliances. Beautiful Shutters thru-out too! $475,000 • 3528 E Kaibab Place • Chandler, AZ 85249 throughout kitchen. 48'' Custom built-in GE monogram refrigerator with coordinating GE appliances. Built-in garage storage cabinets, w/epoxy flooring & access door, 75 gallon water heater Exterior Sunscreens Large laundry w/built-in sink. Ample space in pantry w/pull-outs. Built-in entertainment center surround sound in family room, outdoor patio with dual zones. Spacious master bedroom w/Arcadia door and huge windows. $465,900 • 3594 E Tonto Place • Chandler, AZ 85249 construction is just now starting and will be completed by this fall! Location is key for this one of kind Southwest beauty! It's also directly across the street is the acclaimed Desert Oasis park that helped win the City Chandler their prestigious 2010 award for Top Ten All American City. $275,000 • 828 S Reber Avenue • Gilbert, AZ 85296 downstairs and could be used as 5th bedroom, 3 bath plus HUGE LOFT. Located at the entrance of Cooley Station has access to all 3 community pools, spas and playgrounds and Cooley Middle school is in walking distance. The home includes many upgrades: stone exterior, 12 foot wide glass sliding doors granite countertops. Conveniently located within this great neighborhood. BRAND NEW TILE FLOORS JUST REDUCED GREAT LOCATION $280,000 • 2045 N 63rd Place • Mesa, AZ 85215 Room located the master bathroom. Fireplace in family room. Covered patio, RV gate and plenty room for an RV or other toys. No HOA! Well established Mesa neighborhood close to great schools. $465,000 • 2851 E Azalea Drive • Chandler, AZ 85286 and tub. Private gated front courtyard. Big private backyard with pool and grass. Tons of storage. UPGRADES GALORE RV PARKING NEW LISTING MANY MORE HOMES FOR SALE Visit our website at www.IntegrityAllStars.com and shop for homes on our MLS, just like the pros! James Rains Rebecca Hidalgo Rains 4921 S. Alma School Road Chandler, AZ 85248 RANKED: #2 in AZ #25 in US Have you been thinking about selling your home in Chandler or Gilbert? With our combined 28 years of Real Estate experience, let Rebecca & James' proven marketing techniques go to work for you! Call us today for a FREE obligation consultation at 480.243.4242 — FIND out what your home will really sell for in today's market! James Rains REALTOR James@IntegrityAllStars.com Rebecca Hidalgo Rains Managing Broker Chandler/Ocotillo Branch Rebecca@IntegrityAllStars.com 480.243.4242 www.IntegrityAllStars.com solicitation that listing. ©2014 BHH Affiliates, LLC. An independently owned and operated franchisee of BHH Affiliates, LLC. Berkshire Welcome to the Neighborhood! 5 when you spend $25 4920 Gilbert Rd., Suite Expires 10/31/15 $ OFF They just opened this September in the South Chandler/Gilbert area! Basement Home in Jakes Ranch 697 E Boston Street • Chandler, AZ 85295 | MLS #5279345 | $649, JAKES RANCH is a gated neighborhood with TENNIS COURTS and is wildly popular with people with distinguished taste which explains why so few homes go on the market in here and when they do, they certainly do not last long at all. This Semi Custom TW Lewis 4300+ sqft BASEMENT home on $65k premium homesite will just simply take your breath away. Talk about PRIDE of ownership! These original owners had 1st pick of lots when they built this home, and they picked an incredible one! To say the backyard is a paradise is an understatement! When you're in the backyard of this ½ acre home, 50% larger than the average lot in Jakes Ranch, it feels like it's own private city park with mature landscaping and it's own secret garden. Thisinformation,includingpropertyprice, deemedreliablebut guaranteed.Squarefootage,lotsizeand stateddimensions estimated.InformationnotindependentlyverifiedbyBroker. home currentlylistedwith licensedbroker,this isnotintendedas solicitation that listing.©2022BHHAffiliates,LLC.Anindependentlyownedandoperatedfranchisee BHHAffiliates,LLC.BerkshireHathawayHomeServicesandtheBerkshireHathawayHomeServicessymbolareregisteredservicemarks HomeServices America, Ashley Kincaid Licensed Director of Administration 480.688.9198 Ashley@IntegrityAllStars.com Ayriel Von Schert Licensed Director of Operations 520.409.1593 Ayriel@IntegrityAllStars.com Rebecca Hidalgo Rains CEO/Managing Broker 602.463.2978 Rebecca@IntegrityAllStars.com James Rains COO/Chief Operating Officer 602.463.2151 James@IntegrityAllStars.com Office: 480.243.4242 | Northern AZ: 928.275.2181 | Team@IntegrityAllStars.com | www.IntegrityAllStars.com PRINT MEDIA, PROFESSIONAL POSTCARDS, BROCHURES, & EMAIL MARKETING Local Print Advertising 26
PHOTOGRAPHY & VIDEO THAT IGNITES THE IMAGINATION
Our Company understands what motivates buyers. We work as a team with you to better understand the special attributes of your property that will most appeal to buyers in particular lifestyle demographics. A stunning visual presentation is a key element of persuasive online and print marketing no matter what price range your property falls into. A professional presentation is key.
27
CREATING BUZZ AROUND YOUR HOME
We Put Social Media To Work For You
Social media has changed the way real estate is sold today. Your broker will use exceptional networking skills to get the word out and create a buzz around your property.
While websites and advertising are undeniably essential in marketing luxury real estate, today a broker must demonstrate exceptional networking skills using brokerto-broker marketing, which includes a strong social media component.
• We will post your newly listed property to our extensive real estate network ensuring maximum exposure.
• Pictures are worth a thousand words. We will promote any virtual tours and photos of your property on our social network.
• We will leverage our social network to let potential buyers and other agents know about open houses and property information changes.
28
LOCAL, NATIONAL & INTERNATIONAL NETWORK LOCAL, NATIONAL & INTERNATIONAL
Real Estate Without Boundaries
Real Estate Without Boundaries
• OVER 50,000 SALES EXECUTIVES
• OVER 1,500 OFFICES IN 47 STATES
• $120 BILLION IN SALES VOLUME
• 340,000 CLOSED UNITS
29
A PEDIGREE LIKE NO OTHER
Introducing Berkshire Hathaway HomeServices
By utilizing the strength and valuable resources of one of the world's most respected brands, we bring operational excellence and innovation as a compelling value for our customers. With a clear vision as one of the most highly valued real estate companies in the market, our powerful network of brands exemplify the reputation of Berkshire Hathaway — among Fortune's 2018 most admired companies.
A member of the over 300 billion-dollar Berkshire Hathaway Family, one of the most stable companies in the world employing over 377,000 people globally among its family of companies. Berkshire Hathaway HomeServices operates in nine countries; the U.S. under Berkshire Hathaway HomeServices, Prudential Real Estate and Real Living; Canada under the leading Real Estate Companies, Royal LePage and the luxury Via Capitale, as well as Brazil, U.K., France, Singapore, China and India. It is the only company with such reach, reputation and resources in the Real Estate Industry.
"BERKSHIRE HATHAWAY IS BUILT TO BE FOREVER, IT'S TRUE OF ALL THE BUSINESSES WE OWN."
— WARREN BUFFETT, CHAIRMAN AND CEO OF BERKSHIRE HATHAWAY
30
"People rarely succeed unless they have fun in what they are doing." ~ Dale Carnegie Not intended to solicit properties already listed for sale nor intended to cause a breach of an existing agency relationship. ©2023 BHH Affiliates, LLC. An independently operated subsidiary of HomeServices of America, Inc., a Berkshire Hathaway affiliate, and a franchisee of BHH Affiliates, LLC. Berkshire Hathaway HomeServices and the Berkshire Hathaway HomeServices symbol are registered service marks of Columbia Insurance Company, a Berkshire Hathaway affiliate. Information not verified or guaranteed. Office: 480.243.4242 | Northern AZ: 928.271.8514 Team@IntegrityAllStars.com | www.IntegrityAllStars.com 4960 S. Gilbert Rd., #1-613 • Chandler, AZ 85249