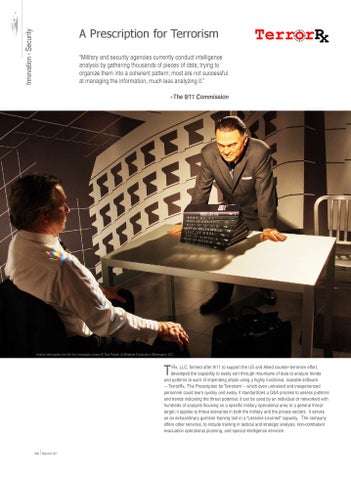 Innovation - Security
A Prescription for Terrorism "Military and security agencies currently conduct intelligence analysis by gathering thousands of pieces of data, trying to organize them into a coherent pattern; most are not successful at managing the information, much less analyzing it."
- The 9/11 Commission
Hostile Interrogation by the Top Investigator (photo © Tony Powell, at Madame Tussauds in Washington, DC)
T
-Rx, LLC, formed after 9/11 to support the US and Allied counter-terrorism effort, developed the capability to easily sort through mountains of data to analyze trends and patterns to warn of impending attack using a highly functional, scalable software –- TerrorRx, 'The Prescription for Terrorism' – which even untrained and inexperienced personnel could learn quickly and easily. It standardizes a Q&A process to assess patterns and trends indicating the threat potential; it can be used by an individual or networked with hundreds of analysts focusing on a specific military operational area or a general threat target; it applies to threat scenarios in both the military and the private sectors. It serves as an extraordinary garrison training tool in a "Lessons-Learned" capacity. The company offers other services, to include training in tactical and strategic analysis, non-combatant evacuation operational planning, and special intelligence services.
168
Best of DC
BEST OF DC: Defining Change in American Leadership  
BEST OF DC: Defining Change in American Leadership  
Welcome to the BEST OF DC: 'Defining Change' in American Leadership. This Inaugural Edition is the very first interactive publication of its...