15 minute read
What David Gandy Did Next
b500 get an exclusive first look at his Porsche 356 Restomod
Let's start at the beginning to explain how I've ended up with David Gandy on the cover of issue 6 of b500. 
I was introduced to David by Damon Jones @damon_jones and we subsequently had a chat on the phone about his latest classic - this rather beautiful Porsche 356 Restomod. David then very kindly suggested b500 could see it first and from that moment on the final issue of 2020 was conceived. After a couple of false starts (due to lockdown restrictions), we met at Whatley Manor Hotel in Wiltshire and spent much of a whole day moving the car from place to place in the grounds of the hotel to follow the fading December light, and for me to grab as many shots as I could of both David and his dark blue Porsche.
During our day together we found time to have lunch in Whatley's Brasserie (first turkey lunch of the season), and chatted about cars, photography, travel and of course lockdown! David then had a couple of hours drive back to London but by midnight the same day I had edited the images, sent him a stack, (which together we selected the accompanying images). A true pro and a pleasure to work with.
Del: So David, not only am I getting the very first look of the car in its newly restored and modified form, but you've just announced when it came off the transporter, this is also the first time you've seen it finished!
David: Indeed. This project has been a labour of love for the last three years. I have worked closely with Parry Chana at Lux Classics (who also restored my first classic the Mercedes 190SL) from concept to finding a donor car and then the full process of a bespoke restoration. This year with Covid-19 to work around it put a little spanner in the works so to speak, where I couldn't visit the work shop, so Parry and I have worked on much of the final details through digital communications such as WhatsApp and Zoom. So yes this is the first time I have seen the finished article in person and I am extremely proud of the results. However I have already spotted a few areas that need some tweaks, so we are not quite finished yet, but that is always the way with car restoration.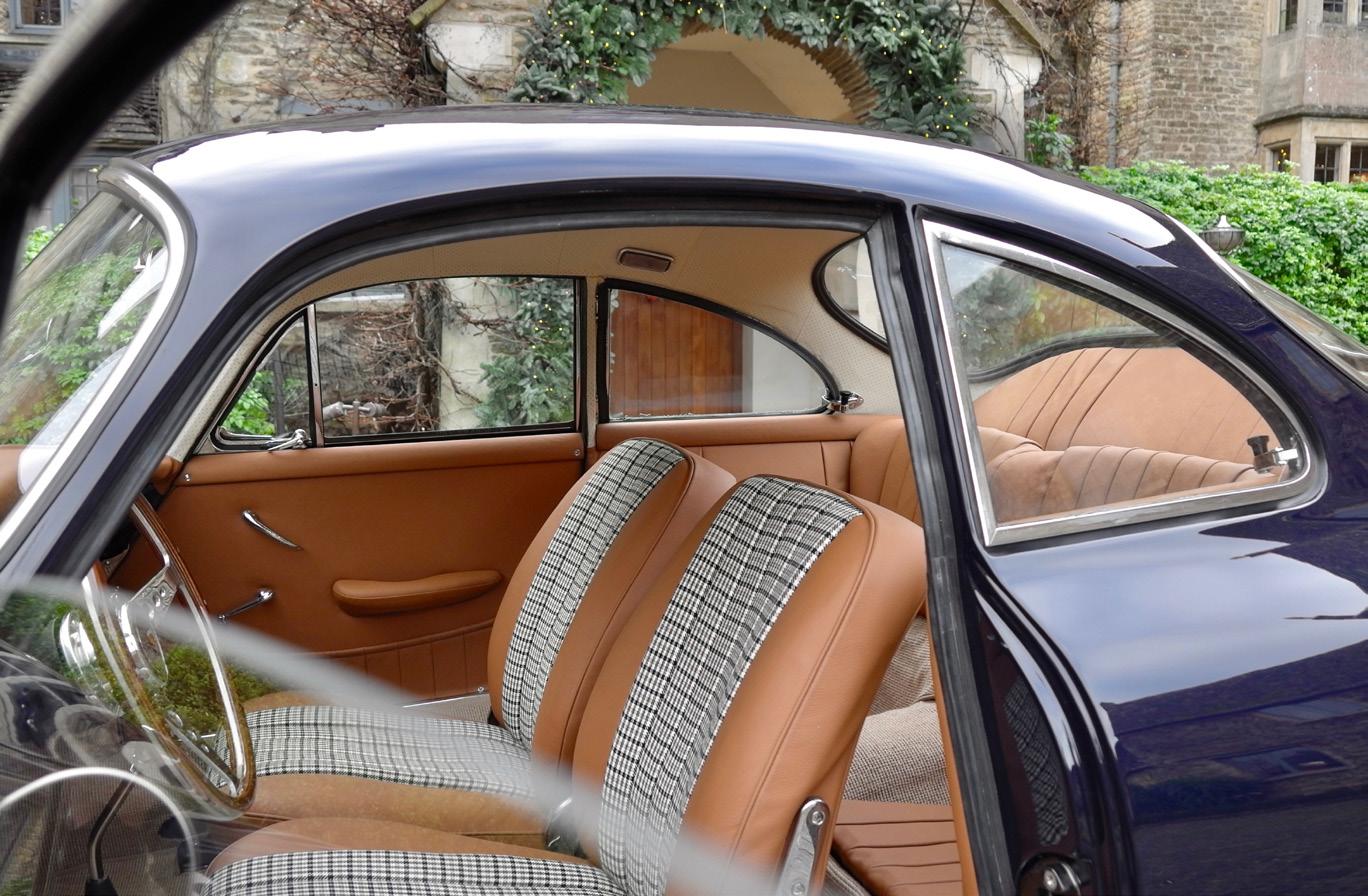 Del: So much has been written about your Jaguar XK120, so it's great that we can talk about your latest project as something quite literally new out-the-box and very different. So how did this come about and why a 356?
David: The XK120 was a very different project. For that car I worked with JLR Classics, who have huge facilities and resources and thus the restoration only took 10 months. The restoration process of the XK120 was also made much more public so that people could follow the build closely. Even I was surprised at the engagement and reaction, reaching over 10 million people. But this is one of the reasons I restore classic cars and not just invest in them. I want other people to enjoy them, I want to restore them so they are on the road for at least another 50 years.
The 356 was much more bespoke and involved, taking less design inspiration from the heritage of the vehicle and incorporating more of my own design and vision. Porsches have always had a heritage of racing, replacing engines and adapting to make them faster and improve balance and handling, I felt I had much more free rein restoring the Porsche than I did with either the Mercedes or Jaguar that are much more historically correct.
Del: So now that you've see your new 356 off the transporter, and you obviously know the car so well, what are your first thoughts?
David: I may allow myself a pat on the back for this one. Lux classics have done an incredible job of bringing my vision to life. Looking at the car now, the car sits beautifully on the larger, wider wheels and the ride height is perfect. I'm fortunate enough to have had some great advice along the way from Ian Callum, one the greatest car designers
ever and Damon Jones, who was in charge of production at Singer. I would often send them pictures and ask for advice on various areas of the car. Ian advised me to lower it by 1cm at the front, which sounds so silly but he has proved to be correct.
I am thrilled at the results, the colours work beautifully, the single knock off painted wheels work incredibly well. The bumpers were also a complete bespoke design, I think they have improved the looks of the later 356 design with them being shorter, narrower and much closer to the body. There are of course still a few things to improve upon, but overall I think it's beautiful.
Del: What plans do you have with this car for what we are all hoping will be a 'different' kind of year in 2021?
David: As mentioned I restore these cars for other people to see and enjoy. There have already been requests for it to appear at a few classic car shows and events for 2021, like my XK120 did in 2020. However I am also finally building a house and more importantly a garage where I can finally bring all my cars together, to enjoy and drive them much more than I do now. I am a big believer that classic cars should be driven, not just put on display or kept in a private collection.
Del: You continue to have a successful career in modelling, did your passion for cars develop alongside your career, or have you always had the car passion?
David: My passion for cars started way before my passion for clothing and fashion, I always say that 'fashion pays for my passion'. For as long as I can remember I adored cars, as a child I could tell you the make, model, bhp and 0-60 time of every car on the street and that hasn't really changed. I worked for AutoExpress magazine during my year between school and University and always say I should have stayed on and not bothered with University. However I have still been able to follow my love of writing about cars for GQ, Vanity Fair, Mayfair Times etc. I gained my racing licence a few years back and have competed in a few races and two Mille Miglias with Jaguar in their XK120s.
Del: Aside from your modelling contracts, I know you're also a successful business person so can you tell us what else you're up to in business right now?
David: I've been building my brand, companies etc for 20 years but things really accelerated from 2006. I have invested in many British startups and I'm on the board and an advisor for many others. I've stepped away from being in front of the camera so much now and work with brands on collaborations, or as creative director and also directing films for the RAF and Breitling. There are many exciting projects in 2021, all have come about from having more time in 2020 due to lock down, to put teams and ideas together and really think what I want to be doing in the future and building towards this, unfortunately I cant talk about any of these at the moment. However if I could I would quit the fashion business and go into building and renovating cars full time.
Del: I suppose it wouldn't be right if we didn't mention 2020 and the travel restrictions, so has most of your overseas work been cancelled or has some of it been able to be put on ice until we can all travel again?
David: Travelling for projects has been put on hold which is strange for me as over the last 20 years I have been on and off planes and living out of a suitcase. I miss travelling. Many people hate it, but I love exploring and I never spend much time in one place. Routine and the monotony of being in one place affects me quite badly. However I have an ever increasing number of investments, businesses, projects and interests and 2020 has allowed me to expand on these, and from this some great opportunities have arisen. I've also had more time to spend with my 2 year old daughter, who also turns out to be a natural petrol head and already embarrassingly has a 3 electric
car garage.
Del: My last overseas shoot was to LA to photograph Magnus Walker for the first b500. Are you a fan of LA yourself?
David: I love the California weather, I love the fact you can swim and 3 hours later be skiing. I love the P1 highway. Unfortunately I've never taken to LA and its a place I have spent a lot of time in. I'm not sure exactly what it is, but I just don't connect with the city, it always confuses me that there doesn't actually seem to be a center just lots of different areas that you sit hours in traffic trying to get too. I much prefer NYC and have always said it is one of my favourite cities in the world.
Del: So back to cars, clearly you're a petrol head, so I have to ask, what's your thoughts on electric? Is there one out there at the moment you would go for…or have you one already?
David: I think the car brands have done an incredible job to bring electric cars to mass market so quickly. Lets face it, it doesn't matter what we think of them, the government have banned the sales of petrol and diesel by 2030 so whether we like it or not electric cars are the future. I have ordered two hybrid engined cars myself this year and admit that around London I enjoy the serenity of driving in full electric mode, not having to worry about filling up with petrol and just plugging the car in for a few hours a night to charge.
I think the most desirable electric car right now has to be the Porsche Taycan Turbo S. The cleverest design I believe to be the Jaguar I-pace. Many of the manufacturers have stuck to pretty standard saloons and SUV style electric cars. The I-Pace is a great demonstration of what can be achieved with design and space when you don't have to incorporate an engine into the design.
Electric also suits 90% of the cars and the drivers on the road. Brands and cars such as Rolls-Royce or the Mercedes S class have for decades tried to make the quietest car, so an electric engine is perfect. Electric cars have also proved themselves
to be astonishingly quick, as quick as many supercars. However when it comes to sports cars the engine, the exhaust note, the response from a V6, V8 or V10 is the essence of the driving experience and the beating heart of the car. I for one will sorely miss having these engines and I believe most people who are truly passionate about cars and racing will feel the same. Where I think there might be a problem is the infrastructure to be able to charge electric cars and having driven a few examples this is the biggest challenge. I look at the 60 cars on my road and think, if they were all electric how do we charge them without a driveway, the recharging process taking many hours in some cases rather than minutes to fill up with fuel. However I think we have to understand that unlike fossil fuel cars, we do not have to go to specialist stations where the fuel is stored. Electricity is available everywhere, car parks, super markets, driveways etc, but the government has to start making drastic changes to the charging network now in order for everyone to see electric cars as a viable alternative and not have to worry about the range. As it stands the infrastructure is abysmal. Maybe the answer would be that all in the government have to drive or be driven in electric cars and when they see the difficulties we may see a rather drastic change. We are also in our infancy of electric car production. We have to firstly remember that electric cars are only cleaner and reduce CO2 if the electric is coming from a renewable source, otherwise you are just burning fossil fuels to create electricity. I also hope we haven't put all our eggs in one basket, so to say. A recent study I was reading says an electric car has to be driven 50,000 miles before it becomes cleaner than a fossil fuel car because of the production process. There are also alternatives to fuel such as hydrogen, which although extremely inefficient to produce, requires the same infrastructure of service stations that we already have. Porsche are also spending hundreds of millions in creating carbon neutral synthetic fuels, which are extremely expensive but with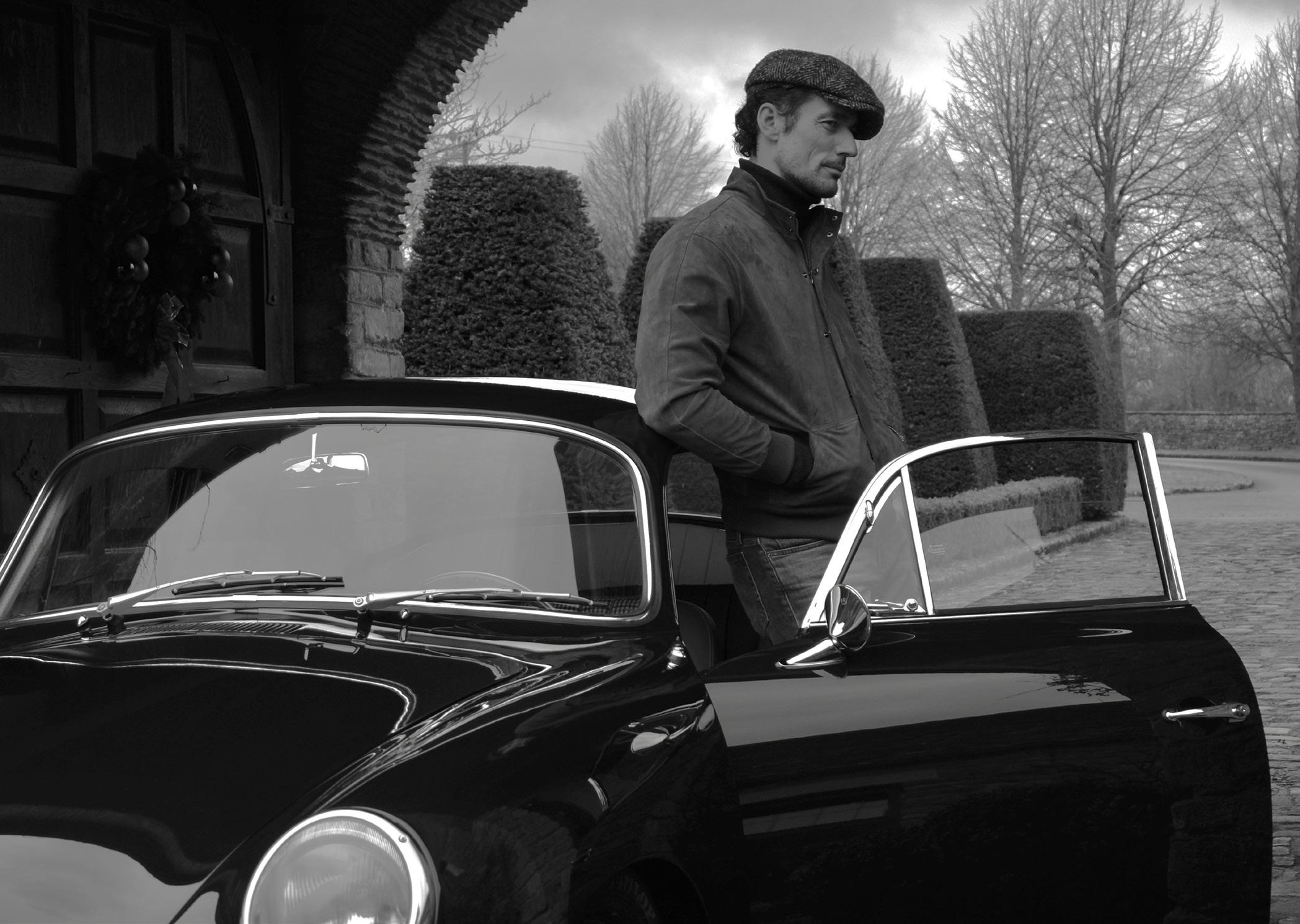 mass production will come down in price. So I hope that more development and billions are spent looking at all alternatives not just relying on electric cars. I therefore feel that with those alternatives, whether you are passionate about cars or not, whether you drive sports cars, classic cars, or you race cars, everyone will be satisfied, because of course the main goal here for everyone is to reduce the CO2 and reliance on Fossil Fuels.
Del: Are you just into classics or is there a supercar you might like to add to your collection?
David: I don't believe there will ever be a supercar in the collection. I appreciate supercars, however they have become so fast and so capable that I think unless you were on a track you wouldn't be able to use anywhere near the capability of the modern day supercars. Supercars seem to be bought as a statement piece more than anything else. Once upon a time you would buy a supercar because they would have a sub 4 second 0-60 time and you couldn't get that performance anywhere else. However the F-Pace SVR that I drive daily is 0-60 in 4 secs and is a big heavy SUV. A Mercedes A45 or Audi RS6 are both sub 4 second cars, so you can now access supercar performance in much more practical everyday cars.
Cars such as the Cayman GT4 or Alpine A110 or even something like the new Toyota Yaris GR are much more appealing to me.
Del: You drove the famous Mille Miglia back in 2013 with Yasmin Le Bon, tell us a bit about that.
David: The MM is an incredible event and one I have been fortunate enough to compete in twice. I was supposed to compete in the MM this year in my own car for the first time, unfortunately like so many other things it was cancelled due to Covid-19. The MM is of course 4 days and 1000 miles of at times complete madness. With 350 pre 1957 cars racing on some closed public roads but also some open public roads. It truly is a spectacular race and one that could only take place in Italy. The Italians are so passionate about cars and motoring and really it is the spectators and fans that make the event so special. Both races were incredibly gruelling, sometimes being in the car for up to 15 hours a day, but I adored every minute of the MM and have the most incredible memories. Both times I competed in Jaguars own XK120's, the first time with Yasmin, driving in a precise, calm and calculated manner when it came to the time trials of the race. The second time with Jodie (Kidd), who is an incredible driver, was more hell to leather style. The focus was speed and frankly more speed and I have to say so much fun.
Del: Given a 'money no object' budget tell us your three car garage and why…
David: Virtually an impossible question. All I can say is that I love the three classics that I have. I will never tire of them as I think they are some of the most beautiful cars that have ever been built. However, having said that I did sell the Mercedes 190SL just before lock down, so if I had to replace this it would be either a Jaguar XKSS or a Ferrari 250 GTO SWB. However I am going to need to sell a lot of clothes to afford one of these.
With thanks: Firstly my thanks to Damon Jones for the initial introduction to David.
Thanks to Whatley Manor, particularly Eloise Gordon for allowing access to the grounds for the shoot.
Thanks to Parry Chana at luxclassics.com for preparing the car for the shoot and to Stuart Creasey at stuartcreasey.com for transportation and his assistance with the photoshoot.
Finally my thanks to David for his availability and for giving the first look of his Porsche to b500 magazine, for which I'm grateful and consider it a real honour for us to see the car first.