from Shake It 3.0
by Ashokaditya
Few of us had spent time together on a bike before, some had never even met before. And until that morning one of us had never even ridden more than 60km.
(because it had worked on our 2012 excursions) proved to be wise: follow the route, no matter what! That might not sound too adventurous, but considering our route was devised on Google maps by connecting scenically promising stages and exciting cities while roughly avoiding big highways, believe me: it is.
A fully lit up football field in the middle of nowhere was the stage for our sudden and unexpected reunion. The group that had ridden ahead had been forced to a standstill by punctures. Without a pump between them, they had enjoyed a long walk to the football field. Just a few kilometers later we were given the chance to celebrate that unexpected reunion – a crazy Serb waved a bottle of Jack Daniels out of a little café on the darkened village road and shouted: "Come on! Drink with us!" – and sure we took that chance.
Barely fifteen minutes and half a dozen 'one more, why nots' later, some of us were doing joyrides in the crazy Serb's car. We were wasted. Breaking loose was hard and some Serbs followed us, long after we'd left the village behind, doing wheelies on theirsuperbikes.
50 kilometers later and a little closer to sober again we entered Belgrade, followed the biggest neon 'hotel' sign we could see and before anyone could even express his feelings on the idea, we found ourselves in fully Bang & Olufsen-equipped luxury apartments with rainforest showers, eating falafel on our expansive balconies.
The kind hotel owner loved the story of our journey to Belgrade and gave us some really special rates. The next day came as they always do, and we had to leave amazing Serbia and the crazy Serbs.
We met the first Bulgarian hills, leading to some intense tunnel rides - the local lorry drivers have their very own definition of safety-clearance.
Escaping onto a parallel cobbled road led us directly into a Roma ghost village with a big factory ruin.
Spotting an American flag on its roof, we approached curiously, coming to a sudden stop when we met a Spanish-speaking military guy who advised us to turn around NOW and immediately leave the area. Welcome to no-mans-land.
For the first time during our trip we could feel vibes of depression in the villages we passed. Everything was rather shuttered, compared to Serbia or Hungary. It was hard to believe that Bulgaria is a member of the European Union. The monstrous apartment blocks of Sofia, with junkyards in between functioning as playgrounds underlined this impression.
After Sofia, the mountains got higher. We crossed four, more than 3,000 meters high, over a distance of 230 kilometers.
A Spanish-speaking military guy advised us to turn around NOW and immediately leave the area. Welcome to no-mans-land.
We circumnavigated a huge, upland reservoir with clear, turquoise water, fantastic views after every bend. The riding was so demanding, so satisfying. Cold, wayside mountain spring water every few miles helped to cool our heads.
Our daily energy supply was always at hand. There were fresh figs, plums and grapes growing wild along the road. But promising alternatives serving local specialties were always welcome - the most memorable being the 'Cantina', little more than a roadside shack. Hungry and thirsty as always, we were served a simple meal of spicy, grilled meat with roasted tomatoes and onions, prepared by a wonderful old man who told us that we had just eaten all his supplies for an entire day, as he never stored ingredients for more than 15 meals because otherwise the shed would get robbed by night!
And this was just one example out of so many stories on our tour that showed the boundless hospitality, kindness and joie de vivre of the inhabitants of the Balkans. It is hard to describe what you feel when you are utterly thirsty, and you discover a little shed in the middle of nowhere where an old farmer selling watermelons for 80 cents a piece rejects your money, smiles and nods.
In the slipstream of a herd of sheep, we passed the Greek border.
Overwhelmed by the beauty of that moment, by and by some of us fell asleep right there on the warm tarmac.
There are only two checkpoints between Greece and Turkey and with loads of kilometers still to go to the border, we were already passing watchtowers and parked armadas of old tanks, being maintained for eventual use. The atmosphere was tense.
One of us had lost his passport in Sofia. At the Greek border, thanks to some tourists being able to speak some German, the border officials turned a blind eye to the scrap of paper our guy had gotten at the German embassy in Sofia. We were lucky that time. But when approaching the Turkish border, flanked by dozens of national flags, the armed troops immediately put our debating about the right tactics for our passport-less guy to bed. We had entered the zone in between the countries. After some irrelevant back and forth with a supervisor guy, our man was escorted into the police station. The police officers took their own sweet time to decide his destiny, but this time, we were fucked. He had to take the bus back to the German embassy in Thessaloniki to get proper travel documents. Darkness was already falling and riding circles in front of the police station couldn't protect us any more from armadas of Balkan mosquitoes so we decided to move on.
Downhearted by the border experience, it was a calm and hard ride, accompanied by muezzins singing throughout the night, even in the remotest and darkest areas we crossed. I won't forget the feeling of that night ride.
Fresh tarmac had been kind of an exceptional thing for quite some time so a long descent on super fresh tarmac raised the mood of the whole team by 100%. We felt that we must be very close to the coast: could we really taste salty air? Then, after another demanding gravel climb through dark fields, fleeing some wild dogs in a village, the sun emerged out of the ocean right in front of us. We came to a stop to relish the moment. Overwhelmed by the beauty of that moment, by and by some of us fell asleep right there on the warm tarmac. The rest watched the spectacle from the comfort of a roadside ditch, and let their minds wander to the horizon, to Istanbul.
Spending the night in the Turkish 'tourist paradise' of Sarköy felt strange. Prices for a hotel room varied according to the number of visible tattoos of the person asking, and for the first time on our tour we didn't feel welcome. The bizarre presence of huge national flags on every square and on exterior walls added to this uneasy feeling. We realised that we had entered a very different culture.
Meeting at 4 o'clock in the morning to hit the road to Istanbul, no one shed a tear for Sarköy.
Harsh and salty head- and side-winds bid us welcome on the curvy coastal road.
But another spectacular sunrise revealed a lunar-scape with serpentine roads leading us into a vast coastal mountain-chain, climb by climb.
No less intense was the scary downhill ride into a small fishing village that followed – so steep that we even got faster while skidding! I still wonder how our tires survived. After ensuring that all legs were still in place we devoured everything a flying Börek-seller had, and drank some of his self-made brandy to calm our nerves after that breakneck descent.
We entered civilization again in the form of a two-lane highway filled with potholes too deep for any road bike tyre and without any kind of road markings. Together with the fucking headwind making everyone stand still if they took power off the pedals for three seconds, it was a complete nightmare; we were on our last legs. Too exhausted even to be angry about the 40-tonners rushing past us with inches to spare, we stopped at nearly every gas station to flee the crazy traffic, like they were some kind of sacred haven of recovery. Reaching Istanbul seemed impossible.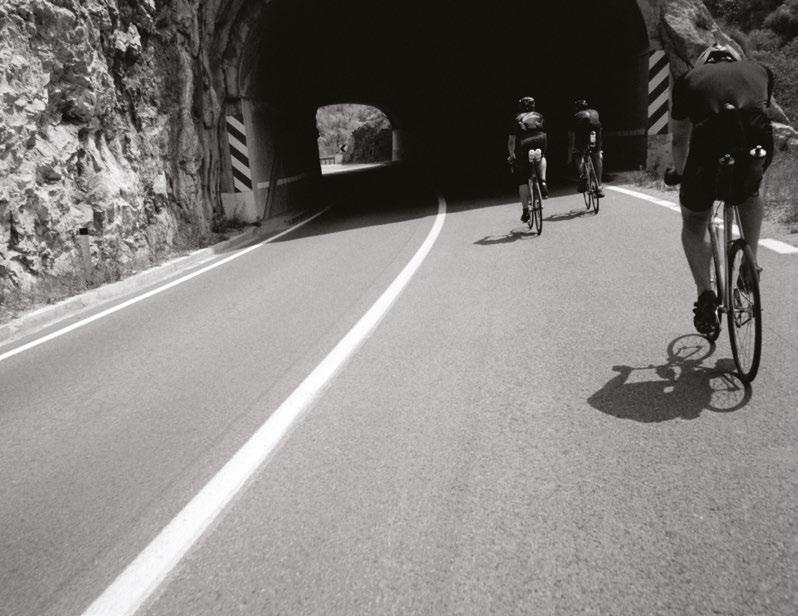 We had no choice but to get ourselves into this party. We were well received by the celebrating crowd and served fruit juices before we could say 'hello' and dance our way through!
With another 30 kilometers to go, despite several people we asked claiming that we were already in Istanbul, we decided to take the short cut and return to the highway – which meant taking a night-ride on a four lane inner-city highway. Filled to the brim with adrenaline and with all the motorists staring, weaving or honking at us - even the police just looked on and smiled - we flew directly into the heart of the city and only stopped when we reached Taksim Square.
We had set out as near strangers, but we arrived as soul mates. I can't wait to reunite with the boys and hit the road again. With those guys, you never know what might happen in the next ten seconds. What better recipe is there for adventure?