8 minute read
CHRISTINE AUDA
Waretown, NJ, USA
In the 1990s, I fell in love with jewelry design and for 15 years my handcrafted jewelry sold in galleries and boutiques across America. Around 2001, I discovered the wonders of digital art. My limited edition prints sold in galleries and other venues in New York, New Jersey, Omaha, Pittsburgh and Seattle. In 2013, I discovered acrylic painting and was hooked! I created brightly colored abstract and whimsical creations, ultimately selling many paintings at shows. Today, I live in Waretown, New Jersey at the beautiful Jersey Shore with my husband, a writer, and our two cats.
I'm a self-taught, modern, abstract acrylic painter and digital artist. I explore the joyful and quirky parts of life, inspired by nature, animals, urban landscapes, dreams and culture. Though I often paint with bold colors and marks, I also enjoy working with a more muted palette and subtle imagery. My art often expresses positive energy, love, joy, and whimsy. As an artist, I believe experimenting and evolving is both an important and fun part of the process. When I paint, I feel invigorated and guided on a spiritual level. An energy takes over my brush or guides my pen on the computer tablet, and I'm in the flow. It feels like a conversation between my conscious and subconscious, and I'm just along for the ride. What a feeling!
Who or what has a lasting influence on your art practice?
First is energy. I grew up practicing yoga and meditation, even teaching it. Therefore energy has had a profound impact on my art. I'm able to channel the power of energy into artwork - especially abstract art. That's why it's so important that I exercise, do yoga and meditate to help me stay grounded each day.
Second is color. Though it seems obvious, pigments have a profound impact on me at times alleviating anxiety or depression. I'm often drawn to multi-colored palettes, and color conveys feelings that magically end up on the canvas. It's a mystical experience that can turn into a profound work of art.
Third is nature. The environment continues to be a guiding force in my art, be it abstract or representational. I live at the beautiful Jersey Shore region of New Jersey, in America. I'm fortunate to reside near wetlands, bays, the Atlantic Ocean, The Pine Barrens and excellent birding. I can't overstate how these natural wonders positively affect my spirit. It translates into my work and on many levels. Nature both energizes and calms me and helps me get into a creative flow.
Fourth is pattern. It can be found in nature, man made or on textiles. I find them to be delightful and stimulating. Sometimes, I will incorporate pattern pieces into my art. It can be a quirky addition, but also mesmerizing. It's exciting for me to see how other artists choose to add pattern into their art.
What is the most challenging part of being an artist? I mostly enjoy creating alone, but sometimes I crave the company of other artists, if only for a short time. Fortunately, I'm not totally isolated. My husband is a copywriter and journalist, and as it happens, his office is right next door to my studio. We enjoy sharing our work and supporting each other, so I'm pretty lucky.
Keeping up with technology can be daunting. Obviously this isn't an issue when I use physical painting tools and supplies. However, I'm also a digital artist, and I use multiple software programs to create my art. So there's quite a bit of tech involved. Add in social media, financial software, and digital marketing, and it can be overwhelming to keep up with it all. I'm fairly tech savvy and organized, but juggling many tech hats can be challenging.
There are many talented artists online, so competition can seem fierce, especially during a global pandemic. That said, I've found artists to be quite supportive of each other. I appreciate that, and I try to encourage artists and when I can, including by purchasing art.
I'd like to believe that there are enough outlets for everyone, but you have to work hard and sometimes juggle multiple gigs to create a living. For example, selling prints online, teaching in person or online and selling via galleries.
In your opinion what does art mean in contemporary culture?
Art in contemporary culture has multiple meanings. It can make a political statement, it can be healing, uplifting, be the driving force of change in the environment, for social justice and more. At the moment, I'm focused on the commercial art licensing market. Though that may sound generic, this area has blossomed in recent years, and I find I walk the line of making pleasing, healing and uplifting art. However, I won't limit myself for non-licensed work.
How would you describe the art scene in your area?
I live about 1.5 hours from Manhattan, Brooklyn and Philadelphia. Of course, there is a thriving art scene in these cities. However, it's a bit far for me to take part. That said, I've exhibited
my work in New York. The coolest group exhibition I was part of was Macworld Conference and Expo in Jacob K. Javits center in New York City some years ago. My piece "Trae" was among 30 other artworks chosen. I was fortunate enough to attend the show, as many of the artists living abroad were unable to.
An hour north of me is Asbury Park, NJ. This seaside city has an edgy art scene has expanded over the past few years after the area was revitalized and unfortunately gentrified as a result. The city boasts a number of hip, contemporary galleries, but sadly, several have closed due to the pandemic. Long Beach Island (LBI) is an upscale Jersey shore mecca. A few years ago, I exhibited my art at M.T. Burton Gallery, a lovely gallery just a block away from New Jersey's pristine beaches. LBI also offers several art and craft festivals during the year, usually showcasing local artists.
What do you like/dislike about the art world?
Though I'm mostly self-taught, some artists I know graduated art school woefully unprepared for the business side of things. Some have floundered or sadly, given up the vocation entirely. Others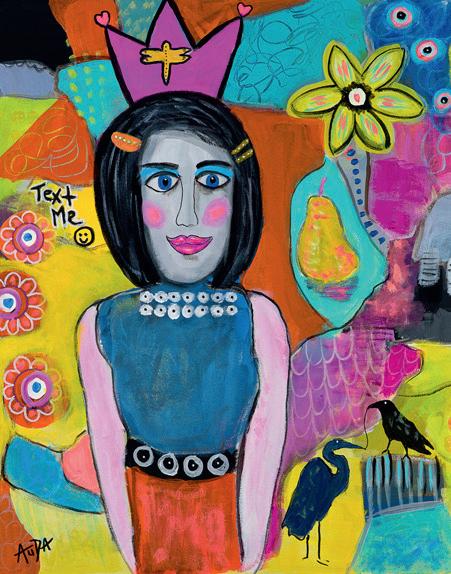 have enjoyed art as a hobby, which is always a valid choice.
I find the pretentiousness that exists within some of the art world to be exclusionary and uncomfortable. I can't get on board with it.
Also, historically, the art world has been male-dominated. As a woman, I'm glad to see that changing, but it's going to take time. The fact that until recently, museums almost exclusively exhibited men's art is outrageous. Also, museums hoarding art that rarely sees the light of day is unacceptable to me. When do art collections become art hoarding? I think this is an important question.
I like the flexibility of new paradigms in the art world where artists have more control. During COVID, many artists adapted by marketing and selling online, as did some galleries.
I have about 250 artworks licensed with my agent Out of the Blue and icanvas.com. I began licensing my art just one year before COVID hit. Luckily, some clients are still taking my work, though it's slowed down during the pandemic.
The good news is that some galleries are adapting to the online world and using social media to gain interest and sales. I prefer progressive art ideology and mutual respect between artists and clients and artists and galleries.
I have been lucky to work with some very professional and respectful galleries and direct clients over the years. I'm grateful for those experiences.
Name three artists you admire.
While there are many master artists I've admired, such as Picasso, Andy Warhol, Hilma af Klint, Wassily Kandinsky, and more. I'm choosing some current artists that have influenced me.
Flora Bowley is an Oregon artist, author, and gentle guide whose soulful approach to the creative process has touched thousands of lives. I took several of her online courses and found her holistic and intuitive approach to acrylic painting fun and engaging. Plus, I love her art and her use of value, layers and color combinations. Next is Rex Ray, an American artist best known for his innovative pop aesthetic in fine and commercial art as seen on canvas, wood panels, album covers, paper, book jackets, murals, and rock and roll posters.
I discovered Rex Ray shortly after he died. I purchased his book and find his mid-century modern art engaging and beautiful. I love the way he incorporated pattern and color for a modern, upbeat and powerful aesthetic.
Next, Australian artist Amanda Krantz considers her work to be organic-psychedelia. I consider it magical! I love her use of patterns found in nature. She takes her cues from the way a coral reef in northern Queensland harbors the same organic patterns as fungi in the alpine tundra in Tasmania. Her use of color, composition and layers are magnificent. I'm drawn like a magnet to her paintings. They always delight me.
What are your future plans?
On the art front, I enjoy exploring other media, and new subject matter. Presently, I'm taking an oil pastel course by online teacher, Kellee Wynne. I might incorporate oil pastel onto paper, canvas and mixed media. I also plan to use the skills I learn and transfer it to digital art through Procreate and Corel Painter software.
I'm experimenting with collage on paper and incorporating it into my digital collage, which I've done in the past. Additionally, I will paint smaller and more affordable acrylic paintings. I prefer working mid to large, but I think it's important to offer this option to clients and art lovers. I look forward to the challenge.
On the business side of things, I will finally join Instagram, continue to license my digital art, possibly teach online. I will be applying to Artful Home and seeking gallery representation. I might also consider adding work to Saatchiart.com and Turningart.com It's a big wish list, but I've achieved some of these goals already. I try to stay flexible to what's working and what's not, adjusting accordingly.
I also plan on helping charitable organizations with my art, such as sending my handmade cards to hospitalized children and seniors in nursing homes, which I did during the pandemic.