00 agm
agm 01
Volume 01, July 2022
Melbourne Naarm
Editors
Michael Boer (B.Des student, University of Melbourne)
Mia Clarke (B.Des student, University of Melbourne)
Tom Davies (B.Des student, University of Melbourne)
Bo De Silva (B.Des student, University of Melbourne)
Isabella Paola-Rose Etna (M.Arch 2020, University of Melbourne)
Eddie Zhichun Guo (B.Des 2022, University of Melbourne)
Kevin Huynh (M.Arch 2020, University of Melbourne)
Yanyu Sun (B.Des 2021, University of Melbourne)
Dillon Webster (M.UCH 2021, University of Melbourne)
"broadcasting all things architecture" agm (@archigram melbourne) provides a commentary on design while focusing on education and practice in Melbourne from the perspective of students and recent graduates. This magazine volume has been made possible by the dedication and passion of the young designers involved in both our editorial team and our contributors.
Founded in 2015 agm is an online platform hosted on Instagram and printed magazine, it continues to provoke discussion and debate.
Get involved: archigrammelbourne@gmail.com
Opinion
Editors Biographies
Revisiting the Underground in Melbourne Bo De Silva p. 12
'Alternative Pathways to Practice' in conversation with Rory Hyde Alissa Ricci p. 16
Community Housing in Melbourne: Assemble is paving the way to real user driven outcome. Yanyu Sun
Memeitecture Dillon Webster
The spirit of Aldo Rossi lives on in Melbourne Isabella Paola-Rose Etna
Learning from afar - The design studio experience from abroad during COVID-19 Kate Donaldson & Yanyu Sun p. 22 p. 28 p. 32 p. 40 p. 4 p. 6
6 archigram melbourne Contents
00 01
Spotlight: Lachlan Welsh
Spotlight: Lauren Granek Spotlight
Spotlight: Boyd Hellier Knox
Spotlight: Duy Kim Vo
Spotlight: Albertus Yudhistira
7Vol 01 02 p. 48 p. 56 p. 64 p. 70 p. 78
Biographies
Lauren GranekBo De Silva
Bo is a Bachelor of Design student at the University of Melbourne. His interest lies in the obscure boundary between art and architecture.
Kate Donaldson
Kate is a M. Arch student at the University of Melbourne and an architectural assistant at Buchan. Kate is is interested in the intersection between architecture, media and design pedagogy, explored through editorial roles with MSD's Inflection Journal and as a contributor for The Local Project.
Isabella Paola-Rose Etna
Bella is a 2020 M.Arch graduate at the University of Melbourne. Passionate about architectural history with an interest in Japan and Italy, particularly the period of 'The School of Venice' led by Giuseppe Samonà which was the focus of her M.Arch thesis and ongoing research.
Lauren is a 2019 graduate of the M.Arch at University of Melbourne, and is a graduate of architecture at Snøhetta.
Boyd Hellier Knox
Boyd is an architect at Reiulf Ramstad Arkitekter, Oslo. Alissa Ricci
Alissa is a 2021 graduate of the Bachelor of Design at the University of Melbourne having majored in architecture and landscape architecture. Practicing a passion for art, her academic work and interests explore the thoughtful integration of architecture and landscape, slow architecture, materiality and visual communication.
8 archigram melbourne
Yanyu Sun
Yanyu is a 2021 graduate of the Bachelor of Design at the University of Melbourne, and currently pursuing a degree of MA Architectural History at UCL with an academic focus on housing and urban studies. In her spare time, she enjoys developing skills in architectural drawings, with a long-term goal to incorporate art and design into her research of architectural history.
Duy Kim Vo
Kim is a 2019 M.Arch graduate at the University of Melbourne. Currently fulfilling teaching roles at the UoM including M.Arch studio leader and senior tutor of B.Des subject FoDR.
Dillon Webster
Dillon is a 2021 graduate of the Master of Urban and Cultural Heritage at the University of Melbourne. As a designer Dillon interrogates traditionally assigned notions of space, and desires to unpack the historically embedded procedures and decisions of the design industry and generally trying to queer it. In research he explores themes of post-modernism, archival frameworks, memory, queer representation, and virtual heritage.
Lachlan Welsh
Lachlan is a M.Arch student at the University of Melbourne and a tutor of B.Des subject FoDR.
Albertus Yudhistira
Albertus is a 2019 M.Arch graduate at the University of Melbourne and is currently a graduate of architecture at COX in Melbourne. He has a keen interest in photography and capturing the mundane but beautiful moments of life.
9Vol 01
Opinion 01
Revisiting the Underground inMelbourne Bo De Silva
Melbourne is no stranger to architecture that speculates the possible futures of the space beneath - the underground. In 1965, Robin Boyd (of Romberg and Boyd) imagined Melbourne's CBD in the year 2000 in collaboration with the Royal Automotive Club of Victoria, consisting of an innovative subterranean transport metropolis. A proposal that would modernise Melbourne and mark the city at the forefront of introducing new urban design typologies.
Romberg and Boyd, in partnership, led a successful architecture firm, with Boyd influential in his ideas supporting modernism. The Australian Ugliness published by Boyd in the years leading up to the unveiling of the RACV proposal, critiqued the lack of a "mutual visual goal" in Melbourne's CBD. His exploration underground could have been led by this idea to allow for more space aboveground to achieve the architectural visual unity and departure from Melbourne as "Victorian: in scale [and] in intricacy" (Boyd 2002, 70). Romberg and Boyd's proposal for RACV imagined a multi leveled subterranean transport network, freeing up the ground plane for pedestrians (Williamson, 2016).
Revisiting the Underground in Melbourne
12 archigram melbourne
Below: Robin Boyd, Bourke Street Development, 1965, State Library Victoria Opposite: Alissa Ricci, Bo De Silva and Yanyu Sun, 'Underground Melbourne'
Fifty five years from the proposal's conception, it is clear that ground beneath Melbourne offers the possibility to implement feasible design considerations beyond transport alone. The Melbourne of 2021, now, battles issues such as efficient maximisation of space, access and supply of green spaces and housing affordability. Whilst the subterrain isn't the immediate solution to these problems, this vast space shouldn't be discounted as it can provide opportunities for future proofing our cities.
Looking at the underground through a current lens, their proposal fails to speculate the habitation possibilities of the underground. In the case of Melbourne, we are only just dipping our toes in the use of subterranean space. The expansion of the city-loop, Metro Tunnel Project, is just a small step towards the possibility of what underground Melbourne could become. What if the CBD could also host innovatively designed subterranean parks in the CBD that offer greenery and spaces of urban retreat? What if, there could be underground residential projects in the heart of the city that offer increased privacy, reduced noise level and work to combat affordable housing issues.
In fairness to Romberg and Boyd, this idea of living underground is definitely not something that can be implemented to any city in the world. The proposal falls into the design concept Boyd termed "antiarchitecture" (Raisbeck, 2012). Under such classification, the proposal shows a neglect for traditional urbanistic schemes and explores expansive scale and massing opportunities. It is interesting
"The work of adesigner does notneed to be confinedto what our world is building at this current point intime."
13Vol 01
archigram melbourne
Revisiting the Underground in Melbourne
14
now to consider how designers across the world have been considering using the underground space for residential projects. Many of these designers have an ethos of using the underground and underutilised space, creating green spaces within dense city contexts and attaching housing units to allow for more inner city dwellers. Here, they are tackling issues with urban density and accommodating an inner city's growing population.
Speculative architecture is a result of the imaginatory power of architects that should be equally appreciated to actualised projects. The work of a designer does not need to be confined to what is only possible, buildable or required in the current day. It is important not to neglect the possibility of taking an underground approach as subterranean projects tackle many relevant inner city issues. Problems like urban congestion, housing density and lack of green space within inner cities could really be battled with underground projects and help to future proof our urban worlds.
This idea of capitalising on the underground space is complex. There seems to be a conflicting relationship between the physical viability of underground projects and the psychological capabilities of humans inhabiting such spaces. The role of an architect in creating well resolved spaces could solve this issue. Proposals such as the Bourke Street Development and the consideration of the subterranean realm should be looked at as an exciting space providing us with many exciting design opportunities for the future.
Opposite: Alissa Ricci, Bo De Silva and Yanyu Sun, 'Underground Melbourne'
Images:
Robin Boyd (Romberg and Boyd), Bourke Street Development, 1965, State Library Victoria, courtesy of Robin Boyd Foundation and Diane Masters
De Silva, Bo. Ricci, Alissa. Sun, Yanyu. Underground Melbourne, 2021
References:
Clare Williamson, "Imagining Melbourne". A History of the Future, (June 2016). A History of the Future: Imagining Melbourne | Future Melbourne | Future Melbourne
Peter Raisbeck (2012) Architecture or AntiArchitecture, Fabrications, 21:1, 89-111, DOI: 10.1080/10331867.2012.10739937
Robin Boyd, The Australian Ugliness, The Text Publishing Company, 2002.
15Vol 01
Alissa Ricci
"We hope to illustrate a version of architecture where the limits are no longer fixed." - Rory Hyde, Harriet Harris and Roberta Marcaccio
Architects after Architecture: Alternative Pathways to Practice edited by Rory Hyde, Harriet Harris and Roberta Marcaccio, presents possibilities of a degree in architecture beyond conventional practice. It questions the nature of architecture degrees and their application. For me, this highlighted the multidisciplinary nature of practice and transformed my understanding of training potential. I now see it as a gateway to multitudes of opportunities, leaving me encouraged in uncertain times. So, I asked Rory Hyde, co-editor and associate professor at Melbourne School of Design, for a chat..
Conceived in an unconventional way, Architects after Architecture spawned as Harriet Harris, British architect and Dean of New York's Pratt Institute School of Architecture, was approached by Royal Institute of British Architects (RIBA) to write a practical "manual". It was to cover how-tos of venturing into the real world of architecture and aid transition for students graduating from M.Arch.
'Alternative Pathways to Practice' in conversation with Rory Hyde
'Alternative Pathways to Practice' in conversation with Rory Hyde
16 archigram melbourne
Hyde and Roberta Marcaccio, educator at Architectural Association School of Architecture, soon joined the team—but found they needed to zoom out. Hyde explained,
"We thought, let's not just look at the conventional path, let's ask where we can be useful as architects. A big thread throughout the book is public purpose and we felt that this was an important pathway back to the relevance of the architect itself."
The proposal they came to realise was one they were more inclined to pursue. This led them to publish with Routledge, resulting in the final book.Collating a variety of professionals constituting "new paths forward" in architecture, the editors soon composed the premise into forty examples. These fall into two categories, "Plus" and "Beyond". "Plus" explores
Above and Opposite: Photos of Architects after Architecture: Alternative Pathways to Practice edited by Rory Hyde
"Now, I understand the pivotal role ofthe redefinitionof educationarchitectural into morecreatingeffective and responses."impactful
17Vol 01
how architects have extended their architectural practice, whilst, "Beyond" collates professionals who "jumped out" of the profession, utilising training in alternative domains.
Coming to know Chris Hildrey of Hildrey Studio and his project Proxy Address (in the category of "Beyond")—his design for homelessness greatly influenced my perception. His contribution is a pivotal example questioning the basis of traditional architectural training to realise the solution is not always a building. Talking with Hyde opened me up to more information on Hildrey. As we agreed on the cleverness of his addressing to the question of homelessness in London, Hyde expressed,
"This is often the problem – you give any kind of question to an architect and the answer is a building. [Chris] asked, 'How can we solve homelessness?' And the answer you would normally get from an architect is that we need more homes.
On the surface that's probably true, but what he discovered through looking carefully at the reasons people fall into homelessness, was that it wasn't so much that they didn't have a roof over their head – mostly they are sleeping on sofas or in crisis accommodation – but more so they didn't have an address. And without an address, they weren't able to continue to stay connected to services and institutions after they lost their job and it all spiraled out. Therefore, by giving them a virtual address you can shortcut that system of falling away. So, that's extremely clever because it has a very architectural outcome but the mechanism is not a building."
Opposite: Photos of Architects after Architecture: Alternative Pathways to Practice edited by Rory Hyde
18 archigram melbourne 'Alternative Pathways to Practice' in conversation with Rory Hyde
19Vol 01
Joining Hildrey, amongst the collation, are also multidisciplinary team Interboro and architect Takeshi Hayatsu. Both demonstrate "Plus". Interboro, in particular, has redefined their design process integrating a co-design approach for inclusion of alternative perspectives. The development of their project The Nature Playscape, engaged local young people in activities to develop an inclusive playscape uniquely appropriate. Hayatsu Architects invites local communities to collaborate on projects, allowing their unique skillsets to contribute to the goal of working with those sharing a "pride in making things" and "working with people in the most appropriate and effective way for the project". I bookmarked these practitioners and many others as impactful examples that I could immediately implement as essential considerations in my own design process. I see through actions and approaches like these, change begins. The opinions of others shape a more relevant and accessible architecture, one pivotal for the industry's growth.
Thus, these examples give hope, defining architecture for students, graduates and professionals. It remembers the 40% of graduates not pursuing the conventional path —whether they are "trying to find their direction" or left unsatisfied with the limitations of the role of traditional practitioner.
Learning from the publication and Hyde, I now understand the pivotal role of redefining architectural education into creating more effective responses. This application of 'plus' and 'beyond' in the built environment is one seeming
even more profoundly relevant now—as we confront the covid-19 crisis. This is similar to the Global Financial Crisis of 2008, compelling practitioners to "redraw the boundaries of what was possible" when impacted by the realisation there wasn't a job available; expresses Hyde. We are drawn to correlate "we are in a similar position now" and with timely release of Architects after Architecture, Hyde hopes it can be a useful resource and reaffirm our "set of skills are exactly what we need right now". A reminder to realign with how we can be fundamentally useful..
Architects after Architecture has given a spot to alternative pathways. Inspiring even greater change and impact, it successfully juggles "one foot in architecture but also stretches it as far as possible" for "the broadest horizon of possibilities'', according to Rory. Architectural education is redefined as a means to consider difficult questions popping up in our ever-evolving world, spurring discussion for students and professionals. As an undergraduate student of architecture near graduating, I am now thinking about using my learned skillset and rigorous education to further cultivate change, innovation and action in radical ways.
So, even more now, I know architectural practice is a constant and changing education. It is a gateway to many opportunities to spark radical transformation. I am left feeling confident facing adversity and reassured my skill set will remain relevant now and in the future. I cannot help but feel excited.
20 archigram melbourne 'Alternative Pathways to Practice' in conversation with Rory Hyde
Images:
Photographed and edited by Alissa Ricci
References:
Rory Hyde, Harriet Harris and Roberta Marcaccio, Architects after Architecture: Alternative Pathways to Practice (London, Routledge, 2020)
Rory Hyde, Harriet Harris and Roberta Marcaccio, Architects After Architecture: Book Launch (2020)
Further Reading: Rory Hyde, Future Practise: Conversations from the Edge of Architecture (Routledge, 2012)
21Vol 01
Community Housing inMelbourne: Assemble is paving the way Yanyu Sun
What is innovation in housing development? In community housing, who are architects designing for? Assemble is a housing developer and community management initiative in Melbourne. A new pathway to homeownership, Assemble bridges gaps between renting and buying, while delivering affordable high-quality homes. They occupy the overlap between affordable housing and Collaborative Housing. In current investor-dominant housing markets, these innovative housing models critically evaluate living environments and promotes affordable, ethical diversities. We caught up with Lily Townsend, a future resident of 15 Thompson Street Kensington, by Assemble, to hear her reasons for investing in this lifestyle.
My interest in Assemble first stemmed from a design studio at Faculty of ABP at The University of Melbourne discussing Collaborative Housing (CH). CH is a broad term, with Darinka Czischke, academic at TU Delft, describing it as an "umbrella term" covering a variety of derivations from its origin.[1] CH traces back to late 1960s Denmark, when 50 families helped by architect Jan Gudmand-Høye, built housing closer together with emphasis on
Community Housing in Melbourne
22 archigram melbourne
"Assemble differsfrom housingregularmodels, not only apartments,developing butfocusing on residentexperience."
but focussing on resident experience. "A unique pathway to home ownership" is a key ethos of Assemble.[2] The property price is fixed upon renting, not affected by housing market property values. Residents can rent for 5 years before buying properties, making it flexible for young populations like Lily, who deal with uncertain savings and life plans. Lily works with a financial coach at Assemble discussing her savings for future home purchase. In addition, she mentioned group financial workshops every three months, "They are really trying to cover all aspects, making the journey to buying a home an experience."
Opposite & next page: Redesigning the Housing Market, diagram by Yanyu Sun based on Andy Fergus's article Redesigning the Housing Market
community. This became effective against isolating individual homes experienced during suburban sprawl. The evolution of CH led to multiple forms, with current developments shaping collaborations among residents and external stakeholders in housing provision to build properties for community living.
"When you think about a property development company, it's not really what you think Assemble is. They have really pushed that stereotype of a property development company and gone the other way where it's about community values, accessibility to affordable housing and financial autonomy." - Lily Townsend.
Assemble differs from regular housing models, not only developing apartments,
Allocating marks for apartments was significant on this journey, "There is this balloting process," Lily explains how residents collaborate together to select future apartments. "On the day, all future residents of 15 Thompson Street came together and Assemble had a floor plan laid out. We were asked to put our name down next to a preferred apartment. By doing this we entered the ballot with the rest of the community." For more popular apartment choices, people worked together to decide on best fits, based on the candidate's financial capabilities and future needs. The cooperation between residents drove me to learn more about Assemble community. "We now have a facebook group for 15 Thompson Street. There is always someone in the group trying to organise things and connect with others."
I was particularly curious about this Residential engagement in building processes, considering Assemble from a
23Vol 01
Collaborative Housing perspective. For Lily, regular email updates are provided, letting her know stages of the project - theirs is soon to start construction. "The last email I got was about them choosing a builder for our project. These are reassuring as you know they are going through the process to find a best fit." Other engagements with residents include personalised design choices, such as preferred finishes for apartments. Sometimes Instagram polls allow communities to choose designs and function arrangements for shared spaces. The inclusiveness of residents in Assemble's projects pushes boundaries of typical housing development, showing commonalities with CH models. Some elements, like community voting, remind me of CH model Baugruppe in Germany. It emphasises close collaboration between residents and architects to design apartments. The process takes workshop approaches. It is challenging for residents to arrive at collective decisions, but individual endeavours enhances a sense of community belonging.[3] Assemble's model also resembles Co-operative rental housing in Zurich, Switzerland, which initially developed as a 1990s housing crisis response. Housing cooperatives are self-help and non-profit resident groups collaborating with professional bodies to develop community housing. They are supported by local government through building on city leased land. Residents sign up becoming members of cooperatives, ensuring low entry costs and homeownership security with flexibility to rent.[4] They become an autonomous group in cooperatives to improve future projects. With support from government
policies, it has now taken up 25% of housing markets as a large-scale system of long-term sustainable rental housing.
It appears Assemble is adopting similar approaches developing its own characteristic in Australian contexts.
Andy Fergus, head of urban design at Assemble, wrote in article Redesigning the Housing Market, categorising it as Ethical Market-Based Development. [5] As part of ethical movements in Melbourne, Assemble models primarily respond to the contemporary housing crisis. Within an investor-dominant housing market, housing becomes a commodity, continuously inflating. Highrise city apartments adopt speculative development, with no formal commitment for any end users. Assemble challenges
Community Housing in Melbourne
"When you thinkabout a developmentproperty company, it's notreally what youthink Assemble is."
24 archigram melbourne
25Vol 01
Community Housing in Melbourne
26 archigram melbourne
this, engaging residents in processes to build housing carefully. Lily's experience emphasises this:
"I think if you introduce residents to the property before it is actually being built, people start to develop a sense of responsibility. You will see this site and want to follow the building that will be built, and look after the plants that will grow together as a community."
Living in a community promotes affordability and enhances senses of home ownership. Assemble communities partner with local companies to bulk-buy daily use goods, helping residents save living costs up to 20%. Lily praised the mechanism of making sure residents are a right fit for long-term renting and buying. To be qualified for buying, residents must live in apartments for three years within five years of renting. "They really try to foster a strong community, and living together enhances a sense of collective home ownership." This has opened my eyes to a new scope of housing, beyond buildings I learnt to design in architecture school. Concepts of affordability, home ownership and community life do not sit in subject guide anymore. They now guide me to consider challenges that contemporary housing face. Moreover, as I graduate from my bachelor's degree, I think of what kind of practice I want join; to help create positive social outcomes through architecture and shape a better future for built environments.
Citation
[1] Darinka Czischke, Claire Carriou & Richard Lang. "Collaborative Housing in Europe: Conceptualizing the Field.", Housing in Europe: Conceptualizing the Field, Housing, Theory and Society, Volume 31, Issue 1, Pages 1-9. DOI: 10.1080/14036096.2020.1703611
[2] "Assemble Futures," Assemble, accessed on 5th of August 2021, https://assemblecommunities. com/assemble-futures/.
[3] Helen Jarvis, Towards a deeper understanding of the social architecture of co-housing: evidence from the UK, USA and Australia." , Urban Research & Practice, Volume 8, Issue 1, Pages 93105, DOI: 10.1080/1753069,2015,1011429
4] Manuel Lutz, "Lived Solidarity: Housing Cooperatives," Assemble Papers, published on 20th November 2019, https://assemblepapers.com. au/2019/11/20/lived-solidarity-housing-cooperatives/
[5] Andy Fergus, "Redesigning the Housing Market," Assemble Papers, published on 21st Feburary 2019, https://assemblepapers.com. au/2019/02/21/redesigning-the-housing-market/
Community Housing in Melbourne
27Vol 01
Memeitecture
Dillon Webster
If you've ever been on the internet you've seen a meme before.
How can I be so sure of this? Because memes are all around us, simultaneously representing and constructing a social and cultural understanding of the world.
Often misjudged as nothing more than a silly image, a meme can immediately communicate a relatable experience or feeling. The term meme was originally coined by Richard Dawkins in 1976 to describe the cultural equivalent of a gene. In the evolutionary sense of the word, a meme represents a unit of imitation or replication which spreads between people, thus shaping and defining cultures. In the digital realm, internet memes have adopted their namesake through the creation and distribution of items which share common attributes. While maintaining a clear resemblance to a mimetic group, creators take and alter parts of a trope to contribute their own ideas or opinions.
Technologically speaking, memes can travel (via the internet) across borders quicker and easier than ever. An increased use of digital communication platforms over the past several years reflects the
28 archigram melbourne Memeitecture
shift towards human communication being managed digitally. The recent global requirements to stay within the confines of our own homes only progressed this shift further, with most interactions occurring solely on digital platforms, and social network sites becoming burgeoning spots to stay in touch with each other. Online participatory cultures are reflected in statistics from last year, where over 1 million posts mentioning "meme" were shared daily according to Instagram. Consequently, the popularity of developing and sharing digitalborn content has expanded, adapting, heightening the potential for our cultural connections to be shaped online. These multiple related instances aid in the construction of widespread digital cultures that lead to the creation of more localized
Above: @numtots meme about brutalism
Opposite: @loadbearingcolumn, Instagram Profile
"Poorly photoshopped images and intentionally uglyfonts providea platform todistribute dumb, bad, yet very realnarratives to mock the architecture world we all inhabit."
29Vol 01
or community based digital sub-cultures.
As someone in the design community it inevitably came to my attention that broader cultural memes were being adapted for various aspects of architecture and design. Social media has provided a platform for the publication and distribution of industry-related experiences, allowing for discourse to arise and for communication to occur regarding architects and architecture. With this new tool, poorly photoshopped images and intentionally ugly fonts provide a platform to distribute dumb, bad, yet very real narratives to mock the architecture world we all inhabit. Through humor, the blatant ridiculousness of memes assaults the very nature of our personal experiences.
Ultimately, the creation of these memes and the perspectives they provide act as a form of contemporary architectural criticism. Commentaries that were once reserved for the critique section of a newspaper are gaining traction to provide insight on architects, specific buildings, architectural styles, design work, student culture, client relationships, and the transportation and planning industry. Rather than attempting to entertain the notion of architectural discourse through traditionally formal venues, the creators of architecture memes use historical references, call out the problems associated with them, and poke fun through a shared cultural understanding.
What I find most fascinating about this, is that the mimetic process allows for content created by a specific voice within a niche community to be understood
Above: @loadbearingcolumn meme about the grid
Memeitecture
30 archigram melbourne
more generally through the reference of a culturally accepted trope. For example, without requiring explanation, we have a mutually shared understanding of the "distracted boyfriend" meme. So, when contextualized with architectural styles, the message is easily comprehensible regardless of prior education or industry background. By understanding that there are culturally situated images which act as reference points, the unit of a transformed meme can provide a framework for knowledge sharing and act as a new method of communicating within and outside of the architectural industry.
Works Cited: Asaf Nissenbaum and Limor Shifman. "Meme Templates as Expressive Repertoires in a Globalizing World: A Cross-Linguistic Study." , Journal of Computer-Mediated Communication, Volume 23, Issue 5, September 2018, Pages 294–310, https://doi.org/10.1093/jcmc/zmy016
Kaley Overstreet. "Why the World Needs More Architecture Memes" 27 May 2018. ArchDaily. <https://www.archdaily.com/894378/why-theworld-needs-more-architecture-memes> ISSN 0719-8884
AD Editorial Team. "A Selection of Name-Based Architecture Memes" 13 Jan 2017. ArchDaily. <https://www.archdaily.com/802255/a-selectionof-name-based-architecture-memes> ISSN 07198884
Instagram Blog. "Instagram Year in Review: How Memes Were the Mood of 2020" 10 December 2020.<https://about.instagram.com/blog/ announcements/instagram-year-in-review-howmemes-were-the-mood-of-2020>
Below: @loadbearingcolumn meme about slab thickness
31Vol 01
The spirit of Aldo Rossi lives on in Melbourne
Isabella Paola-Rose Etna
An invitation into the studio reviews of the MSD M.Arch MAXXI Studio led by Scott Woods and Duy Kim Vo brought to light the cult of personality of the mid 20th Century Italian architect, Aldo Rossi. The studio was run in collaboration with the MAXXI museum in Rome prior to the retrospective exhibition "Aldo Rossi. The Architect and the Cities" at the MAXXI. The final presentation saw students design "Rossi architectures" for an imagined exhibition inside the MAXXI. Each student was provided with a Rossi multiresidential project to begin. This was the anchor for the student to then take to the idea of the city, monument and domestic object. Students were made to select, lucky dip style, from a group of curatorial strategies (carefully) curated by Woods and Vo which provided the premise for the students to devise their own unique spin for a final project.
There is an alarming sense of danger in a studio that focuses on a coveted figure, with a huge cult of personality. Rather than taking an approach or focus on the message of Rossi's work, it's easy to be seduced by images alone, one which was overcome by a number of students in the studio. The polemic debate that divides
archigram melbourne
The spirit of Aldo Rossi lives on in Melbourne
32
interpretation of Rossi's work played out through the review panel's discussion. My intrigue was most aroused by the debate amongst the prominent names on the panel, who called in from across the globe. Most notably, Professor Diane Ghirardo (University Southern California School of Architecture) and the Senior Curator of Architecture Pippo Ciorra (MAXXI Museum, Rome), who were intimate friends of Rossi.
Ghirardo, the author of "Aldo Rossi and the Spirit of Architecture" (2019), prompted me to reconsider my position on Rossi. In relation to one student project she warned that it is important to remember that the central premise of Rossi's design process was his personal journey, where he drew on "his own repertoire and box of memories, images and experiences":
"In helping others to understand how to deal with an architectural problem, his (Rossi's) was an architecture of experience. It's hard to see in books and when you're not in places (the sites of Rossi's architecture). That experience has its resonance in his background. As a child in boarding schools, going up a long staircase from where he was in school and a shrine to a particular saint. Those memories stayed with him and became part of the language he drew upon. It's what he would encourage you to do. Although he did work on the architecture of others, that was always his underlying impulse." During the review, Ciorra echoed this sentiment in his comment on Rossi's autobiographical work. "Rossi is full of contradiction, emotion, memory, and autobiography that Diane knows very well. These little contradictions make him interesting and make him loved by the high and the low. People in Italy would tell you that I have been spending the last twenty years forgetting Rossi. It became such a problem for Italian architecture to move beyond this enormous figure because we live in the nostalgia of people who would do wonderful drawings and make buildings people hated. The risk is focussing on the object, and you look at him like Vincent Scully who thought it was vernacular. Rossi is extremely more complicated than one can think, every time he puts together history in a synchronic place, it's about a place. It's about his own personal story, it's like a writer writing about himself. It's a wonderful presence in history, there is no operativity in Rossi today. There is no possibility to translate this legacy into today."
Opposite: MAXXI studio project by M.Arch student Jacob Komarzynski, 2020
"One of the lastthings that Rossiwrote was that architects need to think again"
33Vol 01
34 archigram melbourne
Poignant to this discussion, and a slight divergence from the premise of this article as a reflection on the debate sparked during the MAXXI studio, is the question that is on the lips of many students; "what is architecture?" Ghirardo posed this rhetorical question to the students and audience, "Peter Eisenman always used to talk about doing a perfect Frank Lloyd Wright project. Paul Rudolph (Chair of Yale University's Department of Architecture at the time) criticised him. The next semester he did the same thing, Rudolph crushed him, and told him not to experiment with the same person's work more than once. So I would ask you, in terms of working with a Rossi language, what did this experience do for you?" In the spirit of a Ghirardian reading of Rossi, architecture is not the language of a simple "Ctrl+C, Ctrl+V", copying and pasting because we see our predecessors, like Rossi or Wright, or even our contemporaries at famous practices or architecture schools, pursuing certain ideas and graphic styles (leading to an exercise of mindless replication). Architectural education and the profession in Australia and Internationally is battling one of it's greatest struggles, the struggle for originality. The lack of thought, personality and originality in student and industry projects is getting tiresome. The rise of the internet and social media has exacerbated our reliance on the ability to have information at our fingertips in less than 0.02 of a second. In that moment of instant gratification it becomes an act where it is easy to be thoughtless, and where it is easy to forget one's ability to be critical. What is most admirable about Ghirardo is her tendency to not discredit other reading's of Rossi's work.
In conversation about Peter Eiseman's reading on Rossi, perhaps a polar opposite interpretation of her own, was as follows. "What Eisenman saw in Rossi's work was simplicity of form, and he did not not understand the personal, historical and experiential aspects of Rossi's project. Rossi came to understand that Eisenman just didn't get it. Rossi was a great intellectual, he took from them in the same way architects take, insights, reflections, and which he expressed in his design process and architecture. Eisenman lacks that richness." In Ghirado's words on Rossi, first and foremost, I saw a glimmer of what I have been championing for quite
Opposite & above: MAXXI studio project by M.Arch student Jacob Komarzynski, 2020
35Vol 01
36 archigram melbourne
some time. I saw a light at the end of a long tunnel; six years of studies in architecture and one and a half years post graduation. A glimmer of hope for the profession at large. Architecture is a vehicle for the truest form of personal expression. As Ghirardo reiterated, "one of the last things Rossi wrote was that architects need to think again," and although that was over 20 years ago it couldn't be more timely to remind ourselves studying or practicing architecture today. We live in a world devoid of thought, or at least every tool around us makes thinking a little too easy. That's the problem with architecture school today, and a problem overcome by many students in the studio to avoid replicating a Rossi project.
"What Rossi would want you to look at, is the broad reading. Not high culture, but all cultures, always looking, drawing and thinking. So that whatever comes out of it will not look like Rossi's project.."
To truly understand Rossi's work, although as difficult for the uninformed reader as it may seem at first glance or without the privilege of experiencing it, is to acknowledge that it is completely a personal exercise. Just as Rossi was able to transcend the aesthetic legacy of Fascism in postwar Italy, arguably by looking within himself and forging his own design-method, there just might be a chance for architectural education (and the profession at large) to claw itself out of this spiritless, devoid Dark Age, and especially those students in Woods and Vo's studio. Ciorra conceded that "it's very difficult not to get trapped by this guy...so what you can learn from this class is to
Opposite & Below: MAXXI studio project by M.Arch student Manning McBride, 2020
"The student work from the MSD MAXXI studio demonstrates an ambition to pave the way out of dull, boring, and repetitive"
Vol 01
Opposite & Above: MAXXI studio project by M.Arch student Yi Wang, 2020
be Rossi without Rossi, relate your own city to your own biography" and likewise Ghirado warned that "he doesn't want you to follow his road. He wants you to understand a process and each person has to find their way through it. Learn from an experience of creativity and experience of thinking." A collection of highlight student work from the mid-semester review is scattered through this article to contextualise my thoughts and to bring you, the reader, on a journey back to their place of origin, the mid semester review. I was drawn to these projects solely for the personal flare that I saw in the work, where the students acknowledged that they could co-exist in their Rossian projects. Likewise, in the spirit of agm, to promote student projects that are stimulating. They also demonstrate an ambition to pave the way out of dull, boring, and repetitive nonsense that is churned out by most architecture schools todays.
Reflections on the MSD MAXXI studio student reviews.
School: M.Arch Studio CDE, MSD, University of Melbourne. Studio: MAXXI Studio led by Scott Woods and Duy Kim Vo Year: Semester 2, 2020
Further reading
Diane Ghirardo, Aldo Rossi and the Spirit of Architecture, Yale University Press. 2019
38 archigram melbourne
39Vol 01
Learning from afar - The design studio experience from abroad during COVID-19
Kate Donaldson & Yanyu Sun
From Ahmedabad to Singapore, Kuala Lumpur, Shenzhen to Barcelona, this article collects the voices of international students who have studied architecture at the University of Melbourne from abroad since COVID-19. These students were left learning from afar by strict border closures and made up nearly one-third of students enrolled in Masters of Architecture studios in Semester 2, 2021.[1] As students and teachers of architecture, we must begin to reflect on our diverse pandemic experiences of remoteness to recalibrate design education and to move forward as a cohort. We can open new dialogues that challenge our understanding of belonging and space as tied to physical presence and in doing so uncover new opportunities for a university community without borders.
"It is easy to feel disconnected when we are overseas. The sense of community is lacking."
"In-person learning is a privilege, and we should not take it for granted. However, we must not discredit online learning completely . . . it really does work."
40 archigram melbourne Learning From Afar
"At the MSD [building], I am in a space that I can call home."
"In-person learning is a privilege, and we should not take it for granted. However, we must not discredit online learning completely . . . it really does work."
"At the MSD [building], I am in a space that I can call home."
"Distance has made me value a sense of belonging even more."
The Drawbacks
While Zoom is a powerful tool to teach and collaborate virtually, learning online compromises the practical side of
architecture education. A disadvantage of studying abroad revealed by our conversations with students is the ineffectiveness of communication through online platforms. Zoom being the "virtual classroom", it ultimately runs in a limited time frame. To keep up with local time in Melbourne, students' daily routines were affected to various extents depending on their locations. Communication mediums also become key in online-learning: compared to Zoom, students preferred using collaborative studio platforms, such as at.studio or Miro, which have much better reaction times for drawing annotations. After all, as architecture students, we are used to conveying our ideas through sketches.
"I struggled with weekly studios that started at 6am: I was often tired and not able to engage much with my peers at such an early hour."
"Studying architecture to me is a very hands-on experience, and this aspect cannot be fulfilled in online learning."
"The element of quick sketching in the studio is missing."
"The lagging on the shared screen annotation is frustrating, it really slows down the discussion."
"Interaction definitely reduces in online learning as it is restricted to a particular time and is focused on the assignment, with not much interaction on aspects other than academics."
Development of studio culture currently
"While Zoom is a powerfultool to teach and collaborate virtually, learningonline compromisesthe practical sideof education."architecture
41Vol 01
still relies mostly on a physical space, where there can be a continuous exchange of ideas inside and outside of the classroom. Natasha Ten from Singapore explained that this in turn affected students' discussion with peers and lost a sense of community in the studio.
"Once the Zoom ends, you don't have a space to reach out to your peers anymore. It is really hard to establish new connections with fellow students."
"I used to spend most of my time in the MSD [building]. After class, you don't just get to be in your own circle, there are opportunities to stop for a chat with other students, to exchange ideas on different design projects."
The Bright Side
It would be easy to think that there were only downsides to learning from afar, but our interviewees found quite a few silver linings to the experience. Students noticed that working remotely actually reflected the reality of working internationally. For some, this built a greater sense of ownership over studio culture, leading them to be more proactive and to make more effort to connect with the research and design work.
Students also recognised the unique perspectives that came from having peers in dispersed locations of study during the Semester. For example, speaking to her experience of Studio 07: No Vacancy in Semester 1, 2021, Alba Moncau Muñio said that being situated in Spain made her more aware of materiality and the approach to façade preservation at
her project's North Melbourne site, in comparison to her Melbourne-based counterparts, who were most drawn to ideas of land and Country. This ultimately led to a significant diversity in project proposals. Despite some difficulty in grasping the nuanced experiences of a project site based in Victoria, students expressed that they felt more stimulated to "approach the design empowered by selfcritical responses."
The trans-locational studios also led to an interest in the situated nature of architecture: in the case of Melbourne, a range of site interpretations by students with different experiences could be collected. Perhaps the design process itself actually allowed students removed from Melbourne to connect back to the city.
"I constantly found myself reflecting on the knowledge I gained studying in Melbourne to my surrounding environment in Shenzhen, China [- where I was located]: the distinctive characteristics of both cities began to form a conversation and eventually influenced each other. One of my projects finished with a strong visual representation of the urban landscape of Shenzhen."
"My connection to [the Melbourne] context comes from memories. By recalling the atmosphere of the site in Chinatown, times spent with friends [at the place] before the pandemic."
"I relied on online research for a housing project, by looking at typologies from different countries around the world. Eventually, I brought it back to the local
Learning From Afar
42 archigram melbourne
43Vol 01
discourse [in Australia] with a reference to the home with a backyard, projecting the ideal of 'Australian Dream'."
Regardless of the drawbacks from learning afar, they can be valuable in shaping each individual's understanding in their design practice. Leon Van Schaik, Professor of Architecture at RMIT university defines such value as "spatial intelligence" in architectural practice, arguing the everyday experience of an architect's past and present can influence how they communicate and deliver design ideas. [2] In times of 'distant learning', the variety of methods adopted by students for site investigation creates a unique relationship to Melbourne, based on a spatial awareness which they established in a different geographical space. We invite international students to dive in and reflect on their own cultural experiences, to explore how this has shaped design outcomes.
Finally, the design studio is notorious for its demanding framework, but students also felt that this had been at least partly mitigated by being able to remain in a familiar home environment. International students in a new city might encounter feelings of cultural isolation, strangerhood, or the anxiety of adjusting to an unfamiliar place, all on top of the usual challenges of classwork. Overall, remaining in a familiar home environment put students in a more positive state of mind.
One of the other most resounding positive encounters our interviewees had while working from overseas was with their tutors throughout the studio process. In
many ways, tutor support exceeded their face-to-face experiences:
"Tutors put in more effort to keep the cohort together, I felt more involved and connected than when I was in person."
"[The tutors] always encouraged me to express my ideas bravely."
"My tutor was really helpful with providing direction for research and engaging me with discourse in an Australian context . . . They were always there to support [me]."
Looking Forward
For the most part, our interviewees suggested that online learning from abroad should remain a last resort and only under special circumstances. But some also thought that parts of the 'distance model' should be considered by universities for the future—such as being able to engage with tutors who are based overseas. Others recommended that parts of remote teaching could be hybridised with in-person models, but this would still require at least some physical student presence and result in a kind of 'Blended Synchronous Learning' system (a class of partly in-person and online students):
"[In Blended Synchronous Learning] group discussion did not go well. Since all my group members were in Melbourne, they would often go to the MSD building together and brainstorm. I could not see their design sketches directly, so if they were making changes in-person sometimes I did not know what was happening and they needed to explain things to me again and again."
Learning From Afar
44 archigram melbourne
From a broader university support perspective, it was also clear that if support mechanisms were in fact available to students from the faculty, they "have not been made aware of it." Many also criticised the unfairness of still paying full overseas student fees—which are already higher than local student fees—without access to in-person learning, certain core subject offerings, and campus facilities. When imaging future online learning scenarios, these are just a few key concerns that need to be addressed.
This article has been a task of acknowledgement, to ensure that there is recognition for the diverse experiences of our university community during the pandemic and to begin important conversations about moving forward together. International students are often portrayed as passive agents in academic research, as reactors to external structural factors.[3] By reorienting pedagogical discourse around active perspectives and open dialogues, the narrative can shift to empower students both locally and abroad.
We would like to thank all of the students who kindly provided their insights for this article and hope that this acts as a reminder to talk to each other about your experiences of remoteness.[4] If you are feeling isolated or alone, we encourage you to seek support from your university health or counselling services. For help, you can also call, Lifeline, Suicide Call Back Service, Kids Helpline, MensLine Australia or Beyond Blue Support Service.
Citation
[1] Statistic received from the Built Environments Learning + Teaching team at the University of Melbourne.
[2] Leon Van Schaik, Practical Poetics in Architecture (AD Primers. 2014).
[3] Page, Alexander Gamst, and Sobh Chahboun. "Emerging Empowerment of International Students: How International Student Literature Has Shifted to Include the Students' Voices." Higher Education 78, no. 5 (2019): 871–85.
[4] https://www.mamamia.com.au/internationalstudent-australia-covid/
45Vol 01
02 Spotlight
Spotlight
Lachlan Welsh
In conversation with Lachlan Welsh, M.Arch student at the MSD, we discussed his recent participation in the BOLLES + WILSON studio as part of the Venice Studio; an intensive 2 week studio open to architecture students globally. Architects and students work together on major design challenges within the context of Venice, Italy. The BOLLES + WILSON studio asked students to "take architectural hostages from around Venice and redeploy them in new contexts."
Isabella Etna (IE): As a part of the Venice Studio (July 2021 Summer School) there were a handful of studios on offer to students led by architects and academics. Peter Wilson, of BOLLES + WILSON and the recipient of the 2013 AIA Gold Medal was your studio leader. As we are aware the studio brief involved students "taking architectural hostages and redeploying them around Venice" and "making off with bits made by others." What was your experience in Peter's studio and how did his methodology shape your project?
Lachlan Welsh (LW): Working with Peter was a memorable experience. He's an eccentric and curious guy. The way that he interprets architecture is quite unique.
Spotlight 01: Lachlan Welsh
48 archigram melbourne
01
It was a real pleasure spending those two weeks hearing his feedback on our projects each day. He would show photos of his own travels in Venice, pointing out the tiniest details in the images that would interest him. He brought that same level of attention to reviewing our projects, elevating each student's work by drawing out minor narratives. The brief that he wrote for the studio reflects his playful attitude. We were encouraged to steal pieces of source material from anywhere, no matter the quality or importance. These became the starting points for our projects as he encouraged us to treat them with irreverence and manipulate them to whichever ends we saw fit. This free and humorous approach set the tone for the class and several great pieces of work were produced as a result.
"We are increasingly seeingtemporary urban event sponsoredspacesby largecorporations. Iwas interested in thecritiquing practice of private facilitatingenterprise publicspace."
49Vol 01
IE: Your project is an eclectic mix; a Palladian church built at the end of a plague, a tomb and neon alcohol signage. Would you agree that your project is a comment on the commodification of pilgrimages?
LW: The project began with an attempt to work with Venice as a context. Having never visited Italy myself I felt a sense of detachment from the city, as if viewing it from a distance. The dilemma of dealing with such a historic city soon became apparent as there seemed to be many unspoken rules about what can and cannot be done architecturally. Whilst many of these rules related to authenticity or local appropriateness, the city instead appeared to me as a hollow tourist destination bound up in mostly commercial logics. Tourist culture seems to have transformed the city into a commodified experience-object. For me, this was the starting difficulty with Venice. My project draws from two sources to represent local and tourist dynamics in the city. The first was Carlo Scarpa's own gravestone at Tomba Brion, representing
Spotlight 01: Lachlan Welsh
50 archigram melbourne
the authentic local Venetian. Contrasting with this was the iconic Campari sign on the coast of Lido which represented the commercial tourist side of Venice. The project takes these objects as symbols of two opposing dynamics within the city and attempts to reconcile them. The initial phases of the project involved determining how these two vastly different objects could come together. The gravestone, with its inscribed heavy mass appearing in a similar architectural logic to the rest of Scarpa's designs, contrasting with the Campari sign, sitting lightly atop the Hotel Riviera, flimsy and artificial. The second part of the project involved locating this new hybrid object. Festa del Redentore is a pilgrimage that takes place in Venice each year across a temporary bridge leading to Palladio's Il Redentore. This junction point between traversing the horizontal water plane and the vertical facade of the church seemed an interesting location to explore the hybrid object. Rather than a commentary on the commodification of pilgrimages the project is more interested in the commercialisation of public space. We are increasingly seeing temporary urban event spaces sponsored by large corporations, effectively branding public space. I was interested in critiquing the practice of private enterprise facilitating public spaces.
IE: The project is conveyed predominantly through nighttime views showing inebriated visitors stumbling across the temporary structure across the Giudecca Canal, and carefully curated views of the Campari sign looking up from below. Could you elaborate on the formal project output?
51Vol 01
LW: The project was primarily an exercise of negotiating the two design logics. A massive engraved tablet for the tomb and the flimsy structure and industrial look of the sign with this lighting. The iterations that led up to this result were simply explorations in how one might bring these together. The composition of the final design is based around the junction between the Votive Bridge which intersects with the facade on an angle. I wanted to create a sense of strangeness through the visitor access by working with the axial approach from the Festa Del Redentore. The wedge shape of the double frame brands the church facade whilst also welcoming visitors across the water. It is an elaborate entrance and moment that occurs in the project. Regarding the nighttime aspect, I enjoy your interpretation of the inebriated visitors stumbling across the temporary structure. I imagined it being a hedonistic stop where one starts their journey on the pilgrimage but never actually makes it to the holy destination. One would be sidetracked at the bar instead. The lighting came from the festival which features a grand celebration of fireworks with boats out on the water decorated with lanterns. There was always this nighttime aesthetic to it in my mind. Peter told stories of arriving at the Lido coastline at night and seeing the Campari sign reflected in the water - this was something I felt important to incorporate in the project too. The project always seemed best represented at nighttime. There's something also about that night how neon signage and the glow comes to the forefront and the architecture recedes behind. That was an important thing to articulate; that this
new installation comes to dominate and obstruct the original facade of the church
IE: Cino Zucchi, director of CZA and professor of architecture at Politecnico di Milano, gave the 2021 Venice Studio Commencement Lecture. Could you tell us about his concept of "grafting", and how else Zucchi's ideas may have worked their way into your project?
LW: Cino gave the opening lecture for the studio. As I remember, it was about urban environments and different approaches to urbanism in the 20th century. The main idea that I got out of it was that of 'grafting'. Cino defines grafting as the condition that all new architectural interventions in Italy have to face. That is that they have to face the weight of the existing architectural history and urban environment. He made the point that, when working in Italy, one must move beyond a kind of basic contextualism. One cannot simply look at the site and interpret it through a basic anecdote that then informs the project. Designers need to position any intervention from a deep 'physiological understanding of place'hence the term graft. I thought this raised an interesting dilemma given the fact that I've never been there and we weren't able to get there in this studio. So this question of how can a project truly understand the physiology of a place with that distance in between resonated with me. My project could potentially be read as a superficial, disrespectful or a not-understanding of place. To local Venetians who would read my project, I appear perhaps as a drunken Australian tourist who wants to put a giant Campari sign right at a significant
Spotlight 01: Lachlan Welsh
52 archigram melbourne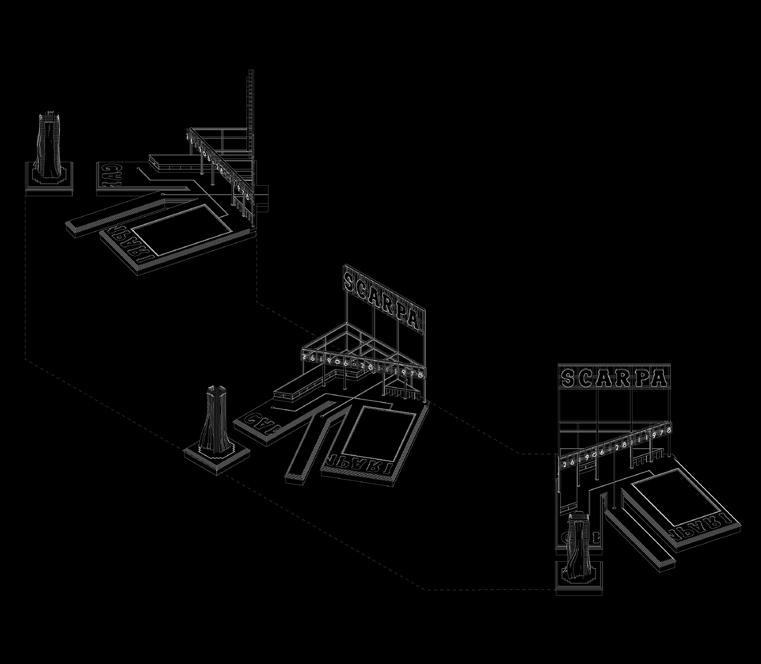 53Vol 01
junction of a bridge to the church in a sacred festival. But whilst it could be read in those terms, I hope that the audience can see the project as embodying the strange local and tourist dynamics that play out in Venice. Perhaps the project does actually understand something of that 'physiology' that Cino Zucchi speaks about after all. The project turns Scarpa's grave into a commercial spectacle, borrowing the elements of the tomb and reconfiguring it into a pontoon with a pool, a Campari bar, and a wicker man. Scarpa's name is front and centre in neon lights of the original Campari sign. My comment on Venice is that from the eyes of a tourist at least, one can never have a true or meaningful experience without it being turned into a commercial event. That's why in this project even something as sacred as Scarpa's tomb is not safe from becoming part of the spectacle. It's tongue in cheek. Peter was worried that the Italian critics on the panel would be totally offended by my project. As it turns out they understood where I was coming from. There was something about the project that resonated with them. Alexei Haddad and Luigi Alberto Cippini of Armature Globale made some great comments that unpacked what it means to commercialise public space.
IE: Did you feel as though there was a wide interpretation of the briefing in the studio? Was Peter pushing you in the same direction?
LW: Upon reflection, there was actually a widely divergent group of projects that were produced for the studio. Given the mix of undergraduate and graduate
Spotlight Lachlan Welsh
54 archigram melbourne
01:
students, it was really interesting to see how people at different points in their education responded to the same brief. Peter constructed what he called an "analog Panorama" of the Giudecca coastline. That was the scene into which we had to stage our projects. By the end of the studio we had a large collage featuring all the projects. It was a beautiful way to summarise the two week studio. If there was a common theme to emerge it would have been around the idea of 'artifice,' the artificial,' 'flatness', and the image of Venice versus the local reality. I think a lot of students dealt with those issues.
IE: The intensive studio was only two weeks in duration and delivered through a virtual format. How did you find this format and do you think that the sense of studio culture was compromised?
LW: The virtual format was quite interesting. I really enjoyed the distance from the city that it allowed. I found it an interesting and unusual exercise to interpret the Venetian urban context and to try to understand Venice's history, culture and what spatial interventions might mean, from a distance. Peter was quite funny at times. He is a great storyteller and would tell lots of stories about people he has interacted with over the years in Venice, including a bunch of famous architects. He would also go on Google street view and walk us around on a virtual tour. Given this access to Peter for the two weeks I tried to ask as many questions as possible. He's got a very unique view of architecture, art and design. It was a pleasure to hear about it.
IE: Last question, what's next for you?
LW: Aside from finishing off the Masters program, I'm currently working with the Ian Potter Museum, completing research on their Miegunyah Collection. This work will be exhibited early 2022 at the Grainger Museum.
Campari x Scarpa by Lachlan Welsh
School: Melbourne School of Design, University of Melbourne
Studio: Venice Studio led by BOLLES + WILSON
Year: Winter Intensive, 2021
Images provided by Lachlan Welsh, 2021
55Vol 01
Spotlight 02 Boyd Hellier Knox
In conversation with Boyd Hellier Knox to chat about his M.Arch (MSD, 2020) thesis project, 'Conditions of Interior.' Boyd started his University degree at the Australian National University in Canberra, where he studied Arts, majoring in Sociology. Transferring to the University of Melbournein 2015, he later enrolled in the Master of Architecture programme. He gained experience volunteering at the Glenn Murcutt International Masterclass, The Venice Biennale (2018), and on exchanges at the Royal Institute of Technology in Stockholm, and University College Dublin). His thesis 'Conditions of Interior" was supervised by Professor Alan Pert and the project was the University of Melbourne 2020 nominee for the RIBA President's Medal.
Isabella Etna (IE): Your initial focus for the project was on "the sacred". You mentioned you diverged from this. What ideas does your final project address?
Boyd Hellier Knox (BHK): The sacred was one idea in a lineage of different ideas. For some time I thought I was going to design an alternative model of prison, and before that a nightclub. There is a commonality in these typologies that carried through to
Spotlight 02: Boyd Hellier Knox
56 archigram melbourne
the final project - a degree of fortification and intensive, forceful usage. Despite these many iterations, it was the sacred that was at the forefront of my mind when the Semester began. At this stage, after extensive travels throughout the Middle East and Europe, the most prominent question in my mind was asking 'why do religions have a monopoly on the deliberate creation of awe?'. While this didn't explicitly make it to the end, I believe this concept, and contentious themes associated the aforementioned alternatives have carried through.
IE: Did your exchange to the Royal Institute of Technology Inform your project?
BHK: The exchange was invaluable:
I would recommend anyone to undertake one. Both were pivotal in my development. I believe that the greatest thing I took from my time in Sweden was a fresh understanding of different modes of studying and practising at a student level. The school has a pass fail for progression. This minimises the toxic element of competition, common to the architectural education system. The result is a student body where cooperation and motivation of peers is the norm, and your architectural studies are just one part of your life, and not all consuming. It was this more healthy and holistic approach that contributed most to the energy I took into this final semester.
IE: The site for your thesis project is located on A'Beckett Urban Square, next
57Vol 01
to RMIT Building 80. Was this the only site you considered for the project?
BHK: The only thing largely set in stone at the beginning of the project was the site. It's an intense urban condition, loud and oppressive. The basketball courts are an oasis in the Melbourne CBD. It's also rare to have such a large footprint that is the size of a tower. It's so clear that its time is limited, and there have been planning applications for towers there for at least ten years.
IE: Was the historic industrial usage of the site an important consideration?
BHK: I found out about this history a little later, and learnt that the soil was contaminated even later; Initially I wasn't sure if this was a good thing or a
bad thing.The soil was problematic in itself, but now it was super problematic, for lack of a better phrase; there was a further connection as I'd worked on the Westgate Tunnel Project for a few years so I am aware of the complexities related to contaminated soil.
IE: What about the site context, as it exists today?
BHK: The driver of the project is context, in its many readings, and how one grapples with context when they want to express an alternative to the existing.
I'm much more interested in the act of designing thanthan any socio political topic. The thought of doing a project entirely on concepts and not on design is something I would not enjoy. A lot of my project was about exploring design concepts and ways of designing, and having concepts emerge from it. In some ways I had a checklist of design concepts I wanted to explore, and knew this was the opportunity to do this.
IE: You didn't explicitly design the whole project, but rather moments. What was your approach to representing your project?
BHK: I believe that a significant downfall of architecture students is that they believe they're designing a building in student projects. They are not. They are designing a series of drawings that show your building's concepts, with fully resolution not expected or required. Once you understand this you make it a lot easier for yourself. With this being said - it is Boyd Hellier Knox
58 archigram melbourne
Spotlight 02:
blatantly clear if the fundamentals of your project are not strong. It is about striking this balance. This balance can allow you to live a life, and in living a life outside of your studies, you gain perspective. Without sounding like a self help coach, it is the best thing you can do for both yourself and your work.
I suppose it plays into the concept of working smart, not just hard. I went into this semester with desire to pursue a project that was not simply worked on by sitting there and reading architectural theory or sketching incessantly, it was to be worked on by walking around thinking on daily COVID walks and listening to music, whilst still working diligently throughout the semester.
IE: That sounds like passion, as opposed to someone who thinks "OK I've got this task and I need to finish it". Where the
project becomes your life.
BHK: The project was of course a huge part of my life, andit was really enjoyable. If you enjoy it, it's so much easier. It also didn't hurt that lockdown stopped me going out, though I was fortunate in not being as mentally impacted as many .
IE: Moving back to the project, what is it? Should we call it a "tower" or is it something else?
BHK: I would describe it as a tower, yes. The tower is just referred to as 'the tower', but the project is called 'Conditions of Interior'. Ambiguity was an important part of my project.The proposal is described as a tower but I have the model next to me in my room and seen out of context it could be a tribal weapon or a sculptural form. It is rare to feel confidence in having achieved a design outcome that aspires for something as fleeting and subjective as ambiguity, and it is something I consider a success of this project.
I also find it tragic how we've been conditioned to associate "towers" with those representing capital and real estate speculation, as they are found in Melbourne and globally. Like many throughout history I still find towers amazing, even if their meaning has changed over time to appear as something more like a vertical expression of excessive wealth.
IE: To label your project as a "tower" when your project is about the interior condition is bold, given that towers are usually viewed from the exterior. Would
"The thought ofdoing a projectentirely driven byabstract conceptsis illustrative ofa disconnection between education, practise and thewider context that I find troubling."
59Vol 01
Spotlight Boyd Hellier Knox
60 archigram melbourne
02:
you say that your project is an attempt to redefine "tower", what is it or what it could be?
BHK: If you compare the section of my project to one of the neighbouring towers, everyone knows what a commercial or residential tower should look like... stacked floor plates with a lift core. I don't want to say that my project was about seeing what they did, and doing it differently, but it helps to have something to bounce off of, but I didn't let what the project wasn't meant to be define what I wanted it to be.
Concerning the definition of the interior - it is used in a number of different ways. The interior of the individual and the inner monologue, the interior of the city grid, the interior of the building. The work of Richard Sennett was invaluable in developing this.
IE: Coming back to the model, when I look at the model it seems scaleless like it could be anything, but looking at your sections you have used your form as a motif.
BHK: I was and continue to be influenced by Valerio Olgiarti, the Swiss architect, who uses the motif of the typical house in his projects. He is the epitome of theory meets design in a contemporary sense. I looked at his project in Muharraq, Bahrain, which defies typical expectations of architectural space. While I appreciate him, you don't want to be him. The photos of his projects are completely uninhabited, no people or furniture. or my project, it was always about the inhabitation and use of space
IE: Your approach is not totally conceptual, you seem to have found a nice balance. A lot of students and even professionals get lost in the world of 'archi-speak', and become inaccessible. It's nice to see how you have focussed on how to bring your ideas into reality. In this discipline it's clear that there is a struggle for students and even professionals to accomplish the simplest tasks of traditional roles of 'the architect', to actually bring ideas into reality.
BHK: For students, professional work experience is really helpful for this sort of thing. Coming from a deeply pragmatic family with a background in design, making and doing are my languages of choice.
61Vol 01
Spotlight 02: Boyd Hellier Knox
62 archigram melbourne
IE: Has your family influenced your approach?
BHK: Yes, I don't think I can overstate it enough. My grandfather, Alistar Knox, was a mud-brick architect in Melbourne who was one of the first sustainable architects in Australia. I also have two uncles who have been in the Venice Biennale. My dad is very practical, my mum is also a designer. I'm the only one pursuing architecture apart from my grandfather. I have a number of my grandfather's books on my bookshelf.here are several parallels in our work. Mud brick is inherently and irrevocably geological; if you're making mud bricks, it'll likely be from the earth that's on the site. In some ways this is similar to my project, in that it was just a rearrangement of the immediate geological context into another form. In the tower it was rearranged into the interior volumes of the building: the vessel. In several other Studio projects, such as the John Wardle studio, my project was similarly geological.
IE: Where do you see this project moving forward into life after graduation?
BHK: The project is one of the nominated projects for the RIBA Award. There's some more text I'd like to write, and there's some listening back to my feedback from my crit. The project is full of contradictions. For example, the project itself has a big sustainability angle in terms of providing its own water and using the earth as a building material, but on the other hand I think my choice of concrete was problematic. I would like some of this text to explore such contradictions.
IE: How do you see this project as the foundation of the rest of your career?
BHK: I wanted to use this project as space to explore a number of ideas, particularly those that may be harder to explore in a client driven architectural landscape.
Conditions of Interior by Boyd Hellier Knox
School: Melbourne School of Design, University of Melbourne
Supervisor: Alan Pert
Year: Semester 1, 2020
Images provided by Boyd Hellier Knox, 2020
63Vol 01
Spotlight
Duy Kim Vo
In conversation with Kim Vo Duy to chat about his M.Arch (MSD, 2019) to chat about design approach and his thesis project, "Impossibilium Thermarum". Kim completed his Thesis Project in July 2019 under supervision of Scott Woods, Academic Fellow at the MSD. Kim started his architectural studies at the Ho Chi Minh City University of Architecture, rooted in the tradition of the Beaux-Arts and Bauhaus education. At the MSD, he has been exploring the formal and historical relationship between architecture and the city. He is currently the Senior Studio Tutor for the B.Des UoM Subject "Foundations of Design: Representation" and a Studio Leader for the Master of Architecture CDE Design Studio at the MSD.
Isabella Etna (IE): You seem to have strong ideas about how you want your work to be interpreted, and read by an audience. What was the direction you took in your thesis project?
Duy Kim Vo (KV): Every work is an interpretation. There's always room for interpretation, I would claim some of the best work I've done has allowed other people to interpret it. Particularly good
Spotlight 03: Duy Kim Vo
64 archigram melbourne
03
architects and theorists do this. This is what Scott (Woods) and I have been doing working on a (Aldo) Rossi Studio. One of the things about Rossi is that his writing is supposed to be scientific and rigorous, but at the same time it is nuanced and open for interpretation. It's true that his intention was to make it systematic in a way, but it's not an easy idea and can't be translated into a formula. Along the way of producing he turned something scientific into something poetic.
IE: Where does your project sit on the spectrum of architectural thought?
KV: I am more aligned with Pier Vittorio Aureli who is a contemporary architectural theorist currently teaching at the Architectural Association in London. He's quite controversial among his peers. I actually started my thesis by looking at Aureli's work, he wrote a book called "The Possibility of an Absolute Architecture", which is basically his manifesto where he outlines his views on architecture's relationship to the city. It was actually the starting point of my Independent Thesis.
There was a chapter that talked about the opposition between Piranesi and Noli; Noli produced the first Cadastral Map of Rome in the 18th C, and ten years later Piranesi produced a plan of Camp Mesio in Rome where it was completely based in the realm of "imaginary architecture". Aureli claimed that the Noli placed more importance on urbanism over architecture, whereas Piranesi did otherwise. That's where I started, but to get to that point it took a couple of weeks of research.
"After the presentation half ofthe critics wanted to tear me apart,while the others wanted to jumpin and defend me.A split opinion isthe best response Icould hope for."
65Vol 01
IE: How did your interest in Aureli arise?
KV: I actually approached Scott about doing a thesis on the basis of what I did in the Venice Travelling Studio; where I dealt with the idea of the 'Venetian ritual' especially the one that created the "ponto" (bridge). The focus was on the Festa del Redentore where a temporary bridge has been constructed for worshippers to cross the Giudecca canal to arrive at a church. It's been happening every year since 1575. So my project was playing into the ephemerality of a temporary mass gathering event, versus something that is also a formal and serious ritual. Apart from my previous project, it was very clear what I would be doing, in terms of having a clear brief from the outset. We had a conversation about Ritual v the Non Ritual; it's almost comparable to the idea of ritual vs. sincerity. Ritual was more important in the past and central to everyday life, life was mediated by ritual. Whereas sincerity is a modern obsession that we hold with much more regard nowadays than in the past. So in a lot of Duy Kim
66 archigram melbourne
Spotlight 03:
Vo
ways architecture in the past was all about organising rituals. Now we have stripped those aspects out of architecture and filled it with content.
IE: Your Independent Thesis project is called "Impossibilium Thermarum" and is set in Rome, another Italian city that departs from the site of your Venice Studio Project (in Venice). Was it your interest in Ritual that drew you to pursuing the Roman Bathhouse ?
KV: The Roman Bathhouse actually came towards the end of the process. I would say that along the whole journey of my thesis, it was a rollercoaster ride because I started with something and moved to something else and so on. Somehow the ideas were all connected. One of the interesting things about the Roman Bathhouse is when you go you have to take off your clothes, and then there are several water temperature controlled rooms you move through: the warm room, the hot room and the cold room. Even though it's not a religious activity, it's still a ritual. The Roman Bathhouse dictates the users to behave in a certain way, circulate a certain way, move at certain times and the architecture is formalised around that.
IE: What implications does your project have on Rome?
KV: This is another controversial thing, and something that some of the critiques during my presentation got annoyed about, was that my project didn't set out to solve anything. I would say it's set in more of contemporary conditions, the context is contemporary Rome. It's an
expression of the whole idea of ancient Roman Decadence. My position on doing an independent thesis, that you have to create a solution to an issue is problematic. There is the weird condition that you have to seek out a problem or problematise something. My project is an attempt to understand Rome in its physical context, and cultural history, and to apply an Aurelian reading on to that too.
IE: You employed language from ancient Roman and their methods of representation in a project that looks to the conditions and context of contemporary Rome; this is a bold gesture. What was your intention behind this?
KV: I remember the conversation I had about this question (the formal relationship) with Scott. My answer is that it is already derived from something that already exists. The idea was to create an "absolute architecture" in Aurelian terms".
My architecture is based on the evolution of the Roman Bathhouse, Thermae. It's based on the idea of pushing that to the scale of the city. To put it into terms my project explores "What is Rome as a Bathhouse?" The choice of some of these
67Vol 01
elements are coming from that position. There is something interesting from some of the particular language because it equates decadence to progress. There's a sense of history and decay. There's a lot of interplay between that in the way I adopted the language. When I watched films like La Dolce Vita or La Grand Bellezza, they are modern interpretations of Roman Decadence. Even though you see modern Rome, it's not that interesting, these films hark back to the ancient image of Rome. The contemporary appears ephemeral, which is something I tried to emulate in my project playing with modern elements.
IE: You suggested that your project wasn't accessible by the critiques (in your final presentation). How did you intend for the project to be received?
KV: I would say that even though the critics were not positive about it, it was still a success. After the presentation half of the critics actually wanted to tear me apart, while the others wanted to jump in and try to defend me. In a way, if you got a total approval it means that you did something acceptable. I wanted to make everyone feel on edge. Of course there is a reversal of that too, if everyone hates it, that is problematic. If there is a split opinion, I think that's the best response I could hope for. Some can see something interesting, but the others feel very uncomfortable. Some critiques, who were systematic, loved the background research and so did some formalists. I won't name names, but the historians on my panel absolutely hated my project because I reformulated the idea and claimed that "decadence" is the central point of architecture whereas
some claim it's more than that. One interesting comment I received was that my project wasn't political enough, but I'm not entirely sure how to respond to that. The idea of the political that they were hoping for is something that can be 'clear cut', whereas if you read Aureli's "absolute architecture" it's a completely different approach to the 'political'. He sees complete urbanisation as the function of the totality of capitalism rolling out across the whole city. So, his idea of urbanisation is capitalism itself. Urbanisation as a system of extension not about design. It also is a system to control the material aspect of the city, human material like labour, infrastructure and so on. It's not about human habitable space, but the redistribution of space for economics. His position on "absolute architecture" is that it is something that separates itself from the city, but it is an architecture derived from the city, but opposed to the city and the process of urbanisation.
IE: In 2018 July we understand that you participated in the Travelling M.Arch Studio at the MSD to the Venice Biennale led by Alan Pert and Scott Woods. How did your travels to Italy and Europe influence your project and did you have any "turning point" moments?
KV: I would definitely say that the studio was a turning point for me, but it's difficult to pinpoint at which exact moment during the trip the turning point occurred. A lot of things happened in Venice. Just being there in Venice, the whole city is swimming on this lagoon. That whole setting is just awe inspiring. I had seen it in photos before but when you travel there on Vaporetto
Spotlight 03: Duy Kim Vo
68 archigram melbourne
and walk in between alleyways, that whole experience produces a lot of strange effects. I had read Italo Calvino's "Invisible City", I realised that everything he wrote about Venice is exactly how Venice is. Calvino's chapter was supposed to be an exaggeration and fantasication of Venice, but I realised how true it was when I was there. It is a city that seems to be stopped in time but there's a lot happening there. The whole existence of Venice is a miracle itself. Venice is where theory meets reality in a very strange way. All these weird things and weird ideas that didn't follow any rules, but suddenly in Venice became possible.
IE: Many cities in Italy seem to have this effect, of course Venice is the most extreme example. Did you see your heritage or your experiences coming through in your project beyond just the immediate context in Rome?
KV: It's undeniable that our projects are an extension of ourselves. It didn't actually translate into a form that you can identify with my heritage. For me it's about how I think about things which relate more to my heritage. One of the things about my thought process is that I have so many things going on at the same time and I can't seem to make decisions. The whole problem of me doing Thesis, I got pulled in so many directions. I was born in Vietnam, which was influenced heavily by France. I think that because of this the way of thought is often torn between tradition and enforced modernisation brought by the French through the Beauxarts. It's always a negotiation between you and your surroundings, there is always
an understanding that your position is in relation to other things. In a way, I see everything as a network, and it is difficult for me to say this is how it should be, or this is my direction. One of the things that annoys me the most about doing presentations, that you should be able to describe your thesis in one sentence, but I would argue there is a danger in oversimplification.
Impossibilium Thermarum by Duy Kim Vo
School: Melbourne School of Design, University of Melbourne
Supervisor: Scott Woods
Year: Semester 1, 2019
Images provided by Duy Kim Vo, 2019
69Vol 01
Spotlight
Albertus Yudhistira
In conversation with Albertus Yudhistira to chat about his design approach shaped by Gregorian music and his M.Arch Studio E project for Studio Untamed (MSD, 2019) "Sanctuary of Silence." Albertus started his architectural studies at the University of Melbourne before continuing to complete the Master of Architecture at the Melbourne School of Design in 2019. At the MSD he developed an appreciation for experiential and atmospheric architecture told from a human perspective, and much of his work focuses on enhancing the human senses to encourage a greater understanding of oneself. He is currently an Architectural Graduate at COX. He is also pursuing his passion as a photographer at Studio Bercerita (@studiobercerita), a company that he founded with Joseph Ardhianto and Caterine Damayanti.
Isabella Etna (IE): To what extent have your roots, in Indonesia, shaped your design approach?
Albertus Yudhisthira (AY): Indonesia has played a huge part in my design philosophy. There are alot of ethnicities in Indonesia and the philosophy and principles of Buddhism and Hinduism
Spotlight 04: Albertus Yudhistira
70 archigram melbourne
04
permeate thought in Indonesia. It has influenced the way I think, especially the ideas of harmony and balance with nature. I'm also an active chorister at St Francis Church in the City of Melbourne, where we mostly sing Gregorian and Classical songs, which mostly originated in the Medieval period in monasteries and churches. It's a deep tone of music that heavily relies on voice but also the space where it is performed. The emphasis in that style of music is on the experience of the listener and the shared experience of transcendence and divinity. My experience as a chorister has somehow shaped my views on 'atmosphere.' We sing every week, every Sunday. A couple of years ago I travelled to Brisbane with the choir to sing in St Stephen Cathedral, which is about the same size as St Patrick's Cathedral in Melbourne. We sang the same songs there that we had practiced in St Francis Church, but because the
chamber was way bigger the effect of the sound and the reverberation was different. At that moment I realised that the shape and qualities of the internal space really affects the way you perceive sound. After I experienced how sound bounces differently in different spaces I started to prioritise it among all design considerations. Coming back to Gregorian music, in Medieval churches the interior spaces are shaped in a particular way to achieve an echo and a better deep sound for the music.
IE: Have you travelled to cathedrals overseas?
AY: I went to Spain last year for the AA Visiting School. While I was there I went to almost every cathedral in every major city including Barcelona, Seville, and Cordoba. The Sagrada Familia by Antoni Gaudí in Barcelona caught my attention. Generally Gothic cathedrals are quite dark inside with few openings above, the major source of light are clerestory windows and they feature a rose stained glass window. Take St Patrick's Cathedral in Melbourne for example where it's very dark and the only source of light is from the rose stained glass window, which is symbolic of divinity entering the space. In the Sagrada Familia the light comes from everywhere and I definitely had a different kind of experience there. There is a huge floor to ceiling height which creates a soaring internal volume. There must be symbolism there.
IE: Your thesis project, 'Sanctuary of Silence' was a part of James Park's studio in 2019 (Studio Untamed, Studio E).
"As a photographeryou are asked tobe observant , and to be present tocapture the moentaround you. Iam much more interested in the transient moments of everyday life."
71Vol 01
Could you tell us about the brief?
AY: The brief was to design a secular retreat, so a non denominational retreat, in outback Victoria. The site was in Acheron, Victoria which is about three and a half hours away from Melbourne up near Mount Buller. The site is pretty unique. It's characterised by a typical pastoral landscape with a hill. We were given the whole site to select any area for our design. I adopted the idea of the ancient monastery, in medieval monasteries or himalayan monasteries, where they tended to locate their buildings on the top of a hill. The idea of identity and crisis was my starting point. Our city lives are so busy and fast paced with little to no time to take a break especially with the influx of information constantly streaming in with social media. It's too noisy. We don't have time to reflect on ourselves or our surroundings. I was inspired by Cistercian Monastery in Maulbronn, Germany. In the medieval times people in the monasteries prayed, meditated and wrote. In order to create the best place for these activities to occur, silence was key. It pervaded the rituals in their lives; once they awoke they would walk to the breakfast room in silence, meditate in silence, everything happened in silence. It's an interesting belief, in silence they found God. It's like meditation. The second idea I adopted was practicing minimalism; not including unnecessary elements, so that I could enable the surrounding context to engage in dialogue with the users, and let it speak to you. In this project I pushed the idea that architecture can be a mediator not only between you and it, but between you and yourself. In the context of Gregorian Yudhistira
72 archigram melbourne
Spotlight 04: Albertus
73Vol 01
74 archigram melbourne Spotlight 04: Albertus Yudhistira
music, it's a shared experience but also a transcendental personal experience.
IE: Aside from your studies in Architecture, you have developed a passion for capturing moments through photography. How has this shaped the way you approach designing spaces?
AY: As a Photographer you are asked to be observant, feel the genius loci of your context and to be present to capture the moment around you. It helps you to observe things more carefully. In connection to my projects I would say that through practicing photography I have formed a much understanding of light. If you look at some of my drawings, you can see I have considered the direction of light, where it's entering the space. Through my photography work I've also developed an interest in shadows. It's like a reflection from a three-dimensional object on a twodimensional plane. You cannot see the real object, but it's like a reference or an imprint.
IE: On your personal Instagram account @albertusmyudhistira, your photographic focus could be described as 'the mundane' given you focus on moments between people in everyday places or details of everyday objects. Would you agree? And what draws you to this subject / approach?
AY: It's something you normally take for granted in your daily life, it's something that's often forgotten. For me though it's quite interesting. We often aim for the unachievable in everyday life. In my photography works I am much more interested in appreciating the transient
moments of everyday life. There is beauty in everyday objects.
IE: On this note, would you agree that you align with the area of architecture described as "Phenomenological" architecture? Where the most famous figures are notably Peter Zumthor and his Therme Val's Project. Other than Zumthor, who are other figures you looked at while putting together your thesis?
AY: During the process of my design I read books by Peter Zumthor, Juhani Pallasmaa, John Pawson, Donald Judd, John Cage and James Turrell. I also love "In Praise of Shadows" by Jun'ichiro Tanizaki. There's a personal connection between their theories and the way I see architecture. They let materials speak for themselves, and their emphasis on the experiential interplay of light of shadows. Perhaps contrary to Zumthor, I did not want the visitors to have preconceived ideas about the space before entering it. In this project I wanted the visitor's to make up their own mind. From my understanding of phenomenology it is about grasping the phenomena, delving into your five senses, and I definitely align with these ideas.
IE: We have seen some of the models you made for your projects, how does the making process play into your design process and then presentation style?
AY: It was more focussed on experimentation with light. I started with the experience and atmosphere I wanted to achieve and tried to push that through my work. When I make models I often
75Vol 01
76 archigram melbourne Spotlight 04: Albertus Yudhistira
find that it's all about experimenting, what I mean by that is that you often come up with things that you did not expect, which can be much more interesting than the initial idea. It's all about trial and error.
IE: We also understand that you took Studio 35mm in 2018 with Hamid Khalili prior to James Park's studio where you explored how photography and film medium can shape our perception of architecture. Did you carry these principles into your thesis which was focussed on experience?
AY: There are two things I learnt. Firstly, film helps us to focus hearing and vision senses. When you're looking at drawings it's essentially only your eye that's working. The hearing sensory is so important in film. Secondly it helped me to understand space better, to curate an image. With the camera you are in control of capturing that moment with aperture, lighting, and with film there is also the consideration of sound and how that affects and evokes emotion. I took all of these aspects into consideration when designing the Sanctuary of Silence.
IE: You mentioned that you're interested in pursuing 3D Visualisation, and the aspects of film and photography that you discussed seem as though they'd place you in a good position to have mastery over this. Could you tell us more about your interest informs your work?
AY: Lots of architectural visualisations are empty, there is no narrative, there is no story that makes you want to look at it. That's the downfall of some 3D artists. However, there are some geniuses out
there who do really good jobs in creating stories. A firm called MIR in Norway (www.mir.no) and ArtefactoryLab in France (www.artefactorylab.com) who understand this concept quite well and produce hyper-realistic renders. They are
Sanctuary of Silence by Albertus Yudhistira
School: Melbourne School of Design, University of Melbourne
Studio Leader: James Park
Year: Semester 1, 2019 Images provided by Albertus Yudhistira, 2019
77Vol 01
Spotlight 05 Lauren Granek
In conversation with Lauren Granek to chat about her M.Arch thesis (MSD, 2019) 'The Death Matter' supervised by Scott Woods and Alan Pert. Lauren is an architect at Edition Office, a Melbourne based architecture studio and winners of the 2019 Emerging Architects of the year and the 2019 National Gallery of Victoria Architecture Commission with their proposal "In Absence."
Isabella Etna (IE): In 2018 you attended the Venice Biennale as a part of the Venice Travelling Studio at the MSD. How did that experience impact you as a designer?
Lauren Granek (LG): That was probably the most pivotal experience I had at my time at uni. Being in a studio run by Scott Woods and Alan Pert, and the way they teach is much more theoretically grounded than what I had experienced before. Visiting the Biennale with their guidance and knowledge was huge in shaping a new way for me to see and approach the discourse. Their teaching is based in history, context of site. As a part of the studio project when we went to Venice I was assigned the Swiss pavilion in the Giardini and Aldo Rossi's 'teatro del mondo', a temporary theatre that epitomised the power of architecture even
Spotlight 05: Lauren Granek
when obsolete. I learnt about the value of context in the history of architecture, and how architecture can be a device to bring narratives back to life. That is something I continue to be interested in. By attending the Venice Biennale I also become more aware of architecture as an artform. One example of this was Ogliati's "Experience of Space" which spoke to the history of the Arsenale. It solidified the idea about using architecture as a device to speak to the narrative of a site even if expressed via installation or sculpture. This provocation of narrative is critical in achieving purposeful architecture. when obsolete. I learnt about the value of context in the history of architecture, and how architecture can be a device to bring narratives back to life. That is something I continue to be interested in. By attending the Venice Biennale I also realised that architecture is also an artform. One example of this was Ogliati's "Experience
of Space" which spoke to the history of the Arsenale. It solidified the idea about using architecture as a device to speak to the narrative of a site even if expressed via installation or sculpture. This reciprocal relationship of history and architecture is a key design principle at Edition Office and was one of the reasons why I was interested in being a part of the firm as I think that's important in how you achieve purposeful architecture.
IE: You mentioned Aldo Rossi's 'teatro del mondo'. Could you tell us more about your interest in his work?
LG: I continued my research into Rossi through to my thesis. I find his perspective incredibly interesting - architecture as a locus of history, memories and people that have moved through 'site'. I am interested in how Rossi expressed history through architectural geometries, material and placement. For example Rossi's teatro del
"the first time inmy educationarchitectural that I aligned theoreticalwithwork, was when I was started readingabout Rossi's methodology "
79Vol 01
mondo was a concept for a 'one night only' floating theatre in the Venetian canal. In his narrative there would be a build up of excitement and theatrics and then the following morning the theatre would float off to Dubrovnik where it would be deconstructed and reconstructed again until the next journey took place. Realising that architecture doesn't have to be solely a functional thing with considerations like "where are we going to put the toilets? Or how big is that bedroom going to be?," but rather a celebration and representation of an instance of site/history was my greatest turning point and something that Rossi's work contributed to.
IE: Your thesis project, "The Death Matter" is almost an extension of your Venice studio project. Could you tell us about your starting point, and where you ended up taking it?
LG: It derived from the Venice travelling
studio and the idea of hidden narratives of site. I really wanted to do a project in Melbourne to be able to visit and experience the site. I had heard about the cemetery below Queen Victoria Market (QVM), which isn't common knowledge.
I was talking with my friend Boyd HellierKnox (Spotlight 01) before starting my thesis, and we spoke about QVM from which the idea for my thesis evolved. I had an interest in death, and the rituals of death. In a contemporary city it's a taboo topic, it's a fact of life commonly ignored. Death is a taboo topic and subsequently the sites that were once considered sacred (sites for the deceased) have been eradicated from the city proper. It's a bizarre scenario that there is something like eight thousand bodies under the carpark of the QVM. I thought it would be interesting to bring back the narrative and reimagine the mix of functions on the site; if a marketplace is also a crematorium and a burial grounds, we can reintroduce death
80 archigram melbourne Spotlight 05: Lauren Granek
back into contemporary thought in the urban landscape, creating a liminal space between the seemingly disjointed worlds. I wanted to neither celebrate nor condemn life or death.
IE: In the context of your thesis, you studied Palladio's Villa Rotonda and the Queen Victoria Market. What significance do you feel that these structures have for us today? Why did you select them as points of reference in your thesis?
LG: That came up when I was looking into rituals. For the first month of my thesis I was so lost. Scott (Woods) was pushing me into looking at how to create a ritual for death in my project. As a starting point I was looking into all these different cultures. I took a step back from ritual, and started looking at the intimacy of death in a city. The home is an intimate space, so I looked at the Villa Rotonda to examine the rituals of home. Villa Rotonda is a bizarre scenario because it doesn't look like a domestic setting, but rather a commercial program within a home. I wanted to explore this juxtaposition; between the environment of a marketplace and the intimate spaces where the rituals of death occur.
IE: Looking back at your time at MSD, what advice would you give to your previous self / a current student would benefit from?
LG: Just keep going and try to use all the resources made available to you. There are great minds in that place. Try to be more selective with your studios. Don't just select based on the topic, but select
based on the studio leader. It wasn't until the Venice Biennale that I realised how much you can learn from the tutors. I didn't enjoy Uni until my last year of my masters. I wish I had slowed down and taken my time instead of trying to quickly do a studio and get it over with. So in summary, slow down and be selective of who you can learn from.
IE: Your current project @lhg.studio exemplifies a love for arches, spheres and raw materials. Could you tell us about where this design sensibility came from and more about your current project @ lhg.studio?
81Vol 01
82 archigram melbourne Spotlight 05: Lauren Granek
LG: It was born during covid, I needed to find an outlet to stop being consumed by the world outside. I've always had an interest in Bachelard's Poetics of Space, and looking at object / space relationship. I like metaphysical art, illusionistic objects in space, and the power of material and texture. I was looking at D'Chirico and metaphysical art as a source of inspiration. I wanted to have some fun and I enjoy the ease of it. It's not over-thought, just really simplified celebrations of geometry, light and shadow. I've always liked visualisation, and if you look at my thesis project you will see that the emphasis is on the architecture rather than entourage. I've always preferred that, rather than drawing attention to the chaos of people in an image. I just wanted the focus to be
on form and architectural environment. following morning the theatre would float off to Dubrovnik where it would be deconstructed and reconstructed again until the next journey took place. Realising that architecture doesn't have to be solely a functional thing with considerations like "where are we going to put the toilets? Or how big is that bedroom going to be?," but rather a celebration and representation of an instance of site/history was my greatest turning point and something that Rossi's work contributed to.I've always preferred that, rather than drawing attention to the chaos of people in an image. I just wanted the focus to be on form and architectural environment.
IE: What's next for you?
LG: I'm leaving it open. Nothing's planned yet, just wait and see how the year unravels.
The Death Matter by Lauren Granek
83Vol 01
School: Melbourne School of Design, University of Melbourne Year: Semester 1, 2019 Images provided by Lauren Granek, 2019
Get involved: archigrammelbourne@gmail.com