EASTERN LIVING
The Heart of Downtown
NORTH CAROLINA
Earn transferable college credits! Accelerate your education! Save lots of money! Martn Community College is commited to an environment that embraces diversity, respects the rights of all individuals, is open and accessible, and is free of harassment and discriminaton. Register now! Visit our website at www.martincc.edu or call 252 -792-1521 to get started! Need help? Text 252-802–6116 or email MCC also offers several short-term (less than a year) training programs through Continuing Education. Check out these great programs - Basic Law Enforcement Training (BLET), Fire Academy, Apprentice Line Technician, EMS instruction for EMT's and Paramedics, and Health Care training for Nurse Aide I and II, Phlebotomy, Activity Director, and Medication Aide. Financial Aid is available for Summer Semester! Twenty-nine ten-week sessions to choose from! Twenty-one classes completely online! 2
3
Bertie County
4
Colon Cancer.
Early detection from screenings may save your life.
Colon cancer is very prominent and very deadly in North Carolina. But you are not defenseless. Screenings may prevent twothirds of all colon cancer deaths.
Beginning in your forties, you need to get screened. Family history or IBD increases your risk, and so do lifestyle factors including diet, exercise, alcohol, and smoking.
Scheduling a colonoscopy screening gives you an advantage because it helps doctors identify potential problems earlier, when they are more treatable.
Colonoscopy screenings are:
• Recommended beginning at age 45 or sooner
• An essential part of your regular health care
• Offered in many convenient locations
• Covered by most insurance plans
Take
a risk assessment or fnd location and scheduling information at ECUHealth.org/Reminder
LET'S EXPLORE. We cover the PEOPLE you know & love and the places you should go & love ! 24 28 18 32 12 14 Beaufort GREENE MARTIN PASQUOTANK NASH Perquimans TYRRELL Pitt Bertie Chowan Edgecombe GATES HALIFAX HERTFORD HYDE Washington Wilson NORTHAMPTON 8 14 6
VOL. 15, NO. 2 MARCH 2023
STAFF & CONTRIBUTORS
Publisher Kyle Stephens kstephens@apgenc.com
Editor
Thadd White twhite@apgenc.com
Layout & Design Becky Wetherington lotuscircusdesign@gmail.com
Michelle Leicester bertienews@ncweeklies.com
Photo Editor Jim Green jgreen@rmtelegram.com
Advertising Executives
Lou Ann Van Landingham lvanlandingham@apgenc.com
Kelly Ayscue kayscue@rmtelegram.com
Chris Taylor ctaylor@rmtelegram.com
Staff Brandice Hoggard bhoggard@ncweeklies.com
Tyler Newman tnewman@apgenc.com
John Foley jfoley@apgenc.com
Editorial Contributors
Sandy Carawan
Sarah Davis
Sylvia Hughes
Lewis Hoggard
Donna Marie Williams
Kelly Grady
Vernon Fueston
Amanda Hoggard
Deborah Griffin
Dave Cruz
Eastern North Carolina Living Magazine 109 South King St., Windsor, NC 27983 252-794-3185
twhite@apgenc.com
Eastern North Carolina Living is published by APG Media Eastern NC, and is a subsidiary of the Bertie Ledger-Advance, Martin County Enterprise & Weekly Herald, Tarboro Weekly and Rocky Mount Telegram. ON THE COVER
Beautiful downtown Farmville in Pitt County.
FEATURES BIOGRAPHY Jafon Allah fulflls his dream 36 44 46 48 50 GRANDMA'S KITCHEN Quick and economical recipes GRACE & TRUTH Meet Amanda Hoggard's grandmother MARK IT! Learn more about Louis Austin PARTING SHOTS Words from our editor 7
Photo by Aileen Devlin
Copper Canyon Soap Company Elizabeth City was their choice
Story & PhotoS by Vernon FueSton
Chance Kitchens placed a bet on Elizabeth City's downtown retail district that seems to be paying off. His Copper Canyon Soap Company is thriving on East Main Street; he's opened a second location in Columbia, S.C., and has seven more locations slated to open within the following year.
"Elizabeth City is a hidden gem," Kitchens said. "I feel like this is the gateway to the Outer Banks from the Tidewater region. New businesses are opening all the time. We have three breweries here that bring a lot of traffic."
Kitchens, a former Virginia Beach resident from Mississippi, said he consciously came to Elizabeth City because of its size.
"We chose Elizabeth City instead of Virginia Beach because it has a small-town feel and personality. It has 18,000 people, so it isn't really small, but it isn't big either. It can make a lot of noise in this region."
Copper Canyon is a small retail shop that provides a staggering array of soap and bath products in various scents and vivid colors. If a customer can't find just the combination of fragrance and color, Kitchens said his staff can custom-make it from a wide selection of dye-free pigments and plant-based fragrances and ingredients. He said customers can choose from 65 scents and an infinite array of colors.
He said his pigments are made from finely-ground minerals called micas. The
pigments have a silky feel to them, and rinse away quickly. All his ingredients are plant-based, and the soaps, oils, balms and salts are made right in the store, often to custom requirements.
He said one customer is allergic to tree nuts, so she can't use soap with shea butter as a moisturizer. She orders a sweet magnolia-scented soap that is shea-free in her choice of colors.
For a small shop, Copper Canyon has a dizzying number of products on the shelves.
Of course, there are bar soaps in both masculine and feminine scents. Shower balls made to hang from the shower head are infused with grape seed oil, sweet almond oil and hemp oil to moisturize the
skin and reduce the need for lotions during the day. Bath salts are available in various colors and can be custom-scented.
They make a scented laundry soap that can also be put in the toilet tank, keeping the bowl fresh and clean for 15-20 flushes. There are also lip scrubs and headache balms from essential oils. Kitchens said nurses buy his peppermint balm to dab on the inside of surgical masks, making the work day a little more tolerable during the ongoing COVID-19 epidemic.
Facial bars treat acne and tighten the skin, and shower tabs are made to be placed in the shower where hot water releases menthol and scented oils for a breathing treatment.
A men's line of products includes soaps,
C PASQUOTANK COUNTY
*
8
beard oils, beard balms and shaving soap. And there is even a pet line of doggie cologne and balms for a dog's cracked paw pads, lips and nose. Kitchens is a dog person. Three dogs were in the shop, soaking up attention from several visiting kids when we were there.
Wherever possible, Copper Canyon tries to source its products locally or nationally. All of the bee's wax used in their candles and preparations is sourced in North Carolina, and the store offers a line of North Carolina hand-crafted pottery
designed to fit their soaps and shower products.
Kitchens said his product line provides more than just a line of luxury bath products. He said they fill a real need for many people.
"In today's world, so many kids are born with sensitive skin and allergies, yet many soaps are made with the cheapest ingredients. We make soap the same way our grandparents did 200 years ago. All of our products are plant-based, with no dies, no chemicals, with nothing harsh that will hurt or irritate your skin. They are suitable for sensitive skin, psoriasis and conditions like that."
The Copper Canyon Soap Company is located in an arcade of shops that used
to be the grand entrance of a hotel built in 1905. Kitchens said many customers comment on the marble floors and decorative glass that date back to the original construction. He is located across from a bakery and pizza shop within the same arcade.
Copper Canyon is located at 507 E. Main St. in Elizabeth City, across from the wine bar. The shop is open Tuesday through Saturday from 10 a.m. to 5 p.m. and on Sundays from 11 a.m. to 3 p.m. They can be reached at (252) 521-1472. They also have a website at www.coppercanyonsoapco. com.
Vernon Fueston is a longtime contributor to the Bertie Ledger-Advance, Chowan Herald and Eastern North Carolina Living.
"Elizabeth City is a hidden gem. I feel like this is the gateway to the Outer Banks from the Tidewater region. New businesses are opening all the time. We have three breweries here that bring a lot of traffc."
9
- ChanCe KitChens
East Carolina Timber, LLC Buyers of Standing Hardwood & Pine Timber Vince Taylor 3930 Bear Grass Rd. Williamston, NC 27892 Mobile/Of ce: 252-799-7857 Fax: 252-792-6717 eastcarolinatimberco@embarqmail.com Whitford& Associates, Inc. 202 West Boulevard •Williamston, NC • 252-792-5339 Bar-B-Que Shaw's Thanks Yall! To help make orderingeasier: Drop-In, call-in or order online Keep checking our facebook page for specials daily and special activities we have going on! Keep checking our facebook page for Events going on at "The Hog Pen" Daily Specials: New items all the time,fresh made desserts daily Gmans sausage made fresh AsheCounty Cheeses of all kinds:Hoop, Gouda, Mild, Sharp &PepperJack Stop by and check out all of ournew editions! We arehere to serve you!! New additions to our menu andservices: Don'tforge to ur pickupw indo w! Call 252-792-5339 HogPen:Outdoor diningatits finest 10
11
The Modlin Agency Home is where the heart is
Story & PhotoS by John Foley
IIt was Todd Modlin's dream to move back to Williamston, the town he grew up in, and open a business. He and his wife, Dee, had already developed a successful insurance agency in Greenville.
The Modlin Agency has stood tall on East Firetower Road, surrounded by 15 tall Palm Trees for the past 20 three years.
When the opportunity presented itself for Modlin to purchase an insurance agency in Williamston, he took the leap.
The Modlin Agency's Williamston office at 114 East Main St. opened 10 years ago. And, in that time, the Modlins have not only established a growing business, but renovated one of the most attractive and gazed at buildings in downtown.
Call it Palm Tree affection, or maybe the bright yellow glow the office sheds on Main Street, but the small office building would top any town's curb appeal list.
Just as important as the Modlins desire to open a Williamston office, so was their desire to join the forces renovating downtown spaces.
"We were originally on West Boulevard paying rent and decided to look around for a possible building to purchase when we found the downtown space," said Dee Modlin.
As one drives northeast on East Main Street it is easy to notice a variety of trees along the route. Suddenly, a single Palm Tree stands tall on the side of the 114 structure.
Resembling a bank building from days gone by, the triple arched building is said to be the office for the livery stable that once stood next door.
The 123-year-old building is most likely more solid today than the day construction was completed in 1900.
"I was told the building was originally built as an office for the Livery stable next
door. If that's true or not, I don't know," claimed Todd
During the 1970's the 1635-square-foot building served as the Law offices of Griffin and Martin.
"We bought the building in 2015 and did a complete renovation of it. It has been struck by a vehicle knocking one of the arch's down," Todd Modlin added.
MARTIN COUNTY
*
12
"The building was in pretty bad shape. The car had hit the front several years prior. It so happened that we knew the owner and did a walk through. We were able to make a deal within a day or two," said Dee. "It took us six months to remodel the building. Everything had to be reworked or replaced - the roof, the facade, ceilings, walls and floors. Everything.
"The palm tree has been our logo for about 15 years. When we built our Greenville office building we planted 18 palm trees. We liked it so much that we designed our logo around them. It just makes you feel like you are on vacation," said Dee.
Dee claims she is simply a "back office partner" and says much of the agency's success is due to her husband, Todd, who she claims is the "backbone of the agency."
"There is still a lot to be done downtown," she said. "We see improvements, but not enough. Williamston could use a big draw to the downtown. Even if it meant the town giving rent free or tax free options.
"Towns need to make it easy for
business to relocate downtown. It would also help if it was more attractive downtown. Every building owner should be required to maintain their property and rules enforced," she added.
Dee Modlin would also like to see some new businesses in downtown, focusing on the fact a restaurant, a coffee house and a bank would help revitalize the area and these are badly needed.
"We are very proud of our building and hope that our building has helped show people what other buildings in the area can become with a little imagination. This building and our Insurance business are the result of my husband, Todd, wanting to come back to his hometown and try and help revitalize the downtown. He has always thought there was a lot of potential in downtown Williamston," said Dee.
According to reports, Willliamston's downtown potential is being taken advantage of. While the Modlin Agency's building stands bright, it may have some company in the coming months.
Five new businesses have been created, five buildings are receiving improvements and five have recently been purchased, according to Williamston Town Planner Cameron Braddy.
Of the five buildings which have made improvements, he included the new police department at 100 South Haughton and the Old County Courthouse, where they are restoring the windows.
Also receiving improvements is The
Committee of 100 Building at 108 Main St., he said.
"Right now, they are just doing a shell building for an incubator space," said Braddy. "The roof is finished, and they are now working on getting the floor poured."
The old bank building at 122 West Main St. is also being renovated, according to Braddy and is slated to become a boutique hotel.
The owners, from South Carolina, plan to put "an office or retail space up front on the bottom floor, two apartments [short-term living spaces] in the back and four apartments each on the second and third floors," Braddy said. "We are looking forward to that."
"People are coming in, buying buildings because they want to build a business," he said.
Williamston Downtown Inc. is still offering Facade and Building Improvement Grants, which require matching funds.
"The Facade Grant can be used for any facade work, permanent or semipermanent work, like decorations. The Building Improvement Grant can be used for "anything that will stay with the building if it were to be sold, such as HVAC, electrical or structural work," he added.
Those who are interested can contact Braddy at (252)792-5142, ext. 227.
John Foley is a Staff Writer for the Bertie Ledger-Advance, The Enterprise and Eastern North Carolina Living.
"We are very proud of our building and hope that our building has helped show people what other buildings in the area can become with a little imagination."
13
- Dee MoDlin
Farmville Furniture Changing to meet cutomer needs
Story & PhotoS by Donna Marie WilliaMS
Since establishing itself on Main Street, Farmville Furniture has watched as the town has grown, struggled and flourished, all while establishing itself as a fixture in the Farmville community.
Through its 118 years of operation, Farmville Furniture has endured prosperity and hard times and has seen the comings and goings of two World Wars, depressions and recessions, an assassination of a president, victories in Civil Rights and Women's Suffrage and much more.
Despite the times, its commitment to service, quality of product and its community has not wavered and the store itself has become a staple for the community.
Its resilience and commitment to its customers has allowed for Farmville Furniture to continue operating and today it stands as one of the oldest - if not the oldest - independently owned furniture stores that has operated continuously, according to owner Randy Walters.
"There are very few independent furniture stores left in the state of North Carolina or, as far as that goes, in the county," Walters said, adding the COVID-19 pandemic forced more out of business.
It all began in 1905 when T. Eli Joyner and Robert Monk decided to operate a furniture store together. In 1915, they established the store on Main Street in Farmville with a three-story building designed with the store's operation in mind.
In 1921, the store expanded by acquiring the two-story building located to its right. It was expanded upon again in later years, when Farmville Furniture acquired the one-story building to its left.
Just as the times changed, so has the store's inventory as it adjusted to meet the needs of its customers throughout the years.
"The store has sold everything from paint to records to framing. When I came here 53 years ago, we were selling Baker's furniture, which is the top-of-the-line product in the United States, on the first floor and tin heaters on the third floor," Walters said.
"When I served on the Southern Home Furnishings Association Board years ago, they thought that was the most bizarre thing in the world," he added. "They thought it was not possible."
Today, Farmville Furniture makes use of all its approximately 18,000 square feet with home decor items located on each of the store's three floors. Its inventory is extensive and offers a wide variety of unique and quality home furnishings.
Its offerings of upholstery is a huge draw for the store.
"We sell middle to upper end upholstery - all of which is made in North Carolina. Upholstery is probably the biggest part of our business," Walters said,
"Upholstery is one thing North Carolina does better than anywhere else in the world," Walters said. "I can speak to that because we once had an export business and dealt with England and Saudi Arabia for a time. They have their own plants now, but they still don't produce as fine a quality as we do here."
Wallpaper and both oriental and area
PITT COUNTY
S
*
14
rugs are also items for sale at the store.
"We try to be as full service household wise as any store can be. We special order lots of things. We sell off the floor, which a lot of stores don't do. We work very hard to have one of a kind items," Walters added. "We have furnished houses that were vacant and empty and supplied everything down to the bed linens and towels."
Farmville Furniture also offers a variety of services, including in-home consultations, design services and more with staff members ready to assist with any home furnishing or decorating need.
But what sets Farmville Furniture apart from others is the quality and services they provide.
The store's commitment to providing quality merchandise has allowed for its operation to continue, all while allowing Farmville Furniture to establish a reputation as being a go-to store for longlasting furniture.
"We stress quality. I am not going to sell anybody a product that I would not take home. It's not worth it. There is too much inexpensive furniture out there that does not hold up - that is disposable. I want no part of it," Walters said.
"I do think we have a public that is very oriented to disposable items and that's a
battle we fight every day. As long as I'm living, we will never sell an inferior product and I'm not planning on selling a disposable product. I want something somebody can buy, enjoy, feel comfortable with and keep it as long as they want to keep it. I want it to be serviceable to them as long as possible," Walters added.
Walters, in his 53 years at the store, has now sold furniture to not two, but four generations in the same family.
I wouldn't be selling to the fourth generation if one, two and three hadn't been happy. If I would have sold an inferior product to one, I'd never have gotten the other generation," Walters said, about the sale. "It's what keeps us in business. Advertising is a wonderful thing… word of mouth is still your best advertising. Recommendations from previous customers are still number one."
Farmville Furniture also offers a gift shop with items ranging from household decor items, children's toys and more.
"It creates daily traffic. It always has," Walters said.
Each year, the furniture store transforms 9,000 square feet of the furniture store's first floor into a Christmas shop. It begins the first weekend in October and draws a crowd with its offerings and splendid
Christmas decorations that showcases the store's quality design efforts.
"We've done a Christmas shop for as long as I can remember… We want it to be a pleasant and happy experience and we try to make it that way," Walters said.
"As far as I know, this was the first store in eastern North Carolina to sell artificial Christmas trees," Walters said, adding the store no longer carries artificial trees.
The store's annual Christmas drawing is also a large attraction. In the past, Farmville Furniture has given cars - including vintage Corvettes, cash and furniture away in the drawing to lucky winners.
"This goes back to World War II. It had a really good reputation all across the east," Walters said.
Walters is impressed that winners of the drawing have covered a good cross section of their service area, which is quite extensive with Farmville Furniture serving from Virginia to Florida and in between.
"We try to be as full service household wise as any store can be. We special order lots of things. We sell off the foor, which a lot of stores don't do. We work very hard to have one of a kind items."
15
- Randy WalteRs
"The winners came from Kinston, Goldsboro, New Bern, Greenville. It could pretty much cover the region. There were hundreds of thousands of tickets in the barrel," Walters said.
The store employs 10 employees and is still very much a family owned business, which Walter's son, Hunter, employed at the store and Walter's partner, Emily Monk Davidson, who is a descendant of the original owners.
"We have an exceptional staff. I have employees that have been here as long as 60 years," Walters said.
Walter has developed a fond love for Farmville Furniture and hopes to continue working until he can no longer work anymore.
"I really like what I do. I love the interaction with people," Walters said.
Walters believes the business made a smart move when it began operating in Farmville and credits its location to part of
its success.
"Farmville has been blessed beyond words in multiple ways. We are one of the only small towns that I know of in eastern North Carolina where you and your family can safely live in 360 degrees. I don't know of another town in eastern North Carolina where that is possible," Walters said.
"Our local government has been wonderfully supportive. Farmville has also had major gifts of real estate, major gifts of money and private funds to do things other small towns have not. I would say we have been the envy of just about every small town in North Carolina to have been able to maintain a Main Street, because most of them are gone," he said.
As a founder and member of the Farmville Group, an economic development group that strives to bolster the town of Farmville through both local government and private sources, Walters has worked alongside members to help
grow Farmville.
"We (Bert Smith, Jamin Dixon, Todd Edwards and Walters) collectively toured just about every town in North and South Carolina and realized (Farmville) had reached a tipping point where we needed to be proactive. We knew we had the local support to be proactive. We started meeting every week and we have been for 10 years now. Through the absolute generosity of the local people - and not just those local but the generations that have moved away or whose children did not stay here - they are still really supportive. This has made all the difference in the world," Walters said.
"I know of no other community that is as giving or as loving or as accepting as this group. They made this possible," he closed. Donna Marie Williams is a freelance writer and regular contributor to Eastern North Carolina Living.
16
The care you trust has anew name
Kindred at Home is now CenterWell Home Health
At CenterWell™ Home Health, you can expect the samepersonalized, in-home carededicated to helping youmaintain your independence. From our hearts to your home, we'regrateful to be walking alongside you towards your best health.
For more information: Call 252-946-7145 Visit CenterWellHomeHealth.com
17
Riverbend Cultural Arts Center Find the fun in downtown Belhaven
Story & PhotoS by Kelly Grady
"Colleen and Myers offer something for everyone. They've breathed new life into this town," said Carol Roop, Executive Director of Belhaven Community Chamber and Welcome Center.
Trivia, yoga, open-mic, art exhibits, art classes, fashion shows, darts, holidaythemed parties, theater, wine, beer and shag and line dancing. All of it is hosted by Myers and Colleen Williams at the RiverBend Cultural Arts Center, which is located at 467 Pamlico Street in downtown Belhaven.
The building is believed to have been built in 1930 as a service station - complete with a grease pit. Since then, the structure has housed a few different restaurants, Effie Raye's art gallery, known as EEii's, and an office housing home health equipment.
It then sat unoccupied until Myers and Colleen made the decision to purchase the building in March 2021.
Having family in Belhaven, Myers knew the area well and was eager to spend time with Colleen at his family cottage at Pamlico Beach any time she could get away from her busy career teaching high school math in Fuquay-Varina.
Myers, a master carpenter by trade, and Colleen, a newly retired 40-year veteran teacher, bought an old home in downtown Belhaven and spent a year renovating it while experiencing small-town life.
They fell in love with both the town and the people and moved permanently in 2018. It was an exciting change as they bought and renovated a few houses, but while Myers was busy working, Colleen
found herself looking for "things to do" so she became involved in the downtown community, volunteering to help others and befriending local store owners and artists.
With no idea what they would do with this unique purchase, Myers suggested they each make a list of three visions for the building. The top "wants" for the building were - yoga, shag dancing, music, art, community theater and any ideas the community members might bring to them.
So, with eight months of diligent work and with Myers repurposing most of the original materials, they were able to open the doors to Riverbend Cultural Arts Center in November 2021 with a ribboncutting ceremony and their first yoga class. It has been so successful that yoga is now
C BEAUFORT COUNTY
*
18
offered every Tuesday and Saturday and is led by a variety of certified yoga instructors.
Since that time, Riverbend has flourished with activity. They currently feature 36 local artisans showcasing beautiful crafts such as pottery, paintings, driftwood art, stained glass, metalwork, jewelry, photography and much more.
In May 2021, Attic Life, Refinery, Handpicked Sister, Nifty Picks, Market 32 and Southern Tuck were able to display their new clothing arrivals on the RiverBend stage with a fashion show.
In the past year, their stage has been used by The Way Off Broadway Players for two different sold-out productions. Director George Wahab has been offering local theater productions for the past 30 years and is happy to have a new home for his company.
In October, Moonshot Productions, a new local theater company, presented a successful dinner/theater play written and produced by Jack Dugan, owner of Cloud 9 Creamery and the Escape Room also in downtown Belhaven. Both companies have plans to stage more plays in 2023, as early as spring.
Monthly Saturday events include karaoke and open mic/jams with darts available to both individuals and teams during those nights. Private dart tournaments can also be arranged.
One Wednesday each month is booming with teams eagerly competing for the monthly title of Trivia champs. The first trivia night saw only about 30 people, but just this last month, there were 62 participants. It has become so popular, a
second night is being considered.
The newest event being offered is a Shag and Line Dance Party one Thursday each month with music provided by a DJ. There is a $5 cover charge for all of RiverBend's events, and the bar is open with beer, wine, soft drinks and water available for purchase at reasonable prices.
As Riverbend continues to thrive, Myers and Colleen have plans and ideas for expansion. There is a gas-fired pottery kiln in the backyard they would like to refurbish and a kick plate potter's wheel left from EEii's, both of which would make pottery classes possible. The backyard also has a small pond that, along with outdoor furniture and lights, will create a nice space for an outdoor beer and wine garden that will hopefully open later this year.
In addition, there are two more buildings on the property that came from the former all-black high school in town. One room was used as a regular classroom and the other looks as if it may have been the Industrial Arts or "shop" room. Myers has plans to renovate both buildings in the future, but they aren't quite sure what will become of them; perhaps they may be used as classroom space and a permanent yoga studio.
There is something for everyone at Riverbend Cultural Arts Center. Check them out in person, follow them on Facebook or Instagram, email them at riverbendbelhaven@gmail.com or call 252495-8671 for more information.
Kelly Grady is a retired educator and regular contributor to Eastern North Carolina Living.
With no idea what they would do with this unique purchase, Myers suggested they each make a list of three visions for the building.
19
Baked & Brewed Coffee House Serving the Nashville neighborhood
Story & PhotoS by Dave Cruz
TThere's no better teacher than experience.
That's what baker, caterer and now coffee shop owner Winde Jackson of Rocky Mount said about her first experience with a brick-and-mortar business.
After having a rough go of it at her bakery on Independence Drive in Rocky Mount, Jackson, 42, said she has found a home in downtown Nashville for her new business venture, Baked & Brewed Coffee House.
Jackson opened the coffee house on Nov. 18 at 201 West Washington St. across from the courthouse and the county administrative office building. The location previously known as the Corner Coffee Cafe was operated by her friend, Laura Wood. Jackson said Wood, who wanted to shift her focus to her family, sold the business to her.
Jackson serves a wide variety of coffee and tea in addition to milkshakes and bottled beverages. The food on offer includes cupcakes, scones, bagels, ice cream and cake. She said the most popular items in her new shop are her cinnamon
rolls. The shop also sells bagged gourmet coffee from in-state manufacturers.
Jackson, who has operated a homebased baking and catering business for about nine years in her state Department of Agriculture-certified kitchen, said the idea for the new shop developed during a conversation she had in September with Wood.
"She asked me one day if I wanted
to buy a coffee shop. I thought she was joking," Jackson said.
But the offer was real and after some friendly negotiating, she told Wood, "Yeah, I want to do it."
Jackson said the shop not only serves as an additional outlet for her baked goods but also as a contact point for her retail and wholesale baking and catering business.
While there were a hundred things she learned about running a brick-and-mortar business from her experience in Rocky Mount, at the top of Jackson's list is an issue she doesn't think she'll have a problem with in Nashville — "location, location, location," to quote an old-but-still-true business adage.
About six months after opening her
NASH COUNTY
*
"She asked me one day if I wanted to buy a coffee shop. I thought she was joking."
20
- WinDe JaCkSon
bakery in Rocky Mount, Jackson said a gambling parlor opened up next door and brought problems like cigarette smoke permeating her shop, loitering on the property and the neighbor's patrons taking up all the parking spaces.
With news of a rapidly spreading deadly virus just beginning to gain a foothold in the U.S., Jackson said it was time to cut her losses and she closed the shop on Jan, 31, 2020, after 14 months in business.
Jackson said she likes the stability of her new shop's neighborhood, citing that the owner of the property is conscientious and her only next-door neighbor is a wellestablished newspaper office. The town of Nashville controls the parking in the area.
Next on the list of always-true business situations she encountered was that "good help is hard to find." Jackson said she learned the hard way about the importance of thoroughly vetting
21
prospective employees, especially in regard to their on-the-job demeanor. Jackson currently employs four workers at the coffee shop.
Jackson, who had worked in the computer technology field before going into business for herself, said she loves baking, cooking and serving food that tastes great but is also nutritious.
Not long after opening her shop in Rocky Mount, Jackson told the Telegram, "I made my hobby my career and I've never been happier. I just feel like that's the gift that the Lord has blessed me with — being able to bake and cook for others."
Baked & Brewed Coffee House is open from 7 a.m. to 5 p.m. Tuesday through Friday and 8 a.m. to 3 p.m. on Saturday.
Winde Jackson Baking and Catering can be found on Facebook and at windejacksoncakes.com.
Cruz is a Staff Writer for the Rocky Mount Telegram.
Have you missed an edition of Eastern Living Magazine? Pick one up Today! Bertie Ledger-Advance 109 S. King St. Windsor, NC 27983 CELEBRATING 20 YEARS OF "Teaching, Touching & Transfor ming Women" 2023 HEME: Rev.Gail P. McNeil 252-209-1036 gailmcneil468@gmail.com $revgailmcneil "Our Savior...Our Sister...Our elves" ou are in i ed to join u on: pril , (Good Friday 11- P ) pril , ( -1 P ) "Breakfast ith Purp se " (Free Breakfast Personal Items - Men are also invited) June 1 , ( - P ) u ust 1 , ( - P ) Oct ber 1, ( - P ) Location: Powellsville Community Building 105 est Main Street Powellsville, N 27967
22
Dave
23
E&G Barbershop Defying the odds in downtown
Story & PhotoS by LewiS hoggard
Downtown Windsor, like most small towns in Eastern North Carolina, has suffered over the last 50 years.
Businesses have moved from downtown out to the bypass or closed down completely. In the downtown area in the 1970s and 80s, there were four grocery stores with Davis IGA and Be-Low being the two largest. Competition from the comparatively large Food Lion grocery store on the by-pass, flooding from the Cashie River and few other factors caused the grocery stories to cease to exist.
The flooding issue is one that has not and will not go away. Windsor has been somewhat fortunate recently with the last large flood being in 2016. Well over 50 percent of the downtown businesses were flooded, mainly on King Street and Granville Street in the last flood. Those businesses that have remained have shown great resiliency in staying open in downtown Windsor. They should be applauded and supported for staying.
Numerous buildings have not opened back up since that flood, including Hammerheads Oyster Bar and Willie Bonds Trucking building. Willie Bonds moved to U.S. 13/17 across from Walker Funeral Home. Bunn's BBQ, sitting on the lowest sea level in town at or below two feet, has flooded many times but keeps opening back up.
There is a federal program administered by the town of Windsor which will allow
some of the impacted business buildings to be bought out which will bring more changes to the downtown area. No building owners will be forced into the program, but they may participate.
A somewhat surprising development along this stretch of King Street, has been the opening of three stores by Dwayneisha Gillam under the name of Gifted Hands. Nails, teeth whitening and a hair salon make up this row of store fronts that are bustling with activity from 9 a.m. to after 5 p.m.
The busiest spot is the smallest space in the area at 108 North King Street. The old Davis Jewelry store has been converted into a barbershop named Earnhart & Gerald. This is the place to discuss the
latest NFL action, local high school sports and legal motorcycle drag racing.
Keshawn Allen is the proprietor of E&G Barbershop. He has had great success, largely because of his skill and his belief to treat clients as he would like to be treated. Of course, he had to shut down for a period of time during Covid, but as soon as he was allowed to open back up he did.
Allen is a native of Bertie County, who attended McClain Barber School in Wilson. He has been cutting hair for eleven years prior to opening his own shop which was on Jan. 6, 2020.
Allen stated, "The opportunity was greater to have my own shop in my hometown and what better way to serve and give back to my community."
D BERTIE COUNTY
*
24
His interest in cutting hair began with his grandfather, Earnhart Joyner, buying a set of clippers and having Keshawn cut his hair. He got to practice on his grandfather every two weeks. Gerald Outlaw impacted him as a barber as well as others. That is where the "E" and "G" come from in the business name.
E&G Barbershop cuts hair by the visit for twenty-five dollars or with a subscription service where customers pay by the month with multiple visits allowed. Some of his customers drive from over 50 miles away and usually, no matter what time of day, there is a wait to get one's hair cut. His
success is directly attributed to his skill as a licensed barber.
Keshawn loves owning his own business and he encourages others to pursue their dreams. The advice he gives to others is stay focused and never give up on your dreams. He is family oriented and wants to leave behind a legacy for his two children, while honoring his own family. Windsor is proud have him and other business owners like Dwayneisha Gillam in Windsor.
While the town of Windsor and Bertie County are working on the flooding issue with multiple projects underway that they
hope can impact the flood waters, it is just a matter of time before a flood happens again.
Keyshawn knows he will have to move his equipment and furniture to higher ground when the next flood happens. The nature of flooding in downtown Windsor is that business owners have about a 24to 36-hour warning before the waters rise into the buildings.
The struggle is real in small downtown Eastern North Carolina in keeping the downtown viable. Whether it is population loss or big box commercial competitors, the downtown businesses are disappearing.
It will take individuals and businesses like Keyshawn Allen and his E&G Barber Shop to keep the lights on and buildings upright.
Lewis Hoggard is Executive Director of the Windsor/Bertie Chamber of Commerce and a regular contributor to Eastern North Carolina Living.
25
His interest in cutting hair began with his grandfather, Earnhart Joyner, buying a set of clippers and having Keshawn cut his hair.
Be a kid again – sleep in a treehouse! Nestled along the Cashie River the treehouses ar the perfect place to relax and enjoy the awesome view and the sounds of nature. You may also use them as a base to explore the river on kayak/canoe, or hunting or shing. For Reservations: wfd43@embarqmail.com or 252-724-0994 Windsor is more than a lifestyle! Town of Windsor (252) 794-2331 www.windsornc.com 121 Granville Street, Windsor, NC 27983 www.windsorbertiechamber.com (252) 794-4277 The Windsor/Bertie Chamber of Commerce represents and advocates business interests, promotes economic growth, provides leadership in community affairs, enhances the quality of life for the people of Bertie County and provides services and programs for its members. Carolina Pine & Hardwood, Inc. Buyers of Standing Pine and Hardwood Sawtimber and Pulpwood PO Box 607 231 US 13 Bypass Windsor, NC 27983 www.carolinapinehardwood.com Phone: (252) 794-2780 Mobile: (252) 209-5582 Thankfully Serving Bertie County for 50 Years! Golden Skillet Little 103 W. Granville St., • Windsor, NC 27983 (252) 794-3468 In memory of Dotsie Dunlow where history meets adventure Bertie County 26
We just made buying or selling your home simple. Angela Waters Broker-in-Charge/Realtor 118 W Main St. Williamston, NC 27892 Cell: 252-714-9952 Fax: 252-792-5200 www.roanokerealtyteam.com angelagwaters@hotmail.com Janie N. Bryant Broker/Realtor, Co-Ownerge 118 W Main St. Williamston, NC 27892 Office: 252-792-2300 Cell: 252-802-1234 janie@roanokerealtyteam.com www.roanokerealtyteam.com "We Love Happy Sellers And Happy Buyers" Jacki A. Bryant, Broker/Realtor 118 West Main St. Williamston, NC 27892 Cell: 252-558-2206 Fax: 252-792-5200 252-792-2300 Web: wwww.roanokerealtyteam.com Email: jacki@roanokerealtyteam.com Kendal Edmondson Realtor 2289 W. 5th St. Unit 100 Washington NC 27889 (252) 557-2557-Office (252) 217-4629 Mobile Kendal@RiversideRealty.Group www.RiversideRealty.Group Paul Roberson, Jr. Broker-in-Charge (Washington Office) Riverside Realty Group Inc. 2289 W. 5th St. Unit 100 Washington NC 27889 (252) 217-5364 Mobile Paul@RiversideRealty.Group www.RiversideRealty.Group Gary Gardner Broker-in-Charge (Williamston Branch) 406 Washington St. Williamston, NC 27892 Gary@RiversideRealty.Group www.RiversideRealty.Group (252) 557-2557- Office (252) 209-6422 - Mobile Bertie County Specialist Mary Anne Corey Crowe Realtor 406 Washington St. Williamston, NC 27982 MaryAnne@RiversideRealty.Group www.RiversideRealty.Group (252) 217-3938 - Mobile Jerry Cornwell Realtor 2289 W. 5th Street Suite 100 Washington, NC 27889 Jerry@RiversideRealty.Group www.RiversideRealty.Group (252) 557-2557- Office (252) 799-7865 - Mobile Katherine Roberson Administrative Assistant 118 W Main St. Williamston, NC 27892 252-792-2300 www.roanokerealtyteam.com katherineroberson81@gmail.com 27
The Gregarious Goose A unique place in downtown Edenton
Story & PhotoS by tyler NewmaN
Alice Stallcup is glad she made the move to Edenton nearly six years ago – and that decision led to the opening of one of the town's most recognizable storefronts, The Gregarious Goose.
The Goose, as it's affectionately called locally, is strategically placed near the center of South Broad Street, in the heart of Edenton's historic yet bucolic commercial district. Having opened in 2019, it stands proud and unique amidst a sea of southern boutiques.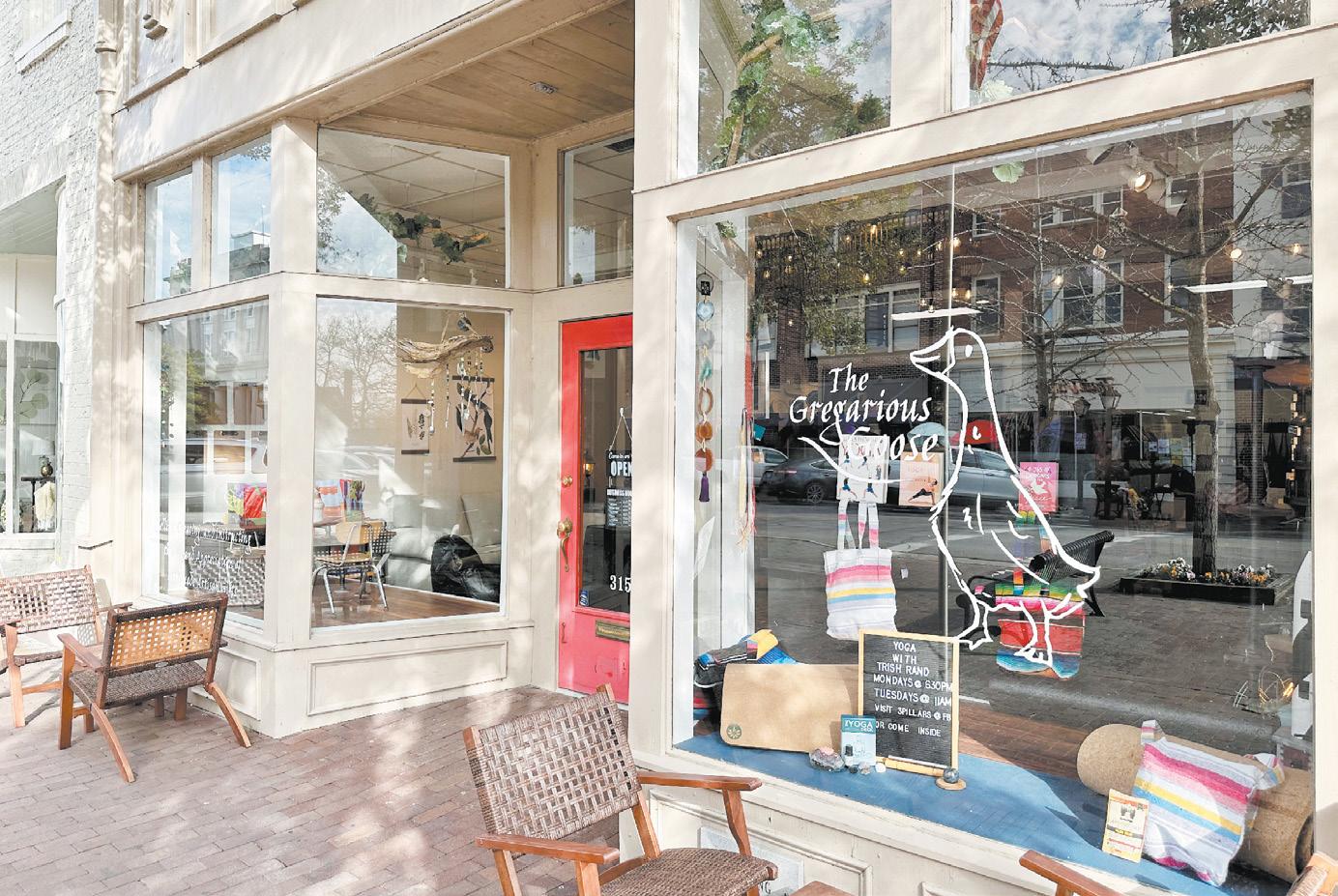 Inside, the eccentricity continues. An industrial – nearly steampunk – design fills the room with a coziness and rustic splendor. Inviting warmth paints the walls and soft lighting hangs from the ceiling via repurposed turkey crates.
Recently added is a sitting area, complete with couches and chairs, the perfect spot for one-on-one tutoring, private crocheting, a quiet coffee meetup or just to relax and catch up with friends. Throughout the store, everything from contemporary hits to 90s alternative rock hums through the air.
Behind the counter stands Stallcup, presiding over her wealth of knick-knacks, peculiar gifts, aromatherapy bracelets, CBD hemp products, Edenton-centric bags and friendly faces that pass in to see her.
Greeting folks in downtown Edenton has been one of the shining aspects of the job, says Stallcup, a former Cincinnati
police officer who came to town seeking a quiet place on the water.
"I've always thought of North Carolina as a second home because I have family here," she explains. "I wanted a place near the water too."
She got what she wanted for sure, as Edenton's bustling downtown lies just steps from an expansive and shimmering bay, the perfect setting to gaze upon a Carolina sunset or to watch the tides lap against the shores of the old colonial port town day in and day out.
The Goose wasn't an immediate startup upon Stallcup's arrival, however. While she knew she wanted a space for creatives to utilize, there was no spot in town available when she first moved down.
In the interim, she took a job in nearby
Norfolk, Va., close to an hour away, until a shopfront became available. What came next was deliberating upon what to call the place.
"I was looking at symbols of community and several different icons came up, but the goose was the most friendly because geese protect their own," Stallcup says. "I wanted it to be something that welcomed everyone, I don't care what church you go to or what color you are or if you're gay or not. It's for everyone."
The addition of "gregarious" was meant to represent Stallcup herself.
"Gregarious is supposed to be me, a social, talkative person," Stallcup says. "A lot of people don't seem to understand what the word gregarious means though."
One component of Stallcup's
A CHOWAN COUNTY
*
28
community focus is her product sourcing. Gifts and items on store racks inside The Goose are from family-owned American businesses. While some of those businesses may source from elsewhere, at least "two pieces of the pie" are American, Stallcup says.
"I wanted to focus on not just selling [products] but also creating and getting people to appreciate what goes into handmade gifts," Stallcup explained.
Looking to the storefront itself, traditionally where most retailers cram their hottest sales or biggest hit items, has a seating area for children to play games. An unorthodox choice in an era of shoppers' short attention spans, but one that highlights the creative differences between Stallcup and other brick and mortar shops.
"The window is a huge retail space. It's where people put their merchandise out to lure you in," Stallcup says. "Instead, I'm bringing children in so that they have a comfortable space while their family shops."
The Goose's physical location is not the only place that caters to children either, Stallcup assures. While she often opens up her shop for crafts and events for local kids, she also journeys to the Boys & Girls Club on Edenton's Oakum Street every Tuesday afternoon to do arts and crafts.
Meanwhile, the store plays host to a menagerie of creative experiences ranging from yoga (it helps that the store shelves are on wheels and can be moved at a whim) and painting classes to photography camps and crime scene camps for children – utilizing Stallcup's police background.
In terms of other community contributions, Stallcup says that 100 percent of her Gregarious Goose-branded merchandise proceeds go directly to the Edenton-Chowan Food Pantry.
"I've done that since day one," Stallcup
says of the donations. "I think I've given close to $7,000."
Other fundraisers at The Goose in the past include raising money for the local animal shelter as well as the Boys & Girls Club, the latter of which has seen donations originate from a popular children's program.
The program in question, called the "Goslings" – which enrolls young children in after-school craft activities – Stallcup said that she was able to donate funds to the club via a blanket that her students created and raffled off.
For the older youth, Stallcup pioneered the now-iconic "Goose Girls" endeavor, which sees two local school-aged girls create a series of promotional and creative videos for the store's social media using their wit, camera skills and charisma (and of course, a little bit of input from Stallcup).
The inaugural Goose Girls, Molly and Della, kicked things off in 2019, after coming into the store one day eager to offer their time and ideas to Stallcup's venture. The partnership lasted three years and helped teach public speaking, video production and to be community focused rather than product focus, according to Stallcup.
The newest Goose Girls, Lucy and Lydia, took over just a few months ago, and are already learning the ropes while stepping
into the shoes of the departed Molly and Della.
"'We could be your Goose Girls' they said, and so I said well let's see how that would work," Stallcup explained of the original idea. "So I handed them my camera and they posted what they did and it got the most views online that I had since I opened the store… So that's how the Goose Girls started."
Take a gander – pun intended – on The Goose's social media pages, and one is sure to find the handiwork of the now four Goose Girls.
While the shop's offerings and programs cannot be overstated, Stallcup said that her favorite part of the entire 'Goose' experience has been cultivating friendships with new folks who take a peek inside in the four years she's been open.
Stallcup emphasized that she never views her customers as transactions, but rather as long-term personal investments and opportunities for new friends. Growing
29
new relationships is an integral aspect of The Goose and something she says she has worked hard to continue doing.
"I love hearing 'this is my happy place,' and 'this is my favorite store,' when people come in," Stallcup said. "My favorite thing is the interactions with new people and then the return interactions when they come back and introduce their families to me. I feel like part of their family."
In just a few short years, an Ohio transplant transformed a small and intimate storefront on South Broad into one of the most exemplary and notable shops in northeast North Carolina, a hidden gem where everyone can find a home.
And while the shop may just be brick and mortar in downtown Edenton, it's clear that The Gregarious Goose will always exist wherever Stallcup goes.
Tyler Newman is a Staff Writer for the Chowan Herald, Perquimans Weekly and Eastern North Carolina Living.
2809 NC Highway 903 •Stokes, NC 27884 email: jmizell@stokescongleton.net website: www.stokescongleton.com 24 HOUR EMERGENCY SERVICE GAS APPLIANCE SALES &SERVICE C: 252.717.5671 O: 252.752.6423 F: 252.752.6499
30
OF
Athird-generation family-owned business serving the Triangle and beyond since 1958. Offering an educational approach to new &used piano selection, piano service &more!
MENTION EASTERN LIVING MAGAZINE AND RECEIVE DISCOUNTED PRICING
ENTIRE
N
&U SED PIANOS AND ACCESSORIES
ON OUR
SELECTIO
NEW
YA MA HA |B ÖSENDORFER |E STONI A| SCHIMMEL |C LAVI NOVA WWW.R UG GER OPIA NO .CO M| 91 9.839.20 40 |R AL EIGH ,N C NorthCarolina's Most Complete Piano Showroom &Service Center 31
Elizabeth Sewell Parker Memorial Library A welcoming place in Murfreesboro
Story by Sarah DaviS
Sarah DaviS, al Parker & ContributeD
LLocated in the center of the center block of downtown Murfreesboro, the Elizabeth Sewell Parker Memorial Library (known to many Murfreesboro residents simply as 'The Library' or 'Public Library'), is at the heart of the town, both literally and metaphorically.
Housed at 213 East Main Street since Sept. 25, 1999, the library occupies a beautiful brick edifice which was once the home of Murfree Foods which also served as the heart of downtown.
Murfreesboro native, former Murfreesboro Town Council member, and current ESPM Library Board Member, Booker Daniel recalls her mother's daily trips to Murfree Foods, not nearly so much for groceries but for gossip. There she would always find fellow Murfites and learn the local news, literal and/or imagined.
After it closed as a grocery store/ meeting place, the building became the property of the Murfreesboro Historical Association, who later donated it as a location for the library where it certainly continues as a meeting place.
Daniel describes the library as "a beautiful building in the center of town that feels so comfortable, so welcoming."
It is a welcoming place for the youngest of youngsters participating in the monthly Story Time for Tykes. It is a welcoming place for older youngsters participating in periodic soap making or similar activities or just listening to a story.
It is a welcoming place for job seekers looking for assistance in finding employment from the monthly N.C. Works Pop Up Career Services. It is a welcoming place for knitters and crocheters, who gather twice weekly to enjoy each other's company as they create afghans, blankets, booties, hats and sweaters.
It is a welcoming place for newcomers in town just learning about the library and community and making new acquaintances.
It is a welcoming place for those who have lived in Murfreesboro long enough to have come to the library in three different locations with four different branch managers, long enough to know who will be there when and, therefore, can enjoy a visit, picking up the local news at the same time as picking up a book.
It is a welcoming place for individuals
– young, old and in-between – whether searching for a DVD or printing an email. It is a welcoming place for families to munch popcorn while enjoying a movie or to play a game or to put together a puzzle.
It is a welcoming place for all to learn, maybe from the materials found on the shelves or maybe from a presenter in the meeting room. It is a welcoming place for all to learn, maybe about the history of Murfreesboro or about their family history or the history of the Roanoke Colony or the Titanic.
HERTFORD COUNTY
*
PhotoS by
32
It is a welcoming place for someone who needs a can of beans. It is a welcoming place for someone who has an extra package of "Nabs." (For the last three years, a mini pantry has been located in the lobby. Initially begun by staff members, it quickly extended into the community. Anyone can drop off any item as extra exists; anyone can pick up any item as need exists).
Prior to its current location, the library was housed in the 100 block on the south side of East Main Street and earlier in the 100 block on the north side of West Main Street.
Daniel recalls visits to all three locations, remembering especially the first librarian, Homa Gordon, who loved to tell ghost stories. Daniel says that, as a young child, she would go to the library, hear Gordon's stories, and walk the two blocks home terrified although she was walking in bright sunlight.
Gordon especially delighted in the years the library was located at RobertsVaughan because she could call on the spirits that inhabited the building to add to her stories.
One of seven branches in the Albemarle Regional Library system, it is actually the last branch to be officially affiliated
with the system. The Albemarle Regional Library system was organized in 1948 with county libraries from Bertie, Gates and Hertford counties as charter branches.
In 1967, Northampton County joined the system, and also in 1967, the Sallie Harrell Jenkins Memorial Library in Aulander became the first municipal library associated with the regional system. The Ahoskie Public Library followed suit in 1970, and in 1973, the Murfreesboro Library began exploring the idea of joining the regional system.
In 1989, when Homa Gordon, the first Murfreesboro librarian, retired, she wrote Dr. Alton Parker, Murfreesboro optometrist, ARL Regional Library Board Chair and, along with his wife, Jeanne, fervent supporter of the library: "Dr. Parker, Together we have given Murfreesboro its first public library – hold it together–it will become great."
And, Dr. Parker did hold it together. At the time, the library was located in two small rooms at Roberts-Vaughan House, known as "the crown jewel of historic Murfreesboro."
Shortly after its move across and down the street to that location in the 1970s, it outgrew the space, and Murfreesboro citizens began working to find a new location. Instrumental in that campaign were Dr. and Mrs. Parker and branch manager Beverly Warrick (1989-2014). Dr. Parker did not live to see the move to the present location, further down and back across Main Street, but Mrs. Parker did and was front and center in assisting with the dedication.
Final funding for the new building was made possible by Elmwood Parker, with the building now bearing the name of his mother, but many citizens of Murfreesboro contributed in many ways to make the new building a reality. Their names are noted on a tree in the lobby and in a poem written by Jeanne Parker also displayed in the lobby.
Following Homa Gordon's retirement, Dr. Parker "held it together" until Beverly Warrick began serving as Branch Manager
The library occupies a beautiful brick edifce which was once the home of Murfree Foods which also served as the heart of downtown.
33
in November 1989, steadying the ship through the move from Roberts-Vaughan to the present location in September 1999.
Warrick fondly recalls her years in both library locations, noting the importance of volunteers in making the library a welcoming place saying the many programs and services they offered would not have been possible without the volunteers.
For the move, volunteers joined library board members, library staff and town employees, moving every shelf, fixture, book and piece of equipment, salvaging every useful item from the old location and repurposing it in the new, continuing the welcoming environment from one place to another.
Other branch managers have been Katie Carr from 2014 to 2016, and Judy Hachey from 2017 to the present.
Current staff members are Karen Cavin (since 2000 and previously as a volunteer), Jean Matthews, and Rosemary Cornwall. Current Board members are Sarah Bonner, Booker Daniel, Sharon Fritz,Tandra Hedgepeth, Joel McCormick and Christina Sims-Smith.
Yes, Dr. Parker and Homa Gordon gave Murfreesboro its first public library. He did hold it together, and it is great, a welcoming heart of the community.
Sarah Davis is a retired librarian and educator and a regular contributor to Eastern North Carolina Living.
34
NOW OPEN! Nancy Winslow REALTOR Email: nancywinslow@kw.com 252.813.1096 EACH OFFICE IS INDEPENDENTLY OWNED AND OPERATED 1708 E. Arlington Blvd. Greenville, NC 27858 nancywinslowhomes.com "The Only One" Serving great food since 1973 GOLDEN SKILLET 706 Catherine Creek Rd. S. Ahoskie, NC 27910 (252) 332-5111 Located behind Walgreens Formally Catherine's Restaurant Private Party/Banquet Space Available CSIC is a multi-ethnic, multi-generational body of believers whose vision is to love all people, win them to Christ, build them in discipleship, and send them out to ful ll their divine destiny! 903 S. Catherine Creek Rd • Ahoskie, NC (252) 332-6113 www.csicministries.com Town of Ahoskie 35
Allah comes full circle
Story by Deborah Griffin
JJafon Allah knew from a young age he wanted to have a job where he could be of help to people.
As a teen, he was a dedicated member of the Explorer's Post at Williamston Fire/Rescue/EMS.
The Explorer's Post is a program for those between the ages of 14 and 18 who are interested in firefighting, but not yet old enough to become a volunteer or a paid firefighter.
In fact, Allah was so dedicated to the junior firefighting program, he rode his bicycle all the way from his house (near the fire department) to where a house fire had broken out on Martin Street, (just over a mile). He heard the fire alarm and saw engines roaring past his house. When he arrived, he immediately began aiding firefighters.
Williamston Fire Chief Michael Peaks honored Allah that year (2018) at the town meeting for "his dedication and exceeding the standard call of duty."
"If you look up dedication [in the dictionary], this young man's picture is going to be beside it," Peaks told town commissioners and Mayor Joyce Whichard-Brown.
"He has the drive for this profession.
Regardless of whether he chooses firefighting as a career, or as a volunteer — fire service has his heart," Peaks added. "I want to be sure we continue to foster a relationship with him."
That relationship has now come full circle. Allah is a full-time firefighter for the Williamston department as of December, after completing the Fire/ Rescue Training Program at Martin Community College and becoming a certified EMT.
"I love it," Allah said.
Allah knew he wanted to be of service to people "since he was a kid in primary school," he said.
Becoming a junior firefighter with the Explorer's Post gave him "something to do and to stay out of trouble," he added.
The fire on Martin Street was a turning point.
"I showed up and told Chief I was there, and asked him to put me to work. That was the first fire I actually helped with," he added. "That day kinda pushed me forward ever since.
"Now, all of a sudden, I'm a certified firefighter and EMT," he marveled.
The honor at the town meeting five years ago was a surprise.
"Chief asked me to go with him somewhere. I thought it was exciting, but I had no idea what was going to happen, otherwise I would have made sure my parents were there," he added.
Being honored, "made me feel good. I felt like I had done something to make somebody proud and make someone else's day better."
He didn't realize he had been featured in the newspaper until his teacher at Riverside High, Mr. Edwards, showed him the article.
The whole experience made him want to be the kind of person other people look up to, he said.
Allah has also worked at Food Lion since he was 16 years old. He said they have been supportive throughout
PhotoS by Deborah Griffin & ContributeD
biography 36
Allah said there was a time in his life he knew he had a choice — to go the right way or the wrong way.
his journey to become a full-time firefighter/EMT.
"I don't like to sit still for very long," he said. "I see myself working for a long time. I love every bit of it."
He said he lived in the projects when he was an adolescent, and he would help the older people in the neighborhood by taking their trash bins to the road every Tuesday night.
"That helped me stay out of trouble," he said. "Helping has always been a part of me.
"People tell me that I remind them of an older person. Even at a young age, I heard that. So, I have always looked at my future and never my past," he added. "I always try and look forward."
Allah said there was a time in his life he knew he had a choice — to go the right way or the wrong way.
"I've never been in trouble, but a lot of people in my family have been. Basically, I was the next one on the list. I had to ask [myself], 'Which way are you going to go?' I think I made the best decision," he continued.
Allah graduated from Riverside High School in 2021.
"Every day I wake up and already look forward to being here," he said. "Because no matter if it is a stumped toe, or a cut arm, I am making a difference and making someone else's day better. I like it all. I might like fighting fires maybe a little more than EMS, but I still like it.
"When I go to a fire and there is a victim, I know what to do to help them; and I know what to do to fight the fire if I need to," he added.
Allah said when he was still a volunteer firefighter, he responded to a call that came over his pager in January
of 2022 at an address he recognized.
"It was my Granddaddy," he said, who had gone into cardiac arrest. Although EMS tried to help him, he passed away.
Allah said his grandfather had known he already had his firefighter's certification.
Only a few weeks later, Allah passed his test to become an EMT.
"I did it for myself, but I knew I was making him proud too. He had always told me, 'Don't you ever mess up. Keep going in the right direction.'
Later his grandmother told him, "You really made him proud. Even though you didn't physically show him you got your EMT certification, he knows you got it and he's looking down on you."
37
elhaven Birthplace of the Atlantic Intracoastal Waterway B LOCALFIRSTBANK.COM Equal Housing Lender. Member FDIC. Meet Your Local Dream Maker Phone 252-943-2149 ext 11202 We know that you have dreams— large or small—for yourself, for your family, and for your community. We'd be honored to help you achieve them. 844.238.0 13 1 | myriverstreet.net Get to fast, reliable internet! Experience lightning-fast speeds with little to no interruptions, no matter how many devices are connected.
HUNDREDS OF RECLINER OPTIONS!
MATTRESS SALE
RELAX YOUR WAY.
IMPERIAL BEDDING PRICED TO SELL
We Carr y 2-Sided Mattresses
Treat yourself to world class restaurants, eclectic shops and one of a kind boutiques
Explore Washington
39
Locally owned &operated Edward, Toby &GregCasper Asweet, local bakery specializing in all things cake, cookies and BUTTERCREAM! 118 Harrison St., Williamston 252-789-1922 or 252-717-9078 B ky Willia ms, Ow ne r Ca kesbyBecky,LLC "Taste a ndsee that the Lordi sGood" -Psalms 34:8 OPEN Tues-Fri 10 am -5:30 pm Sat 10 am-Noon ClosedSu day&Monday Open Monday thru Friday 7amto5:30 pm 40
41
Grandma's Kitchen
This is the time of year when temperatures go up and down. One day it's warm enough to wear short sleeves and the next you have to bundle up.
When it comes to meals, it may be the same thing. You may want a nice comfort food meal when it's cold and a light meal when it's warm.
I don't know about you, but whether comforting or light, I don't want it to be too complicated or too expensive. I much prefer a good meal with minimal effort at a reasonable price. The only way to achieve the reasonable price these days is to buy when things are on
With canned goods and meats, you can buy a small stock and store up when the price is good. Most meats freeze for several months and you have a chance to buy more on sale before you use what you have. Canned goods have a long shelf life. Or each week you may prefer to plan your meals by what is on sale.
For the minimal effort part, it is very easy to find good, easy recipes on the Internet. YouTube has a lot of people with programs cooking simple meals. I often use both when I have found something on sale, but want to prepare something other than the same old thing. At other times, there are those recipes that are tried and true. They are the ones you never get
The recipes below are easy to prepare. It will probably take you five minutes to get each
ready to cook and they are delicious. It doesn't get much better than that.
One of the recipes in this article, I found in a cookbook many years ago. I adapted it slightly to suit my taste and you can certainly do the same thing.
It is the Orange Soy Pork Loin. You can use a loin roast or a tenderloin. You could add onions if you wish or herbs. I have seen this recipe with ginger. That would probably be a good addition if you grated your own ginger to go in it.
Any recipe can be adapted to your own taste. This pork loin is something I have made for years and never found anyone who didn't like it. I hope you will try it and like it too.
The air fryer potatoes was one of many recipes I found online when I was looking for something easy in order to use my potatoes before they sprouted any more eyes. This recipe makes crispy potatoes. Most of the recipes I found for air fryer potatoes were highly seasoned. I eliminated the seasonings and cooked them plain. They were very good.
You could, however, add any seasoning you like in the olive oil mixture. You might add rosemary, thyme, garlic, Parmesan cheese, parsley or anything else to make it your own.
A salad and dinner rolls would make this a complete, balanced meal with little effort if you pick up the salad and rolls at your grocery store's Deli.
Sylvia Hughes with her grandmother, Bertie Dameron.
42
3 to 4 pound pork loin
½ cup orange juice (I use Tropicana)
1/3 cup soy sauce
¼ cup olive oil
Preheat oven to 350 degrees
Beat with fork: orange juice, soy sauce, olive oil and garlic
1
½ teaspoons chopped garlic
Place roast in pan with about 2" sides (I prefer a cast iron skillet)
Pour sauce over Bake 25 minutes for each pound of pork, basting about every 15 minutes
A ir F ryer P ot A toes
Wash and dry small golden potatoes, enough to cover bottom of your air fryer basket
Cut potatoes in half and place in bowl
Add 2 tablespoons of olive oil and salt and pepper
Mix until potatoes are covered well Spray basket, add potatoes and cook at 400 for 15 minutes
Sylvia Hughes is a retired newspaper editor and columnist residing in Windsor. In addition to three sons, she has a gaggle of grandchildren, many of whom love cooking with her just as she did with her mother and grandmother.
o r A nge s oy P ork L oin 43
TTA Visit Historic Plymouth, NC "A Place To Call Ho me " Shop & Dine at the Stores & Restaurants in downtown 44
Photo
Courtesy of Washington County
SSeveral people have popped into my office lately, and seeing a large, framed photo on the wall, asked, "Who is that?"
Simply responding, "That's my grandmother!" created too much angst for me so I need to share a bit of her story.
She's been inspiring me all over again. Sometimes as leaders, it all feels a little bit impossible and we can get daunted. And in those moments, I love to remember Ora Mae.
As a kid, I didn't know she mattered to anybody else like she did me, because she was one of those grandmas who made you feel like the sun rose and set right over you. But all the while, she was carrying a load of leadership and vision that would certainly have burdened the shoulders of many others.
I do remember her carrying a pager that buzzed constantly. She followed that with one of those bag phones in the car and, eventually, a blackberry. She loved big statement pieces of jewelry and TV preachers. But her heart really was for
Grandma's tenacity, God-given skill
the people across the street and around town who were just trying to put one foot in front of the other and move forward in their lives.
In the last years of her life, it wasn't odd for her to anonymously provide an appliance or vehicle for somebody in need, though she herself lived in a little, 900-square-foot, two-bedroom house, and pinched her pennies. She delighted in giving.
It also wasn't strange for neighbors just to "pop in" on special days like Christmas and Thanksgiving. They knew she'd have plenty of food and hasten to make room for them at the table.
God-given vision and tenacity compelled her to take on a struggling little health clinic that a local church women's ministry had dreamt up. They wanted to serve migrant workers and others who couldn't afford care, but they weren't able to sustain the dream.
So, Ora snagged the local school nurse, Pat Somers, and dragged her out into the cotton fields to triage the migrant workers and set them up with appointments at the "clinic," which started in an RV. The University of Arizona partnered with her and sent medical students and medical residents who volunteered their time, staying a couple days at a time in the doublewide behind Grandma's house.
The clinic eventually moved into a permanent building, but even with that
miraculous advancement, she had to cut her own salary, beg the staff to do the housekeeping, trim the services offered (dentistry, lab and pharmacy) and bring toilet paper from home to keep things rolling.
Yet, she persevered. And before she died in 2010, her faith for what this thing really could be became sight. As the CEO of the Marana Health Center, she took a small clinic and turned it into a huge health system that now has 15 satellite clinics to care for the indigent and underinsured people of Marana.
One of the last Christmases I remember with her, she sat in the lobby of this beautiful health center, dressed to the nines as Mrs. Claus (like she'd done many
A M A NDA H OGGA RD
46 Grace & Truth
"
She knows because it's her thought, it's her mission. She then dries her hands and starts work that preserves far beyond her.
years before), pulling up babies of every color on her lap and smiling that lifechanging smile every time their arms were filled with presents. It was how it'd all began — loving her neighbor.
As mayor, she took a town running in the red and moved it into making a surplus — increasing the size of its fire department, police presence, flood protection and tax base. This happened through annexation of several other small towns, taking her "little" Marana of about 5,000 people to a population of now more than 50,000.
On the side, she established a food pantry and, in her last days, she knew the history of the town needed stronger documentation and celebration, so she created a historical conservancy (a museum within town hall and a committee) to help folks remember where they're from and the shoulders they stand on. All these things meant jobs, jobs and more jobs. What a lift for her community.
I'll spare you the endless pages I'd love to write about her, but for now what I'd love for you to know is this: you have no idea what God can do all because you're just "loving your neighbor." If you'll get up every day, hear the voice of God, and take one more step forward in what He's called you to do, the culmination of these things could be beyond your wildest imagination at the end of your days.
I see Ora Mae, looking out into the fields near her house while doing dishes like any other ordinary day, and thinking, "Somebody should help these workers and their families." She knows because it's her thought, it's her mission. She then dries her hands and starts work that preserves far beyond her.
So, I implore you: step out today, and don't look back.
Amanda Hoggard is Connections Pastor at Askewville Assembly of God. She can be reached via email at amandajhoggard@ gmail.com.
1679 Green Acres Rd. Williamston, NC 27892 VISIT OUR WEBSITE: www.greenacresnc.com 252-792-3939 FOR RESERVATIONS CALL: 888-792-3939 FA MILYC AMP GROUND • 2Pools • Tennis • Boating • Fishing • Par 3&Mini-Golf • Entertainment • Camp Store • Cabin Rentals • Climate-controlled Clubhouse •Propane Refills • Planned Activities Family Memberships are available for day use of the Green Acres Facilities NOW OPEN AT OUR NEW LOCATION Drs. Mills &Matthews Eye Clinic 316 S. McCaskey Road-Williamston (formerly Dr.Skahill'soffice) 252-792-2250 Give us acall for your complete family eye care •Glasses •Contact Lenses •Management and treatment of eye disease HOURS: MONDAY THRU FRIDAY8AM TO 5PM Dr.RobertC.Mills,OD Dr.Scott Matthews, OD
47
County: Halifax
Marker ID: E-126
Date Cast: 2018
MARK IT!
LOUIS AUSTIN 1898-1971
African American editor. Published Durham-based Carolina Times, 1927-71. An advocate of social justice and civil rights. Was born in Enfield.
private academy, the Brick School and graduated from the National Training School in Durham (present-day North Carolina Central University) in 1922, soon thereafter going to work for North Carolina Mutual Life Insurance Company.
LLouis Austin, native of Halifax County and resident of Durham after 1920, was an outspoken editor and a mover and shaker with the consequences of his work for civil rights extending beyond the Bull City. At his newspaper, the Carolina Times, the motto was "The Truth Unbridled," referencing his use of the press to publicize racial injustice and to fight for equality. His paper continues under his grandson, Kenneth Edmonds.
Austin's birthplace in Enfield could not be identified but is believed to be near the center of town. He attended a
From the outset Austin staked out positions on civil rights that countered those of the middle-class black leadership of Durham, including those of C.C. Spaulding and the managers of North Carolina Mutual. Austin identified with the philosophy of W.E.B. DuBois (and Frederick Douglass), advocates of protest. Spaulding and others in Durham were accommodationists, attuned to the philosophy of Booker T. Washington.
While still in school, he began contributing to the Standard Advertiser, founded by Charles Arrant in Durham in 1921. In 1927, with a loan from Mechanics and Farmers Bank, Austin bought the paper and changed its name to the Carolina Times. In 1935 Austin joined with C.C. Spaulding and James E. Shepard to organize the Durham Committee on Negro Affairs, G-138]. Their effects were considerable, with an increase in registered black voters from fifty in 1929 to 3000 in 1939.
Railroad Street at Whitfield Street in Enfield
Austin joined others in 1933 who challenged the admissions policies at the University of North Carolina. During World War II he endorsed the "Double V" initiative whereby African Americans who fought for the Allies were encouraged to fight white supremacy upon their return home. In 1957 the Royal Ice Cream sitin took place one week after Austin's call for direct action. Austin was a model for subsequent civil rights leaders, such as Howard Fuller, but broke with those who advocated black nationalism.
Austin died in 1971 and is buried in Durham. Jerry Gershenhorn has published three articles and a biography of Austin. Other assessments of his place in history situate him at the forefront of civil rights leaders. Freddie Parker has written that, prior to Austin, Durham was "a diverse community that needed one more black leader." Jean Anderson, in her history of Durham County, described Austin as an "indefatigable crusader for justice and civil rights." Osha Gray Davidson wrote, "If the civil rights movement of the 1960s was a second American Revolution, then Louis Austin, especially in the crucible of North Carolina, was its Thomas Paine, his stirring rhetoric pointing the way toward freedom."
REFERENCES
MARKER TEXT
Carolina Times, available digitally through www.digitalnc.com Jerry Gershenhorn, Louis Austin and the Carolina Times: A Life in the Long Black Freedom Struggle (2018) Osha Gray Davidson, The Best of Enemies: Race and Redemption in the New South (2007) Jean Anderson, Durham County: A History of Durham County, North Carolina
(1990)
Information courtesy of the N.C. Department of Natural and Cultural Resources
48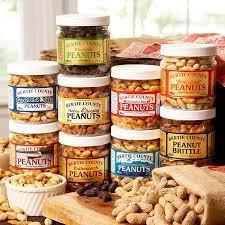 Present Magic 95.9 Night Friday, June 16th at 7:00 PM Join Magic 95.9 at Historic Hicks Field in Edenton Enjoy a FREE ticket to the Steamers VS. Tarboro River Bandits For tickets email magictickets@yahoo.com or call (252) 793-9995 & Jennifer Jackson Singing the National Anthem Cam Taylor Throwing out the 1st Pitch www.magic959online.com (252)793-9995 With giveaways from MTW District Health Department, McDonalds of Plymouth and Edenton, and a Gift Basket from Bertie County Peanuts 49
By Thadd White
In our last issue, we explored places that were "off the beaten path" and gave you businesses and the like that maybe weren't so easily located.
PARTING SHOTS I
This time we are doing almost the polar opposite – we are highlighting those businesses which have helped maintain our downtown areas.
At the current time, I have three offices – one in Windsor, one in Williamston and one in Edenton. The three downtowns are distinctly different, but there is also some interconnection in that business owners choose to be there.
When I was a child growing up in Bertie County, I still remember the days of a drug store downtown Windsor with lemonade and the like. I always looked forward to the trip and I have stopped in Blount's in Edenton a few times to remember that feeling.
There is something special about downtown. The structures that were
built in yesteryear still hold strong in many places and they are beautiful in their own way.
Adams Publishing Group – the owners of Eastern North Carolina Living and many of the eastern North Carolina newspapers – have many of their offices in the heart of downtown. Its a way of offering easy access to the publication and being near the courthouse which remains an important part of any reporter's routine.
In many places, the 100-year-old newspaper is joined by businesses that have been around nearly as long. They are places that most people can't remember not seeing.
There are also new businesses in our downtown striving to bring back the days of when being in that area of a municipality was the only place to be. They are to be commended for their desire to bring back strong downtowns just as the ones who have been mainstays.
We are giving you a handful of businesses in small towns throughout Eastern North Carolina. In this edition we hit businesses in Bertie, Pitt, Chowan, Pasquotank, Martin, Beaufort, Hertford and Nash counties. We hope you will not only visit these businesses, but the ones surrounding them in downtown.
If you haven't been in your own downtown lately, make a trip. You may be surprised at what a wonderful selection is available right there in your hometown.
And, if you can't find what you're looking for, maybe there is a way for you to provide it yourself and to help your local downtown thrive.
We'll be back in two months with stories about those who have taken an oath to serve us. We look forward to talking to you then.
Until next time, remember… all who wander are not lost. Continue joining us as we wander through Beaufort, Bertie, Chowan, Edgecombe, Gates, Greene, Halifax, Hertford, Hyde, Martin, Nash, Northampton, Pasquotank, Perquimans, Pitt, Tyrrell, Washington and Wilson counties.
Thadd White is an avid fan of Chelsea Football Club, a collector of memories, a believer in downtown and serves as Group Editor of four Adams Publishing Group publications, including the N.C. Press Awardwinning Eastern North Carolina Living.
" There is something special about downtown. The structures that were built in yesteryear still hold strong in many places and they are beautiful in their own way.
50
VISIT US AT YOUR LOCAL BRANCH
AHOSKIE 506 E. MAIN ST. AURORA 298 N. FIFTH ST. AYDEN 236 3RD ST. BELHAVEN 148 E. MAIN ST. BETHEL 7458 MAIN ST. EDENTON 101 W. QUEEN ST. ELIZABETH CITY 1875 WEST CITY DR. FARMVILLE 4217 E. CHURCH ST. GATESVILLE 203 MAIN ST. GREENVILLE 2310 S. CHARLES BLVD. 2275 STANTONSBURG RD. JACKSON 208 WEST JEFFERSON ST. KILL DEVIL HILLS 202 S. CROATAN HWY. KITTY HAWK 4804 N. CROATAN HWY. LEWISTON 127 MAIN ST. MANTEO 704 S. HIGHWAY 64\264. MIDDLESEX 11438 EAST FINCH AVE. MURFREESBORO 336 E. MAIN ST. NASHVILLE 209 S. BARNES ST. PINETOPS 102 E. HAMLET ST. PLYMOUTH 612 WASHINGTON ST. RED OAK 8315 RED OAK BLVD. ROANOKE RAPIDS 1580 E. 10TH ST. ROBERSONVILLE 111 N. MAIN ST. ROCKY MOUNT 107 S. FAIRVIEW RD. 3690 SUNSET AVENUE 230 SUNSET AVENUE 1405 BENVENUE ROAD SCOTLAND NECK 810 S. MAIN ST. SHARPSBURG 3938 S. HATHAWAY BLVD. TARBORO 422 MAIN ST. WINDSOR 101 N. KING ST. WINTERVILLE 4259 WINTERVILLE PKWY. www.southernbank.com 51