3 minute read
Mission Ad Vitam
ALUMNI SPOTLIGHT
Fr. Will Conquer, M.E.P, S.T.L.  - MISSION AD VITAM IN CAMBODIA
Mission ad vitam. This phrase - mission for life - gives a succinct introduction to the vocation of Fr. Will Conquer, a member of the Paris Foreign Missions Society (Missions Etrangères de Paris) and a native of France. He discerned the call to be a missionary following his completion of law school, sensing the urgency while volunteering in Calcutta. On the day of his ordination to the diaconate, he received his assignment, hearing it for the first time (along with those in attendance) of the location where he was to be sent for the rest of his life: Cambodia. Even though the assignment and country were a surprise, he experienced a sense of joy by freely accepting where he was being sent - knowing it is a hallmark of an authentic missionary vocation - as Jesus sent the Apostles. The modern means of communication used for our interview with Father did not obscure his bold missionary zeal! Preparations for this new mission led him to pursue the Licentiate (S.T.L.) from the Angelicum's Thomistic Institute . Why the Pontifical University of St. Thomas Aquinas? "I was asked by my superiors to go deeper into the study of Catholic Theology. For me, deepening the Catholic faith couldn't be done any better than with Aquinas as a master. That's why I decided on the Angelicum, and it has been very helpful for my mission."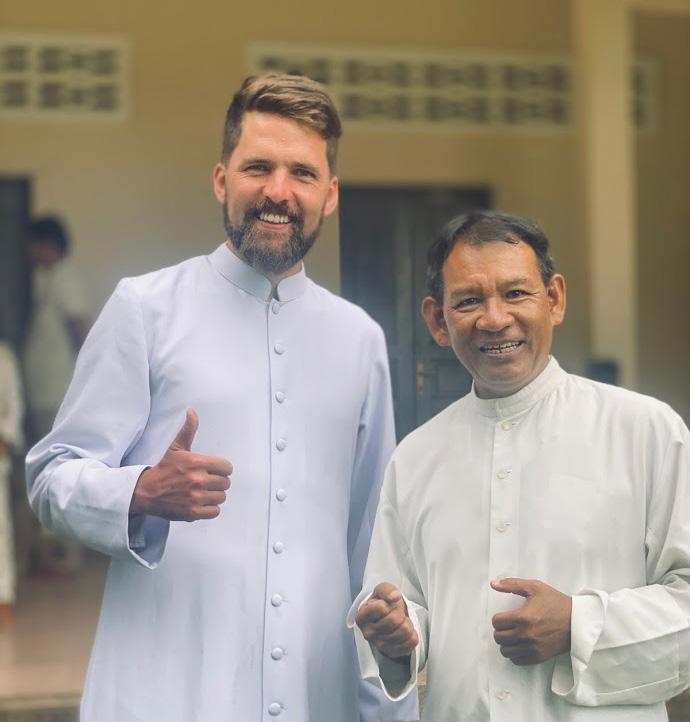 An Angelicum education extends beyond the classroom, given the variety of students (90+ nationalities) with the opportunity to become friends with students from multiple Asian cultures. This diversity also demonstrates the Catholic (universal) dimension of the Body of Christ across cultures and languages. Also apparent to Fr. Conquer was, "the powerful witness and experience of studying alongside students from places like Syria, Iraq, China, India, Nigeria and Armenia, who all know their own share of persecution and suffering. I realized
there is no one telling the world about these churches," lamented Fr. Conquer.
From his research into Cambodia, Fr. Conquer shared they too had experienced a Christian genocide in the 1970's killing an estimated 1.5 - 2 million people. Under prime minister Pol Pot, commander of the Marxist Khmer Rouge government, if someone was wearing spectacles they were immediately identified as having the ability to read and became targets for assasination. Today Cambodia continues to suffer the repercussions of this history with a lingering influence of anti-intellectualism. According to Fr. Will, one of the greatest challenges to Cambodia's evangelization today is a basic lack of intellectual formation. "If you don't bring people to a true understanding of faith (intellectus fidei), once the charismatic missionary leaves, the faith is unable to stand up to inevitable challenges."
A significant part of the missionary's commitment is to be able to speak the native language in order to pass on the faith. Currently Fr. Will is in his 2nd of a 3 year plan to study the Cambodian language. These studies led him also to translating Wikipedia entries in the Cambodian language (Khmer) on St. Thomas Aquinas, St. Clare of Assisi, and the Catholic Church in Cambodia. "It's been a great place to have an intellectual conversation, to go beyond a simple encounter...to talk about the meaning of life and investigate the deeper truths into which our faith draws us."
"Studying at the Angelicum made me confident that I am also responding under Divine Providence," Fr. Conquer said. "I am part of a long tradition of missionaries from my society," Fr. Conquer shared. "The first missionary bishop from my society in Cambodia, Msgr. Paul Tep Im, was martyred by the Khmer Rouge government in 1975. In some mysterious way, I am walking in his footsteps." An Angelicum alumnus, Bishop Tep Im did his doctorate in Theology in the early 1960's.
Fr. Will's words to current and prospective students: "Those who study at the Angelicum are the most privileged students, in my opinion... we need to share that blessing, and we need to share our experience with others... the experience of a Church which is still suffering around the world, which is already living in the hope of God's glory."
The young Fr. Will Conquer made the final request in our interview: "Most do not realize that the 20th century was a century of martyrs, and many challenges for the faith in Asia. Tell the world about us!"
Follow Fr. Will's FB page: https://www. facebook.com/willuconquer, or the site of the Paris Foreign Mission Society at https:// missionsetrangeres.com/