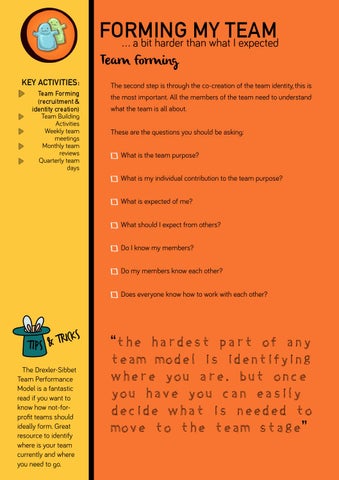 FORMING MY TEAM … a bit harder than what I expected Team Forming KEY ACTIVITIES: Team Forming (recruitment & identity creation) Team Building Activities Weekly team meetings Monthly team reviews Quarterly team days
The second step is through the co-creation of the team identity, this is the most important. All the members of the team need to understand what the team is all about. These are the questions you should be asking: What is the team purpose? What is my individual contribution to the team purpose? What is expected of me? What should I expect from others? Do I know my members? Do my members know each other? Does everyone know how to work with each other?
s
rick t & tips The Drexler-Sibbet Team Performance Model is a fantastic read if you want to know how not-forprofit teams should ideally form. Great resource to identify where is your team currently and where you need to go.
"The hardest part of any team model is identifying where you are, but once you have you CAN easily decide what is needed to move to the team stage"
The Ultimate Guide To Being A Team Leader