Union Member - here is your March 2023 e-newsletter (with updates since early February):
"Asking for Equal Treatment with Every Other Working American" *
Labor activists are joining retirees in collectively calling for elimination of unfair federal restrictions on Social Security benefits that impact public employees in Connecticut. Click here for a report featuring two PreK-12 union members who stepped up to engage in legislative advocacy.
Demanding Better Choices than More Privatization *
Union members throughout February engaged with parents, elected leaders and education advocates to oppose a controversial charter management organization's application for a new facility. Click here for a photo of a local leader urging state officials instead invest in proven alternative services
Responding to the "Code Red" Patient Care Crisis *
AFT Connecticut was in mid February the first organization to announce comprehensive legislation aimed at the most dangerous conditions in the state's healthcare industry Click here to watch and share a brief video with highlights from last month's patient care news briefing.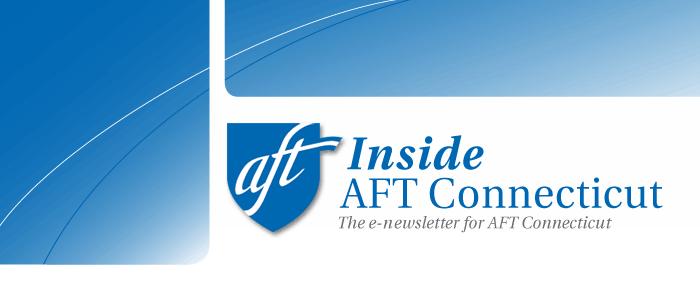 Doing "Everything We Can Do to Fund Our Future *
Activists joined students and advocates in mid February for a major rally at the State Capitol to denounce proposed cuts to higher education resources. Click here to watch and share labor and campus leaders speak with a united voice to demand equity