OAKLANDING CUSTOM HOMES 02 Vol Professionally designed, one-of-a-kind homes on the beautiful Mississippi Gulf Coast. The Quinton
TABLE OF CONTENTS Welcome 04 TheMorgan 4 Bedrooms/2.5 Baths - Oak Landing, Gulfport 25 TheChanon 3 Bedrooms/3 Baths - Oak Landing, Gulfport 44 PearlCove 3 Bedrooms/2.5 Baths Oak Landing, Gulfport 05 TheQuinton 5 Bedrooms/3 Baths - Oak Landing, Gulfport 19 GulfSandsCottage 3 Bedrooms/2.5 Baths - Oak Landing, Gulfport 36 TheClary 3 Bedrooms/2 Baths - Plantation Oaks, Gulfport 59SOLD FromtheBuilder 03
DearHouseHuntersandHomeBuyers, Newconstructionhomesareinhighdemand.Withthelatestinnovations,buildingcodesand lower insurance rates, it's no wonder. Our mission is to create a community with one of a kind,professionallydesignedhomes;eachwithhigh endfinishesthatprovidethebestvalue withoutsacrificingquality,modernconveniencesandelegance. Susan Siemiontkowski, our REALTOR and New Home Specialist has a passion for new construction.Currently,Sueisdesigningourhomeswithfabulouschoicestryingtokeepthe priceasefficientaspossible.Theseturn-key-readyhomesarepartofTheEmeraldSeries. HomesincludedinTheEmeraldSeriesaredesignedbeforeconstructiontohavematerialsin to complete the home to our high standards. Please note that each home is built with thought and care by some of the finest subcontractors on the coast. We will not sacrifice qualitytorushconstruction. BIG NEWS!!! We have partnered with Taylor Furniture in Moss Point, MS to provide interior designideasforeachofourupcominghomes!Suehasselectedfurniture,artworkanddecor itemstohelpyouenvisionthespacebychoosingfurnituretofityournewhome.Allfurniture piecesareavailableatTaylorFurniture;simplyletthemknowwhichhomeyouwereviewing inthemagazine. Sincerely, MichaelBaudry BuilderandAssistantManager **Furnitureistogiveideasastoroomsizesanddesignpossibilities ItisnotincludedwithANYofthehomesinthecatalog.However,itis availabletopurchasefromTaylorFurnitureinMossPoint,MS MeetSue,OurNewHomeSpecialistinTheHome&Real EstateEditionofGulfCoastWomen'sMagazine. CLICKCOVERIMAGETO SEEFULLARTICLE. SusanSiemiontkowski ColdwellBankerAlfonsoRealty 228-287-1000Office 228 239 2621Mobile Michael Baudry
Viewnewconstructionhomeseitherintheworksorunder construction.You'llseethedesignselections,floorplansand more.Pleasecontactusformoreinformation.Hereareafew imagesofcompletedhomes. WELCOME TO ACADIAN HOMES DESIGNER HOME CATALOG
P E A R L C O V E 3 BEDROOMS | 2.5 BATHS POCKET OFFICE HOMESITE 21 OAK LANDING
COASTAL COTTAGE FOR THE ULTIMATE #CoastLife COVEPEARL
UNDER CONSTRUCTION 12014 Parc Merlot Gulfport, MS Modern is a concept 3 BEDROOMS 2.5 BATHS HOME OFFICE Have you been searching for the perfect coastal getaway? Look no further!
Pearl
Cove
Cove
Pearl
Pearl
Cove
Pearl
Cove
Tiled Shower with Decorative Accent Tile Tiled Floor Separate Soaker Tub Cabinets with Dovetail Joints and Soft Close Features Quartz Countertops Square White Porcelain UnderMount Sinks Delta Faucets Three Piece Accessory Kit Including Towel Bars and/or Towel Rings, Robe Hook and Tissue Holder Framed Mirrors Recessed Lighting Pearl Cove is part of The Emerald Series of Turn-Key Professionally Designed Homes. The luxury cottage design includes stunning high-end finishes and a pocket office for those looking to work from home. Other finishes are listed below. Welcome to INTERIOR EMERALD SERIES DESIGNER TOUCHES Waterproof Luxury Vinyl Plank Flooring Throughout (Except Primary Bath) Tile in the Primary Bath Triple Crown Molding Main Living Area 10-Foot Ceilings Throughout 8 Foot Doors Throughout Custom Closets Recessed Lighting in Great Room, Kitchen, Primary Bedroom and Bath Ceiling Fans in Great Room and All Bedrooms Window Casings in the Main Living Area & Primary Bedroom Cabinets in Laundry Room 7 1/4" Decorative Base Molding 3 1/4" Door Casings Smooth Walls & Ceilings with Crisp Edge Two-Toned Paint (White Ceilings & Designer Wall Color) GOURMET KITCHEN LUXURIOUS PRIMARY BATH Cabinets with Dovetail Joints and SoftClose Features Quartz Countertops Frigidaire Professional Series Stainless Steel Appliances Including 71 Inch Fridge/Freezer Combo, 5 Burner Gas Cooktop, Convection Wall Oven, Built In Microwave & Dishwasher Garbage Disposal Farmhouse Sink Kraus Restaurant Style Pre Rinse Single Handle Kitchen Faucet with Pull Down Sprayer Marble Tile Backsplash Cabinet Hardware Recessed Lighting Two Island Pendant Lights GUEST BATHS Wood Cabinets with Dove-Tail Joints and Soft-Close Features Square White Porcelain Undermount Sinks Delta Faucets Three Piece Accessory Kit Including Towel Bar and/or Towel Rings and Tissue Holder Framed Mirrors Pearl Cove
EXTERIOR IMPRESS YOUR GUESTS WITH HIGH-END FINISHES Low Maintenance Brick and Cement Siding 4-Light Fiberglass 8-Foot Front Entry Door Recessed Lights on Covered Porches Flood Lights Low Maintenance Vinyl Soffit, Fascia and Porch Ceilings Exterior Fan on Rear Porch Decorative Fixed Wood Shutters on Front Windows Decorative Doorbell High Def Architectural Style Roof Shingles Low Maintenance Landscape Package Concrete Driveway with Sidewalk to Front Porch 1 Exterior Electrical Outlet Front Porch 2 Exterior Outlets Back Porch Cable Jack Back Porch Outdoor Kitchen with Grill, Sink & Fridge 2 Exterior Water Faucets Garage Coach Lights Carriage Style Steel Garage Door with Decorative Hardware Garage Door Opener with Two Remotes Finished Garage with Painted Walls and Base Molding Energy Star Rated HVAC System with Heat Pump Energy Efficient Blown In Insulation Generous Outlet Locations OTHER 7 18 2022 GARAGE Included Features & Finishes may change without notice based on availabili ty. Susan Siemiontkowksi REALTOR & New Home Specialist Coldwell Banker Alfonso Realty 228-287-1000 Office 228-239-2621 Direct
T H E Q U I N T O N A ROYAL OWNER'S RETREAT 5 B E D R O O M S | 3 B A T H S H O M E S I T E 3 O A K L A N D I N G
A GRAND OWNER'S RETREAT THAT'S SURE TO MAKE LIFE MORE RELAXING Main Floor & Spa Bath Layout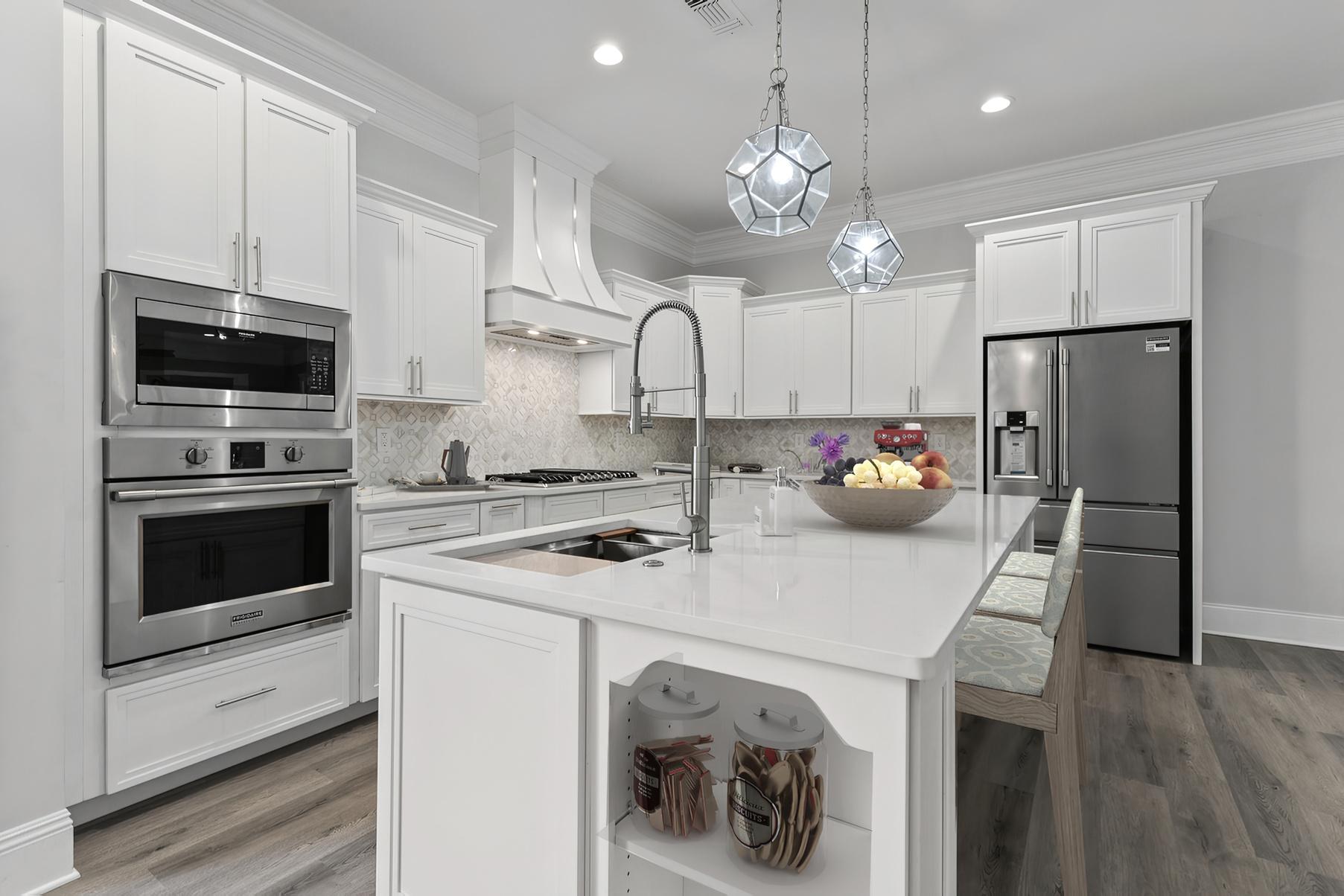 T H E M O R G A N MODERN FARMHOUSE 4 B E D R O O M S | 2 . 5 B A T H S H O M E S I T E 4 5 O A K L A N D I N G Note: Images are for reference only and may change due to availability.
HOMESITE 45 Luxury & Space Corner Lot Side Entry Garage Modern is a concept WHAT'S BLACK & WHITE WITH LUXURY ALL OVER? This spacious modern farmhouse design coming to gorgeous Oak Landing.
Great Room
Owner's Retreat Bath
3 BEDROOMS | 2.5 BATHS HOMESITE 40 OAK LANDING G U L F S A N D S COTTAGE
g u l f s a n d s c o t t a g e
COASTAL COTTAGE FOR THE ULTIMATE #CoastLife SANDSGULF COTTAGE
THE CHANON LOT 2 OAK LANDING 3 B E D R O O M S | 3 B A T H S MODEL HOME
THE CHANON MODEL HOME Coming Soon The Estates at Oak Landing Luxury Awaits This is where you will find me in the coming months! Not to worry, you can reach me in the meantime to talk about your dream home anywhere on the coast weather new or existing.
The Chanon
The Chanon
The Chanon
The Chanon
The Chanon
THE CHANON MODEL HOME
T H E C L A R Y A ROYAL DESIGN 3 B E D R O O M S | 2 B A T H S G U L F P O R T , M S
I N T H E W O R K S Homesite 4 Oak Landing - Plan is being finalized.
SusanSiemiontkowski REALTOR&NewHomeSpecialist ColdwellBanker AlfonsoRealty 228-287-1000Office 228-239-2621Direct ContactSusan,ourREALTOR &NewHomeSpecialist. Make home happen… www.buildacadianhomes.com