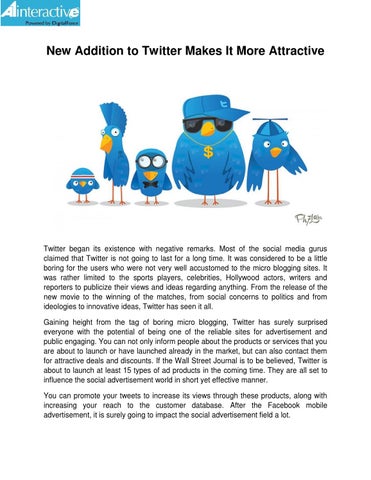 New Addition to Twitter Makes It More Attractive
Twitter began its existence with negative remarks. Most of the social media gurus claimed that Twitter is not going to last for a long time. It was considered to be a little boring for the users who were not very well accustomed to the micro blogging sites. It was rather limited to the sports players, celebrities, Hollywood actors, writers and reporters to publicize their views and ideas regarding anything. From the release of the new movie to the winning of the matches, from social concerns to politics and from ideologies to innovative ideas, Twitter has seen it all. Gaining height from the tag of boring micro blogging, Twitter has surely surprised everyone with the potential of being one of the reliable sites for advertisement and public engaging. You can not only inform people about the products or services that you are about to launch or have launched already in the market, but can also contact them for attractive deals and discounts. If the Wall Street Journal is to be believed, Twitter is about to launch at least 15 types of ad products in the coming time. They are all set to influence the social advertisement world in short yet effective manner. You can promote your tweets to increase its views through these products, along with increasing your reach to the customer database. After the Facebook mobile advertisement, it is surely going to impact the social advertisement field a lot.
---
Apart from this, Twitter is also adding colors to its 140 character micro blogs with Emojis. Those cute, colorful and creative smileys and symbols can now be viewed on web as well if someone is posting them with their tweets. If this feature will get popularized, maybe Twitter plan about installing Emojis feature in the web as well so that users can post them through their PC. People love to see their Emojis on web instead of those awkward looking boxes. You can see the overwhelming interest of Twitter users by looking for "hashtag emojiparty�(#emojiparty). In their tenth year, Twitter is not feeling shy from surprising its users with the developments and updates. Now it is not just the celebrities who are getting huge fan following on the Twitter but anyone with eye catchy tweets can do it now. Twitter has made a great impact on the social media world with their unique features. Let us see what more is about to come from them. Visit http://www.a1interactive.com/SMM.html for social media solutions.
Published on Apr 18, 2014  
New addition to twitter makes it more attractive  
New addition to twitter makes it more attractive  
Published on Apr 18, 2014  
For a long time, Twitter was considered to be a little boring and place for celebrities only, but with new additions, it surely can attract...