This is Riksteatern
2 FigueroaJoséPhoto:Dark water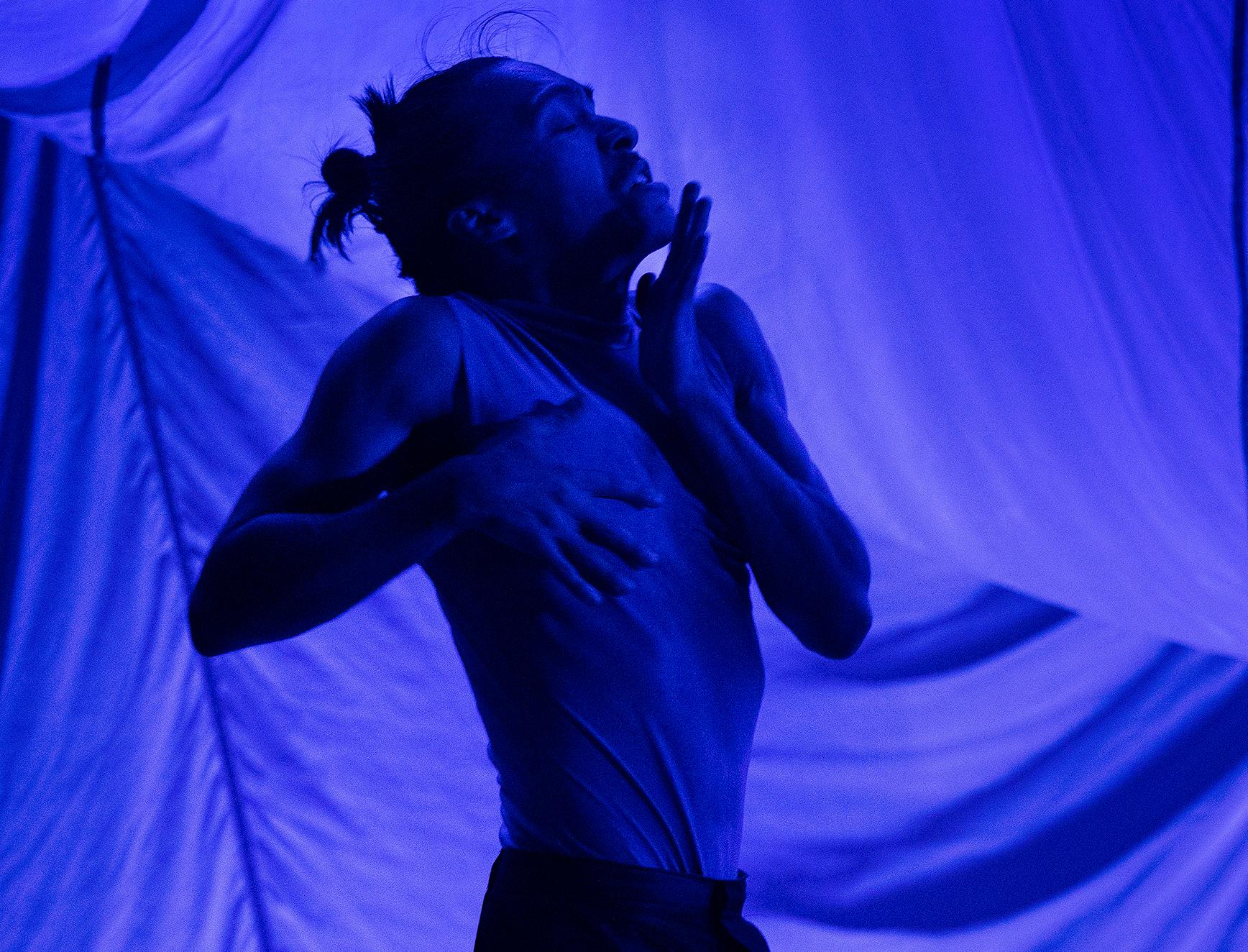 For you. And you, you and you.
More than 200 associations all over Sweden make up Riksteatern. We organise performances of plays, dance and music from other companies, and we run our own tours being The Swedish National Touring Theatre.
Even if you live in a small town or village, your Riksteatern association can still provide grand experiences. As an audience, you experience it. As a member, you make it possible.
The entire population is our audience. Our audience become members of our organisation, building up Riksteatern locally.
3
Ever since 1933, when the first local Riksteatern theatre association was established and the first Riksteatern tour took place, our organisation has been built on passion. We are present in your local area, and we travel all over the country. We stage our own productions and present theatrical performances by other companies. We are pro fessionals and volonteers working together.
4
It's true – a lot has happened since we started. But that's only the beginning. We are firebrands who remain passionate about organising, communicating and produc ing even more perfoming arts – for everyone, everywhere.
Room X
It is 50 years since we started to run activities for chil dren and young people. The dance company Cullberg was founded in 1967, and Riksteatern Crea has been working consciously with dramatic art in sign language since 1977. We are also tasked with promoting development and making contemporary dance and circus accessible all over Sweden.
Sweden.wholeforStagetheof
5
JörénUrbanPhoto:
Ex 6
Let performancethecommence!
In recent years, all kinds of events have had to be post poned or even cancelled. In many places, dramatic art has been shelved completely, awaiting the return of better times. And when village courtyards, culture centres and theatres stand empty, this inevitably creates a void which serves to underline the significance of culture. They are ready to fill up once more. And we are ready to fill them. That special moment when everyone has taken their seat, the murmuring subsides and the lights go out. It's back.
VilksSörenPhoto: 7
Statistics,
I själva verket ThisnerMärtaPhoto: 8
PUBLIC ARRANGEMENT
figures below show the number of visits to events organised by Riksteatern associations as a percentage of the population of the respective counties. Statistics, audience 9 PRODUCED BY RIKSTEATERN Visits to productions produced by Riksteatern – irrespective of organiser. ORGANISED BY RIKSTEATERN Visits to performances organised by Riksteatern – irrespective of producer. TOTAL AUDIENCE Number of visits to performances either produced or organised by Riksteatern, with overlaps removed. 154 344 379 092109 698 2021 20192020 173 237 117 741 436 255 2021 20192020 72 080 185 48527 141 2021 2019STREAMED2020VIEWS Not included in the above. Blekinge 2021 3,2 % 2019 4,8 % 2020 1,2 % Dalarna 2020 0,7 % 2021 2,2 % 2019 3,4 2021 2,0 % Gotland 2019 1,3 % 2020 0,6 % 2021 4,7 % Gävleborg 2019 7,7 % 2020 3,2 % 2021 1,0 % Halland 2019 1,8 % 2020 0,3 % HärjedalenJämtland/ 2021 4,4 % 2019 13 % 2020 3,7 % Jönköpings län 2021 0,9 % 2019 2,6 % 2020 0,6 % Kalmar län 2019 4,9 % 2020 0,8 % 2021 1,9 % Kronoberg 2020 3,3 % 2021 2,3 % 2019 6,8 % Norrbotten 2021 2,9 % 2019 6,1 % 2020 1,7 % Skåne 2021 1,5 % 2019 4,0 % 2020 1,0 % Stockholms län 2021 0,6 % 2019 2,2 % 2020 0,2 % Sörmland 2021 1,2 % 2019 3,0 % 2020 1,0 % Uppsala län 2021 0,5 % 2019 0,8 % 2020 0,3 % Värmland 2021 1,8 % 2019 3,4 % 2020 1,1 % 2021 7,9 % Västerbotten 2020 10,9 % 2019 15,6 % Västernorrland 2020 2,1 % 2021 3,6 % 2019 8,5 % 2021 1,1 % Västmanland 2019 2,4 % 2020 0,8 % 2021 0,7 % Västra Götaland 2019 2,7 % 2020 0,4 % Örebro län 2021 0,6 % 2019 1,2 % 2020 0,5 % Östergötland 2021 0,8 % 3,2 %2020 0,6 %
The
10 RossiMiljaPhoto:
livrädda
De
That's the way it's always been, of course. But if the pandemic has taught us anything, it's that nothing can be taken for granted – least of all the joy of shared experienc es. We don't know what the future holds, but one thing is for sure: we'll be there, generating experiences you will never forget.
lastartsPerformingprovidesmemoriestoalifetime.Rememberthat.
Dance, music, theatre, circus ... and everything in between. Performing arts is a broad concept, and the actual experience is even grander. Being able to share an experience with others, something that moves and sometimes even changes you, is hugely important.
12
Cullberg
Cullberg is a national and international repertoire company based in Botkyrka, just outside Stockholm. We work tirelessly to ensure that a large audience both in Sweden and abroad has the opportunity to experience contemporary dance. In partnership with choreographers and artistic teams from all parts of the world, we explore ideas about how to define, produce and present dance. This exploratory work is the very foundation of the company that is con stantly in motion at the heart of the international arena. Always challenging, always relevant.
As of July 1, 2022 Cullberg is led by artistic director Kristine Slettevold and managing director StinaCullbergDahlström.isa part of Riksteatern. the solos
Horse,
WürdingerEvaPhoto:
Join us Join us as a member for as little as SEK 160 a year. Additional family members at the same address pays SEK 80 and if you are 25 or younger the membership fee is only SEK 60 a year. I would like to add the following family members at the same address with the favourable rate of SEK 80. First name and last name Email PostAddressaddresscode Postal address PreferencePhone for specific Riksteatern association Woman Male Other/decline to state Social Security Number (YY-MM-DD) –Name and email address Name and email address Social Security Number (YY-MM) –Social Security Number (YY-MM) –By applying for membership, I give my consent to the processing of my personal data by Riksteatern. I will receive the Riksteatern membership card Scenpass Sverige, the member magazine Scenen and accept to receive information from Riksteatern's partners in Scenpass Sverige. For detatails of our privacy policy visit riksteatern.se/gdpr Signature 13
14 Join us! As a member, you will receive our members' magazine Scenen, as well as a Riksteatern membership card (Scenpass Sverige) which is packed with all kinds of benefits. For additional information (in Swedish), see: riksteatern.se/medlem Frankeras ej betalarMottagarenportot scenpassmedlemskortsverige
Affiliated organisations stage for the
The Riksteatern regional and local associations may enter into agre ements with regional or municipal authorities which – in the same way as the government guidelines affect the national activities – have an impact on the work of the com pany at regional and local level.
Riksteatern's ultimate decisionmaking body meets once every four years. The event brings together representatives from the local Riksteatern associations to make joint decision on objectives and guidelines. The congress also elects the Riksteatern Board for the coming 4-year period.
Riksteatern
2022vårenÅtta45tryck:ochReproFredrikssonLindaform:GrafiskStenbergHenryText:KöhlerPeterredaktör:ochProjektledare WATCH VIDEO ABOUT RIKSTEATERN ä
THE CONGRESS
In addition to this, Riksteatern comprises a variety of other affiliated organisations.
Riksteatern at national level
GOVERNMENT GUIDELINES
RIKSTEATERN CONSISTS OF:
whole of Sweden.
–
Almost 40,000 aficionados of performing arts are members. They own the organisation. At the local Riksteatern association's annual meetings they appoint the members of the local board and may adopt their activity plan for the year.
Riksteatern at local level
Riksteatern at regional level
In each county, there is also a regional Riksteatern association that serves as a coordinating body for the local Riksteatern associations and affiliated organisations.
THE MEMBERS
MUNICIPAL AND REGIONAL AGREEMENTS
The general public in Sweden becomes the audien ce. The audience can then choose to become mem bers. The members form Riksteatern's more than 200 local associations which, together, make up Riksteatern.
Riksteatern is a non profit organisa tion that receives funding from the Swedish Government. The grant is accompanied by a commission in the form of guidelines concerning what Riksteatern is expected to do for these funds.
145 83 Norsborg 08-531 991 info@riksteatern.se00 Instagram.com/riksteaternfacebook.com/riksteaternriksteatern.se Innan jorden blev rund
VilksSören–MammornacoverPhoto:Vilks.SörenPhoto: