VERMONT'S INDEPENDENT VOICE JANUARY 25-FEBRUARY 1, 2023 VOL.28 NO.16 SEVENDAYSVT.COM After a chaotic start, Vermont's first congresswoman finally gets to work
PAGE 26 MS. BALINT goes to WASHINGTON BATTERIES  NOT INCLUDED Statehouse power backup removed over fire risk RETHINKING  ANTIQUING Brian Bittner's new Shelburne showroom MANGE À TROIS ree ways to brunch  at Grey Jay in BTV
BY CHELSEA EDGAR,
WHAT VERMONT TASTES LIKE Send a Taste of Vermont Nationwide - Order Online or By Phone DAKINFARM.com | 1-800-993-2546 | 24 Hours...Everyday! Ferrisburgh 5797 US Route 7, Ferrisburgh 8 am to 5 pm - 7 Days a Week 802-425-6712 Dorset Street 100 Dorset Street, South Burlington Mon-Sat 9:30 am - 6 pm & Sun 10 am - 5 pm 802-425-6750 ANNUAL WINTER WHITE SALE Take 25% O All Cabot, Maple Syrup, and Hams Sale Prices End February 1st, 2023 O er Valid In-Stores and Online 4T-dakin0125233 1 1/19/23 12:12 PM NORTHEAST KITCHEN $1 OYSTERS THURSDAYS 4-6PM 4t-courtyardbtvharbo(bleu)011823 1 1/13/23 12:06 PM Valentine's Day cateringbydale.com Pre-order your Romantic Valentine's Dinner! 802-497-1499 Chef Aaron's splendid meal will set the mood in the comfort of your own home! Visit our website for your sumptuous meal! Order by February 9th Pick up at our new kitchen on Feb. 14th! Copper at Dorset, 100 Dorset St., S. Burlington 4t-cateringbydale012523.indd 1 1/23/23 10:13 AM SEVEN DAYS JANUARY 25-FEBRUARY 1, 2023 2
FEATURED OF THE WEEK "A Next Generation Wine Shop" - Food & Wine Magazine KASYAN SANTA BARBARA PINOT NOIR 2021 $26.99 ONLY AT DEDALUS! DIRECTLY FROM OUR FRIENDS AT PRESQU'ILE, GET A TASTE OF NEW SCHOOL CALIFORNIA, WITH JUST THE RIGHT BALANCE OF FRUIT, EARTH, AND SPICE. AVAILABLE IN STORE OR BUY ONLINE TO PICK UP IN STORE AT DEDALUSWINE.COM OPEN 10AM–8PM DAILY BURLINGTON 388 PINE ST. BURLINGTON, VT STOWE 1031 MOUNTAIN RD. STOWE, VT USE THIS CODE TO BUY ONLINE 4T-Dedalus012523 1 1/23/23 2:57 PM at the Taproom 27 Jan Friday Tropical and exotic vinyl DJ set curated by Matt Hagen Empanadas by Taino Kitchen Beach Party IPA specials Island-themed attire encouraged! 4pm - 8pm Lawson's Finest Taproom, 155 Carroll Road, Waitsfield 4T-Lawsons012523 1 1/23/23 4:32 PM HELLY HANSEN BURLINGTON 66 CHURCH STREET (802) 651-7010 5 0 % O F F 4T-hellyhansen012325 1 1/23/23 2:55 PM 4t-unionbank122822 1 12/16/22 10:43 AM SEVEN DAYS JANUARY 25-FEBRUARY 1, 2023 3
2h-SilverleafIn-Homecare012523 1 1/20/23 10:04 AM 4t-dailyplanet012523 1 1/20/23 11:27 AM 6 Your couch is worth more than the change in the cushions. Redecorating, downsizing, or moving? Donate your new or gently used items to the Habitat ReStore. Proceeds from the sale of your donation will help build a safe, affordable home for families in our community. Offering free donation pick up on large items. Book yours today by calling 8 802-857-5296. Williston 528 Essex Rd Mon-Fri 10-6 Sat-Sun 10-5 Swanton 104 Robin Hood Dr Tues 10-1 Thurs & Sat 9-2 Milton 414 Route 7 Mon-Fri 10-6 Sat-Sun 10-5 In 2022, revenue from the Habitat ReStores helped to sponsor the construction of affordable, energy-efficient homes right here in Northwest Vermont. N4t-Habitat(ReStore)011823 1 12/14/22 12:26 PM SEVEN DAYS JANUARY 25-FEBRUARY 1, 2023 4
Gov. Phil Scott's administration wants to sell a state building at 108 Cherry Street in downtown Burlington and move hundreds of workers to Waterbury. e plan would mean a developer could snag some prime real estate in the heart of the Queen City. Located near the ongoing CityPlace Burlington development, the property, which includes a three-story, 110,000-square-foot office building, has been assessed at $29 million.
State offices across Vermont have been underutilized amid a pandemic-era embrace of hybrid working models, said Jennifer Fitch, commissioner of the Department of Buildings and General Services. Some 400 people worked there before the pandemic; now, a much smaller number report to the office.
Meanwhile, Fitch said, Agency of Human Services officials have long wanted to consolidate Department of Health offices at the state complex in Waterbury, believing that it would foster a greater collaboration between various departments.
"All of those considerations went into: 'Do we continue to invest in this building?'" Fitch said.
State officials have long been concerned about the building's underground parking garage, noting how de-
MESSAGE DELIVERED
Kathy Hoffer was in Montpelier for a lunch date with three friends on January 17 when she stopped to admire a shiny red Alfa Romeo that was parked on State Street. Luxury Italian sports cars are rare in pragmatic central Vermont, where drivers tend to favor Subarus and pickup trucks, especially in winter.
"We all started saying, ' at's a really nice-looking car,'" Hoffer said.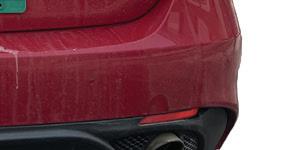 e quartet looked closer and noticed that the car's Vermont license plate read "UNVAXXD," the term generally used to describe people who have foregone the COVID-19 vaccine or other inoculations. To the left of the plate was a small silver decal that read "White Privilege Edition."
e four friends started wondering about the car owner's motives and reflected on their own perspectives on vac-