THIS IS NAPA VALLEY
WINE COUNTRY WELLNESS
Book now by calling (707) 709-2100 or by visiting our website at www.fourseasons.com/napavalley Four Seasons Resort and Residences Napa Valley invites you to unwind and relax at Spa Talisa. A haven of tranquility and rejuvenation, delight in treatments inspired by Calistoga's 150-year history as a wellness destination.
57° DEPARTMENTS
STAY
Historic Hideaway
By Atissa Manshouri
WINE
Wine with Character
By Atissa Manshouri
COMMUNITY
Unite and Inspire By Atissa Manshouri CHEF
Napa Valley Homecoming By Atissa Manshouri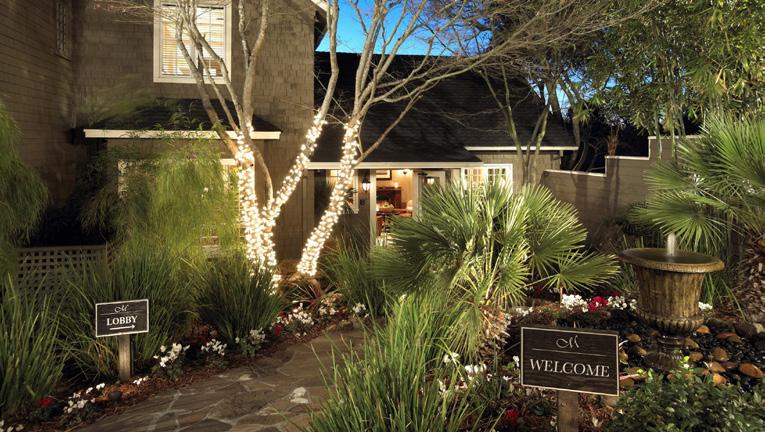 EDITOR'S INKWELL
Taste of a Story
By Andrea Stuart PHOTO
Portraits of Fresh Faces: Linsey Tatum
By Jessica Zimmer SAIL
Amazing Ahpo
By Annabelle Frankl
PUBLISHER'S NOTE
By Rich Medel
With the holiday season upon us already, we thought we'd share some positive vibes by filling our pages with smileinducing content.
Kristina Hawley is living out her family legacy as the owner of Hart Habitats in downtown Carmel, which operates in the same location where her mother ran an antiques store for 30 years. Her love of history and appreciation for natural environments inspires her to share the beauty of both the old and the new.
Celebrating 64 years next summer, White Stag empowers youth to lead and train their peers in team building and wilderness survival activities. These leadership skills prove useful throughout life and encourage young adults to employ thoughtful communication principles while interacting with others.
For those seeking a special weekend, book a stay at the luxurious yet homey Villa Mara, where the concierge feels more like family. Then, spend the afternoon at the beach, followed by a
meal at Village Gem (check out their 28-day aged New York strip steak).
If a stay up north appeals to you, head to Milliken Creek Inn in St. Helena. Even though the inn dates back to the Gold Rush, it boasts modern amenities that are eloquently merged with its bucolic setting. Then, head up the road to Fantesca Estate and Winery for another trip back in history.
One of the things we love about wine is the lifestyle. Sean Foster, founder and winemaker of Farmstrong Vineyards and Vintone Wines, understands this. Emerging from biochemical engineering roots, Foster has found his passion making enjoyable wines while being a good steward to the land.
Bringing it all together, we're happy to share the V Foundation's twentyfourth annual weekend fundraiser. While the event inspires and educate through their dinners and auctions, the proceeds support early cancer detection research.
However you spend the holidays, we hope our pages leave you inspired to celebrate in style or try something new.
THIS IS THE CITY
PUBLISHER Rich Medel rich@65mag.com
EDITORIAL DIRECTOR Andrea Stuart andrea@65mag.com
CONTRIBUTING WRITERS
Caitlin Fillmore
Nora Heston Tarte
Atissa Manshouri
Bettina McBee
Jennifer Moulaison
Jessica Zimmer
COPY EDITOR Leah Weiss
ASSOCIATE EDITORS Michele Callaghan MacDuff Perkins
ART
CREATIVE DIRECTOR Manny Espinoza manny@65mag.com
CONTRIBUTING PHOTOGRAPHERS
Tristian Babaian Manny Espinoza Randy Tunnell
ADVERTISING / MARKETING SALES ACCOUNT EXECUTIVE Sydney Coleman
Jack Pappadeas jack@65mag.com
Chad Medel chad@65mag.com
Tracy Ricci tracy@65mag.com
MAILING ADDRESS 65° Magazine
P.O. Box 2426
Carmel, CA 93921-6325
PHONE 831.917.1673 ONLINE 65mag.com
PRINTED IN USA
SUBMISSIONS: For article submissions, email proposal to editors@65mag.com. 65° Magazine is published quarterly, P.O. Box 6325, Carmel, CA 93921-6325. Subscription rate: $40, payable in advance. Single copies $4.99. Back issues if available, $15 (includes shipping and handling). POSTMASTER send address changes to 65° Magazine, P.O. Box 6325, Carmel, CA 93921-6325. Entire contents © 2013 by 65° Magazine™ unless otherwise noted on specific articles. All rights reserved. Reproduction in whole or part is strictly prohibited without Publisher permission.
Cover photo by Bob McClenahan
CONTRIBUTORS
WRITERS
&
PHOTOGRAPHY
MARKETING MANNY ESPINOZA NORA HESTON TARTE JESSICA ZIMMER CAITLIN FILLMORE TRISTAN BABAIAN JENNIFER MOULAISON BOB MCCLENAHAN RANDY TUNNELL ATISSA MANSHOURI BETTINA MCBEE
Straight from Provence chateauberne.com/en/
PHOTO | LINDSEY TATUM
Portraits of Fresh Faces
By Jessica Zimmer | Photos by Lindsey Tatum
From her warm, prop-filled studio in Santa Rosa, Lindsey Tatum captures peaceful images of babies just a few weeks after birth. Her secrets for successfully portraying children when they're the smallest they will ever be include keeping the newborns well fed, including in the shots seasonal elements such as flowers, and working closely with the parents.
Tatum, a Sonoma County native, began in photography 12 years ago, when Melody White, another local infant photographer, took images of Tatum's oldest son, Dylan. Tatum practiced by taking photos of friends and family members, and in 2011 she opened her own business.
She shoots with a Nikon D750, using a 35mm F1.4 lens. The wide-angle lens lets her stay close to the baby. Tatum uses artificial studio lighting to ensure even light. She searches thrift, department, and antique stores for vintage props and delicate, textured fabrics. Her clients' favorite North Bay motifs include bohemian, country, and nature. She enjoys posing babies in buckets, crates, and fur rugs. "I'm always searching for items to put a baby in, from baskets to scarves," she says. "I have babies on the brain 24-7."
Tatum also shoots maternity and family photography. Snacks, breaks, and swaddling techniques help her to capture family's nature. "[My] other tools . . . are a white noise machine called The Baby Shusher and posing
pillows designed specifically for newborn photographers by Hello Little Props," she says. "I ask parents to feed and change a baby before a session. [I also] keep it simple. If we decorate the space around the child with flowers, the baby should remain the focus." When a parent wants to be in the photo, she'll recommend a simple, neutral-colored top—beige, white, or black. "I usually do a close-up shot. I remind parents they'll need a lot of patience," says Tatum, laughing.
She gathers inspiration from White, Erin Tole—an infant photographer based in Vancouver, Washington—and work posted by members of newborn photo groups on Instagram and Facebook.
A new type of photo that Tatum offers is a "cake smash," in which the parent brings a birthday cake for a one-year-old baby to smash. In the future, Tatum hopes to expand into a bigger studio with natural light.
Her tips for beginning photographers are to invest in education and watch the pros. "There's nothing better than seeing it live. I remember watching [White's] whole session," she says. "I still have Dylan's newborn photos on my wall today."
For more information, visit lindseytatumphotography.com.
deldottovineyards.com
Sk y Devil
www.skydevilwines.com
SCENE | SONOMA COUNTY
WINE AUCTION
Bids for a Cause
By Jessica Zimmer | Photos by Alexander Rubin
The Sonoma County Wine Auction, which took place September 17 at Chalk Hill Estate Vineyards & Winery in Healdsburg, welcomed local residents and guests in a quest to bid for the region's top wines and unique experiences.
The event raised over $1.8 million for Sonoma County Vintners Foundation community grants that fund more than 400 nonprofits in Sonoma County, including Side by Side's YouThrive program. The organization benefits Sonoma and Marin County students in need of academic and social-emotional support.
"The support we receive from our entire winemaking and hospitality community for SCVF has been extraordinary. We could not raise the funds needed to sustainably give to local nonprofits without everyone who steps up to participate in our auction events every year," says Michael Haney, executive director of Sonoma County Vintners Foundation.
Top-selling lots included a private Kauai estate getaway featuring a stay at the Foley Family's 15-acre luxury estate, with air travel, private chef, and dinners paired with vintages from the Foley Family Wines portfolio priced at $182,000. Another favorite was a trip with French vintner Jean-Charles Boisset from Paris to Burgundy, visiting Michelin-starred restaurants, taking part in insider Burgundy experiences, and engaging in VIP tastings at iconic vineyards, priced at $110,000.
For more information, visit sonomacountywineauction.com.
PRIVATE JET SALES & CHARTER SUPERYACHT SALES & CHARTER MYYACHTGROUP.COM CONNECTING THE WORLD'S MOST INTERESTING PEOPLE® INFO@MYYACHTGROUP.COM @MYYACHTGROUP GLOBAL UHNW YACHT EVENTS C C E E L L E E B B R R A A T T Y Y O O U U F F R R E E E E D D O O M EM E R R
WINE | FANTESCA ESTATE & WINERY
Wine with Character
By Atissa Manshouri | Photos Courtesy of Fantesca Estate & Winery
In early theatrical performances of the Italian commedia dell'arte, La Fantesca charmed audiences as the sole female character, both lover and equal of the protagonist. When Susan and Duane Hoff purchased a winery in 2004, Fantesca's sexy, smart, and unpretentious ways embodied everything they sought to emulate. Thus, they had found their perfect namesake. Today, nearly two decades later, Fantesca Estate & Winery is renowned both for the exquisite quality of its wines and for the warmth and conviviality it extends to its guests—a combination of attributes that would have pleased Fantesca herself.
She would surely have been impressed with the winery's cast of characters, which features winemaker Heidi Barrett. A wine country legend, Barrett has received a staggering five 100-point scores from major critics throughout her career; in 2000, she set a world record for the highest price ever paid for a single bottle of wine: $500,000 for a six-liter bottle (also known as an Imperial) of her 1992 Screaming Eagle Cabernet. "The women of Fantesca are quite brilliant, whether it be Susan Hoff, Heidi Barrett, or third-generation Chelsea Hoff, a winemaker in her own right who currently has a successful brand," says DLynn Proctor, Fantesca Estate & Winery's director. Proctor is a commedia-worthy wine industry star and sommelier who has appeared in and produced films and television (SOMM, Uncorked) and spreads his love for wine and wine appreciation to audiences around the world.
Located on 53 acres, perched from 400 to 800 feet of elevation on Spring Mountain, Fantesca's original vineyards date back to 1860, when they were a part of Caroline Bale's dowry. The east-southeast facing vineyards benefit from the morning sun and long ripening throughout the season, producing fruit that is buoyant, bold, and fresh. "Susan and Duane love wines with pure fruit, lifted acidity, and elegance, wines with timelessness and finesse," explains
Proctor. "Heidi really knows how to bring that to life through vineyard sites, barrel selection, and blending. No one does it better." At Fantesca, Barrett produces a chardonnay, an Estate cabernet sauvignon, and a proprietary blend called All Great Things™, while associate winemaker Tony Arcudi is the sole producer on a King Richard's Reserve™ pinot noir.
Visitors can experience the magical grounds with a private tour and tasting, starting with a stroll through the historic estate vineyards and the wine cave (once a silver mine), followed by a trip into the winery, where the Grand Room awaits. Importantly, according to Proctor, "It's the family of the Fantesca property that welcomes guests and makes them feel like they have known each other for decades. [It's] our interactions and shared stories of wine, family, travel, and triumph." The recently introduced DLynn's Den tasting is an even more refined educational and sensory experience. "It's meant to highlight the wines of the Fantesca Collection, including library vintages, while showing appreciation for the wines that came well before Napa," says Proctor. "I pour wines from venerated producers in Burgundy, Bordeaux, and sometimes Piemonte."
Fantesca's team produces wines at the highest levels of quality and collectability, making them sought-after prizes for wine connoisseurs. But as special as they are, Proctor chooses to emphasize the brand's inclusivity. "'Cult' denotes unattainable, überexpensive, wait-list, and 'we might get back to you,'" he says. "Remember, we at [Fantesca] are sexy, smart, and unpretentious. We reply, we answer, and we welcome you through the gates of our estate with open arms. You will certainly leave with hugs and a warm heart, [frequently] with wine in tow, and we are ALL the better for it."
For more information, visit fantesca.com.
Taste of a Story
By Andrea Stuart | Photo Spread by Jeremy Stuart
Driving toward Adelaida District from downtown Paso Robles, the scenery is flanked in heritage oak trees. Gnarled and outstretched branches flecked with glossy green leaves create a canopy over the serpentine asphalt. Several miles in, shadows give way to sunlight as the road threads between vineyards.
A corner of Adelaida boasts an attribute more common to Bordeaux than to California: calcareous clay soils pervaded with decayed limestone. When Daniel Daou, winemaker for PATRIMONY Estate and its coproprietor along with his brother, Georges, first visited Paso Robles he was immediately drawn to this particular characteristic. He was also drawn to the area's 14-mile proximity to the Pacific Ocean. "You cannot find this kind of terroir in many places in the world," he explains.
As California experiences recurring droughts, Daniel prepares for a future with less water. Many California wineries use four to six gallons of water per vine per week, but the vineyards on DAOU Mountain (home of PATRIMONY Estate and the Daou brothers' other winery, DAOU Family Estates) irrigates using on average two gallons of water per vine per year. Growing on the unique chalky soil aids in dry farming (farming without irrigation) and deficit irrigation (a method that decreases agricultural water usage).
Daniel has applied a three-pronged approach to organic, sustainable farming as it relates to heat. First, vines are treated with BluVite, which strengthens a vine's immune system; thus, makes it more heat resistant. Second, he uses shade cloths on the most vulnerable vines during heatwaves to lower temperatures by as much as seven degrees. Third, he measures soil moisture so he can give vines microbursts of water in a prolonged heatwave, which decreases the vine's aptitude for taking moisture from its grapes and prevents overwatering.
Supporting these efforts, PATRIMONY Estate has been working with Dr. Luca Brillante from the department of viticulture and oenology at Fresno University
for three years to develop a state-of-the-art, "intelligent" system that allows Daniel to pinpoint which vineyard blocks require irrigation. The system forecasts plant water statuses to inform irrigation scheduling, save water, and preserve terroir expression. "Sometimes I wake up and think, 'What am I doing? I must be crazy!'" he says. Creases in the corners of his eyes give way to a wry smile. "But sometimes you have to be a little crazy to make something great and enjoy the work that goes into it."
Comprising 170 acres, along with 262 acres of new plantings, PATRIMONY Estate was cofounded in 2013. It emerged as a successor to DAOU Family Estates when the brothers set out to elevate the quality of DAOU vineyards by selecting fruit from Block 13. Using the vineyard's oldest plantings, they created wines that rival those in Bordeaux.
A view from DAOU Mountain's steep hillsides reveals belts of vineyards. Greenery zippers onto aurulent waves that ebb into the horizon. Vertiginous angles both taunt and inspire. Luckily for wine lovers, the Daou brothers are planning a fully immersive experience that embodies this feeling. Slated for completion in 2025, The Chateau will sit atop DAOU Mountain and include eight master suites, a Michelin-level restaurant, a library of past PATRIMONY vintages, private tasting rooms, a cheese cave, and a terrace with sweeping views. World-class Bordeaux varietals will be made and stored in a modern gravity fed winery, with caves for bottle storage.
"Every time I open a bottle, a story is told," says Daniel. "From age 13, I used to drink wine every day with my dad. We would sip and philosophize. Wine isn't just a beverage. It makes you dream. You can taste its story."
For more information, visit PatrimonyEstate.com.
Voted Best Real Estate Company: Carmel Pine Cone 2011-2015, 2017-2021 ■ Monterey County Weekly 2019-2021 ■ Monterey Herald 2018-2021 831.622.1000 ■ Vacation@CarmelRealtyCompany.com Luxury Vacation Rental in the Heart of Downtown Carmel Visit Our Website To View The Most Luxurious Vacation Homes On The Monterey Peninsula www.CarmelRealtyCompany.com www.TheLandmarkCarmel.com
STAY | MILLIKEN CREEK INN
Historic Hideaway
By Atissa Manshouri | Photos Courtesy of Milliken Creek Inn
Tucked away along the grassy banks of the Napa River, the Milliken Creek Inn occupies three verdant acres of prime wine country real estate. Private, lush, and blissfully quiet, the Inn envelops its guests in a timeless pastoral serenity. And its position right along Napa's famed Silverado Trail makes it the perfect base for savoring all that the Valley has to offer.
The history of this privileged perch stretches back to the 1850s, when the Inn's main building served as a bustling stagecoach stop during California's Gold Rush. Renowned horticulturalist Ira McKenzie took up residence there around the turn of the century and introduced beautiful new plant specimens to the grounds, including the Japanese maple, live oak, and magnolia trees that still distinguish the property today as well as the valley oaks fronting the Silverado Trail. In 1980, the property returned to its hospitality roots, with stints as The Black Surrey Inn and The Country Garden Inn before an extensive renovation produced its current incarnation—a luxurious boutique hideaway that, since 2013, has been part of the Four Sisters Inn collection. "We are proud that each of the iterations from the Inn's history was able to lend something unique that creates such a special property," says Tamara Mims, President of Four Sisters Inn.
A fresh redesign of all 11 guest rooms and the Inn's many shared spaces, completed in 2021, highlights the property's tranquility. As Mims describes, features such as custom-made furnishings, curated art, freestanding soaking tubs, and hardwood floors are all embraced by soothing hues reflecting the natural landscape. Guests can unwind over a glass of wine around one of the outdoor fire pits that are nestled around the property's cozy alcoves or indulge in a massage in the newly constructed outdoor spa cabana on the
riverbank. Of course, they can always retreat to the privacy of the gracious, modern guest rooms where a host of high quality, thoughtful comforts await them.
Among such amenities are recent technological upgrades designed to streamline the guest experience. An online check-in and a guest texting platform make arrival and communications a breeze, and each guest room offers both Apple TV and a dedicated iPad loaded with local recommendations, hotel information, news, and magazine content. With just a few taps, guests can also use the iPad to request and customize madeto-order breakfast in bed, with options ranging from Belgian waffles to breakfast sandwiches and vegetable frittatas. While the Inn does not have an on-site restaurant, it offers plenty of culinary treats in addition to the delicious breakfast, including s'mores kits for the fire pits, exclusive wine and artisanal cheese tastings, freshly baked cookies, and decadent salted caramel bites from local confectioner Anette's Chocolates.
Attention to detail and to guest experience is a hallmark of the Four Sisters Inn luxury collection. "Across our collection, the guiding principle is to create meaningful experiences through gracious and personalized hospitality in spectacular locations," says Mims, with each location having. a small group of team members who feel like family and are passionate about hospitality. "This enables us to provide personal touches and handpicked elements beyond what larger chains offer," she says.
For more information, visit millikencreekinn.com.
"In our world, Wine is fashion, Wine is art. Wine is jewelry. Wine is the ultimate luxury. Join us." ST. HELENA | YOUNTVILLE | RUSSIAN RIVER VALLEY | SAN FRANCISCO jcbcollection.com
COMMUNITY | V FOUNDATION WINE CELEBRATION
Unite and Inspire
By Atissa Manshouri | Photo Courtesy of V Foundation
Sports hold a unique power in American society—they equalize, unite, and inspire, all at the same time. That power was on full display at the 2022 V Foundation Wine Celebration weekend, which took place over three glorious days in August. The powerhouse fundraiser, now in its twentyfourth year, brought together more than 600 guests from across the nation for a jam-packed weekend of festivity and philanthropy in the heart of Napa Valley, with proceeds going to support early cancer detection research.
One of the nation's premier supporters of cutting-edge cancer research, the V Foundation was founded in 1993 by ESPN and beloved college basketball coach and broadcaster Jim Valvano with one simple but heroic goal: to achieve Victory Over Cancer®. Since its creation, the foundation has awarded nearly $290 million in nationwide cancer research grants, of which $137 million has come from the Wine Celebration weekend.
Hosting the 2022 weekend were two legendary sports figures: Duke University's former Men's Basketball Coach Mike "Coach K" Krzyzewski and former NFL defensive end Devon Still. It opened with a Thursday night dinner at Oakville's stunning Far Niente Winery, where winemaker Nicole Marchesi paired a special selection of wines with a multicourse dinner by Chef Josip Martinovic and guests mingled and dined with the oncology experts who sit on the foundation's Scientific Advisory Committee. Festivities kicked into high gear the following evening at the Rock the V Party at Yountville's The Estate. Musical performers Maggie Rose, The Dirty Dozen Brass Band, DJ Lucian White, and PlexusPlay kept guests on the dance floor between bites and sips of world-class food and wine.
Saturday morning offered a cancer research symposium with some of the nation's leading physicians and scientists, followed by an alfresco luncheon, both on the spacious grounds of The Estate. The luncheon, an emotional highpoint of the entire weekend, celebrated the fiftieth anniversary of
Title IX, the landmark federal civil rights law that prohibits sex-based discrimination in any educational institution that receives federal funding; this law has increased access to women's sports and four elite women athletes, each of them cancer survivors, shared their inspiring stories of grit, faith, and perseverance to a rapt audience. Featured wines, including Far Niente Winery and Ackerman Family Vineyards, all hailed from womenowned wineries or female winemakers, in honor of Title IX.
The highly anticipated live auction gala, held Saturday evening at Nickel & Nickel Winery in Oakville, put the final exclamation point on an already thrilling weekend. The gavel came down at an astonishing $270,000 for the evening's star lot, which featured a 1992 six-liter of Screaming Eagle, one of only two ever produced by vintner Jean Phillips. The lot was donated in memory of Napa Valley businessman, vintner, and philanthropist Ron Kuhn, a longtime supporter of the V Foundation. Among the dozens of other singular experiences on offer, many with sporty themes, was The Royal Treatment at Wimbledon, a whirlwind trip highlighted by luxury lodging at Le Manoir aux Quat'Saisons Hotel in Oxfordshire, four tickets to the Wimbledon men's and women's semi-finals and finals, and a lunch with Sarah, Duchess of York, at Hundred Hills Winery.
Rallying its dedicated supporters around their shared passions for philanthropy, sports, wine, and, above all, curing cancer, the 2022 V Foundation Wine Celebration weekend raised over $6.5 million for early cancer detection research. "Jim Valvano's legacy impels us to never give up, and courage was definitely the theme this year," says Wine Celebration founder Julie Maples. Victory Over Cancer® will undoubtedly require more years of fundraising and research, but for now, the cause is getting a mighty assist from the V Foundation.
For more information, visit v.org.
chateauberne.com
Wine Country Holiday
As Napa and Sonoma Counties enter harvest season, this time serves as a kickoff to the holidays. There's much to celebrate as we focus on our appreciation for living and playing in these abundant communities.
Come November, twinkling lights will soon adorn the glowing towns that wind through Napa Valley. A local favorite, the Holiday Town and Tree Lighting at Yountville Community Center Plaza provides the backdrop for a festive season. Admiring thousands of newly lit holiday lights, children and adults alike will greet Santa, enjoy DiFilippo Wood-Fired Pizza, and listen to a special performance by Transcendence Theatre Company.
In neighboring Sonoma County, everyone is gearing up for the Annual Lighting of the Plaza on November 19. As the first official holiday event in the county, the lighting ceremony continues to be a beloved Sonoma tradition as thousands of lights envelop the historic plaza in a glow. Music, dance performances, hot cocoa and cookies for the kiddos, beer and wine for the grownups, and hearty fare for all punctuate this annual celebration.
With so many activities taking place in Napa and Sonoma County between now and the New Year—not to mention the post-holiday Napa Lighted Art Festival from January 15 until March 13—calendars of filling up with cheer. Nary a corner of the counties will be devoid of merriment and opportunities to gather with loved ones in celebration.
ESTATE | HERITAGE SCHOOL VINEYARD ESTATE
Heritage School Vineyard Estate
Heritage School Vineyard Estate sits on 46±acres of gently sloping hillside in Calistoga. Carved from the campus of the former private Heritage School for Boys, the estate was recently transformed into a haven of stylish residences with inviting entertainment spaces and peaceful private quarters.
Diverting outdoor recreational amenities accompany the residences and 6.3± acres of cabernet sauvignon vines produce magnificent collectible wines with the help of one of the area's most illustrious vintners. The estate's desirable location in the Calistoga American Viticultural Area creates cabernet sauvignon wines that reveal an intriguingly diverse and distinctive terroir. On the whole, the property would make an ideal corporate compound, personal sanctuary, health and wellness retreat, or vineyard getaway.
Designed by award-winning area architect Howard Backen—whose work is regularly described as subtly luxurious, elegantly rustic, and filled with a sense of
intimacy, warmth, and stylish informality—the primary home onsite offers two bedrooms, two and one-half baths, a cook's kitchen, an impressive wine cellar, an elegant great room that accesses sunny and shady patios, and an upper-level balcony for appreciating the idyllic view.
Tucked amid the emerald acreage sits the school headmaster's former home—now a charming twobedroom guesthouse—and a delightful Victorian cottage with one bedroom and a bath. The property is a veritable resort, boasting a refreshing swimming pool and pool house with a convenient cozy bedroom suite, tennis, basketball, and bocce ball courts; glorious gardens; thriving fruit trees; grandfather oaks; and a sparkling spring-fed pond with a fountain. One of the school's administration buildings has been thoughtfully remodeled to provide two offices for conducting vineyard business, a half bath, and an entertainment area that would make a perfect gym, studio, or evena wine tasting room.
Arthur Goodrich
Luxury Wine Country Specialist
DRE#: 02080290
Mobile: (415) 735-8779
Private Comfort On Your Schedule
regionally based
Fly With Us
Escape from the current dismal state of airline travel.
Extraordinary Service
luxury and convenience that was once the hallmark of air travel.
Safety Is Paramount
Our pilots are well-trained in all aspects of aviation safety and procedures.
831.678.5225 | MPIJET.COM 300 SKY PARK DRIVE | MONTEREY, CA 93940 We are a
air carrier company with national and international capabilities.
Pampered
Access to every available private aircraft both domestic and across the globe!
YOUR AL L -SUITE NAPA VALLEY RETREAT EMBASSY SUITES BY HILTON NAPA VALLEY | 1075 CALIFORNIA BLVD NAPA, CA 94559 | 707-253-9450 | NAPAVALLEY.EMBASSYSUITES.COM
MontereyCoastRealty.com • 831.624.2300 | Dolores 2 SW of Seventh, Carmel-by-the-Sea Monterey Coast Realty represents buyers and sellers of quality properties from cozy cottages to magnificent estates throughout the Monterey Peninsula all the way east to Salinas Valley, through Carmel Valley and south to Big Sur. Locally Owned. Globally Connected. Results Driven Experts. Carmel-by-the-Sea Luxurious beaches & ar s c charm Pebble Beach World-class golf Monterey Fisherman's wharf & marine life Carmel Valley Over 4,000 miles of hiking trails Pacific Grove " e last hometown" Marina & Seaside Sur ng, kayaking and paragliding Come Experience the Unmatched Quality of Life on the Monterey Peninsula
SAIL | MY YACHT GROUP
Amazing Ahpo
By Annabelle Frankl | Photos by Guillaume Plisson
One of the most exciting and highly anticipated new builds to hit the high seas in the last couple of years, M/Y Ahpo is the achievement of a seriously experienced design team (Nuvolari Lenard), a seasoned owner (Jamaicaborn Canadian Michael Lee-Chin), a respected brokerage (Moran Yacht & Ship), and a renowned shipyard (Lürssen).
Launched in 2021, the 115 m/377-ft yacht is a step-up for the family oriented owner, moving from the 86-meter, custom-built Quattroelle (2,925 gross tonnes) to the 5,257 gross tonnes, six-deck Ahpo (which is a term of endearment meaning "grandmother"). With all that room, the yacht is replete with sumptuous cabins, vast saloons, innovative spaces, luxurious finishes, and personal touches.
One of the owners' favorite spots on board is the winter garden, which can be fully enclosed in inclement weather or left open to the elements, and has plenty of greenery offering a grounding, earthy feel. Plants, flowers, and nature are themes that run throughout the yacht, including on wallpaper, mosaics, headboards, table inlays, spiral staircases, and more. Ahpo features hundreds of different materials, ranging from woods to alloys, mother-ofpearl to Calacatta marble, onyx to Venetian glass, and crystal to cashmere. The feeling throughout is sheer luxury—and quiet! The team focused on creating a hushed environment to the extent possible, with decibel levels as low as 31 dBA in the owners' suite and around 40 dBA in the main saloon when at anchor.
The yacht's cutting-edge abilities also include a heat-recovery system that redirects heat produced by the engines and generators to the pool, spa pool, and other water systems, saving many kilowatt hours. While the yacht may save energy, guests can expend plenty in the large onboard gym that rivals those found in a five-star hotel—health and fitness are highlighted throughout. The luxurious spa has a hammam, Himalayan-salt brick sauna, beauty salon, Jacuzzi™, and swimming pool. One can even promenade around one of the decks (one lap is 100 m!), and, of course, there are plenty of water toys to keep everyone busy on or in the ocean all day long.
As one would expect, accommodations are beyond sumptuous. Sixteen guests may luxuriate in eight cabins, including the owners' suite, which features stunning his-and-hers bathrooms with different color schemes, two private balconies, and several seating areas. Two identical but differently colored rooms for the owners' twin girls are located nearby, while any guests who fear motion sickness may retreat to a lower-deck VIP suite.
The yacht features several impeccably appointed saloons, a stunning dining room that seats 18-plus, a private boardroom that includes a table inlaid with a map of Jamaica, and a 12-seat cinema. When the time comes to bid farewell to this most incredible vessel, one simply hops aboard one of the yacht's two custom 12m IC tenders or heads to its commercially rated forward helipad (one of two) to lift off, providing memorable views of the delightfully distinctive, black-and-white Ahpo, its great mast reaching skywards. This gorgeous yacht leaves an indelible impression on all those who encounter her.
M/Y Ahpo is available for charter in the Mediterranean (summer) and Bahamas/Caribbean (winter) at a rate of 2.5 million euros per week.
Specifications:
Length: 377.7 ft/115.1 m
Beam: 60 ft/18.3 m
Draft: 14.1 ft /4.3m
Built: 2021
Hull: Steel Decks: 6
Crew: 36
Cabins: 8 + 4 staff cabins
Guests: 16
EAT | CHEF ROGELIO GARCIA
Napa Valley Homecoming
By Atissa Manshouri | Photos Courtesy of Four Seasons Napa Valley
Not many people are lucky enough to discover their life's passion through an after-school job, but that's what happened when esteemed chef Rogelio Garcia started working as a dishwasher in a Yountville restaurant at age fifteen. Born in Mexico and raised in Los Angeles and Napa, Garcia has blazed an inspiring trail toward the heights of the culinary world since taking that fateful job. Most recently, he has followed that trail back toward home, with his appointment as executive chef at Four Seasons Napa Valley.
As he explored his nascent love for cooking, Garcia worked a series of jobs in wine country kitchens, where he honed his skills and developed his own style, eventually landing turns at marquee dining destinations such as Cyrus, Calistoga Ranch, The French Laundry, and Angèle. By learning on the job rather than in culinary school, Garcia developed a rich connection with and understanding of the Northern California culinary ecosystem. "I was drawn to the industry during my younger years by many things," he says, "such as the excellent produce that grows here, the camaraderie with peers, and how I could be creative in a field that is forever evolving. The more time I spent, and as the years went by, I noticed that all my friends and people around me were connected to food, whether it be vintners, ranchers, gardeners, et cetera."
Following his quick ascent of the wine country ranks, Garcia went to San Francisco, where he spent seven years at restaurants that included The Commissary, Spruce, and Luce in the InterContinental hotel. Highlights along his way included a memorable run on Top Chef Season 15, scoring two three-star reviews from the San Francisco Chronicle's Michael Bauer, and earning Michelin stars at Spruce in 2018 and 2019.
In June 2022, Garcia's path came full circle with the announcement of his role at Four Seasons Napa Valley, where he oversees TRUSS Restaurant + Bar as well as a soon-to-be-announced fine dining
restaurant. "What's most exciting about this role is that I'm returning to my culinary roots by cooking in wine country," he explains. "I'm inspired to tell the stories of the incredible local farmers and producers through my dishes and to create a fresh, distinguished, fine dining experience for guests that leaves a lasting impression long after their meal is over."
Describing his cooking style as classic French with global influences and a slight Mexican accent, Garcia looks forward to filling his menus with Napa's natural bounty. "All of the ingredients are unique," he says, "and I still get butterflies when a new season begins. I am the most excited to take things a step further this year and begin our culinary farm. We have been planning the whole summer, and watching it flourish this fall is incredible."
Garcia, who cut his teeth in Northern California's most prestigious kitchens, recognizes the importance that mentorship has played in his career growth. "I feel truly humbled and blessed, as it has been quite a journey to get to where I am today," he reflects. "One of the most memorable pieces of advice I've been given is to always ask myself, 'Does this get me closer to my dreams and goals?' I always pass this advice on to my team."
While continuing to put his imprint on the dining program at Four Seasons Napa Valley, Garcia is working on another important project close to his heart: his first cookbook. Titled Convivir, the upcoming publication will celebrate Garcia's Mexican roots and his Northern California culinary upbringing. "I really never thought I would write a cookbook," he says. "Honestly, I never thought I would have something that, even after I am gone, will still live on."
For more information, visit fourseasons.com/napavalley/dining.
OF WINE COUNTRY
Centrally located in the lively West End of Downtown Napa, Andaz Napa is a luxury lifestyle hotel featuring 141 agri-chic accommodations inspired by our local surroundings. Eat and drink at Andaz Farmers Table or Mercantile Social with our farm to table food, craft cocktails and boutique wines or just relax near a firepit on our outdoor terrace. The trademarks Andaz® and related marks are trademarks of Hyatt Corporation. © 2016 Hyatt Corporation.All rights reserved. VISIT ANDAZNAPA.COM FOR MORE INFORMATION. AGRI-CHIC ACCOMMODATIONS IN THE HEART
The trademarks Andaz® and related marks are trademarks of Hyatt Corporation. © 2016 Hyatt Corporation. All rights reserved. VISIT ANDAZNAPA.COM FOR MORE INFORMATION.
SCENE | LEAGUE
TO SAVE LAKE TAHOE FUNDRAISER
League to Save Lake Tahoe Annual Fundraiser
Photos by Drew Altizer Photography
This year, Saks Fifth Avenue and the League to Save Lake Tahoe celebrated over five decades of partnership with Oscar de la Renta during their annual fashion show and luncheon on the shores of Lake Tahoe. The event, which featured Oscar de la Renta's 2023 collection, was presented by creative directors Laura Kim and Fernando Garcia.
The fundraiser attracted approximately 450 attendees and raised a record $1.2 million. Saks Fifth Avenue seeks to support and champion important causes that are meaningful to its customers while bringing luxury fashion to life. With these funds, the League to Save Lake Tahoe will continue to Keep Tahoe Blue.
BURGESSYACHTS.COM
THIS IS CARMEL-BY-THE-SEA
RICHARD MACDONALD
Reflections & Introspection
Solo Exhibition
Lincoln & Sixth Ave Carmel-by-the-Sea (831)624-8200
Richard MacDonald has long been interested in the idea of our duality as indiviuals. We are never one entity, one personality, one character. We shift and change, we effect each other—like shimmering reflections in water, our being cannot be captured and held, our essential being is ever moving, like water spilling over a waterfall. Key moments in our lives reverberate forever. We deeply remember the events tha that us hard, both good and bad.
The highly reflective surface of Reflections brings the viewer into the sculpture. This is a revolutionary idea in the realm of figurative art. As we see our own reflections shift and change on the triangular surface, we are reminded of our many faceted personalities. We relate to the sculpted figure, but the composition and material make us a part of the artwork.
dawson Cole
FINE ART carmel.dawsoncolefineart.com
Reflections of the Soul, High Polish Stainless Steel
Reflections
Introspection
&
COVER
Spirited Winter-by-the-Sea
By Nora Heston Tarte
HOME
Welcome Home By Caitlin Fillmore
STAY
Home Away from Home
By Jennifer Moulaison
WELLNESS
Putting the Fun Back in Functional
By Andrea Stuart COMMUNITY Strengthening Generations
By Caitlin Fillmore
MUSIC
They're So Money!
By Jennifer Moulaison with Andrea Stuart
PHOTO
Strong Women Cloaked in Ethereal Light: Michelle Robertson By Jessica Zimmer
Photo by Manny Espinoza
Photo by Manny Espinoza
65° DEPARTMENTS
THIS IS CARMEL-BY-THE-SEA
Sylvie unique boutique is now featuring our newest exclusive designers from around the world. Court of the Fountains On Mission St Between Ocean Ave. & 7th St. Carmel-by-the-Sea 831.620.0980 sylvieuniqueboutique@gmail.com sylvieuniqueasyoucarmel.com Small to OS unique as you!
PHOTO | MICHELLE ROBERTSON
Strong Women Cloaked in Ethereal Light
By Jessica Zimmer | Photos by Michelle Robertson
The authentic subjects of Michelle Robertson's artwork gaze at mis sions, bite into luscious fruits, and twirl in sunlit rooms. Many are sur rounded by glowing lights, butterflies, or flowers. Robertson, primar ily a self-taught photographer and digital artist, creates portraits of women who struggle with the weight of public opinion.
"Women have to wear so many hats. We're powerful, yet we make ourselves feel sorrow and shame because of society's training," says Roberston. "My artwork tells stories to shine a light on our struggle to be perfect."
Robertson, who grew up along the Central Coast, began taking pic tures at age six. After attending classes at Monterey Peninsula College and with an online school called CreativeLive, she began taking photographs of friends as well as of Pacific Ocean seascapes.
Today her artwork features women in many local settings, from the banks of the Carmel River to the interior of "the Mother Tree," a large redwood.
"I start by shooting with a Canon EOS-5D Mark III, a digital camera. Later, I use Adobe Photoshop to make the images whimsical and sometimes surreal. I manipulate people and atmospheres to give them different textures, colors, and moods," she says.
Her favorite themes include chiffon (the lightweight fabric creates flowing shapes), flora such as oak trees, and the forms that bodies create in dance. Influences include the Spanish surrealist painter Sal vador Dalí, English painter John William Waterhouse, who painted in the Pre-Raphaelite Brotherhood style, and Czech painter Alphonse Mucha, who is known for his Art Nouveau theater posters.
Currently residing in Monterey, Robertson shows her pieces at the Nancy Dodds Gallery in Carmel, the Luna Gallery in San Juan Bau tista, and at pop-up events. Her advice for new artists is to surrender to failure. "When you start out, you'll make mistakes," she says. "The point is to have fun playing."
For more information, visit michellerobertsonphotography.com.
Lynn Knoop REALTOR® | DRE#01225343 831.596.4726 Lynn@CarmelRealtyCompany.com Shelly Mitchell Lynch Broker | Managing Director DRE#01217466 831.277.8044 Shelly@CarmelRealtyCompany.com Lucky Strike is a One-of-a-kind Golf Estate Located on the 12th Tee Box of Pebble Beach Golf Links 3422 17 Mile Drive, Pebble Beach ■ 5 Beds, 5+ Baths ■ 7,739 sq. ft. ■ 1.98 Acres ■ $31,000,000 ■ www.LuckyStrikePB.com
DIBENEDETTOESTD 1985 JLD CONSTRUCTION
SCENE | LOVE LETTER TO
CARMEL, MONTEREY SYMPHONY
Love Letter to Carmel
The Monterey Symphony presented Love Letter to Carmel, Volume 2, at Forest Theater in Carmel in September. One of two outdoor pops concerts, it sold out to crowds that enjoyed works by local luminaries Mark Mancina, Alan Silvestri, and John Wineglass. It also featured movie themes from Clint Eastwood and Doris Day. Brad Hogarth served as conductor. Soloists included Malinda DeRouen, Justin Gaudoin, Emiliano Campobello, Kanyon Sayers-Roods, Jayson Fann, and Marcie Chapa.
Photos by Manny Espinoza
Private Event ResidencesGolf Getaway Oceanfront Properties Representing The Largest Portfolio of Vacation Homes On The Monterey Peninsula Visit Our Website to View the Most Luxurious Vacation Homes On The Monterey Peninsula Luxury Vacation Residences ■ Long Term Residences ■ Special Event Venues ■ Full Service Estate Management & Concierge Services www.CarmelRealtyCompany.com Voted Best Real Estate Company: Carmel Pine Cone 2011-2015, 2017-2021 ■ Monterey County Weekly 2019-2021 ■ Monterey Herald 2018-2021 831.622.1000 ■ Vacation@CarmelRealtyCompany.com
Sales: Shea Homes Marketing Company (CalDRE #01378646); Construction: Shea Homes Limited Partnership (CSLB #855368). Equal housing opportunity. Shea Homes Monterey Bay 1627 Fairway Drive, Seaside CA 93955 • 831-242-1944 • TheEnclaveBySheaHomes.com
STAY | VILLA MARA
Home Away from Home
By Jennifer Moulaison | Photos Courtesy of Villa Mara
Driving along the winding streets of the lovely Carmel Point neighborhood, one could easily pass by Villa Mara's exquisite exterior and assume it's another beautiful private residence. What lies beyond the front gate, however, is a stunning 16-room luxury boutique hotel offering guests a unique experience and enduring memories of a relaxing seaside escape.
Villa Mara's location on Bay View Avenue was previously home to The Sandpiper Inn, a hotel built in 1929 by a housekeeper for the first hotel in Carmel. Captivated by its potential, actor Dev Patel acquired the property in 2019 for his family's company, Ocean Lodging, and then it underwent a meticulous, nearly three-year renovation.
"The location was the most intriguing part of the acquisition," explains Patel. "I've lived in the area for 10 years, and my favorite area by far is Carmel Point. I felt there was an opportunity to create a destination property, rather than a standard hotel where you drop your bags and leave—something for the traveler who's looking for a slower pace that's arm's length from the action yet just blocks from downtown and close enough to the beach to hear the waves."
To say that the property's renovation was extensive might be an understatement.
"We looked at the project as a top-down renovation because we felt this asset really deserved a dedicated approach, and we wanted to give it a lot of love," explains Patel. "If we saw anything that could eventually become an issue, we took it out or redid it completely."
Aside from the fundamentals of the renovation, guests will appreciate the detail that went into crafting the hotel's ambiance. From leather-wrapped stair handrails and
brass light switches to Turkish rugs and the collected antiques lining the walls of each room, Villa Mara's aesthetic is casual luxury. The interiors rival the sweeping views of Carmel Beach, and 14 of the property's 16 rooms have their own outdoor space. Each suite is unique, providing guests with a sense of discovery every time they stay. There is also a separate 500-square-foot guest suite on the property called Jeffers Cottage, named for the poet Robinson Jeffers.
Since opening in June 2022, Villa Mara has received only five-star reviews, but the accolades are not only for its jaw-dropping interiors or uniquely residential location but also for the overall experience. "Guests describe their stay at Villa Mara like that of staying in a luxurious home belonging to a close family friend," says Patel. "Our service is exceptional . . . our staff members carry the role of hosts who treat you as though you're visiting their personal home. It hearkens back to a time when the hotel concierge really made your stay, acting as a confidant into the city."
The hosts at Villa Mara excel at creating a bespoke experience for every guest, assisting them in making the most of their stay, whether it's knowing where to stop on a drive or choosing from the hotel's well curated list of restaurants. "We're very proud of what we've built and the experiences we endeavor to create for our guests," says Patel "It's a very specific balance of luxury and evoking the feeling of being home, which really isn't something that can be manufactured. It's something genuine that comes from all of us who are a part of Villa Mara, and we're delighted we're getting noticed for it."
For more information, visit villamaracarmel.com.
Who's in real estate on the Peninsula? Myclients Courtney Jones REALTOR® courtneygjones.com 831.233.4839 DRE#01806907
gracious elegance
155 highland drive , carmel , ca 93923 reservations ( 800 ) 635-4774 ticklepinkinn . com
The Top of Teháma: Homesite 64, offered at $7.5M
Make The Top of Teháma Yours
Featuring the most spectacular mountain and ocean views on the Monterey Peninsula, The Top of Teháma is the highest homesite in the exclusive community envisioned by Clint Eastwood. A private driveway ascends dramatically to the nearly 20-acre hilltop site, which includes a distinct building envelope etched from the Carmel stone. From its position at the top of the mountain, the sun's first rays cast dramatic light across its serene setting while sunsets meld beautifully into the rolling landscape toward Point Lobos. The foundation for your dream estate awaits.
The Top of Teháma is offered at $7.5 million. Other available homesites priced from $1.75 million.
To schedule your private tour of Teháma, call 831.625.2031.
living@tehamacarmel.com tehamacarmel.com
Buyer should review the public report issued by the Department of Real Estate, and all o ering documents before signing anything. All images contained herein may not be to scale and all figures and dimensions may be subject to change, and are not intended to be relied upon for, nor form part of, any contract unless specifically incorporated in writing into the contract. Buyer note the following: Teháma Golf Club membership is by invitation only and is not included in the purchase of property in Teháma. Any membership in the equestrian center currently under construction in Teháma is also not included in the purchase of property in Teháma. A Teháma Social Fitness Membership is o ered to all lot purchasers in Teháma, subject to dues, fees, and applicable rules and regulations. The Teháma Golf Course, Clubhouse, and Fitness Center are privately owned facilities, which are subject to use by others who may not be lot owners. Purchasers of a Teháma property will not acquire a proprietary interest in the Teháma Golf Course, Clubhouse, or Fitness Center, which facilities are all subject to membership dues, fees, rules and regulations. Use of the Teháma Golf Course, Clubhouse, and Social Fitness Center is at the pleasure of the owner of the facilities. All material presented herein is intended for informational purposes only and is compiled from sources deemed reliable but has not been verified. Changes in price, condition, sale or withdrawal may be made without notice. No statement is made as to the accuracy of any description.
PHILANTHROPY | CARMEL REALTY COMPANY GIVES
'Tis the Season for Giving
By Nora Heston Tarte | Photos Courtesy of Carmel Realty Company
Community is the backbone for Carmel Realty Company (CRC). From employing a team of local Realtors® and staff to donating profits to neighboring nonprofits and other charitable efforts, CRC operates with a local perspective. "We feel a responsibility to continue to invest in this community in order to help others enjoy all that this area has to offer," says Dan Lynch, CRC's CEO.
For 100 years, CRC has purposefully employed those who live in Carmel and nearby cities. This brings credibility to the firm because workers know the area in which they are selling homes. It is also a way to invest in the community that it serves. Staff are residents of the area and pay taxes; with each sale they essentially put money back into nearby businesses. "Buyers and sellers appreciate using a local firm versus using a brokerage that sends profits out-of-state," says Lynch.
The fourth-generation, family-owned business has discovered many of the area's niche products throughout its years in Carmel. Whether someone is moving from out-of-state or just out of town, CRC makes it a goal to welcome buyers to the area with knowledge of what surrounds them. "We use local businesses as resources for our company and our clients," says Lynch. CRC patronizes local restaurants, wineries, caterers, and other businesses for many company-related events and needs.
"For our vacation home rental properties, we greet guests with gift bags of our local favorite things, including Bernardus wine, treats from the Cottage of Sweets, and coffee from Carmel Valley Coffee Roasting Company," says Lynch. Even those in town for a short time can discover the flavors of Carmel and share these treasures with neighbors and friends back home.
Grassroots support is not the only way that CRC gives back to its community. "We've created The Carmel Realty Foundation to help support those in
need in our community," explains Lynch. A portion of every real estate sale goes into the foundation, which is administered by the Community Foundation for Monterey County. "We endeavor to make this a better place to live for everyone here, not just in affluent areas."
All of the funds raised, through donations and volunteerism, go to local causes, serving over 100 nonprofits each year. Past recipients include AIM Youth Mental Health, Big Sur Land Trust, Habitat for Humanity, Meals on Wheels, Naval Postgraduate School, and Veterans Transition Center, among others. "We also have an agent matching program at the holidays where [CRC] matches the charitable donations our Realtors® and staff make," says Lynch. "We have intentionally built a company made up of caring, collaborative, supportive people . . . It's a rewarding cycle, where we appreciate having great success as a business in the community and therefore are able to invest back and help the community and those in need."
Praise comes from the nonprofits that have benefited from CRC's generous business model, including from Nick Nelson, CEO of First Tee Monterey County, and Derek Baine, fundraising volunteer at Hands to Help Seniors.
"Carmel Realty and its agents have supported Hospice Giving Foundation for many, many years," says Siobhan M. Greene, president and CEO of the organization. "They have been volunteers, donors, event guests, and good friends. They share our vision with customers, team members, and neighbors. Their unwavering and kind generosity exemplifies understanding, even about a most difficult topic."
For more information, visit, carmelrealtycompany.com
Recent Sales LP: $13,888,000 | Represented Seller Scenic 6 SE of Ocean, Carmel • 4 beds, 4.5 bath • 3,771 sq. ft • 8,000 sq. ft. lot LP: $12,950,000 | Represented Buyer 1605 Sonado Road, Pebble Beach • 5 beds • 5 full & 2 half bath • 7,826 sq. ft • 1.59 acres Alessia Ucelli, 831.521.7099 Alessia@MontereyCoastRealty.com REALTOR® DRE#01896783 Experienced • Diligent • Passionate ALESSIA UCELLI PROPERTIES
MUSIC | THE MONEY BAND
They're So Money!
By Jennifer Moulaison with Andrea Stuart | Photos by Manny Espinoza
Performing number one hits from the mid-twentieth century to modern day, locally based The Money Band has been entertaining audiences around the Monterey Peninsula for 17 years. Playing exhilarating music is one thing. Being able to connect with an audience while channeling the music like that of the rock legends who originally performed them is another. The Money Band has both aspects covered (pun intended).
The four-piece group consists of Steve Moseley on guitar and vocals, Chris Miller on drums, Nat Shuirman on bass guitar, and Zoe Alexander on lead vocals, harmonica, and percussion. Alexander's animated stage presence and adaptable rock voice is highlighted by Mosley's enthusiastic string work, Miller's robust drumbeats, and Shuirman's precise timing and complementary tone.
The band's name was inspired by the saying "you're so money," which was popularized by the 1996 feature film, Swingers, "It just felt like such a cool turn of phrase and embodied what we hope to represent in our performances," says Alexander.
Known for its versatility, The Money Band runs the gamut of popular and best-loved music from all genres, including classic rock, country, reggae, jazz, calypso, and more. "Each member of the band has a different favorite genre," says Alexander. "So, we honed in on what each of us loved, and it ended up making us well rounded."
The Money Band has been voted best band by Monterey County Weekly and the Carmel Pine Cone. "Performing comes from a natural place for us, and it's an incredible feeling when you connect with each and every person and give them your best," says Alexander. "We focus on the audience and do our best to engage with them."
This appetite for performance is evident in the band's varied shows. During Billy Idol's "Rebel Yell," Moseley's lightening solo slides in easily behind Alexander's energized bridge before Miller and Shuirman shepherd the
audience back into the verse. Meanwhile, the band's version of Flo Rida's pop hit "Right Round" imbues audiences with synth sounds and effortless quick-lipped rapping.
The Money Band has had some unique opportunities, including playing at some of the most sought-after events on the Monterey Peninsula and sharing the stage with Hollywood legends. "Bill Murray sang with us during one of the AT&T Pebble Beach Pro-Am golf events in Pebble Beach," says Alexander. The band also followed Journey at a Make-A-Wish Foundation event. "Clint Eastwood was there and seemed to be enjoying himself, which is a great compliment," reminisces Alexander.
The members of The Money Band consider themselves especially fortunate to do what they love, here on the peninsula. "There's always something cool going on," says Alexander. "We play everything from wine events, golf events, weddings, corporate events, rodeos, raceway events—the opportunities are endless and always such a good time."
Another bucket-list performance is on the horizon for The Money Band. "We're playing a private event at Levi's Stadium, which is exciting," shares Alexander. "We're huge San Francisco 49ers fans, and there's nothing like the energy in a stadium setting."
As for the future, Alexander says they intend to stay the course and remain grateful. Their primary goal is to improve upon each show, polishing each set. "We treat every performance as though the most important person is there who can make all of our ambitions as musicians come true," he says. "But we owe everything to the support of the community. We simply wouldn't be here were it not for the fans that keep coming to see us do what we love."
That the seats keep filling and the audiences keep cheering is proof that The Money Band is so money.
For more information, visit moneyband.org.
2 bed, 2.5 bath • 2,817 sq. ft. • 10,322 sq. ft. lot www.8004RiverPlace.com • $3,125,000 3 bed, 2.5 bath • 2,800 sq. ft. • 10,780 sq. ft. lot www.9SonomaLane.com • $3,300,000 8004 River Place, Carmel 9 Sonoma Lane, Carmel Highlands 3 bed, 2 bath • 1,911 sq. ft. • 2,500 sq. ft. lot www. 781GraceStreet.com • $1,600,000 3 bed, 2.5 bath • 1,809 sq. ft.• SP: $6,350,000 Represented Buyer 781 Grace Street, Monterey Recent Sales San Antonio 3 SE 9th, Carmel Ben Zoller 831.595.0676 REALTOR® | DRE#01967810 Ben@MontereyCoastRealty.com BenZollerProperties.com Producing Remarkable Results. Mission 2NW of Santa Lucia, Carmel SP: $2,875,000 • Represented Seller Just Sold 1100 Alta Mesa, Monterey SP: $3,250,000 • Represented Seller Monte Verde 2NW of 2nd Ave, Carmel SP: $3,900,000 • Represented Buyer Sold for $925k over asking In Escrow In Escrow
LUXE is on THE LIST. SHOP HOLIDAY 2022
1 NW CORNER DOLORES ST. & OCEAN AVE CARMEL-BY-THE-SEA, CA 93921 831-740-6072
WWW.BROCHUWALKER.COM
Putting the Fun Back in Functional
By Andrea Stuart | Photos by Randy Tunnell
Standing with her side to the wall, Bonnie Burns plants her feet firmly into the floor while extending her right arm until her elbow is straight. She spreads her fingers as she reaches through the palm of her hand and firms it into the wall, fingers pointing up. Taking slow, controlled breaths, she holds this position for several minutes while observing sensations. When she lowers her arm, her right chest and shoulder feel like noodles compared to her left side, which feels more like stone. She then repeats this on her left side. This is a type of myofascial release.
As a certified massage therapist (CMT) and 500-Hour Registered Yoga Teacher, Burns understands the importance of fascia in the body. It is a type of connective tissue that encases every nerve and muscle fiber, organ, and blood vessel. "Because fascia lines and surrounds everything, down to the cellular level, it's the largest organ in the body," she says. "Repetitive movement, improper posture, and injuries can lock up fascia and create tight spots that we call adhesions."
Fascia has four major functions: acting like scaffolding, connecting and separating tissues; providing hydraulics that assist in movement; housing and providing nutrients that support vital blood vessels, nerves, and immune cells; and interpreting sensory experiences. When someone experiences pain or immobility, it's often due to dysfunction of fascia in one or more of these roles.
Myofascial release, which includes slow movements, isometric muscle contractions, and precise manual manipulations such as massage or acupressure, can assist in untangling adhesions and abnormalities. "When I perform Swedish or lomilomi massage, I am only addressing the superficial tissue of fascia. As such, it goes back to its normal pattern quickly," says Burns. To make structural and postural changes, one must address the collagen within the fascia, which can be done by going deeper with myofascial release techniques.
Using exercise to untangle fascia, one must hold a posture for at least 90 seconds for it to become more pliable. When Burns stands with her arm
pressed into the wall, she can access the fascia through proprioceptive neuromuscular facilitation (PNF), the process of lengthening or stretching one muscle by isometrically contracting or strengthening its counterpart. In this case, the pectoralis (chest) and bicep muscles are two key muscles groups that are lengthened as the triceps and upper trapezius (neck and shoulder) muscles contract. The engagement of one set of muscles allows their opposites to open and release.
"In anatomy cadaver class, I was able to see that fascia looks like webs— white sheets around everything in and around the muscles, around every fiber in the body," says Burns. "I immediately let go of how I thought the body should move and work when I saw all these cross-links and adhesions. I finally understood the mechanics of body movement and how manipulation of these tissues unwinds them."
Another way to assist in the release of fascia is through tissue manipulation using hands or myofascial release tools. One of Burns' favorite self-fascia release tools is a tennis ball, specifically for the feet. Standing near a wall for stability, one would lift the heel of one foot, toes on the floor, and place the tennis ball under the heel. Putting some body weight into the heel until the sensation intensifies but is not painful, one would wait for the sensation to start dissipating, then roll the ball slowly, continually, up the length of the foot until reaching the toes and then back to the heel. Burns urges the importance of breathing slowly and deeply throughout. "Breathing brings oxygen to the fibers. Let up when it's too much, hold the position if you can. Then compare one foot to one other," she says.
The nearly imperceptible, small actions of myofascial release can create abundant dialogue in the body as it frees up space, even without movement. When fascia is unwound, it frees up physical, mental, and emotional space and puts the fun back in functional.
For more information, visit bonnieburnswellness.com.
CARMEL ScenicCarmel.com | $7,795,000 CARMEL PointLobosViews.com | $6,000,000 PEBBLE BEACH PebbleBeachHaven.com | $2,795,000 CARMEL BixbyCreekRanch.com | $18,950,000 CARMEL CarmelElegance.com | $11,950,000 PEBBLE BEACH PebbleBeachOceanViews.com | $7,950,000 Luxury Home Listings 831.214.1990 | DRE#00891159TIMALLENPROPERTIES.COM
A Portfolio of World-Class Luxury Rentals
PEBBLE BEACH, CARMEL AND BEYOND
Visit TImAllenLuxuryRentals.com to view the full collection
EAT | CARMEL'S HIDDEN GEM
Seek and You Will Find
By Bettina McBee | Photos by Manny Espinoza
Restaurateur and sommelier Dia Kheir invites everyone to be a part of his culinary dream, Carmel's Hidden Gem Restaurant. His newest business venture, located on Mission at 5th in Carmel-by-the-Sea, is a short stroll from the Mediterranean dining spot that he's owned for three years, YAFA. Now, Kheir welcomes you to discover his contemporary American cuisine.
Carmel's Hidden Gem Restaurant is nestled in a large courtyard with outdoor seating and a secluded garden patio, offering an intimate atmosphere for outdoor eating. Inside, a charming dining room seats twenty-four people, making it the perfect private eatery.
Kheir and his wife, Rita, have decades of experience working in the restaurant industry. The couple, along with Chef Alejandro Hernandez, works tirelessly to create lasting memories for their guests. They procure the best meats and produce from local farmers markets, and all are served by a cheerful waitstaff.
Kheir's knowledge and love of fine wine enhances the dining experience. Guests
can relax and enjoy a glass of wine that is specially selected from world-renowned wine labels.
The dinner menu includes 28-day dryaged NY steak, roasted Jidori chicken, homemade porcini wild mushroom ravioli, grilled artichokes with black garlic aioli, Berkshire port schnitzel, Spanish meatballs, Monterey Bay salmon that is perfectly pan seared, and savory choicecut lamb. Each dish comes with an array of fresh vegetables and freshly baked breads made from scratch with creamy, homemade lavender butter. Fresh heirloom tomato or roasted beet salads are vegan/gluten free options.
The brunch menu offers Swedish-style pancakes, fluffier and lighter than regular pancakes, country chicken and waffles, eggs Benedict, huevos rancheros, and brioche French toast.
Dessert choices are triple chocolate cake, Basque cheesecake, and bread pudding with bourbon caramel.
For more information, visit carmelshiddengem.com.
SCENE | BIG SUR FASHION SHOW
Photos by Kodiak Greenwood
Bringing the Caribbean to Carmel-by-the-Sea
By Jessica Zimmer | Photo by Randy Tunnell
Chef Michael Fischetti can't wait to share the nuanced, tropical flavors of South Florida and the West Indies with guests of The Pocket in Carmel. His specials include jerk pork ribs, whole fried fish, grilled calamari, and West Indian style curry chicken.
since August and recently received the Certified Angus Beef National Chef Of The Year Award, says that guests have been experimenting by consulting their servers. "I encourage guests to ask questions and choose what's right for them," he says. "Our team is cooking dishes in traditional ways, with balanced flavors."
"I'll use as much local produce and seafood from within a 200-mile radius as possible, using recipes that create an eclectic, global vibe," says Fischetti. "I'm introducing 'center of the plate' vegetable options that vegetarians and vegans will enjoy. One is a grilled cauliflower steak with Cuban black beans, chimichurri sauce, and mojo, a Cuban garlic-citrus sauce." He intends to feature local seafood such as black cod, rockfish, calamari, abalone, and oysters, and wants to explore new ways to use berries from Watsonville and artichokes from Castroville.
Under Fischetti's direction, The Pocket will rewrite its dinner, dessert, and happy hour menus. In the near future, the restaurant will begin offering five- to seven-course wine, beer, or cocktailthemed dinners. Fischetti, who's led the kitchen
Fischetti grew up in Miami-Dade County and earned a bachelor of arts in culinary arts from the Art Institute of Fort Lauderdale in 2006. He went on to work in fine dining restaurants throughout South Florida, the Bahamas, Jamaica, and the Cayman Islands. Most recently, Fischetti worked in California's East Bay. "The beauty of the central coast is that time moves slowly. Yet in five minutes, you can go from the pine trees to the beaches. I want to bring that variety to The Pocket," says Fischetti.
His advice for guests: "Come hungry, excited, and open-minded."
For more information, visit thepocketcarmel.com.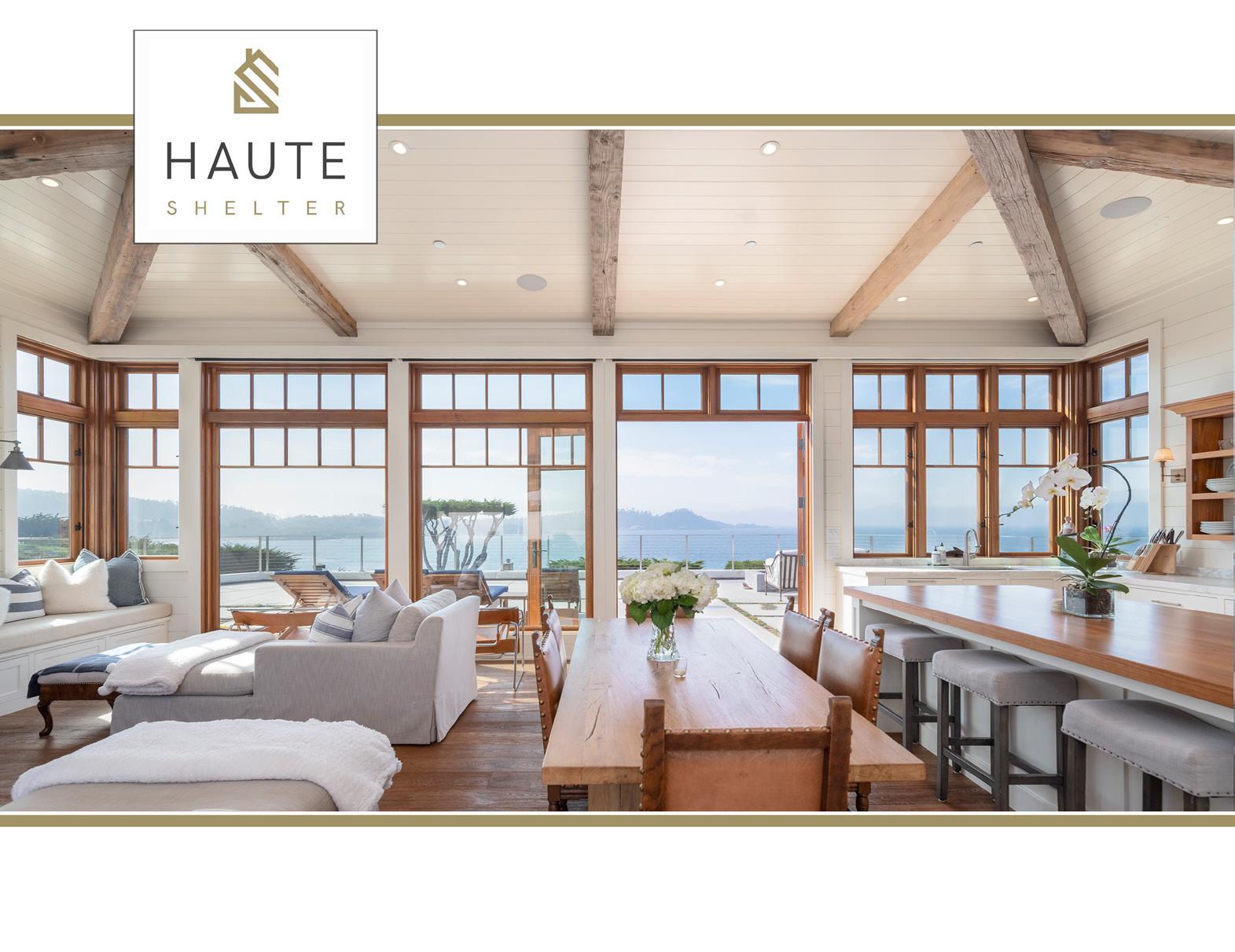 Dale Byrne President - Carmel Cares Project Manager - Carmel Gives
Tim Allen Founder - Tim Allen Properties and Carmel Gives
Carmel Gives by Giving Back
By Jessica Zimmer | Photo by Manny Espinoza
Since May 2020, Carmel Gives, a donoradvised fund of the Community Foundation of Monterey County, has made a significant difference in the lives of Central Coast residents by providing $1,070,000 to local nonprofits.
Tim Allen, founder of Tim Allen Properties, established the fund and says that Carmel Gives is currently building relationships between nonprofits, businesses, and government agencies. "One active project is the construction of an outdoor garden at Shuman HeartHouse, a shelter for women and children experiencing homelessness," he explains. "Carmel Gives has provided $15,000 to create a safe, welcoming place for families to socialize. We also gave a $15,000 grant to The Carmel Foundation, which serves seniors, to create a beautiful outdoor space and garden."
Allen and the team at Tim Allen Properties began to contribute 5 percent off the top of their total commission income to Carmel Gives to aid people in need during the early months of the COVID-19 pandemic. This continues
today. "As I realized the pain so many were feeling and the scope of the crisis, I decided it was time to step up," says Allen.
The fund's first project involved hiring seamstresses to sew masks. Donations helped provide thousands of masks to local restaurants and farm workers in Salinas. It also gave food production grants to restaurants and paired them with nonprofits in need of meals. Carmel Gives has since funded over 100 projects, including a $50,000 grant to fund the public cross-country course and walking paths in the Rancho Cañada del Oro Open Space Preserve.
"We like to do our work without a lot of fanfare and virtually no bureaucracy. Our total overhead to operate the fund is 1.5 percent," says Allen. "We invite individuals and businesses to join us in supporting the community. Donations are tax-deductible." Tim and his team are open to project ideas.
For more information, visit CarmelGives.org.
PRIVACY OPPORTUNITY NATURE
Carmel ■ $1,200,000
2 Bed, 2 Bath ■ 1,877 sq. ft. www.223DelMesa.com
Perfect location for this stand-alone tastefully remodeled single level large "C" unit near to all of the amenities, but tucked back in a quiet space for privacy. Beautiful hardwood floors, fireplace in living room, Jerusalem limestone counters in kitchens and baths, Den with a wet-bar and separate sun room.
Pebble Beach ■ $2,299,000
3 Bed, 3.5 Bath ■ 2,772 sq. ft. ■ 1.09 Acre Lot www.PebbleNewBuild.com
Main home is presently under construction and must be purchased in its current status. Buyers to finish the project with their own choices. Permitted and plans included for future build is a 1,200 sq. ft. ADU at additional cost.
Carmel Valley ■ $695,000 48 Acres
www.CarmelValleyLand.com
Lovely view lot with water close to Carmel Valley Village. 48+ acres with several areas of flat usable land studded with mature oak trees and plenty of sun exposure.
Digital Rendering
Because I care… passionately to find the truly perfect home for my clients who are Buying and understand the everchanging market for my clients who are Selling. Along with my support team for over 17 years, licensed Brokers Rob Profeta and Julia Humason, we create a fantastic team for YOU! We welcome the opportunity to guide you in realizing your Real Estate goals and are grateful for the clients for whom we have already had the privilege to help. Over 1 Billion in Real Estate Sales* Judie Profeta Broker Associate | Managing Director DRE#00703550 Rob Profeta Broker Associate DRE#00703550 Julia Humason Broker Associate DRE#01313907 *Top 10 performing individual in Carmel by Sales Volume according to Real Trends and as advertised in The Wall Street Journal. Judie Profeta 831.601.3207 Broker Associate, Managing Director Judie@TheProfetaTeam.com DRE#00703550 The Profeta Team
Conducting a Conversation
By Caitlin Fillmore | Photo by Michelle Robertson
Nancy Dodds speaks in a matter-of-fact way about her business, Nancy Dodds Gallery, an airy space in Carmel-by-the-Sea. She shares her life circumstances with a straightforward delivery and describes her inspiration simply as beauty. Those not listening closely may miss that the details of her life and gallery contain an enchantment. To appreciate it, one must tap into the conversations that Dodds can hear.
Dodds boasts no formal fine arts education or extensive arts experience. Rather, her inner artist has been shining through since her first day in 1991 at the former Le Celle gallery. Dodds had been hired instantly, and within five years, the owner was ready to turn over his business to her. While she remembers being caught off guard by the proposal, Dodds says she intuitively knew that this opportunity was coming. After leaving her previous job as a cocktail waitress, Dodds was now running her own gallery in a famous artist community.
She transformed the gallery to reflect her honed sense of style, adding oils, plein air paintings, and sculptures to the established collection that included etchings, watercolors, and lithographs. Her gallery, located at Seventh at San Carlos, invites guests through a set of double Dutch doors, the first evidence that this space will feel like a pleasant visit between neighbors.
Once inside, guests appreciate the conversations that Dodds orchestrates. Canvases and sculptures cover the walls and shelves, and are leaning casually on the floor. "I don't know how I could possibly fit one more painting in here, but I always seem to manage," says Dodds. "I haven't figured out yet how to hang them from the ceiling."
Visitors are encouraged to relax throughout the abundant space, which is dotted with skylights and opens onto a charming Carmel courtyard. Weekday tourists are her specialty, giving Dodds a chance to share her deep connections with every handpicked artwork and artist. Online reviews rave about the gallery's hospitality, courtesy of Dodds and gallery dog Finnegan, a photogenic Cavalier King Charles spaniel with an Instagram account.
As she has done since her first day on the job, Dodds follows her intuition. Portraits of pets, Central Coast wildlife, and local landscapes from more than 34 artists are showcased on-site and painstakingly cataloged on the gallery's website.
One of the artists now joining the conversation at the gallery is the owner. Dodds started painting only a few years ago, humbly describing her works as what happens after absorbing art every day for decades. Her work is inspired by printmaker Beth Van Hoesen, one of the Dodds' favorites, along with oil painter Randall Sexton and acrylic artist Peggy McGivern.
"The energy in the gallery is always shifting, like a butterfly," says Dodds, describing her deep connection to the subtle rhythms of her gallery. "It goes and sits on one artist for a while, they have a winning streak, and then it goes to another one."
Dodds admits she is surprised that she didn't lead a more traditional life. The unexpected art dealer and painter will celebrate 30 years in business in 2026. She stops short of expressing any regret for her life's twists and turns. Instead, she shares practical plans to work forever, because she's simply doing what she loves.
For more information, visit nancydoddsgallery.com.
Your Slice of Monterey Bay Awaits
You've waited long enough – it's time to take the first step toward the coastal lifestyle you've been dreaming about, and it's all within your grasp at Sea Haven. Brand new homes near the iconic Monterey Bay coastline are a rarified treasure and combining the idyllic natural surroundings with stunning new homes provides an incomparable vision for your future.
SEA HAVEN EMBODIES THE COASTAL COMMUNITY LIFESTYLE YOU'VE BEEN WAITING FOR All homes at Sea Haven include exclusive access to The Cove Clubhouse, 10 planned neighborhood parks including the Oak Grove and Arroyo, and miles of trails and walking paths. Don't Just Buy a Home, Buy a Lifestyle Our sales offices are open 7 days a week, so stop by anytime for a tour of the sales models or give us a call to make an appointment. jillp@wchomes.com /liveseahavenliveseahaven.com 831.531.9040 /liveseahaven Images are representational only and may differ from homes and communities as actually constructed. Square footages are approximate. Pricing subject to change. Seller makes no representations or warranties that the view from the property will remain the same. Future development, changes to and growth of landscaping and the like may impact any current views from the property. See sales agent for details. Homes are constructed and marketed by WCP Developers LLC (CA Contractor License #1035148) and real estate sales brokered by WCP Real Estate, Inc. (CA DRE License # 02055906), on behalf of WC Marina LLC. ©2022 Wathen Castanos Homes. Equal Housing Opportunity. •Floorplans offering 3 to 7 bedrooms •Homes starting from the low $1Ms •One and two-story homes •The Cove Clubhouse •Just one mile from the Monterey Coastline •10 planned neighborhood parks
CARMEL, C ALIFORNIA
O'Callaghan's Serves Up Great Atmosphere and Excellent Food
By Jessica Zimmer | Photo by Manny Espinoza
O'Callaghan's Irish Pub in Carmel is a warm, welcoming restaurant where the food is as good as the drinks. The 1,700 square foot dining space, which has a main room and outdoor patio, can be booked for company parties and weddings. Guests will enjoy high-quality Irish and American cuisine, custom cocktails, local wines, and a view of the sunset.
"We're an upscale, comfortable, and lively pub with live music Fridays and Saturdays. We hold game day celebrations with specials like tacos. Our menu showcases traditional Irish food like herbed cheddar Irish soda bread and shepherd's pie you won't find elsewhere," says Brent Sepulvado, partner in O'Callaghan's.
The pub's Irish recipes, such as the one for Guinness glazed nuts, peanuts glazed with Guinness and sugar, are sourced from Cork and the Dublin Islands. O'Callaghan's, which opened in The Barnyard shopping village in February 2022, can close at 2 a.m. for celebrations.
The pub welcomes guests for Monday, Thursday, and weekend games shown on three TVs with sports packages. Game day specials include burger sliders, while fine dining options include Tomahawk ribeye and the O'Callaghan Burger, with blue cheese, house whiskey, and pepper jack sauces and fried onions.
Sepulvado says shareable orders such as house-cut fries and hand-rolled pretzels are always in demand. O'Callaghan's offers wines from Manzoni Estate Vineyards and Scheid Family Wines, as well as nine beers on tap.
"During the week, we have trivia on Wednesday nights and karaoke on Thursday nights," says Sepulvado.
Sepulvado says he is proud that O'Callaghan's has become a favorite spot for couples.
"The atmosphere is friendly, with an open dinin g room that features wood and many tables. Our goal was to create a place that feels like home. It's an Irish pub where you can strike up a conversation," says Sepulvado.
For more information, visit, ocallaghanscarmel.com
COMMUNITY | WHITE STAG MONTEREY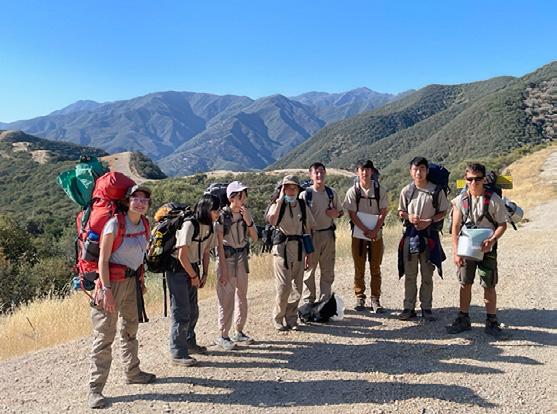 Strengthening Generations
By Caitlin Fillmore | Photos Courtesy of White Stag Monterey
When Steve Cardinalli first attended the White Stag Leadership Academy 44 years ago, a fire on Cannery Row in Monterey had destroyed eight businesses and made national headlines six months earlier. Grease was one of the hottest movies that summer. The LaserDisc would be invented a few months later, but technology isn't allowed at White Stag, anyway.
Every summer since 1978, Cardinalli has attended White Stag, a youth-led and youth-run leadership program held at Camp Pico Blanco in Big Sur that is sponsored by Boy Scouts of America. White Stag empowers youth to lead and train their peers in team building and wilderness survival activities. This weeklong camp combines a potent combination of skills that keeps youth participants and adult advisors alike coming back year after year.
Cardinalli serves as president of White Stag Leadership Development Academy, Inc., an all-volunteer program that was established in 1958. Other volunteers have served for more than 20 years. Like Cardinalli, some adults never stopped coming to camp after their childhood experiences there. Another volunteer who joined White Stag in her 50s, when her children attended the program, has never left.
Between 60 to 70 adult advisors support the youth staff but from a distance. The youth staff complete nine months of training to master outdoor, leadership, and teaching skills and deliver the camp to co-ed White Stag candidates ranging from 10 1/2 to 17 years in age.
Two sessions, each with about 250 youth candidates and 50 youth staff, involve a focused wilderness experience deep within Big Sur. Candidates are placed into small groups, which become family units in which the youth learn and grow as they discover how to communicate and work together. The campers are evenly split, based on gender and previous scouting experience.
Cardinalli reminisces about his first White Stag summer, rattling off a dazzling list of memories, including first hike under the stars and first time cooking over an open fire. He also explains how the camp created for him a new perspective on how to deal with people. Problem-solving with peers and working as a team rank almost as high as backpacking 20 miles through the Los Padres National Forest in Cardinalli's memories.
Such timeless, enduring lessons provide the backbone for the program, which turns 64 years old next summer. Cardinalli has a unique sense of how the campers have evolved over the summers and how the White Stag curriculum provides an essential developmental nutrient that many youth may not even realize they are missing.
"When I was a kid, it was nothing for us to get dropped off and to hear, 'See you in a week!' We were used to doing outdoor stuff. This program is designed to get kids out of their element, to challenge them," says Cardinalli. "We have seen kids show up, and they tend to be more timid. They haven't been with a lot of other kids. White Stag helps bring them the experiences they need."
One experience that the campers didn't need was last year's June thunderstorm. Cardinalli describes a scene in which 200 youth were backpacking in the mountains after only a few days of working together as a group. There were no injuries or bouts of panic to report, but it was a memorable moment. "I think that our adults and staff handled that situation very well. It was just what you would have expected to have happened with a trained group. I wish it hadn't happened, but I'm very pleased," says Cardinalli. "It really brought them all together. And the next day was 100 degrees. They dried out."
For more information, visit whitestagmonterey.com.
Robert Graham, Martin Dingman, Scott Barber, Calder of Carmel, Stenstroms, Remy, Cole Haan, Magnanni, 34 Heritage, Peter Millar, Alberto, Viyella, Robert Barakett, Saxx, True Grit, Johnnie-O and Tommy Bahama patrickjames.com CARMEL 3744 The Barnyard Carmel, CA 93923 | 831·620·0167
HOME | HART HABITATS
Welcome Home
By Caitlin Fillmore | Photos by Randy Tunnell
After a lifetime of soaking up influences and beauty from around the world, Hart Habitats owner Kristina Hawley is ready to return and share what she's seen, learned, and loved with the residents of and visitors to Carmel.
Located on San Carlos between 5th and 6th, this new home interiors store has an entrance flanked by towering Ionic columns, suggesting a quintessential Carmel style. But across the threshold of Hart Habitats, a different experience awaits. After taking just one step inside, customers can run their fingers across the scarred surface of two antique French wine tasting tables. Along one wall is a mid-century modern sideboard coated in the 2020's trendiest color: greige.
Breathing deeply, one can enjoy the soy candles that flicker throughout the store and the fresh oxygen supplied by house plants sprouting up everywhere. Botanical prints and local seascapes dominate the walls, producing an effect that is a deft combination of California casual meets the drawing room of a Jane Austen character.
This is an aesthetic that Hawley expertly curates, born from a lifetime of collecting diverse inspirations. Hawley, a local returning after years traveling the world, describes her childhood days experiencing the beauty of Carmel and Big Sur before explaining her influences from five years in England and studying interior design at the Florence Design Academy in Italy. "I try to bring all of those inspirations back to my store and combine the old and the new to create a great tension," she says. "An interior where there is a mix is just really interesting. You're not living in a look, you're living in a home."
The thoughtful, eclectic mix within the store seems effortless to Hawley. However, the bohemian-West-Coast-with-vintage-patina style captured so effectively in Hart Habitats has been growing and evolving for many years. Hawley's mother served as an antiques dealer in Carmel for decades and took her daughter along to haggle with other antique dealers and flea market stall owners in the south of France. This sense of adventure and thrill of the hunt captures Hawley's imagination today as she continues her mother's legacy from the storefront that she operated for 30 years. "I'm in the same space she was in, and it feels like being at home," says Hawley. "I'm meeting people locally and from all over the world. I love having that presence and being a part of the community."
It's not just the storefront that carries so much meaning for Hawley, who, after years of working one-on-one with interior design clients, is situated within a brick-and-mortar store for the first time. The name of Hawley's store also holds significant symbolism. Hart is Hawley's middle name. As for habitat, Hawley explains that her preferred interiors feel natural, warm, and comforting: "I'm trying to build a place that fits the client and feels like their natural habitat," she says. "I think that's what good interiors do. They give you a respite from the world and where people can come together. It's about creating places that people remember."
Hart Habitats juggles many fascinating international influences and interior design styles. As such, it urges customers to linger over the textures layered on the elaborate canopy bed or to dwell within a welcoming conversation with Hawley. It becomes something like a habitat. And that aesthetic is truly timeless.
For more information, visit harthabitats.com.
Peter Butler Lives, Works, & Plays in Pebble Beach 831.277.7229 ■ www.PeterButlerProperties.com Peter@PeterButlerProperties.com DRE#01222453 Recognized as one of the Top Realtors by The Wall Street Journal. Over 25 years of experience & 350 transactions with more than $1,100,000,000 in sales. 3298 Stevenson Drive, Pebble Beach 5Beds ■ 5 Baths ■ 4,132 Sq. Ft. Including an Attached Studio Guest Apartment ■ 1.146 Acres ■ $8,450,000
COVER | SPIRITED WINTER-BY-THE-SEA
Spirited Winter-by-the-Sea
By Nora Heston Tarte | Photos by Manny Espinoza
Picturesque European-styled buildings and cottages punctuate Carmelby-the-Sea. Colorful lights illuminate the streets, and Carmel Plaza comes alive with music and window displays. From whimsical Devendorf Park to the sparkling Plaza, every corner of the town ignites with holiday spirit, packing December with family friendly gatherings.
The Plaza courtyard is decked on November 10, with string lights and glowing reindeer, while businesses put up displays. Strands of lighted garland with bright ornaments accent the towering Christmas tree, the Plaza's centerpiece.
Carmel is the go-to for locals and visitors to shop for unique gifts from the city's many purveyors, including Kris Kringle of Carmel, a yearround Christmas shop that gets busier this time of year. And while everyone loves the holiday magic, many could do without the freezing temperatures—this makes Carmel's Central California coast climate a dream, as folks can huddle around the Plaza's outdoor firepits and enjoy visits with Santa outdoors.
The biggest festivities are slated for December 2, when the city's tree-lighting ceremony, which started in 1926, is hosted at Devendorf Park. "Everyone is welcome," says Leslie Fenton, executive assistant of community activities for the city. "A lot of people . . . plan their vacations around our events."
Santa Claus comes in for the evening, perched atop a local fire engine, visiting with children eager to share their holiday wishes. He also helps
to light the tree, pulling the lever that kindles the city's main attraction. After a hiatus, the celebration returns, welcoming back performers from local schools who entertain the crowd with holiday songs and dances. It's not all about Christmas either; a large menorah is lit alongside the tree.
After the celebration, guests can continue the party at Carmel Plaza's Annual Holiday Open House. Directly following the tree-lighting ceremony, tenants offer warm, festive drinks and small bites to shoppers. If they didn't get a chance to rub elbows with the big guy at the park, there's another opportunity here to meet with Santa Claus.
On December 10, the 64th annual Santa's Fly-In has Mr. and Mrs. Claus coming to town by helicopter at the old airstrip in the center of Carmel Valley Village. Their landing is the kickoff to a parade, which ends with face painting, live entertainment, bounce houses, a petting zoo, and visits with Santa.
While decorations will stay up throughout the month, a couple of other attractions are worth putting on the calendar. On November 19, a craftapalooza takes over, with craft shows from multiple local churches and the Carmel Women's Club. And one of the best places to glimpse lights is at the Cypress Inn. "They do a really nice job of putting lights up on every portion of the building and the bushes out front," says Fenton. It's truly a spirited winter-by-the-sea.
Your East Bay to Monterey Bay Connection
Bass
He has been able
the many
of
in
has developed over
in those areas
After growing up and living the vast majority of his life in Alameda and Contra Costa counties, Ed
is now living and selling on the Monterey Peninsula.
to utilize
connections he
almost 25 years
selling
to help clients find properties
the Monterey Peninsula. From real estate agents, title companies, mortgage professionals and friends; helping them and their clients find that little beach getaway, golfers retreat or investment property means the world to Ed. Ed Bass 831.760.5572 Ranked among the top 1% of 1.6M agents in the U.S. Ranked #34 Individual by sales volume on the Monterey Peninsula Ed@MontereyCoastRealty.com EdBassRealtor.com DRE#01214469 If you're thinking about purchasing a home on the Monterey Peninsula, please feel free to reach out.