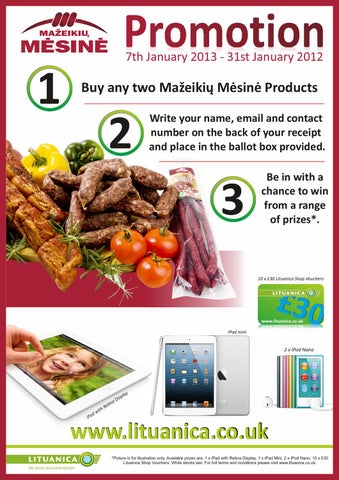 Promotion 7th January 2013 - 31st January 2012
1
Buy any two Mažeikių Mėsinė Products
2
Write your name, email and contact number on the back of your receipt and place in the ballot box provided.
3
Be in with a chance to win from a range of prizes*.
£30
www.lituanica.co.uk *Picture is for illustration only. Available prizes are: 1 x iPad with Retina Display, 1 x iPad Mini, 2 x iPod Nano, 10 x £30 Lituanica Shop Vouchers. While stocks last. For full terms and conditions please visit www.lituanica.co.uk.
the finest food distribution
Lituanica Mazeikiu Mesine Promotion  
Lituanica Mazeikiu Mesine Promotion
Lituanica Mazeikiu Mesine Promotion  
Lituanica Mazeikiu Mesine Promotion